NHL Prospects
AHL On The Road: Hurricanes helping Checkers load up for playoff run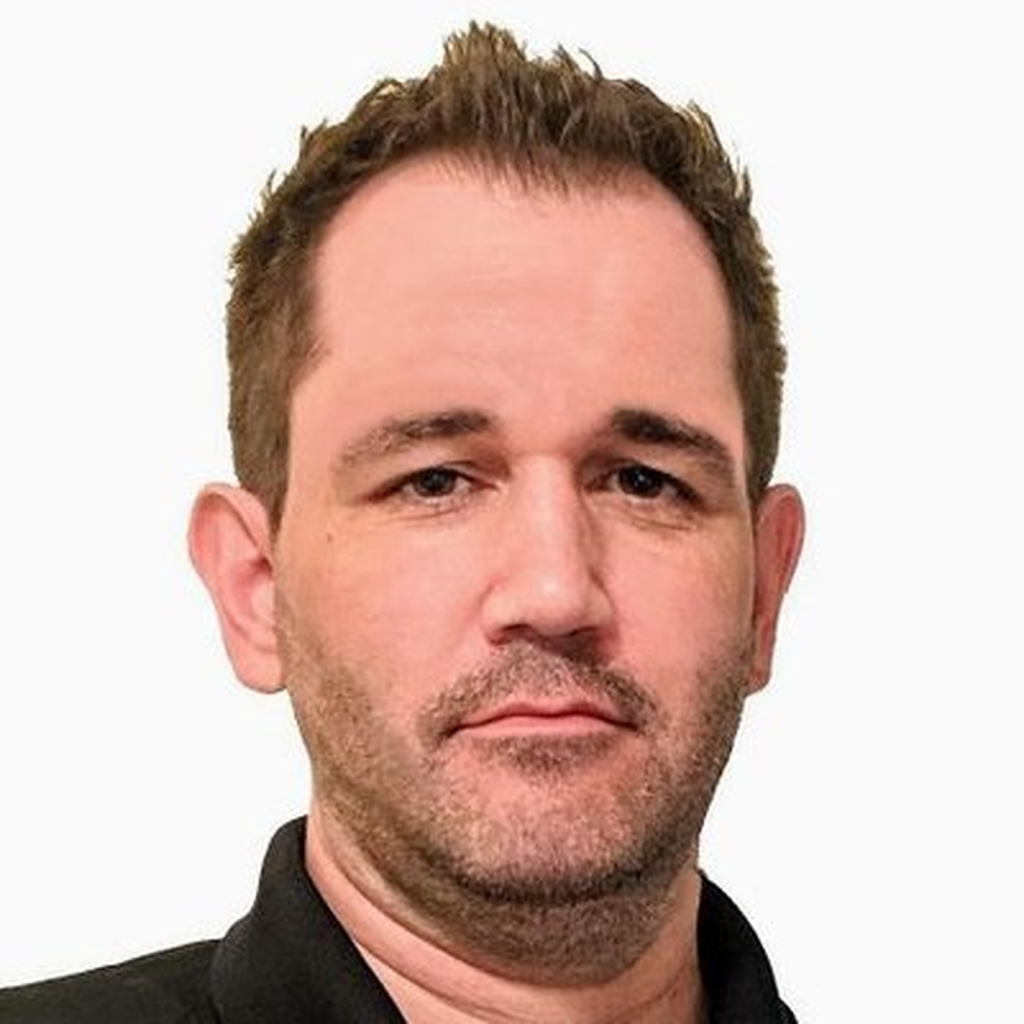 Patrick Williams
The Charlotte Checkers are not content to sit atop the AHL standings.
With a deep pool of prospects primed take on the Calder Cup Playoffs, the Carolina Hurricanes brought two new veteran faces to Charlotte this week in goaltender Dustin Tokarski and forward Tomas Jurco.
They added Tokarski from the Hartford Wolf Pack on Thursday, a move that will give the Checkers a strong Alex Nedeljkovic-Tokarski tandem in net. Nedeljkovic has taken on a heavy workload this season as Charlotte has auditioned different back-up options – he is tied for second among AHL goaltenders in games (39) and third in minutes (2,202:40).
The AHL has its own roster deadline that follows this past Monday's NHL Trade Deadline. AHL teams can trade or loan players to each other until Monday at 3 p.m. Eastern. That means that Tokarski, a pending unrestricted free-agent this summer, is technically on loan from the Rangers to Charlotte. The Hurricanes re-assigned defenseman Josh Wesley to Hartford in return.
Last season the Checkers went to the second round of the postseason before falling to the Lehigh Valley Phantoms in five games. That followed a tidy first-round sweep of the Wilkes-Barre/Scranton Penguins.
"We took a lot of experience from that, just the culture we built in there," said third-year forward and Checkers leading scorer Andrew Poturalski (19-32-51), who is also tied for seventh in the AHL.
This season the Checkers charged to the front of the AHL pack early, building a 22-6-1-0 record by mid-December. They have had a grip on first place even after going 14-8-5-1 since December 16th. That has helped the Bridgeport Sound Tigers, second in the tough Atlantic Division, and the Rochester Americans to move to within six points of the Checkers for the AHL lead.
At 29 years old, Tokarski brings high-pressure, high-stakes experience with him to Charlotte. He handled the Montreal Canadiens' starting job in their run to the Eastern Conference final in 2014, won the Calder Cup as a Tampa Bay Lightning prospect with the Norfolk Admirals in 2012, and helped carry Canada to a gold medal at the 2009 IIHF World Junior Championship. In AHL postseason action, he is 15-7 | 1.87 | .931 in 25 career games. He had limited playoff time last season with Lehigh Valley, playing three games as the Phantoms reached the Eastern Conference final.
After signing with the Rangers in the offseason, he also managed to go a respectable 10-6-2 | 3.10 | .901 for the Wolf Pack while dividing time in a three-way goaltending carousel featuring Marek Mazanec (traded earlier this month to the Vancouver Canucks and now with the Utica Comets) and Alexandar Georgiev. With the Rangers shipping out NHL-roster players, they have started to audition some of their Hartford prospects. They also set up a Brandon Halverson–Chris Nell goaltending duo in Hartford that left Tokarski out of the picture there.
The Checkers host the Binghamton Devils in back-to-back games this weekend amid a remarkably light schedule for an AHL team going into March. Charlotte has only played twice in the past 11 days and is in a stretch of six games in 26 days. With that light slate and Tokarski's arrival, Nedeljkovic should have an opportunity to take a breather before the stretch drive as the Checkers try to keep Bridgeport behind them to stay.
This past Monday the Checkers acquired Jurco, a potential point-per-game addition, in an AHL trade from the Springfield Thunderbirds. Like Tokarski, he also has won a Calder Cup (2013 with the Grand Rapids Griffins) and is bringing 201 NHL regular-season games with him to Charlotte. They join defenseman Dan Renouf and forward Zack Stortini as Checkers who have won a Calder Cup.
If the Carolina organization would wish to add further, the Charlotte roster has flexibility, though the Checkers do not have any glaring needs after this week. Jurco, Stortini, and defenseman Bobby Sanguinetti are the lone players who fall under the AHL "veteran" rule (more than 320 NHL, AHL or high-level European league regular-season games). Teams may carry as many "veterans" as they like but are not permitted to dress more than five for a game. They are also permitted to dress one "veteran-exempt" player (between 261-320 NHL, AHL or high-level European league regular-season games – captain Patrick Brown and defenseman Trevor Carrick each qualify (and one can also slot into a game-day line-up as a "veteran").
If other AHL playoff contenders wish to stock up for a playoff run like the Checkers have done, some teams do have ample roster flexibility to do so. In that group are the Bakersfield Condors, Chicago Wolves, San Jose Barracuda, and Tucson Roadrunners.
So far, Tucson has added forward Michael Chaput via an Arizona Coyotes-Montreal Canadiens trade this past Monday. Earlier this month, forward T.J. Hensick signed with the Barracuda. Bakersfield has won 17 consecutive games and later should have forwards Josh Currie and Brad Malone, who remain with the Edmonton Oilers.
BACK ON THE FARM
Chicago Blackhawks blueline prospect Henri Jokiharju had another taste of the NHL last week only to find himself back in the AHL a night later.
Chicago had sent Jokiharju, 19, to Rockford on January 31st. They recalled him under emergency conditions and played him last Friday in a 5-3 home loss to the Colorado Avalanche. In his first NHL action since January 22nd, he played 9:14 and only skated three third-period shifts.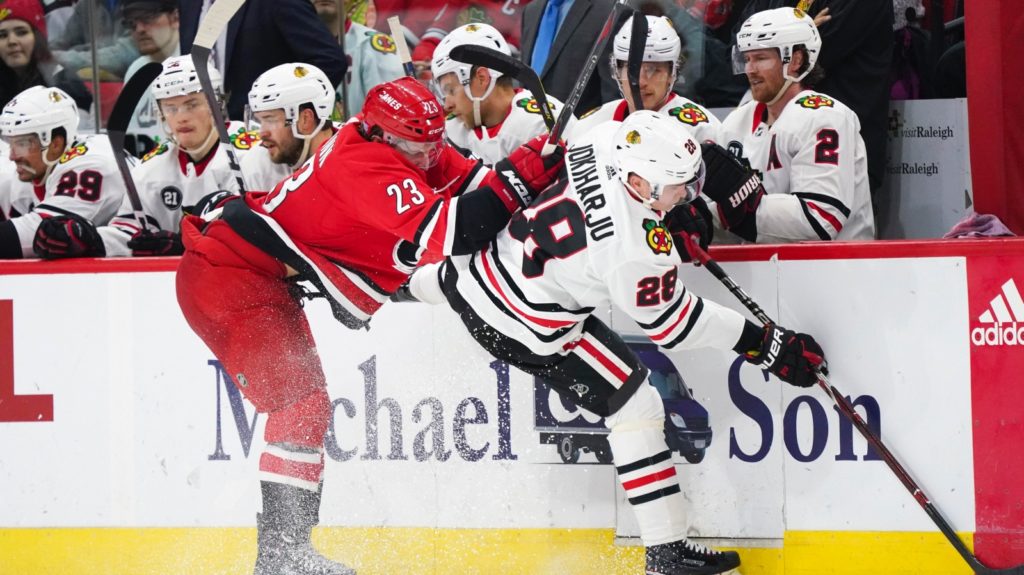 Henri Jokiharju. Photo: Bildbyrån.
Blackhawks management then returned Jokiharju, taken 29th in the 2017 NHL Draft, to Rockford and he played the next night for the IceHogs on the road in a 3-2 loss to the Hershey Bears. He assisted on a first-period goal and took two minor penalties. In all, he is 1-9-10 in 12 AHL games this season.
"I want to play big minutes, but it seems that they don't give that [many] big minutes," Jokiharju said of Chicago following the game at Hershey.
He had played 37 NHL games before his first AHL assignment. One can hardly fault a player for wanting to take on as many minutes as possible, but the Blackhawwks have made it clear since they first sent him down that they want to see him take on a bigger role in Rockford first.
"He's 19 years old and it's hard, physically, to get out of the d-zone when you're that," Blackhawks head coach Jeremy Colliton said to the Chicago team website after Jokiharju first was assigned to the AHL. "Obviously, he doesn't have the 'man body' yet, but he will. And we want him to not just be playing to survive out there. We want him to be playing to excel and be a top player."
Fourth in the Central Division at 61 points, the IceHogs have the Texas Stars one point behind (and Texas holding two games in hand). Three points behind Rockford are the Milwaukee Admirals (with one game in hand). Still hovering in contention are the Manitoba Moose (57 points) and San Antonio Rampage (55 points). Behind the Rockford bench, even-keeled head coach Derek King's job will be to steer Jokiharju through the development process with the IceHogs trying to lock down a playoff spot.
"He plays like he is 30," King said.
But all the same, Jokiharju has not even turned 20 yet.
"The big thing is to keep his head on straight, not let him get frustrated with 'Why am I not up there?'" King said.
"Once some of these guys get a taste of it early and then they come down, they're like, 'Why am I here?'
King, who went to the New York Islanders 13th overall in the 1985 NHL Draft, speaks from experience. He went on to play 830 NHL regular-season games, but he had to spend time in the AHL at the beginning and of his career. After retiring as a player, he then worked in coaching roles with the Toronto Marlies for six seasons, spent a season in the OHL as an assistant coach for the Owen Sound Attack, and then served as an assistant for two seasons in Rockford before taking over the top job when Colliton was promoted to the Blackhawks.
"He's a good pro," King said of Jokiharju. "We've talked to him. He's got no issues. He knows that he's down here, he's going to work hard, work on his game, and when he gets back up there, I'm sure he's eventually going to be a full-timer."
MESSAGE SENT
Tokarski became the latest veteran to depart Hartford, where the Wolf Pack are second-to-last in the Eastern Conference. Along with Tokarski and Mazanec, Rangers management has shipped out captain Cole Schneider and leading scorer Peter Holland.
The 28-year-old Holland went to the Blackhawks organization in a trade for defenseman Darren Raddysh on February 18th. Since going to Rockford, he has chipped in 1-2-3 in four games and is 21-31-52 in 56 games between Hartford and Rockford this season. King had some familiarity with Holland from their time together in the Toronto Maple Leafs organization. Holland went to the Anaheim Ducks 15th overall in the 2009 NHL Draft before starting a path that has taken him through six NHL organizations in eight pro seasons.
"He thinks the game well," King said. "He's smart. He makes a lot happen."
But beyond that, King also said that adding a player with 266 NHL regular-season games of experience sent a message to the Rockford dressing room.
"It's a great message. It shows the guys that we're committed to win here. Obviously, it's a development league. We know that. But it's hard to develop when you don't make the playoffs every year. These kids have to get into the playoffs and be in that playoff mode so that they can learn that."
Last season the IceHogs' late-season surge pushed them into the Calder Cup Playoffs. Once there, they swept the Wolves and Manitoba Moose before taking Texas to six games in the Western Conference final. Holland's arrival brings another veteran to a team that also features defenseman Andrew Campbell, who has been an AHL captain in three different NHL organizations.
"I think that was great for our guys," King said. "It's huge."
For Holland, who will be an unrestricted free-agent this summer, it is another fresh start that he is embracing. He is playing on a one-way deal this season on the back-end of a two-year contract that he originally signed with the Montreal Canadiens in the summer of 2017.
To start, it reunites him with King from their time in 2013-14 with the Marlies, who went three rounds that spring.
"[King] was phenomenal there," Holland said. "It kind of felt that he had a little bit more to do with the trade. I think he was an advocate for me within this organization, so it's always nice to hear that from a guy you used to play for."
The trade also moved King out of a difficult situation to a playoff contender. He was there as the Rangers began to dismantle the Hartford roster in January and losses followed.
"It was very frustrating," Holland said. "It wasn't a great culture in the [dressing] room toward the end."
"[That Hartford turnover] leaves holes in the dressing room, for sure. When Schneider got traded, it was a shock to a lot of us. It put our team in a little bit of disarray for a few weeks, for sure. Then Marek gets traded and then a few days later I get traded, a couple of my buddies were texting me [that] it's a lot different around [Hartford] now with the older guys being gone."
But all of that is over now.
"I'm just here to do my job and help the Rockford IceHogs," Holland said. "It's exciting to make a playoff push and see what we can do."
You may also be interested in: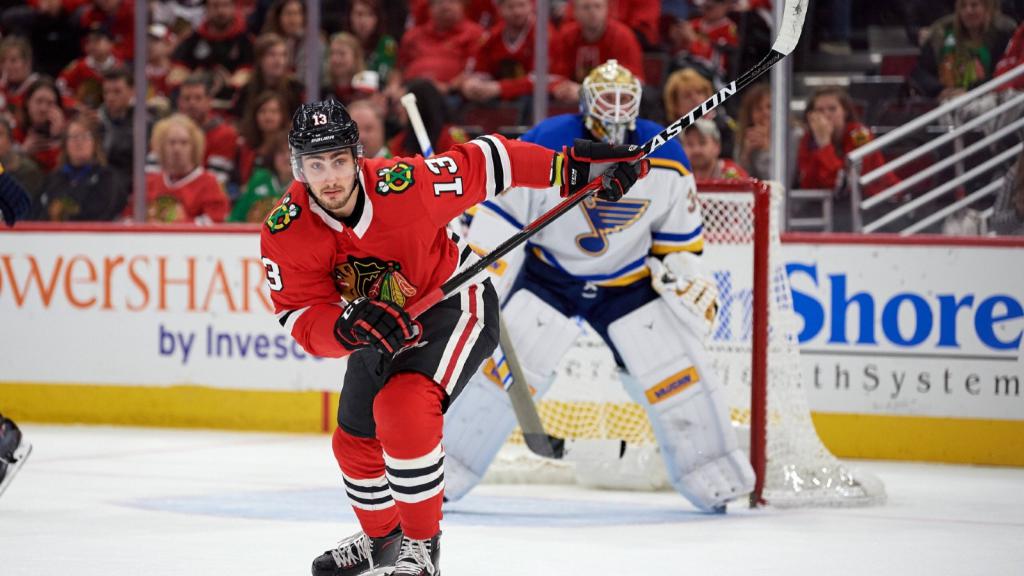 AHL POWER RANKINGS: Deadline aftermath
This article is about: