NHL Prospects
AHL PROSPECT WATCH: Dal Colle putting up points, sending a clear message
Monday is when AHL teams catch up after another hectic weekend on the ice and on highways across Canada and the United States.
With two and sometimes three games – plus travel – crunched into a weekend, those teams have earned that rest and step away from the rink. But Monday here is a day to catch up on and assess some of the weekend's best performances across the 31-team AHL.
SENDING A RESPONSE
When NHL teams return a player to the AHL, that player's response to the assignment can be very telling.
Bridgeport Sound Tigers forward Michael Dal Colle is sending a clear message across Long Island Sound to the New York Islanders. Aside from a brief stint with Bridgeport at the NHL All-Star break, Dal Colle had spent nearly two months with the Islanders before being returned to Bridgeport on February 19th. Dal Colle has earned three NHL recalls this season, going 2-2-4 in 20 games.
In the five games Dal Colle has played for the Sound Tigers since his return, he is 2-4-6. In total, he is 18-16-34 through 34 AHL games, and his 18 goals have him two off team leader Steve Bernier in that category. He also is tied for the Bridgeport scoring lead with Bernier despite missing 26 of the team's 60 games so far while on recall to the Islanders.
"Michael has been outstanding," Sound Tigers head coach Brent Thompson said. "His work ethic, I think that's the key. You get a taste, some guys go the other way. I think Michael has gone the right way."
That play has further accented a bounce-back season for the 22-year-old Dal Colle, taken fifth overall by the Islanders in the 2014 NHL Draft, after a difficult second pro season further amplified his critics. It started with self-analysis and a decision to switch skating coaches to Dawn Braid, whose clients have included former Islanders captain John Tavares among others.
Dal Colle has taken charge as the Sound Tigers continue to roll through AHL competition. The Sound Tigers went on the road this past weekend and secured back-to-back wins. First, they put further distance between them and the hard-charging Hershey Bears in the Atlantic Division race, taking a 4-1 victory in Chocolatetown to open their weekend. They then took a 3-1 win the following afternoon against the Lehigh Valley Phantoms. Their weekend work gives the Sound Tigers seven consecutive victories. At 35-18-5-2, the Sound Tigers' 77 points put them second in the AHL. They have also moved to within six points of the AHL-leading Charlotte Checkers. Bridgeport hosts the Checkers twice at the end of March. The Sound Tigers are off until a visit this Friday to see the Rochester Americans, who are tied for third overall with the Syracuse Crunch.
Thompson is effusive in his praise for Dal Colle, whose first two pro seasons had many more downs than ups for him. After an offensively productive AHL rookie season (15-26-41) with Bridgeport in 2016-17, Dal Colle slipped badly last season with 7-17-24 in 60 games. Bridgeport missed the AHL playoff line by 15 points last season. Although Dal Colle's production sputtered last season, Thompson had already respected his young prospect's efforts.
"He works extremely hard," Thompson said of Dal Colle. "He wants to get back there some day, and he knows that by working down here on his game, it's going to get him there. I love the way he approaches the game and how hard he is working."
Moving between the NHL, with its tactical and precise positional play, and the AHL's grinding, more scrambly game is an adjustment for many players. That includes Dal Colle, even if he is making that transition look smooth.
"It's a bit of an adjustment, I'm not going to lie, going up and down," Dal Colle said. "But when I come down here, I've been in the system for three years, so that makes it easier."
His work last summer has him in this position now. Dal Colle has always had a strong skill set – a diligent work ethic, a potent shot, and an ability to see the ice, for starters. But skating had been a major knock on his game, and that issue kept many of his strengths under lock. Fifth pick or not, he was honest enough with himself to recognize that a player can slip from prospect to suspect quickly. Dal Colle did not have to say it, but left unsaid – though no less real – was that the Islanders also had a new regime taking over, starting with president of hockey operations and general manager Lou Lamoriello and head coach Barry Trotz.
"It was a huge offseason for me," Dal Colle acknowledged. "Obviously last year wasn't a great year for me personally. It wasn't a great year for the team."
"I kind of looked at myself in the mirror. I knew it was a contract year, and I had to be better."
Braid, who had been hired by the Arizona Coyotes in 2016 and became the NHL's first full-time female skating coach, brought an extensive resume to the job of bringing Dal Colle up to par.
"I spent a lot of time working on my skating," Dal Colle said of his offseason. "She was huge for my development."
Thompson saw that same improvement as well.
"[His skating] has improved 100 percent," he said. "He's a strong skater. He's strong on the puck now. He has been moving his feet, and he has been engaging in the corners. He is confident in his skating and his strength now, and he's making those plays [where] maybe the first year he was feeling it out. It has been a great progression for him, and he assumes bigger roles because of it."
Bridgeport has 16 regular-season games remaining to tune up for the Calder Cup Playoffs, continue to pursue Charlotte, and to fend off any trailing Atlantic Division competition. The Islanders have made Dal Colle eligible for the AHL postseason with Bridgeport, something that can add further to his development. His only previous AHL postseason experience came in 2016 as a late addition after his OHL season with the Kingston Frontenacs had concluded. That season the Toronto Marlies swept the Sound Tigers in the first round. A year earlier, he won the Memorial Cup with the Oshawa Generals.
This spring is playoff experience that he can add to his extended NHL stint when he goes into the summer to prepare for training camp.
"[This time with the Islanders] was huge for my game," Dal Colle said. "I think this last stint was the point I realized I could play at that level. I'm not going to lie, I felt good, felt good on the ice. It was definitely big for my development, for sure."
ELSEWHERE
The Belleville Senators did not waste any time putting new addition Erik Brännström to work on their blue line this past weekend, pairing him with veteran Cody Goloubef. Acquired by the parent Ottawa Senators from the Vegas Golden Knights as the key return piece in the Mark Stone deal at the NHL Trade Deadline last week, the 19-year-old Brännström continues to excel. In a 4-0 home win against the Manitoba Moose this past Saturday night, Brännström chipped in an assist and attracted abrasive attention from the Moose. The win pushed Belleville's point streak to 17 games (12-0-1-4). The run has moved the Senators in a fourth-place tie at 67 points in the North Division going into a key two-game road series with the Cleveland Monsters this week.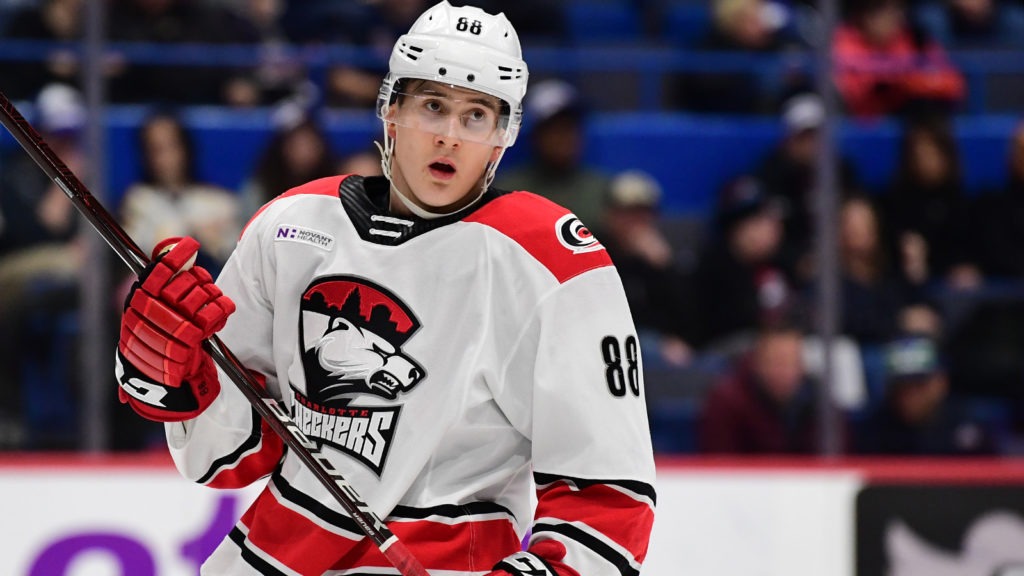 Martin Necas. Photo: Dan Hickling/Hickling Images
Another AHL first-rounder, Charlotte forward Martin Necas, had a big Saturday night with three assists as the Checkers crushed the visiting Binghamton Devils, 8-1. Checkers head coach Mike Vellucci moved Necas to the wing from center to play him with new addition Tomas Jurco and explained the rationale to the Charlotte web site. "I just wanted to free him up a little bit," Vellucci said. "He was a little stagnant in the middle and was maybe worrying too much about his d-zone. He had a lot of jump [Saturday]. He was really skating and made some good plays, and it really loosened him up a little bit." Necas went 12th overall to the Carolina Hurricanes in 2017.
San Jose Barracuda forward Jonathan Dahlén quickly made a contribution after his arrival in Northern California last week. Dahlén, 21, came to the San Jose Sharks from the Vancouver Canucks for forward Linus Karlsson and picked up three assists in his first three contests for the Barracuda. The week moved Dahlén to 14-18-32 through 53 games of his first AHL season divided between the Barracuda and the Utica Comets.
Providence Bruins defenseman Urho Vaakanainen had gone through his first 24 AHL games without a goal before striking twice in a Sunday home matinee against the Springfield Thunderbirds. Paired with fellow prospect Connor Clifton, the 20-year-old Vaakanainen's second-period goal sent the P-Bruins ahead to stay on their way to a 5-2 win. Vaakanainen, taken 17th in the 2017 NHL Draft by the parent Boston Bruins, had seven goals in 109 regular-season Liiga games before making the move to North America this season.
San Diego Gulls rookie forward Sam Steel, a 2016 first-rounder for the parent Anaheim Ducks, scored twice in a 3-0 win road win against the Stockton Heat this past Saturday night. He has 5-1-6 in his past five games and is 17-17-34 in 45 AHL games. He also has gone 1-2-3 in 14 games for Anaheim.
Nearby in the Pacific Division, the Bakersfield Condors' 17-game winning streak finally ended this past weekend in a home loss to the Iowa Wild. But they bounced back the next night, pounding out a 5-2 home decision against the Barracuda. Rookie forwards Tyler Benson and Cooper Marody continue to shine in Bakersfield. The Edmonton Oilers prospects helped lead the way in the win with Marody posting 1-1-2 and Benson adding two assists for the division-leading Condors.
Goaltender Mikhail Berdin stepped in for Manitoba with incumbent Eric Comrie on recall to the Winnipeg Jets. Berdin, a 2016 sixth-round pick by the Jets, turned 21 on the weekend and turned in 34- and 31-save efforts in a pair of starts.
Stockton is stuck nine points out of a playoff spot, but rookie forward Dillon Dubé's excellent season continued over the weekend. He had a three-point night in a home win against San Diego and is 10-20-30 through 28 AHL games. The Calgary Flames took him in the second round in 2016.
Ontario Reign goaltender Cal Petersen continues to face incredible amounts of rubber this season. The second-year pro stopped 52 of 56 shots from the Barracuda to earn an 8-4 home win this past Friday. He took on another 45 shots from Iowa to close out the weekend in a 5-4 loss. He has faced an average of 49.8 shots in his past four starts. In 10 of 28 games this season, he has faced 40 or more shots, including three 50-plus shot nights. Last overall in the AHL, Ontario also is last in shots-against per game at 36.4. In all, Petersen is 8-14-3 | 4.10 | .896 for the Reign.
You may also be interested in: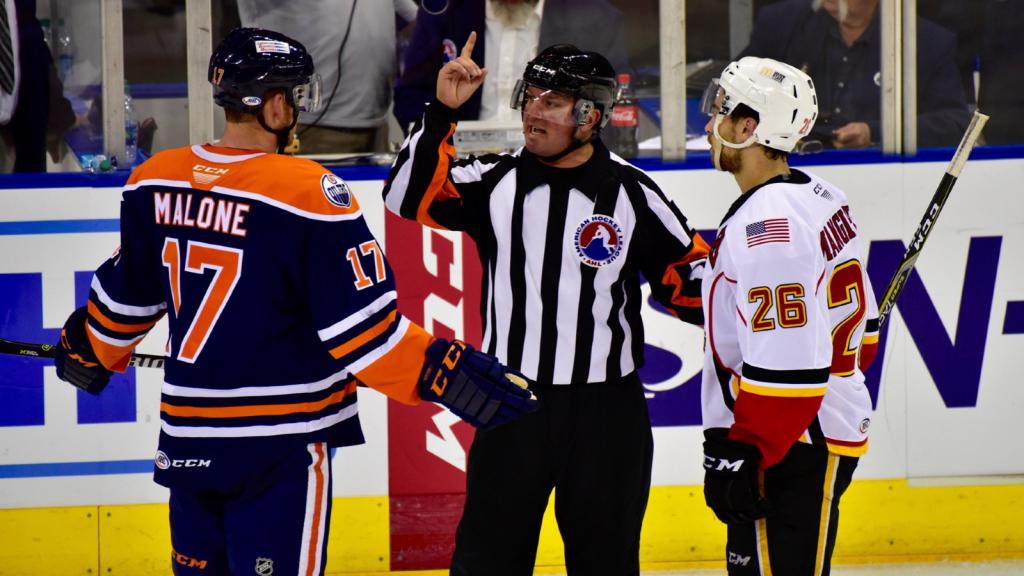 AHL WEEKEND: Seventeen down, eleven to go for the Condors
This article is about: