NHL Rookies
AHL ON THE ROAD: Setting a tone in Bridgeport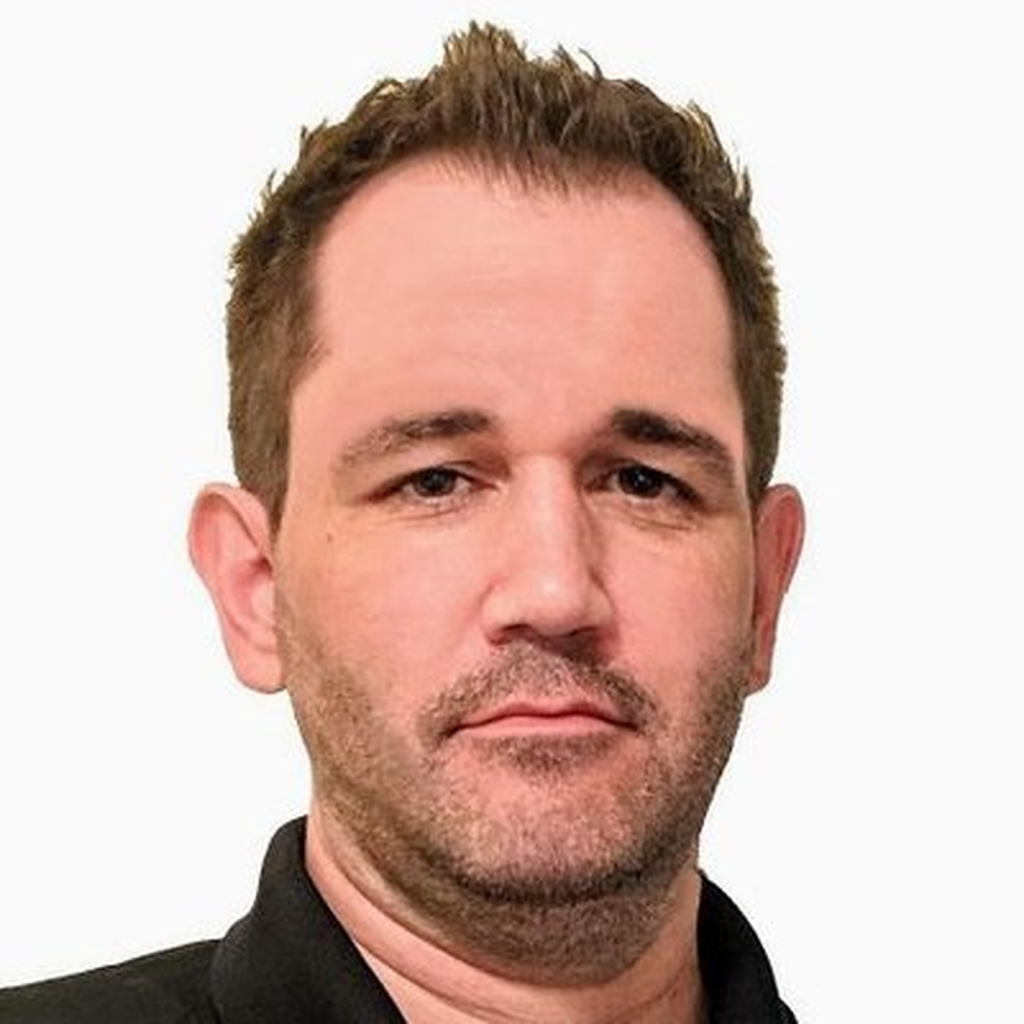 Patrick Williams
Significant changes hit the Bridgeport Sound Tigers last summer, and the wins followed as the weather cooled.
Going into their 18th season as the AHL affiliate of the New York Islanders, the Sound Tigers found themselves caught in the wave of change that hit the organization this past offseason. Islanders management brought in Lou Lamoriello as president of hockey operations on May 22nd, giving him full power over the entire organization. A month later, they hired Barry Trotz as their new head coach two weeks after he had won the Stanley Cup with the Washington Capitals. The much-discussed departure of John Tavares followed those two off-ice additions, and Trotz turned over much of the NHL team's coaching staff as well.
The Islanders have become one of the NHL's top stories this season after missing the postseason in 2018. Going into play on Thursday, the Islanders are trying to chase down Washington for the Atlantic Division lead. Two points behind the Capitals, they also are tied for sixth in the NHL at 83 points.
That offseason work also extended across Long Island Sound to Bridgeport, and it has struck the delicate balance that challenges any AHL affiliate – developing NHL prospects and doing so within a winning environment.
Any significant success has long eluded the Sound Tigers. After setting foot in Connecticut in 2001, the Sound Tigers went to the Calder Cup final in their first season, Since then, however, playoff hockey has been difficult to find there. Bridgeport last won a playoff round in April 2003 and has not won a playoff game since April 10, 2010 in a first-round series with the Hershey Bears. Dating to 2010, Bridgeport has missed the postseason in six of the past eight seasons, most recently falling in a 2016 first-round sweep to the Toronto Marlies. Going back to that 2003 playoff series win, the Sound Tigers have lost seven consecutive series.
This season could be different, however, and it started with a substantial offseason changes for the organization at the AHL level.
Islanders management chose to surround their prospects with established AHL experience. That meant bringing in forward Matt Lorito, who had won a Calder Cup in 2017 with the Grand Rapids Griffins. Defenseman Chris Casto arrived from the Chicago Wolves, and Charlotte Checkers back-up goaltender Jeremy Smith came to Bridgeport to solidify a tandem with Christopher Gibson. Further help in forwards Chris Bourque and Mike Sislo deepened the line-up.
Lorito ended up missing the first 51 games of the season with an injury, but his performance since his return illustrates what he can provide for Bridgeport. He is 4-6-10 in his first seven games. With the Sound Tigers on track for playoff hockey, he is someone whose 7-6-13 in 19 playoff games for the Griffins two years ago helped win a Calder Cup. Bourque is 13-33-46, which leads the Sound Tigers. Sislo has been out of the line-up since January 2nd, but he did contribute 6-9-15 in his first 33 games.
Several key prospects faced particularly important seasons, and the veteran help at least lightened some of that burden. Michael Dal Colle and Josh Ho-Sang, 2014 first-round picks for the Islanders, were entering their critical third pro seasons after disappointing play in 2017-18. Another Islanders first-rounder, forward Kieffer Bellows was turning pro after the Islanders selected him in the 2016 NHL Draft. Otto Koivula, a 2016 fourth-round pick, has stepped forward as one of the top surprises around the AHL. After three seasons at Ilves Tampere, he went to Bridgeport and has put up 17-23-40 in 55 games for the Sound Tigers as a 20-year-old.
In the standings, the Sound Tigers are keeping AHL-leading Charlotte within striking distance.
Bridgeport is 35-18-5-2, six points behind the Checkers and tied with the Syracuse Crunch for second overall in the league. The Sound Tigers will take a seven-game winning streak on the road this week with visits to the Rochester Americans and Toronto Marlies. Bridgeport has also opened a nine-point gap with third-place Hershey in the Atlantic Division race. That is the largest gap between a second- and third-place team in any of the AHL's four divisions. They also have a 30-15-4-1 record against Atlantic Division competition, and that win total is the most for any AHL team in divisional play.
They have built a dominant home-ice presence in Bridgeport, going 20-5-2-1 and will take that mark into an eight-game homestand that begins next week. It is a lengthy stretch at home, but it will be a grueling one that will feature two meetings with the Checkers at the end of the month. In all, six of the eight teams that will visit Webster Bank Arena are in a playoff spot or within five points of one. Immediately after finishing that time in Bridgeport, they will face a home-and-home series with the Providence Bruins, a potential first-round opponent.
Leading the way and running a disciplined operation in Bridgeport is head coach Brent Thompson, a long-time AHL captain during his playing days who is in his eighth season with the Islanders organization, including six behind the Bridgeport bench. Thompson played a hard-nosed style over 14 pro seasons as a defenseman, including 10 of them during a rough-and-tumble era in AHL history.
"He demands a lot from you," Dal Colle said of Thompson. "It starts with practice, practice habits. I'm not going to lie, practices are pretty tough. We have the toughest practices that I've ever experienced as a player. But he is good with rest days and stuff like that as well."
"We know that if we work, he will treat us well."
But Thompson also relies on his veteran cast to establish that practice standard.
"I think the character of our leadership is outstanding," Thompson said. "I think that's where it starts. That sets the tone for everybody else, whether it's how hard they compete in practice, preparation."
In recent years, the Sound Tigers' top development successes have been on the blue line, where Ryan Pulock, Calvin de Haan, and Scott Mayfield count among their graduates. Devon Toews could be close to sticking at the NHL level full-time. Casey Cizikas and Nino Niederreiter came through Bridgeport as forwards along with Anders Nilsson in net.
Now the task for Thompson and his coaching staff is to deliver Dal Colle, Ho-Sang, Bellows, Aho, and more for full-time roles with the Islanders. Dal Colle and Ho-Sang remain very much on the Islanders' radar and received emergency recalls this week along with Gibson.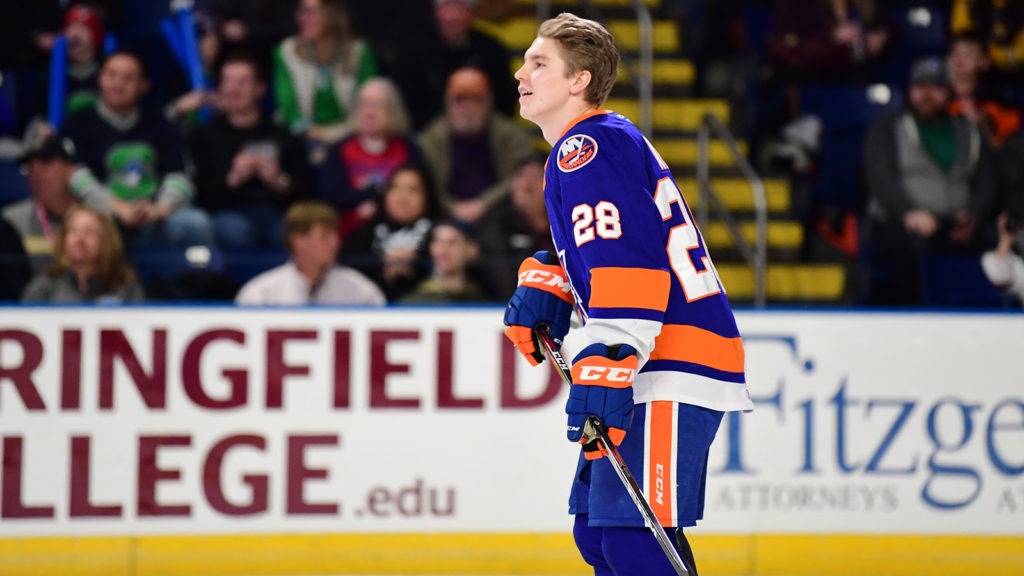 Sebastion Aho. PHOTO: Dan Hickling/Hickling Images
Dal Colle is fifth in team scoring at 18-16-34 in only 34 games. Ho-Sang sits at 36 points (6-30-66) in 44 games. Aho, "The Other Sebastian Aho," has emerged as a potential steal for the Islanders after they took him in the fifth round of the 2017 NHL Draft. His 38 points (6-32-38) in 51 games tie the 23-year-old Aho for sixth among AHL blueliners, and his 32 assists rank second.
Bridgeport has had impressive crease stability with the Gibson-Smith tandem, too. They have handled all of Bridgeport's goaltending responsibilities this season. The Colorado Eagles, Milwaukee Admirals, San Jose Barracuda, Grand Rapids, and Providence are the only other AHL teams that have used only two goaltenders at this point of the regular season.
Each goaltender has played 33 games and offered near-identical performances; Gibson is 18-9-4 | 2.89 | .900, and Smith is 17-9-3 | 2.85 | .901 in 33 games.
"Confidence," Thompson said of his goaltenders. "I think both of our goalies have been outstanding this year. They're two totally different characters."
Captain Ben Holmstrom has been in and out of the Bridgeport line-up this season, and the Sound Tigers are trying to have some of their younger players take on leadership roles as well.
To that end, he has had 23-year-old defenseman Kyle Burroughs serve as a captain when Holmstrom is out of the line-up. Drafted by the Islanders in the seventh round of the 2013 NHL Draft, Burroughs captained the Regina Pats during his WHL days and is in his fourth pro season in the Islanders organization. After a recent game, Burroughs sported an ice bag on his leg after a shot-block helped to stave off an opposing comeback attempt.
"This year we're trying to baby-step [Burroughs] into it, if you will," Thompson said. "Ben Holmstrom is our captain, but when Ben's not in, we want Burroughs to wear the 'C.' He's willing to eat shots with his face. He does the things that go unnoticed [to some]. To the coaching staff and his teammates, it doesn't go unnoticed, so that's why he has earned that right to wear that letter."
That approach is the standard that Thompson wants for his team. They have five weeks to set up for a potential playoff run, and he knows that there are still areas of his team's game that need work to make playing deep into the spring possible.
"When you come and see us play, you know that we're going to have the hardest-working team, and we're going to make the right puck decisions at the right time," he said of his late-season team objectives. "So, there are some improvements that we definitely need to make moving forward."
Dal Colle has seen that mentality take hold in the Bridgeport dressing room already as this season has unfolded.
"Everybody is buying in," Dal Colle said. "Good vibes right now."
You may also be interested in: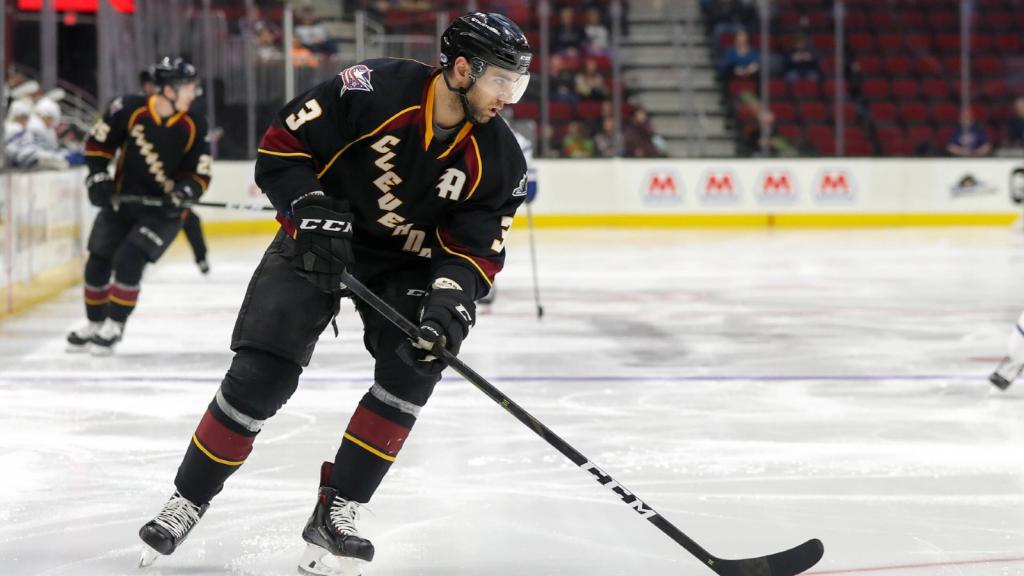 AHL ON THE ROAD: Drawing up a shopping list
This article is about: