NHL Rookies
SIBNER: Supporting cast helps stars shine over Tampa Bay
Peter Sibner
TAMPA (EP Rinkside)
Of course, you don't have to look very hard to find bright spots on the 2018-19 Tampa Bay Lightning.
They have the league's leading scorer and Hart Trophy front-runner Nikita Kucherov. Their blueline is patrolled by the reigning holder of the Norris Trophy. They have a Vezina-caliber goaltender.
Possibly, even most likely, today's Tampa Bay Lightning is the best team in the post-cap era. To find similar dominance in league standings and just about all relevant statistical categories, you'd at least have to go back to the mid-90's Red Wings.
Former Tampa GM Steve Yzerman was the captain of that team and yes, he may be on his way back to Detroit now. But not only is he leaving behind a first-class hockey team, he also appears to have put together a top-notch scouting staff and one of the very best farm systems in the league. Recent trades for players like Ryan McDonagh, J.T. Miller, and Mikhail Sergachev have all worked out as intended and with or without him, the Lightning is clearly a hockey organization in top shape for the forseeable future.
Off the ice, too.
In 2016, they were named the best organization in professional sports by ESPN, based on a combination of fan votes and financial metrics. Owner Jeff Vinik seems to spare no expenses in keeping his players happy, including but not limited to investing in a massive renovation of the entire downtown area surrounding Amalie Arena.
Kucherov, Steven Stamkos and Victor Hedman have all taken hometown discounts to stay in the Bay throughout the prime of their careers. Kucherov doesn't even go back to Russia in the summer, as he prefers to stay in Tampa and entertain potential free agents at Clearwater Beach.
Florida has no state income tax, which I guess didn't hurt negotiations with said players, nor will it hurt solving future cap-related situations such as the upcoming one with Brayden Point.
Did I even mention the weather down here? Well, it's pretty damn great.
They have the league's best power play. The best penalty kill. They've scored the most goals. Carried by one of the best D-corps and most likely the best top six forwards in the league, they're on pace for over 60 wins and upwards of 130 points.
And, just to rub some more of that Gulf of Mexico sea salt into the wounds of opposing teams: on most nights, Tampa now also has the fastest, toughest and grittiest third and fourth lines in the league.
It was evident on Monday, when Cedric Paquette scored two goals against the Toronto Maple Leafs and made sure he didn't make any unneccessary buddies from Ontario in the process. Last Tuesday, I was at Amalie Arena and saw their fourth line pick up two goals against the Blake Wheeler/Mark Scheifele-led Winnipeg first line as Tampa crushed the Jets in just about every aspect of the game.
So where's the downside here? You tell me.
Yes, there will be cap issues. Good teams always face them eventually. Also, many years of being a contender will usually impact a team's ability to pick the sweetest cherries from the Draft smorgasbord. And having a powerhouse roster will quite ironically limit your opportunity to give young players the time on ice they may require to fully bloom. Intimidating competition and a tight cap strap usually won't make you a good fit for attractive free agents, being it established players or late-blooming prospects from Europe or College.
But why spend money on July 1st when your fourth-round draft picks show up at training camp, on fire and ready to kick some serious ass?
One or two hidden gems from Syracuse seem to sneak onto the Lightning roster every September. Two years ago, it was Brayden Point. Last year, it was Yanni Gourde and later on Anthony Cirelli. This year, it's Erik Cernak and Mathieu Joseph.
"It just shows our organization is doing things right. They draft good players and develop players in both the ECHL and the AHL. The guys coming up here fit really well. I know they play the same or a similar system in the AHL, so for them to adapt as far as structure and tactics go is a smoother transition. The guys we've added have all fit right in", veteran defenseman Anton Stralman told EP Rinkside about the recent emergence of a very impressive supporting cast in cap-strapped Tampa.
Trying to make the best team in the National Hockey League would be a daunting task even for seasoned NHL depth wingers. Mathieu Joseph did it with just a year of AHL hockey to his name. Not a lot of people thought he'd line up for the Bolts on opening night this season, but a productive first year in Syracuse at least gave him an outside chance to get a good look from the Tampa brass when September came along.
Joseph hasn't been back to Syracuse since. He's got 13 goals and 22 points in 59 games on a checking line.
Let's just say he took the chance.
"When I came to camp, I was like 'OK, you're gonna have to prove you can play in this league and you have to work hard for that. But I didn't really have any expectations going in. I knew they were a really deep team and to crack that roster, I was gonna have to have a really good training camp. So yeah, for sure, as a young guy coming in from Syracuse trying to adapt to this league, it was hard but I think I had a really good camp", Joseph told EP Rinkside.
Just the transition from QMJHL hockey to the AHL pro grind alone will take its toll on many young players, even those picked way earlier than 120th overall. For Joseph, it took some time to adapt to playing bigger, stronger players every night. But not two or three seasons usually common for fourth-round draft picks. It took him 70 games and a playoff series.
"Honestly, I wouldn't say I adapted that fast. But as the year went on it got better for me and at the end of the season I was really comfortable in Syracuse", said Joseph about the transition from junior to pro hockey.
Joseph attributes a lot of this to Syracuse Head Coach Benoit Groulx. Now in his third year with the Crunch, Groulx certainly has amassed a pretty impressive track record of turning hidden gems into full-time NHL'ers.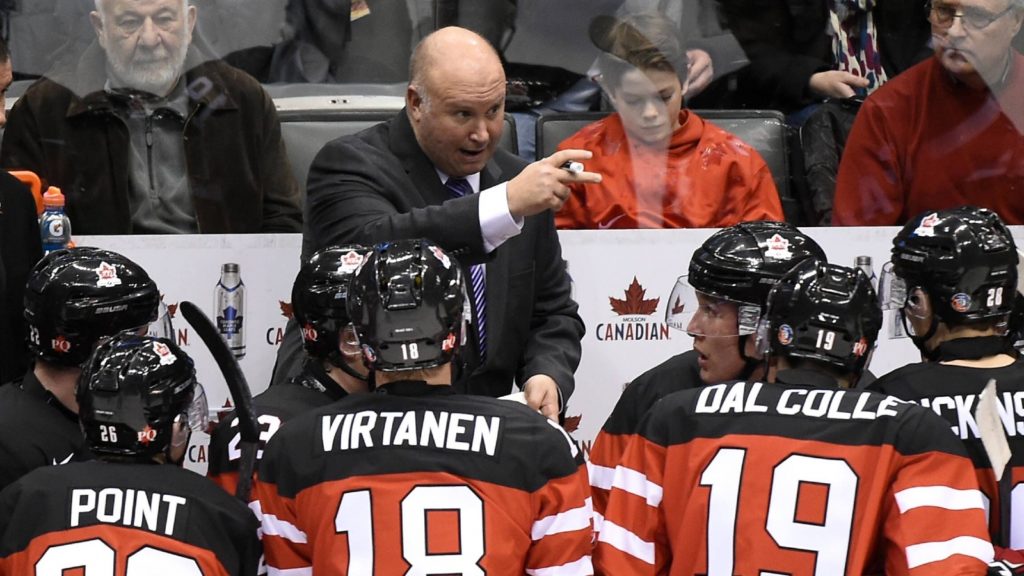 Benoit Groulx. PHOTO: Bildbyran.
"It's difficult to go from junior to pro level and Ben sets the standards really high straight away. They work hard up there. I'm not saying we don't work down here, but Ben Groulx is hard on players in a good way. I think he's a good coach and he's expecting nothing but perfection from the players. When you're having a transition like that or when you're coming onto a new team in a new league, you have to perform. I think Ben has done a good job pushing the players as hard as they can go and I think he's a coach that's really demanding, which definitely helps young players build character and work ethic right away", said Joseph.
Also, Joseph didn't have to look very far to find helpful advice on how to earn a spot on the best hockey team in the National Hockey League. His Syracuse linemate and good friend Anthony Cirelli made the same jump last spring, which of course helped pave the way for Joseph.
"We played together pretty much all year in Syracuse and he's an easy player to play with. When he got called up in February, he made his mark right away here. His work ethic is something else. I think when we talked about the fact that he was in Tampa for the rest of the year, it was like 'OK well, I'm gonna have to do the same thing if I wanna be there one day'. We're both guys that work hard and I think the reason we're both here now isn't necessarily because of our talent on the ice. There are so many talented players on this team, we're just trying to work hard every night and in practice and he's a good example of a guy who never gives up on a play", Joseph said.
Sitting on a dominant lead in the standings just weeks before the playoffs can potentially be dangerous, although I don't even notice a whiff of this team getting comfortable in cruise control mode when I move around the Lightning locker room. Still, the grit and spark brought every night by players such as Joseph, Paquette, Cirelli and Adam Erne sure is a helpful factor in keeping the star-studded team on their toes down the stretch.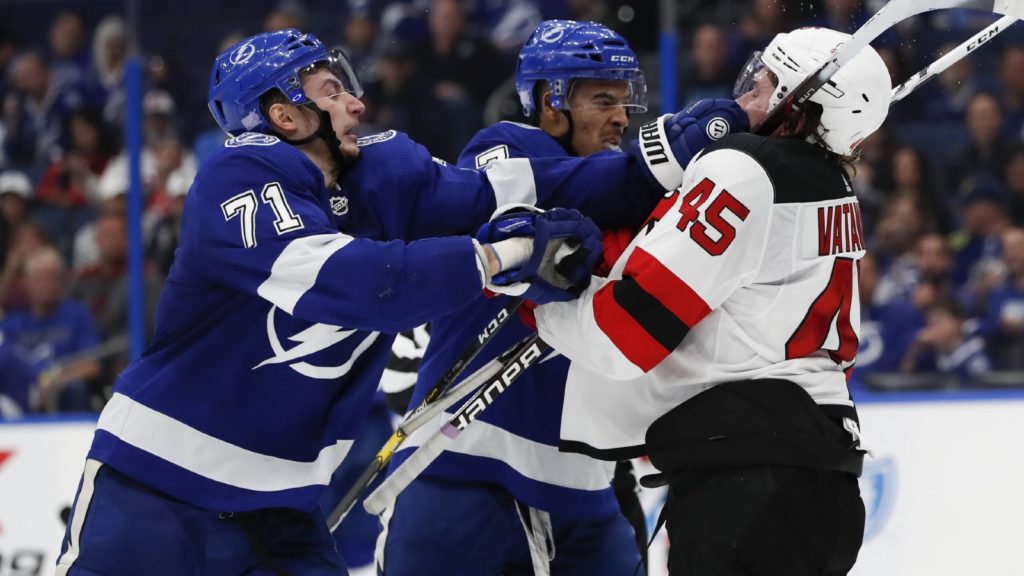 Norris Trophy winner Victor Hedman knows what complacency can do to a team's chances. When the Lightning surprisingly missed the playoffs just two seasons ago, it may have been due in part to having too much confidence early on and falling behind to a point where not even a furious second-half push was enough to compensate for a slow start.  Feisty competition for spots throughout the lineup should prevent that happening again.
"It's really good. They bring energy. I think the guys that have been here for many years should lead the way and be the leading players every night, but the young guys come in and make the most of their opportunity and they play with a lot of speed. Joseph has brought a lot of energy, skates really well and has scored thirteen goals already. He's been really good. Cirelli came up last season and is one of the hardest working players on our team, very important on our penalty kill, plays a lot against other team's top lines", Hedman told EP Rinkside about the contribution from the team's third and fourth lines.
"The young guys coming up do it really well. [Erik] Cernak is another guy who started the season in Syracuse. I think it pushes the rest of us and proves that we have a good organization, that we are drafting well and we're finding players who fit into our system."
There are of course a lot of things that could yet again stop the Lightning from winning another Stanley Cup. But one thing's for sure: the NHL's most star-studded team now seems to have found a perfect combination of grit, skill and thirst for revenge.
That usually goes a long way these days. Just look at the Pittsburgh Penguins. Or the Washington Capitals.
You may also be interested in: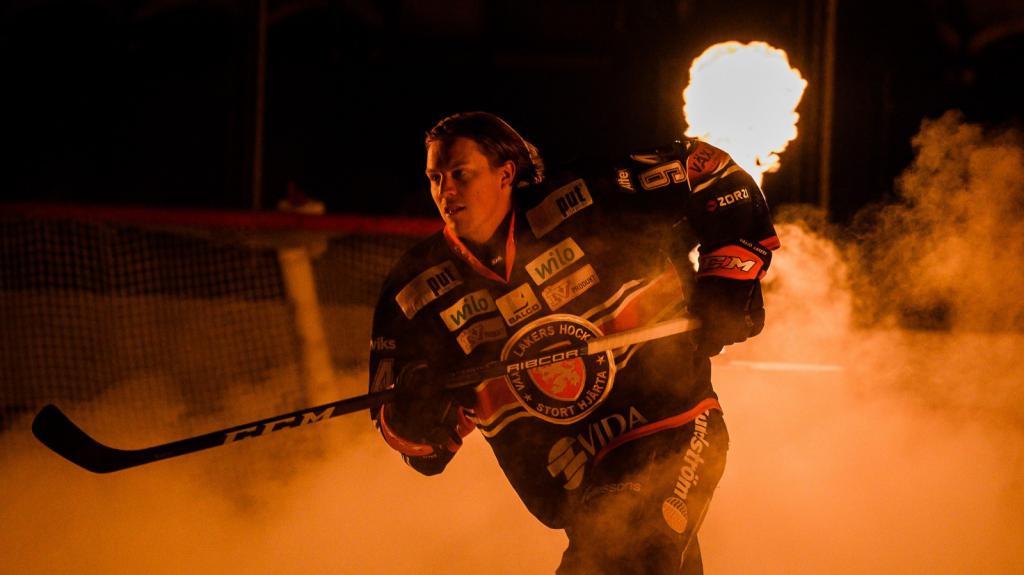 SIBNER: Joel Persson – a diamond in the rough?
This article is about: