NHL Prospects
WODON: Not a surprise there were surprises in the regionals
Adam Wodon
With college hockey as unpredictable as it is these days, it's not a surprise when there are surprises.
But it's still a shock to see a team like American International knock off the No. 1 seed in the entire NCAA Tournament. That's what happened in the first round when the Yellow Jackets, a team from a small Division II school in Western Massachusetts, knocked off St. Cloud State. Now, technically, St. Cloud State is also a Division II institution, but it's been a hockey power for a while now with a lot of resources. AIC's program barely survived three years ago.
Some would say we should not be shocked anymore when this happens. After all, teams from Atlantic Hockey, one of the six Division I conferences, have fared pretty well in the NCAA Tournament lately. Despite being the so-called weakest of the six leagues, Atlantic teams have won seven of their last 14 first-round matches.
But it's not a criticism when we say it's still surprising. During the regular season, Atlantic teams lose regularly to the teams from the other conferences. While that has improved somewhat, Atlantic teams still barely above a .200 winning percentage in non-league games this year. American International itself was 0-6 in non-league games, albeit against teams that all made the NCAA Tournament. Still, what reason did anyone have to think this could happen again?
What is it that makes Atlantic Hockey teams look so good in the NCAA Tournament, after struggling against the bigger schools all year long? I don't think there are easy answers to that question, and it's not as easy as saying "you overlooked us all year long," as say some supporters who get their dander up.
And what about St. Cloud State? That's two years in a row it came in as the top overall seed in the tournament and lost to a school from Atlantic Hockey. And it happened in 2016, too. Many people have long-since chalked up St. Cloud's NCAA woes to a jinx. But, if we assume we don't believe in jinxes, then what? You can't even blame it on their coach not having the team "prepared," because this is a brand new head coach this year from last.
Is it the fact that St. Cloud plays on Olympic-sized ice all season, but NCAA Tournament games are all on NHL-sized sheets? There may be something to do with it, since the Huskies also lost the last two NCHC conference tournament championship games, which are played in the NHL-sized Xcel Center in St. Paul. Still, it's hard to understand.
American International was defeated by Denver the next night, so the Pioneers are the ones going to the Frozen Four. Denver is led by a first-year head coach,
David Carle
, who took over when
Jim Montgomery
left for the NHL. Carle was just 28 when he took over, making him the youngest coach in college hockey. But since his playing career was cut short by a medical condition, he actually got his coaching start much earlier than other guys too. He has coached and acted like a polished veteran. His team has nowhere near the talent and firepower the 2017 Denver national championship team had, with a bunch of those guys now in the NHL, but he coached a very stingy style. And highly-touted freshman goalie
Filip Larsson
, who was hurt to start this season, came on towards the end of the year and fulfilled his early promise.
"I think we're a little foolish if we think there aren't going to be some growing pains. There will be," said Denver associate athletic director
Ron Grahame
, a legendary player there and former NHL goalie. "Still, we feel fortunate. I think David has grown. I think he's learned. And that will really help us down the road."
Meanwhile, the rest of the NCAA Tournament Regionals were highlighted by similarly stingy defenses and goaltending. There were five shutouts in the 12 Regional games, which already tied the record for an entire tournament. There were very nearly at least three more shutouts, too.
Here's the scoop on the other three Regionals:
Northeast Regional
While defenses were ruling the day elsewhere, the Northeast Regional was highlighted by the offensive exploits of defenseman
Cale Makar
. The No. 4 overall pick in last year's NHL Draft dazzled everyone all weekend, and led Massachusetts to the first Frozen Four in its history.
To be sure, UMass also got a pair of shutouts — over Harvard and Notre Dame — behind its goaltender
Filip Lindberg
. But most of the "defense" that UMass played was simply because it always had possession of the puck. And that was led by Makar, who works the ice like a surgeon, or, moreso, like an NFL quarterback.
"When I came to program to this program, one of my biggest goals was to bring pride to throughout the University, to the former players who wore the uniform, the community and first and foremost to our locker room," UMass coach
Greg Carvel
said. "When I took the job, everyone wanted to talk about the sleeping giant and I said if we can put a program that people can be proud of and entertaining; we can awake that giant. This year I think we have done that."
East Regional
There was controversy here again, because the team Providence was getting to play NCAA games in its home town, despite being the lowest-seeded team in this Regional. Then, as in 2015, when the same thing happened, Providence went out and won the Regional.
Who is to say whether Providence being sort-of home had anything to do with winning. Providence was a strong team all year long, that had some baffling losses which almost kept it from even making the NCAAs. But it always had potential. After falling behind 3-0 in the first round against Minnesota State, Providence outscored its opponents 10-0 the rest of the weekend. Like it turned on a dime and turned into beast mode.
"We were a couple of games away from not being in this thing," Providence forward
Josh Wilkins
said. "We're really excited to go there. Hopefully, we can keep this roll going."
But it's moreso the principle of giving a 4 seed an advantage that's an issue to many, however small that edge may be. It's not their regular home ice, but it's right in the same town, so a ton of locals show up, a benefit a team like Minnesota State, more than a thousand miles away and the top seed, doesn't get.
The NCAA tries to keep games on neutral sites, because it wants its tournament to be fair. There is always talk of moving early-round NCAA Tournament games to campus sites so that crowds will be bigger, like it used to be from 1981 to 1991. But the Pairwise system which objectively ranks teams for purposes of selecting and seeding the field, isn't precise enough to be relied upon to give an advantage to those higher seeds. So neutrality wins the day. It seems contradictory, then, to allow a 4 seed to get that edge.
The debate will rage on.
Midwest Regional
Minnesota-Duluth continues to astound. After squeaking out an NCHC tournament championship, the defending NCAA championships came to Allentown and won two more close ones. The 2-1 win over Bowling Green in the first round represented the 12th straight one-goal game that UMD played in the NCAA tournament, and ninth win. Bowling Green — coming off a devastating loss in the WCHA championship game, where it blew a two-goal lead late and lost in overtime to Minnesota State — saw a similar thing happen. The Falcons allowed a late goal and lost in OT. It was almost the same, though not quite.
Back to UMD. The Bulldogs topped Quinnipiac the next night — a late empty netter meant a 3-1 win and an end to the streak of one-goal games. But they'll take it. Hunter Sheppard didn't have a shutout either night, but UMD's goalie may be the most underrated of them all. He just keeps getting it done.
"I think that's where the experience comes in," UMD captain
Parker Mackay
said about closing down Quinnipiac in the Regional final. "We've done a good job of that in the past where we do get the lead. Our record going into the third period with the lead is pretty good, so I think we have confidence in that and we just try and force the pace."
Elsewhere
The usual bevy of postseason NHL signings is well under way in college hockey, with the early departure list growing rapidly. There are no real surprises, except perhaps among the five Boston University players that left. Some of them were not surprises — but some, like
Shane Bowers
and
Joel Farabee
, were. Farabee is the only freshman so far to jump ship. And while he did have an outstanding season, it was not quite at
Clayton Keller
or
Jack Eichel
level, the last two BU stars to leave after one year.
Also, the annual coaching changes are well under way. The two big changes made so far are not totally surprises, though only in their timing, perhaps.
Miami was built into a powerhouse by
Rico Blasi
, but has fallen on hard times, missing the NCAAs the last four years and sitting near the bottom of the NCHC. Last year, he fired both assistant coaches, looking for two new ones that could be more aggressive in the new college hockey recruiting landscape. They were on their way to doing that, but time ran out.
St. Lawrence has been a disaster the last two years, what turned out to be the final two of
Mark Morris
' tenure. A once-proud and storied program has devolved to near ruins. Someone can come in there and turn things back around, and there's a $17 million arena renovation on the way to help things out.
Final thought from me … something I've observed over the last few weeks in the postseason, way too many video reviews for 5-minute majors. In other words, there is no call on the ice, or a 2-minute penalty is called — then the officials convene and watch video for a while, and eventually come out and rule it's a 5-minute major and game misconduct. I was all for the use of video to review majors before it was implemented, and was glad to see that it was, but not for this purpose. I wanted it for cases when a major was called, and the play was reviewed to see if actually deserved a major. It's far too important a call, because the offending player gets ejected from an important postseason game. But the other way around? That just has to stop. We're seeing far too many instances of referees deciding on majors and game misconducts after lengthy reviews. Everything looks more dramatic in slo-motion. If it takes you that long to determine whether someone's elbow glanced off a player's head during a check, then clearly it's not worth a major and ejection.
Please make it stop.
FROZEN FOUR SCHEDULE
April 11th, 5 PM ET: Providence – Minnesota-Duluth
April 11th, 8.30 PM ET: Denver – UMass
April 13th, 8 PM ET: National Championship.
You may also be interested in: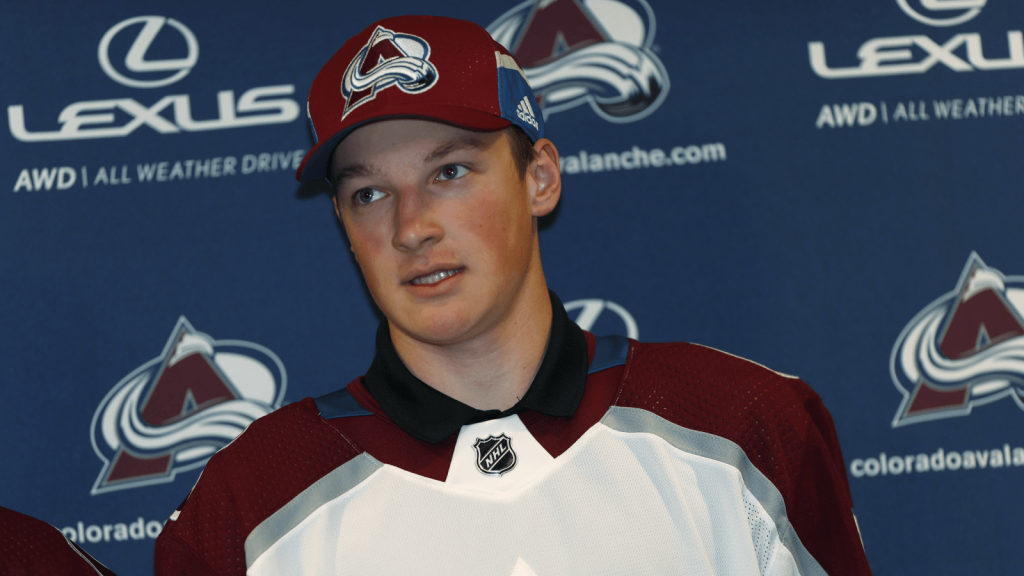 Sky is the limit – NCAA standout Makar buying into leadership at UMass
This article is about: