NHL Rookies
Sam Steel, Ducks make use of disappointing season to prepare for the future
To hear him tell it, it's been a roller-coaster ride of a season for Anaheim Ducks prospect Sam Steel.
It's certainly been up-and-down, to say the least.
Steel, a first-year pro, has been shuttled from Anaheim to the San Diego Gulls of the American Hockey League and back four times this season, and made the most of his most recent recall — a late-season audition on an injury-riddled Ducks squad.
"I think for mindset just coming in, trying to do what I do best every night and try to make a big impression and everything," said Steel, most recently recalled from the minors on March 23. "I'm just taking it day-by-day right now and trying to do my best every night."
Steel started the season on Anaheim's roster, and played the opening 13 games of the season with the Ducks, and managed three points (one goal, two assists) in the stint before being assigned down to San Diego.
He was an emergency recall for a solo skate in February, and again for two spins in early March, before what will be a bookend of sorts in finishing the year out in the National Hockey League with the Ducks, who have lost 407 man-games to injury the season and were without several key veterans for large stretches.
The test is an important one for Steel.
"I've been just trying to develop and the coaching staff and players have helped me out a lot," said Steel, who was selected in the first round (No. 30) of the 2016 NHL Draft and amassed 338 points (123 goals, 215 assists) in 258 games in the Western Hockey League with the Regina Pats.
"I think I've made a lot of progression over the year.
"To get a call up here at the end is really nice, just to get up here and try to put into action everything that we were working on down there."
His latest audition has been fruitful.
Steel recorded his first NHL hat-trick in a 5-4 win against the Vancouver Canucks, and in the process became the youngest Anaheim player do net three snipes in the same game at 21 years, 51 days. The trick eclipsed Bobby Ryan's previous mark of 21 years, 297 days set on Jan. 8, 2009 against the Los Angeles Kings.
"It's obviously nice to get a few and help the team win," said Steel, who netted the Stafford Smythe Trophy as the Memorial Cup's most valuable player in 2018, just months after helping Canada to gold at the 2018 IIHF World Junior Championship.
"It's nice.
"You always want to help the team win and produce, especially at this level. You're trying to make your way in and find a way to help out. It was a good night, for sure."
The goals came in Steel's 18th game — the fastest in Ducks history from the start of his NHL career.
"It's huge," said Ducks general manager and interim head coach Bob Murray.
"Confidence is such a fickle thing and he's kind of been fighting it a little bit at this level. The other night was a very good night but it's been in the making. It's been coming.
"It's good to see him rewarded."
The reward comes at a tumultuous time for the Ducks.
Anaheim were eliminated from Stanley Cup Playoffs contention for the first time since 2011-12.
"They just want me to play my game and show what I can do," Steel said. "Show the progression I've made throughout the year."
The late-season look gave the Ducks a look at many key future pieces, including Steel. He ended his first NHL season with a more than respectable eleven points in 22 games.
It'll help Steel get a closer look at his future, too.
And help iron out some of the ups and downs of his first season in professional hockey.
"I wasn't coming in here first year pro and you're never sure what to expect fully," Steel said.
"It's been a lot of ups and downs. I did expect that.
"It's definitely a rollercoaster but it's been a pretty good year so far."
You may also be interested in: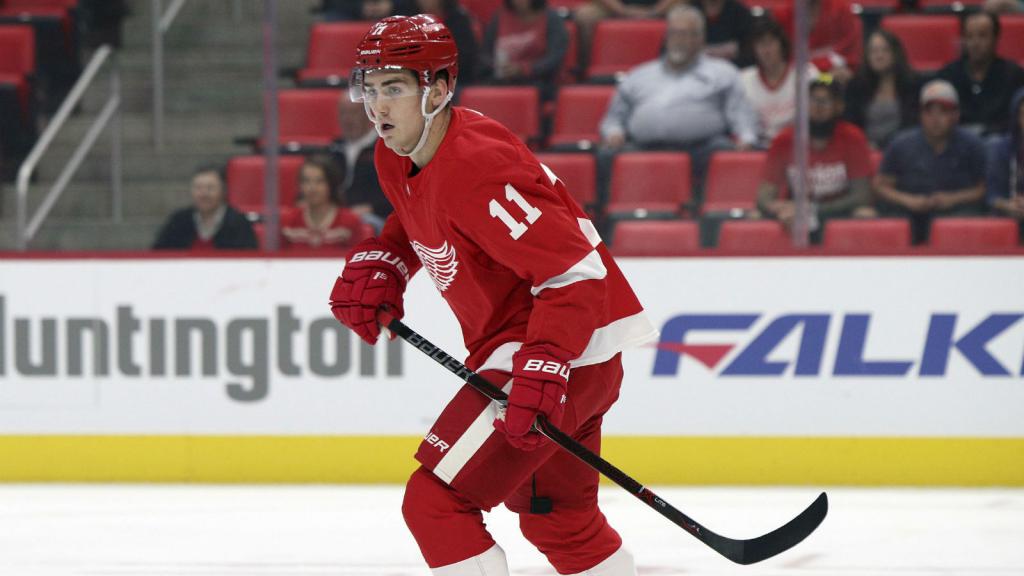 AHL PROSPECTS WATCH: Zadina finding his game after WJC letdown
This article is about: