NHL Rookies
AHL WEEKEND: Upsets already underway in Calder Cup playoffs
Not all rest in the Calder Cup Playoffs is created equally. While one team has earned some rest after a tidy first-round series win, two other clubs will have a long offseason.
Among the storylines are two major first-round upsets, an Atlantic Division tug-of-war, and the Chicago Wolves having to fight off elimination again.
BEARS, SOUND TIGERS SEEING MIRROR IMAGES
In a week in which some of the AHL's top powers have bowed out in the first round of the Calder Cup Playoffs, the Bridgeport Sound Tigers and Hershey Bears are taking their first-round series to the limit.
Bridgeport staved off elimination in Game 4 at Hershey, breaking two Bears leads before securing a 3-2 overtime win on a goal from Matt Lorito that will set up the deciding Game 5 in Bridgeport on Saturday night. The teams have split each of the two contests in the other club's building. Bridgeport posted a 26-7-3-2 home record in the regular season, but the Bears have defeated them three times at Webster Bank Arena, most recently in Game 2 last Saturday night. The Sound Tigers' 26 regular-season home wins ranked second in the AHL.
Much like the Stanley Cup Playoffs, the AHL has felt the trend of top powers experiencing significant first-round difficulties. Second overall in the AHL with 102 points, the Syracuse Crunch fell to the Cleveland Monsters in four games. The third-overall club, the Rochester Americans, went out in a sweep to the Toronto Marlies after a 99-point regular season. The Chicago Wolves, whose 98 points led the Western Conference had to hold off elimination earlier this week and will face a deciding Game 5 on Sunday. Next on the list are Bridgeport (fifth overall) and Hershey (sixth overall), and one of those teams will be done playing after Saturday night.
Atlantic Division rivals, the two clubs seemed unlikely first-round opponents back in January when the Bears occupied last place in the Atlantic Division. Bridgeport had held steady throughout the regular season, even occasionally threatening the powerhouse Charlotte Checkers for first place in the Atlantic Division before the Checkers pulled away for good. Hershey needed a scorching 27-5-4-2 second half (.789) to climb past several Atlantic Division clubs and nearly wrestle away home-ice advantage from the Sound Tigers before sticking in third place.
The AHL affiliates of the New York Islanders and Washington Capitals entered this series with minimal playoff history. After an AHL-record 60 regular-season wins, Hershey took a first-round series against Bridgeport in five games in 2010 on the way to a second consecutive Calder Cup championship. Since then, Bridgeport had missed the postseason in six of the past eight seasons. In the two seasons in which they did qualify, they went out in first-round sweeps, mostly recently in 2016 against the Marlies.
But where the teams lack much playoff history, they share plenty in common on the ice. Both clubs are built around a tight-checking, puck-pursuit, urgent style of play, especially after Hershey ironed out first-half issues. The Bears cut their goals-against per-game average between the first and second halves from 3.32 goals per game to 2.34 (Syracuse ranked first over the entire season at 2.46 goals per game). Owning a minus-30 goal differential at the season's halfway point, Hershey eventually sliced that number to minus-four by the end of the season.
Some playoff match-ups are a clash of styles. Others are similarly built and structured clubs trying to execute a particular style of play just a bit better. Sound Tigers head coach Brent Thompson concurred when asked whether he saw the match-up the same way.
"One hundred percent," Thompson replied. "Very, very similar teams. Both teams work very hard. Both are intense. They're structurally pretty sound."
"They play a hard game. They play that playoff-style hockey, that hard, hard hockey."
Thompson is also happy that his young Islanders are getting an early dose of playoff intensity.
"I think it's good," Thompson said. "It's good for our young guys learning how hard it is, how desperate playoff hockey is."
Thompson would get no disagreement from first-year Hershey head coach Spencer Carbery, whose work throughout this season guided the Bears from a young, unsure club to this much more polished group that is pushing Bridgeport.
"These are two teams that work really hard, that are detail-oriented, that have some veteran guys but also some young guys who are really chomping at the bit and want to prove something this year," Carbery said.
Both clubs can play a skill- and speed-oriented, but one that blends in the intensity and abrasiveness required for a long AHL playoff run.
"I think this time of year breeds that, where guys get a little more amped up, there's more intensity, there's more physicality," Carbery said. "Where speed is still at a premium, but you've got a little bit more. You've got to be heavy and hard. You've got to go through bodies, and you've got to fight through people."
Carbery has relied on a stout goaltending of top Capitals prospects Ilya Samsonov and Vitek Vanecek to split work. That call has paid off for Hershey.
Vanecek delivered a critical 39-save shutout in Game 2 and took the Bears with a strong third period. Washington's second-round pick in the 2014 NHL Draft, Vanecek had 37 saves in Game 4 against the desperate Sound Tigers. Samsonov, the 22nd overall pick in the 2015 NHL Draft, continues to turn around his first season in North America after three KHL seasons.  He was particularly excellent late in Game 3, a Hershey win, with two point-blank saves on prime Bridgeport scoring chances. In all, Samsonov and Vanecek have provided the Bears with combined .956 work in the series.
"I think it's a weapon," Carbery said of being able to count on two goaltenders who would be the undisputed number-one on many AHL clubs. "The rest element of being really fresh, and then the pushing-one-another element. Those are two important factors when you have two guys that are really obviously high-level goaltenders and both are pushing one another to try to get that next game."
Hershey has needed that level of goaltending. Bridgeport's persistent, heavy game has broken through Hershey at multiple points in the series, and the Sound Tigers' 39.5 shots per game are tops in the AHL. Bridgeport has also had its own standout goaltending. Christopher Gibson has played three games, going 2-1-0 | 1.69 | .933. Jeremy Smith played Game 2 and held the Bears to two goals.
HERE COME THE MARLIES
The Toronto Maple Leafs plan to give the Marlies as many pieces as possible to defend their Calder Cup championship.
On Friday morning, the Leafs loaned goaltender Michael Hutchinson and forward Trevor Moore to the Marlies, who will face Cleveland in the second round of the Calder Cup Playoffs beginning next week.
Hutchinson, 28, went 14-5-3 | 2.70 | .910 for the Marlies after coming over from the Springfield Thunderbirds in a trade with the Florida Panthers. The Leafs had recalled him earlier this month to replace back-up Garret Sparks.
Moore, 24, will provide the Marlies an energetic forward who played a significant role in their Calder Cup run last season. He split time this season between the Leafs and Marlies, going 23-16-39 in 46 AHL games. Along with 25 regular-season games for the Leafs (2-6-8), he played all seven of their first-round games against the Boston Bruins, scoring once.
Cleveland is still without forward Alexandre Texier and defenseman Adam Clendening, who remain on recall to the Columbus Blue Jackets.
The Cleveland-Toronto series will open next Wednesday on Marlies home ice.
KING OF ROCKFORD
Derek King will be sticking around with the Rockford IceHogs.
The parent Chicago Blackhawks removed the interim head-coaching tag from King on Thursday. King had replaced Jeremy Colliton behind the Rockford bench after Colliton was promoted to Blackhawks head coach this past November 6th. Chicago also retained Rockford assistant coach Anders Sörensen.
The 52-year-old King went 29-28-3-4 with the IceHogs, who missed the Calder Cup Playoffs. He also had AHL bench experience as a Marlies assistant coach and associate coach. He was an assistant coach for the Owen Sound Attack of the OHL for one season and also put in two seasons as a player-assistant coach with the Grand Rapids Griffins as he closed out a long playing career. In 14 NHL seasons, he skated in 830 regular-season games and was 261-351-612.
Rockford is the second AHL club with coaching news. Earlier this month, the New York Rangers elected not to retain Hartford Wolf Pack head coach Keith McCambridge and assistant coach Joey Mormina.
AROUND THE A
Six NHL organizations qualified for the postseason at the NHL, AHL, and ECHL. But only one of those organizations will advance to the second round of playoff action. The Carolina Hurricanes have moved on  to the second round of the Stanley Cup Playoffs. Charlotte, their AHL affiliate, is trying to close out the Providence Bruins in a first-round match-up. The Hurricanes' ECHL affiliate, the Florida Everblades, are taking on a second-round match-up with the Orlando Solar Bears in the Kelly Cup Playoffs.
Blue Jackets first-round pick Liam Foudy is adjusting quickly to the AHL level of play. Taken 18th by the Blue Jackets in the 2018 NHL Draft, Foudy spent this season in the OHL with the London Knights. After London was eliminated, Columbus assigned Foudy to Cleveland. In Game 4, he scored the opening goal and added another tally later in the contest. But it is an old veteran who is also carrying Cleveland as well. With goaltender J-F Bérubé still out of the line-up, Brad Thiessen helped to shut down the AHL's third-best offense in the regular season. Syracuse managed just six goals in the four games against Cleveland, and Thiessen turned in a 38-save shutout in Game 4 to take the series. Cleveland captain Nathan Gerbe also remains injured and has not played since February 1st.
After being outscored by the Iowa Wild, 13-1, in the first two games, the Milwaukee Admirals pushed back hard in Game 3. Back on home ice, the Admirals ended a 13-game playoff losing streak by holding the Wild to 21 shots in taking a 3-1 victory. Iowa still leads the series, 2-1, going into Game 4 on Friday night in Milwaukee.
Up 2-1 in their series with the Colorado Eagles, the Bakersfield Condors can finish the series in Game 4 at home on Saturday night. Elsewhere, the San Diego Gulls will have some down time after knocking off the San Jose Barracuda in four games.
THIS WEEKEND
Saturday – Hershey at Bridgeport: The only downside of this series is that this will be a season-ending night for one excellent team.
Sunday – Grand Rapids at Chicago: This back-and-forth series has taken on a very chippy feel. These are two clubs who are sick of each other. With this being the deciding Game 5, they can finally be done with each other.
You may also be interested in: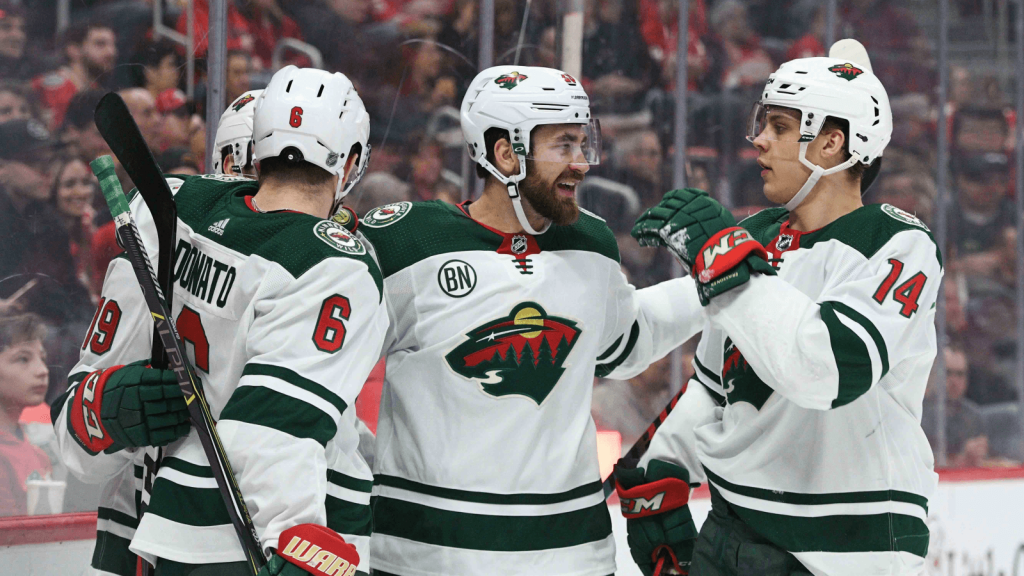 AHL PROSPECT WATCH: Youth building something in Iowa
This article is about: