For Sweden's U18 top scorer, hockey wasn't the obvious choice
ÖRNSKÖLDSVIK, SWEDEN —
The aftermath talk of Team Sweden's U18 World Championship winning performance was obviously about Lucas Raymond, whose hat trick against Russia gave Sweden their first ever U18 gold medal. Playing alongside fellow 2020 eligible forward Alexander Holtz, the duo sure did turn some heads and made next year's draft very interesting.
But let's not forget the third part of the golden first-line unit. Center Karl Henriksson had three goals and nine points in seven games, and the smallish centreman (5'9″, 174 lbs.) ended the tournament as Sweden's top scorer.
"Obviously, it's nice to get a couple of points on the board early", Henriksson said after Team Sweden's 3–0 victory over Team Russia in their final game of the round robin.
"You can go out and play a bit more relaxed when you get some points to your name early on, which obviously helps you out there".
Magnus Hävelid, head coach of Team Sweden, paired Henriksson with Lucas Raymond and Alexander Holtz all tournament.
Holtz, who has been putting up great numbers for Djurgårdens J20-team this season, enjoyed playing with Henriksson.
"He's sick. As good as it gets, really. He's incredibly skilled and reads the game very well. It's a privilege to play alongside him. Our line likes to be creative in the offensive zone and he is a big part of our offensive success", Holtz says.
Head coach Hävelid isn't late to praise his team's top scorer.
"[Karl] is an incredibly important player for us", Hävelid says. "He is a great distributor of the puck who moves his feet and has great composure out there. He is an offensive force but at the same time, he takes great pride in working hard in both ends of the ice. His work rate is incredibly high".
Hävelid continues:
"He can play in all sorts of situations out there and he is a bit of a catalyst for the whole team, especially in the line with Raymond and Holtz. He provides them with a lot of quality passes and maybe doesn't get the credit he deserves".
The lack of credit doesn't bother the 18-year-old centreman, who was expected to be picked somewhere in the third round of this summer's NHL Entry Draft by EP Rinkside columnist J.D. Burke.
Actually, it's the other way around.
"I kind of enjoy it. I have never been that kind of person that is eager to be in the spotlight, so to be honest with you it's quite nice", Henriksson says.
Playing in the U18 Worlds hasn't been a given for Karl Henriksson, neither has playing hockey. Like many other kids growing up in Sweden, Henriksson tried a variety of sports during his childhood. One sport he fancied just as much as hockey growing up was soccer – Sweden's proclaimed national sport.
While many teenagers decide which sport they want to take a run at rather early, Henriksson played soccer right up until he moved from Karlskrona to Gothenburg at 16 years old.
"I played as a central midfielder and had quite good vision out there. I was pretty strong and ran a whole lot. I was pretty good", Henriksson says.
Pretty good – yeah, I'd guess you could say that. Fact is, at age 15 Henriksson was one of the most promising central midfielders born in 2001 in all of Sweden.
"I was at a national team camp at Bosön (Sweden's Sports Confederations facility outside Stockholm), so I guess you could say I was in consideration to be picked for the national team. We didn't play an exhibition game against some other nation during the camp, so I never got a cap for the under-15's".
Before moving to Gothenburg, Henriksson had to decide which of the two sports he wanted to pursue a career in. The choice wasn't easy, Henriksson explains.
"No, it wasn't easy… But I always thought the practice part of hockey was more fun, and regarding how much time you invest in it, enjoying training is a pretty important part of your development if you want to succeed as an athlete. The intensity of the hockey training was much more fun than in soccer, so in the end, I think I took the right decision".
"I liked hockey more. Simple as that".
Henriksson doesn't have to look back on his decision with any kind of regret. The center is, along with linemate Lucas Raymond, seen as one of Frölundas biggest prospects coming up. Earlier this season the Frölunda center made his SHL-debut when he got his shot in Sweden's top league by Frölunda head coach Roger Rönnberg. The 18-year-old played in two games for Frölunda in the regular season.
"It was very cool. Just to see how all the players handled themselves and how professional everything is at that level. One of my goals for next season is to get a couple more opportunities with the senior team", Henriksson says.
Given his play in the U18 World Championship, Henriksson should expect a couple of more chances to prove himself in the men's league come fall.
You may also be interested in: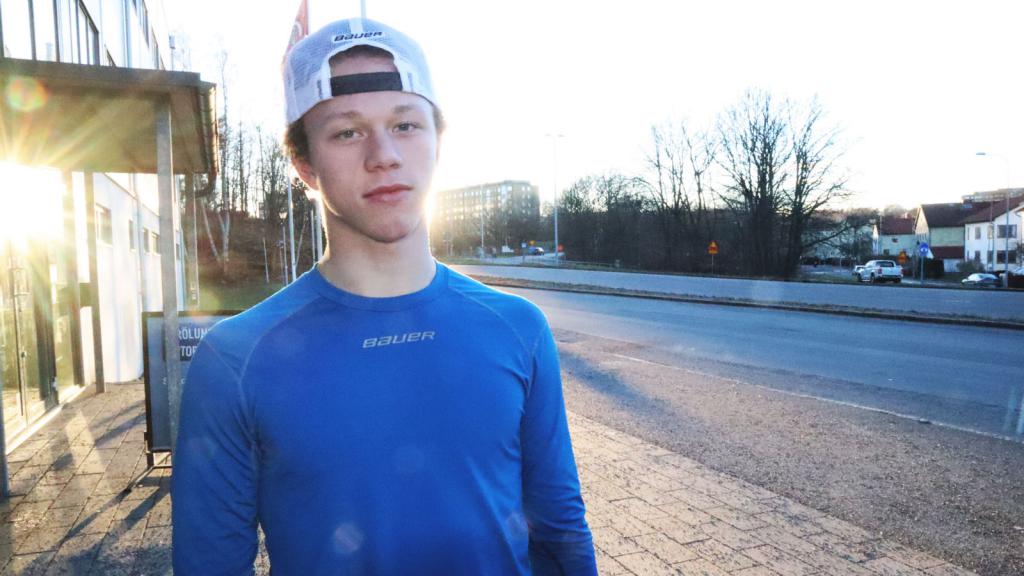 Another Raymond everybody will love?
This article is about: