U18 World Juniors
The little team that could – how Sweden captured their first ever U18 gold
ÖRNSKÖLDSVIK, SWEDEN — They weren't the favorites. Not even the second-most favored team. But thanks to strong leadership, a willingness to brush aside egos and a hat trick in the finals from 2020 top prospect Lucas Raymond,  Team Sweden made it out of the U18 Worlds in Örnsköldsvik and Umeå with gold medals around their necks.
Here's how and why it happened.
MAKING HISTORY
Before the first game in the group stage, against Team USA, the team known to most Swedes as the "Mini Crowns" – Junior Crowns long since taken by the U20 team – were confident and in good spirits.
"We're happy, we're healthy and we're ready to get this show on the road. We've been together for a long time this group and we've all grown really close these past few weeks", explained 18-year old defender Ludvig Hedström.
Coach Magnus Hävelid echoed Hedströms assessment, but then said something that rang true for the duration of the tournament:
"We want to play to our strengths, tonight and in the tournament. To make sure we dare to take risks and play our game regardless of who is on the other side."
Sweden dared to do exactly that.
Team ?? so far following the game plan from coach Hävelid to a T. "Have the courage to take chances". Making passes from in tight and using their skill when they can. ?? have yet to take advantage of any risk-taking #U18Worlds

— Eliteprospects (@eliteprospects) April 18, 2019
Of course, we all know how it ended. USA turned on the jets, scored four goals in the third period and kickstarted the Jack Hughes-Cole Caufield show. Sweden lost 6-1, with Simon Holmström scoring the teams only goal on a power move towards the net.
But they didn't play it safe.
Zion Nybeck got off to a good start and brought jump and energy to the Swedish team, picking up an assist on Holmströms goal. It was the beginning of a strong showing from the 2002-born HV71 skater as he went on to score five points (two goals, three assists) in seven games.
Barring injury, Nybeck looks set to be a strong presence on the Swedish team as they gear up to defend their gold next year.
But as EP Rinkside approached him after the USA game, none of that seemed possible.
"I don't know what happened", he sighed. "We had a good first period and then we just… we stopped skating and nothing worked."
Things quickly improved as Sweden nabbed a convincing but hard-fought 5-2 victory over Latvia. After the game, Philip Broberg called Latvia "one of the strongest teams we've faced in a while" and he certainly had a point.
At least in terms of the teams effort level.
Spurred on by a very (!) vocal Olegs Sorokins behind the bench, the team clad in red and white's willingness to fight for each other was indeed impressive, and eventually led them to secure their spot in the top division for next year's tournament by way of quarterfinals qualification.
Sweden went on to secure decisive victories from Slovakia (5-1) and Russia (3-0) to close out the group stage as the #2 seed from Group B.
Jesper Wallstedt was the goaltender of choice against Latvia and Slovakia, but Hävelid showed faith in Hugo Alnefelt – who allowed six goals against USA and had been feeling under the weather – and put him back in versus Russia.
Alnefelt answered the call and delivered a shutout.
"To be able to come back from being ill and to show up with this performance, it truly shows his character and his dedication", said coach Hävelid.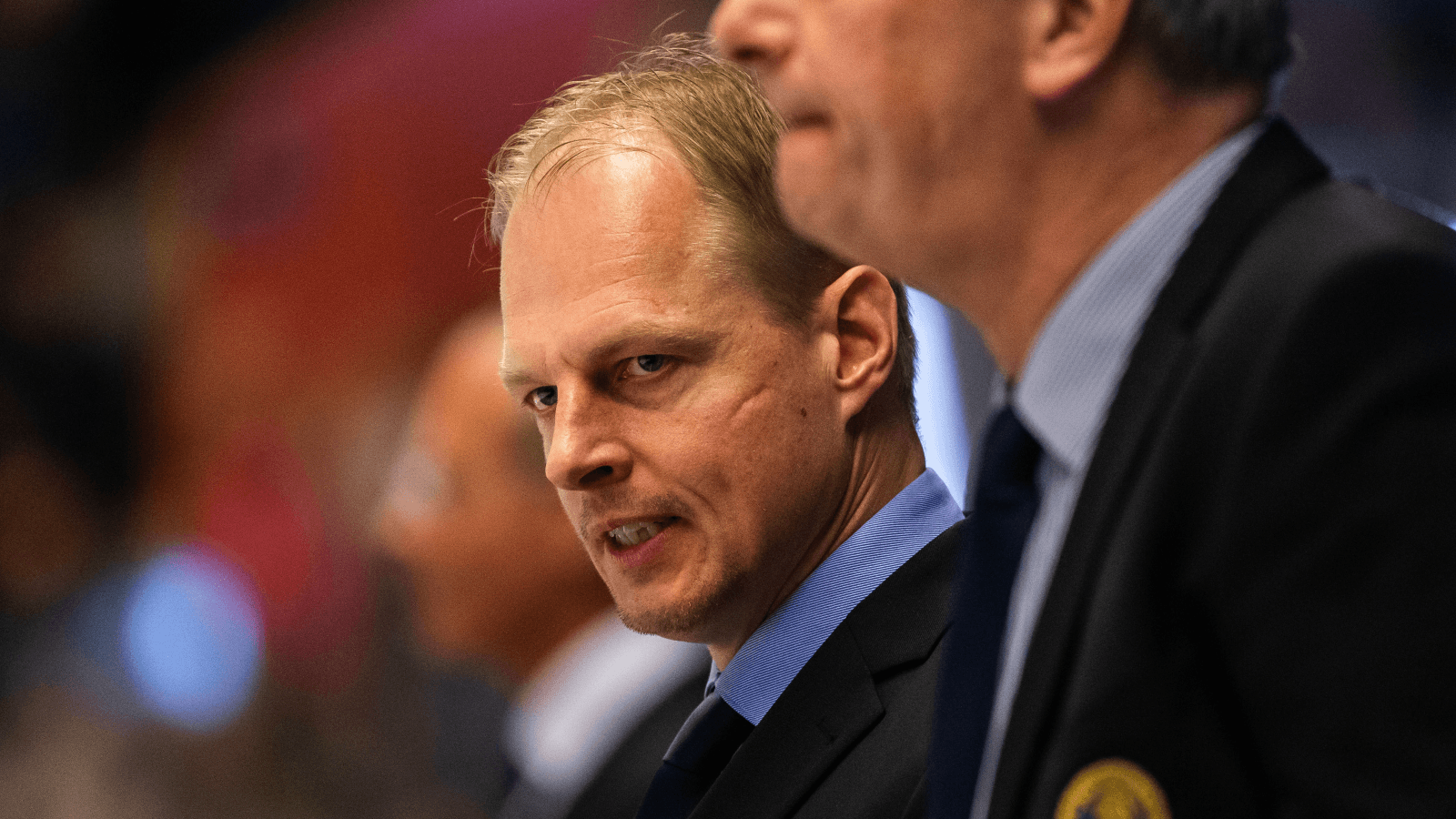 Sweden head coach Magnus Hävelid. Photo: Johan Löf, Bildbyrån.
THE PLAYOFFS
Sweden seemed like they were going to waltz through the quarters against the Czech Republic off goals from Alexander Holtz, Elmer Söderblom and Albin Grewe, but the Czechs quickly made it interesting by scoring two goals – nearly erasing the cushion Sweden had built. After a stressful third period, Oscar Bjerselius put the game away by way of an empty-net goal.
Next up was the team many thought would challenge the Americans for the gold – Canada. Led by Peyton Krebs, Alex Newhook and Dylan Cozens, the Canadians had made short work of Group A in Umeå; winning all four games with a goal differential of 29-10.
The "Big Three" mentioned above did combine for a goal to make it 2-1 Canada at the start of the second period, but after that it was time for the Alexander Holtz show. Holtz scored two goals to make it 3-2 Sweden and even though Connor Zary tied it up, Albin Grewe came through with his second game-winning goal in two playoff games.
As for the finals against Russia, the entire game can be explained by mentioning one name: Lucas Raymond.
First he did this:
Wow! What a move and goal by Lucas Raymond.https://t.co/Lhl5zhXSGb#U18Worlds #2020NHLDraft pic.twitter.com/RmZAeOpvFB

— Eliteprospects (@eliteprospects) April 28, 2019
Then, with the score at 3-3 and the game in overtime, he did this:
Lucas Raymond game-winning goal in overtime.https://t.co/Lhl5zhXSGb#U18Worlds #2020NHLDraft pic.twitter.com/KLzJq0ZLPU

— Eliteprospects (@eliteprospects) April 28, 2019
In a flash, Sweden had become U18 World Champions for the first time in history.
Quite the moment.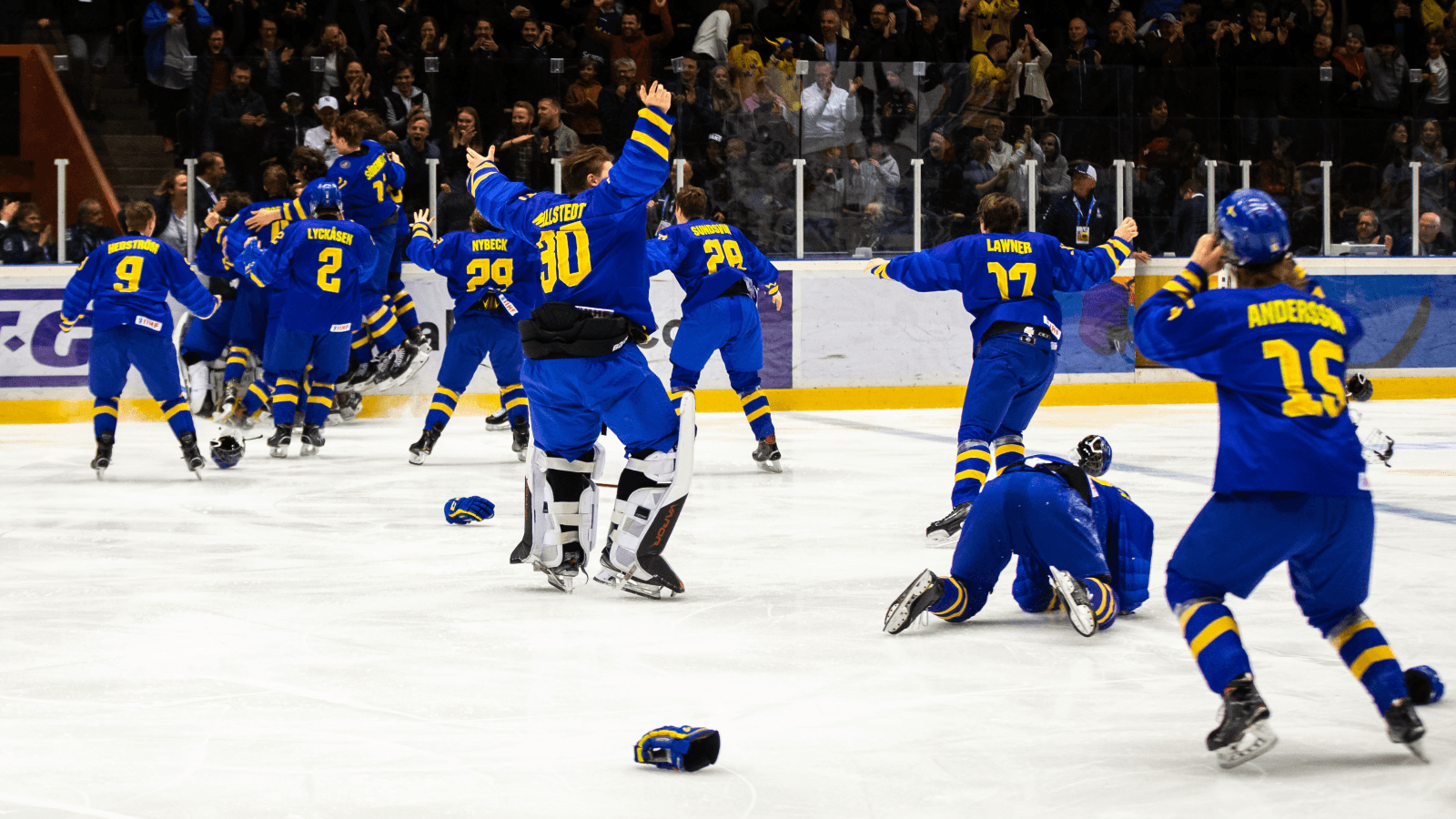 Sweden celebrating. Photo: Johan Löf, Bildbyrån.
It would be a disservice to the rest of the Swedish team to just give credit to Lucas Raymond, Alexander Holtz, Philip Broberg and Hugo Alnefelt, though. They may have been the stand-outs in Örnsköldsvik but, to a man, every Swedish player and leader preached togetherness and how no one dressed in the blue and yellow was – or is – bigger or more important than anybody else.
And really, who can forget seeing Simon Holmström driving the net time after time – finally showing what he can do when fully healthy? Or the tenacity and speed on display from young Zion Nybeck? Or the calm and poise from captain Tobias Björnfot – stepping up in the absence of injured Victor Söderström? Or gentle giant Elmer Söderblom always being in the right spot defensively?
Truly a remarkable squad of young men; pulling on the same rope until it finally gave way – showing what can be accomplished when you believe in each other and refuse to back down.
And, above all, when you dare to take chances.
*****
That was the story of how Sweden won their first ever U18 gold.
Here are the final EP Rinkside wrap-up notes from the tournament:
DRAFT RISERS
Let's get the obvious one out of the way: Cole Caufield played a tremendous tournament. While Jack Hughes ended up winning the overall tournament scoring title, Caufield's 14 goals in 7 games matched a U18 record set by Alex Ovechkin. Now, that's something you don't see every day and certainly a name Caufiled should feel proud to be mentioned alongside. It wasn't just the goal-scoring ability that stood out with Caufield, though. The way he moved into open space without the puck and how he both forechecked and backchecked like a mad man.
If he was on the outside looking in before, Caufield suddenly looks likely to crack the Top-10 in the 2019 NHL Draft.
Russian goaltender Yaroslav Askarov certainly turned heads in Örnsköldsvik with his part majestic, part spectacular play in net. Askarov outdueled "best goalie in the 2019 draft" Spencer Knight as Russia eliminated the hugely favoured Americans in the semifinals. The way Askarov calmly brushed aside all five American skaters during the shootout, including attempts from Hughes and Caufield, was something to behold.
The best part? Askarov isn't eligible to be drafted until 2020. Odds are he'll be the one carrying the "best goalie in…" moniker once the U18's rolls around next year.
Philip Broberg wasn't neccessarily the number-one defenseman for coach Magnus Hävelid. Team captain Tobias Björnfot was assigned that role and performed admirably, never looking overwhelmed or out of place. But it was Broberg who dazzled. Even as he struggled to put up points early on in the tournament, he was still wreaking havoc on the opposition – skating the puck up the ice time after time and using his large frame to fend off anyone who dared to challenge him. Almost offended by the notion that getting on the scoresheet would "get him going" when EP Rinkside asked, Broberg did eventually get going and started putting up points in droves.
He ended up with six points (two goals, four assists) in seven games and was named defender of the tournament. If that doesn't raise your draft stock, what will?
ALL-STAR TEAM:
G: Yaroslav Askarov, Russia
D: Philip Broberg, Sweden – Cam York, USA
F: Cole Caufield, USA – Jack Hughes, USA – Lucas Raymond, Sweden
The EP Rinkside group of All-Stars contain no real surprises. The biggest "upset" perhaps is choosing Lucas Raymond over players like Alex Newhook (Canada) or Rodion Amirov (Russia) who scored more points and were arguably more consistent offensive performers throughout the tournament.
But scoring a hat trick in the finals, including the game-winning goal in overtime, packs a pretty heavy punch… so Raymond it is.
Until next time.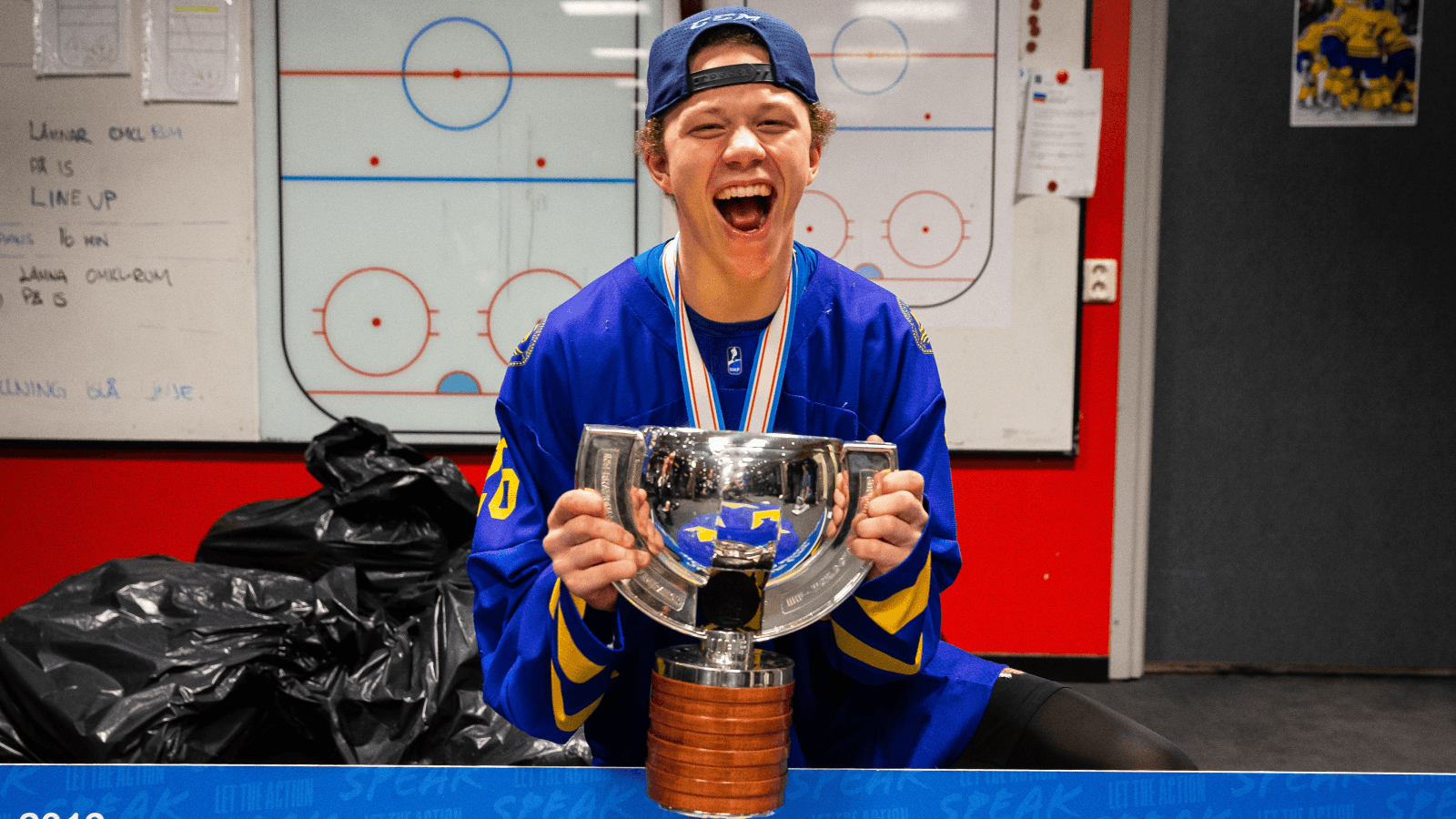 The MVP in the finals, Lucas Raymond. Photo: Johan Löf, Bildbyrån.
You may also be interested in: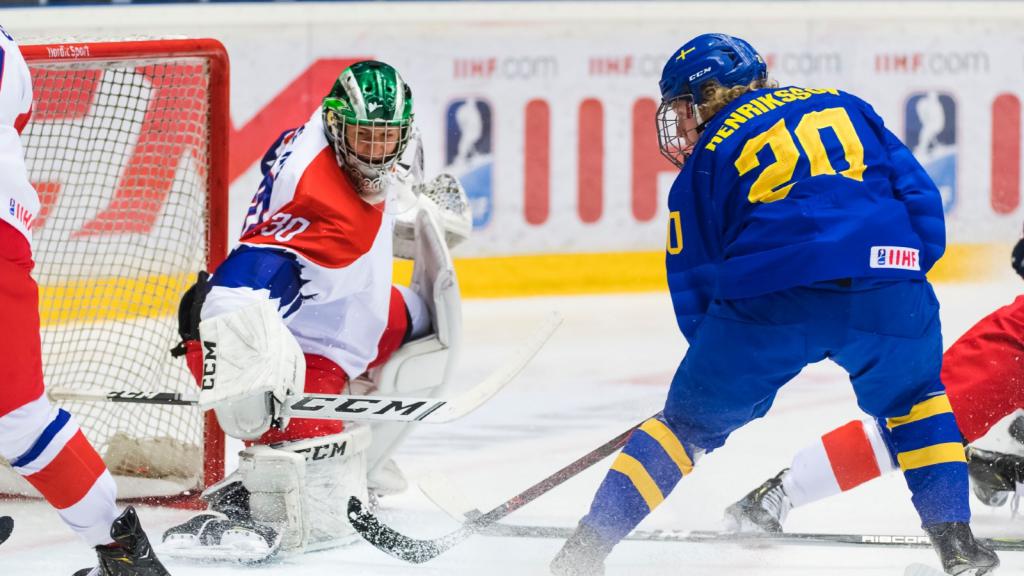 For Sweden's U18 top scorer, hockey wasn't the obvious choice
This article is about: