NHL Rookies
Flames hoping for Valimaki to have a good summer, returning to a bigger role
Ups and downs.
Literally and figuratively.
Juuso Valimaki experienced those as a first-year professional with the Calgary Flames.
It started, naturally, by cracking Calgary's roster as an early 20th birthday present.
It slowed, unfortunately, with a high-ankle sprain that slowed him before being summoned down to Stockton of the American Hockey League.
In finished, surprisingly, with an appearance in the Stanley Cup Playoffs.
"Pretty good overall I think," detailed Valimaki, who had three points (one goal, two assists) in 24 regular-season games with the Flames this season.
"Ups and downs. The start was really good, obviously, making the team…I was really proud of that, really happy. Then a big setback with the injury. It took a lot of time of the year. But it's part of the game. There's nothing you can do about it any more. You have to take it the right way.
"Being in Stockton, I think, long-term was good for me. I was playing tons of minutes and learning how to do that in pro hockey. I think I grew as a player. When I came back, I got in a few games. I feel like I'm better than at the start of the year. You can see the growth. I'm pretty happy how it went, after all.
"Disappointing ending for all of us. Everyone. I look in the mirror, too. I can't be too happy about my game either, because we can all be better."
The Flames were eliminated by the Colorado Avalanche in five games of the Western Conference First Round. Valimaki drew into the lineup in Game 4 and 5, pushing his National Hockey League experience to 26 total games.
It's enough of an audition to show what the future will bring to the No. 16 pick in the 2017 NHL Draft.
"I think he's going to be a great defenseman," Calgary captain Mark Giordano said. "He played unbelievable, I think, right from the start.
"It's funny. You look at the young guys who come in the league now and there's no fear in his game. He makes calm plays all the time under pressure. I thought he did a great job right until his injury. That was a tough injury for him to sustain. He came back, and in my opinion, he looked even better in the past couple playoff games. Real exciting young guy to have on our team. I think that's the trend of the league.
"What I see is just no fear in his game. Obviously he's got elite skill. I think that's a pretty deadly combo."
High praise from Giordano.
Valimaki's absorbed more than that from the Norris Trophy candidate.
"I think it's great for me to have guys like Gio in the room and a player like Gio on the ice," Valimaki said. "That's the type of player I want to be. He plays 25 minutes a night. He's out there in every situation. He shuts down the top lines, and he scores the power-play goals.
"And he's going to win the Norris this year. That's what you want to be, right? That's my mindset. I don't want to set my bar any lower than that. That's what I want to be one day. It's probably not going to happen next year, but next year is going to be the first step."
He's well on his way.
"When he came back, credit to him," Calgary coach Bill Peters started.
"He was bigger, stronger, faster. He did a great job down there looking after himself. I can say that because we knew all the body fats and everything. He's leaner, he's stronger, he's heavier.
"He's a driven athlete, this guy. He's going to have a great summer. He's going to come in and he's thinking not only is he making this team and I'm here for 82 games, and I'm going to be a big part of either the penalty kill or power play.
"That's how he thinks."
It certainly seems that way.
Valimaki is well on his way, too.
"Well, first step is going to be the summer," he outlined.
"You do the work, you come back and you're better. I'm pretty confident that I can be a good player in this league, and it starts this summer. But it's also small steps, right? You have to take a step and move forward, be better, take another step and you just keep going.
"But I think I can be a good player in this league."
You may also be interested in: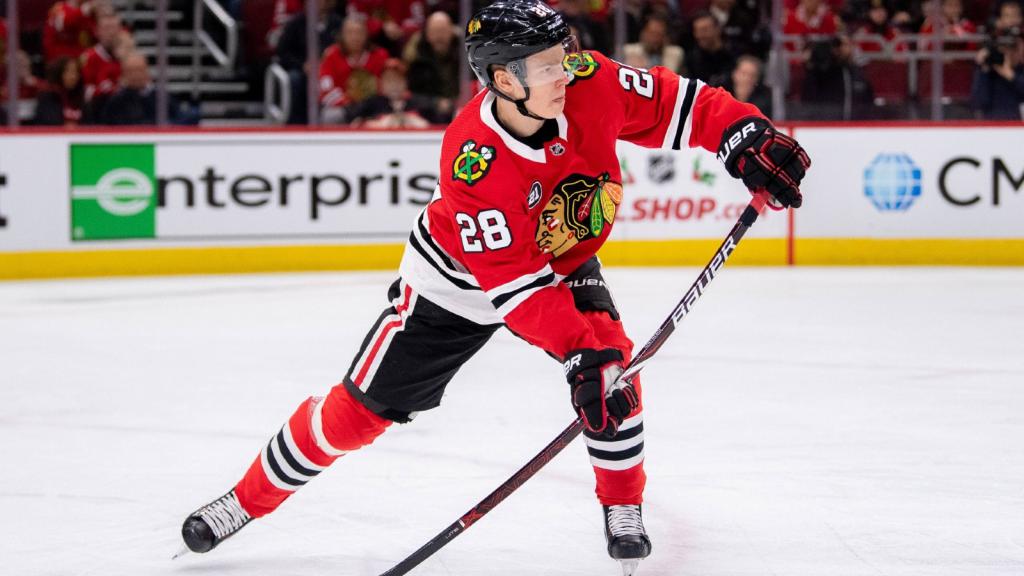 VIDEO ROOM: Henri Jokiharju, Blackhaws Defensman of the Future
This article is about: