NHL Rookies
AHL WEEKEND: Wolves smelling blood
The second round of the Calder Cup Playoffs cranks up this weekend with all four series in action.
In the Eastern Conference, the Charlotte Checkers are trying to handle personnel losses for their second-round series with the Hershey Bears. The defending Calder Cup champion Toronto Marlies are locked in with the Cleveland Monsters.
But out in the Western Conference, the Chicago Wolves are looking particularly hungry after a strong start against the Iowa Wild. That series winner will meet the Bakersfield Condors-San Diego Gulls winner, a match-up of two prospect-packed clubs from the Pacific Division.
WOLVES ON THE PLAYOFF HUNT
The Iowa Wild already had a difficult second-round task against the Chicago Wolves without having to face the AHL's most valuable player and a 26-goal scorer to complicate matters further.
After enduring a first-round scare from the Milwaukee Admirals, the Wild headed directly to Chicago for their second-round series with the Wolves, whose 98 points led the Western Conference in the regular season.
After taking a 2-0 series lead against Milwaukee, the Wild had lost back-to-back games and needed a third-period bank shot off the end boards to knock out their Central Division rival. That left them with only one day between series. But the Wolves had been through their own playoff scare, twice successfully navigating elimination games to finish off the Grand Rapids Griffins in five games.
The assignment grew more difficult when the Wild arrived for Game 1 to see the Wolves welcome back elite forwards Daniel Carr and Brooks Macek after extended injury absences.
Now it has become even more perilous for the Wild after the Wolves opened up a 2-0 series lead, thanks in no small part to contributions from Carr and Macek.
The Wolves took further control of the series in Game 2, taking a 4-3 win. Carr had a two-assist night for the second consecutive game while Macek notched the opening goal for the second game in a row. They teamed up to strike 1:29 into the game.
Carr's overtime rush in Game 1 helped the Wolves to pull out a 3-2 decision. Along with veteran Tye McGinn, they worked the puck out to the high slot, where Cody Glass put it past Iowa netminder Andrew Hammond. Glass went to the parent Vegas Golden Knights as the sixth overall pick in the 2017 NHL Draft and has been a strong late-season addition for head coach Rocky Thompson's Wolves.
The Wolves' strong finish to the regular season and first-round victory both came without Carr and Macek. Carr had been out of the line-up since a March 5th road game against the San Antonio Rampage. Carr took a heavy open-ice hit from Rampage forward Jordan Nolan in that game, missed the remainder of the regular season and then all of the first round. Macek had not played since March 20th.
Carr, 27, won the Les Cunningham Award as the AHL MVP for posting 71 points (30-41-71) in 52 regular-season games. He had signed with the parent Vegas Golden Knights last summer. The 26-year-old Macek had spent his entire pro career in the DEL before the Golden Knights added him last summer. He finished with 26-34-60 in 64 regular-season games. The Wolves went 11-4-1-2 in the final 18 games without Carr, who helped to make up an elite AHL line with Macek and Gage Quinney earlier in the season.
Thompson had divided first-round goaltending work between Oskar Dansk and Max Lagacé, but lately has settled on Dansk. The Dansk- Lagacé duo had split the opening two first-round games before Lagacé allowed six goals in a Game 3 loss. Dansk stepped in to win a must-have Games 4 and 5 and has played both games against Iowa.
In all, Dansk is 4-1 | 2.45 | .911 in the postseason.
Personnel losses are nothing new for the Wolves. In addition to going without Carr and Macek in the first round, Quinney has also been out since Game 3 of the first round. Rookie Dylan Coghlan, a key part of their blue line, remains injured and has yet to play in the postseason. Earlier in the season, the Wolves lost premier sniper Brandon Pirri on a recall to the Golden Knights that became permanent. Wolves rookie defenseman Erik Brännström was lost to the Ottawa Senators in the trade that brought forward Mark Stone to Las Vegas.
The Wolves-Wild series resumes on Sunday at Iowa for Game 3. Games 4 and 5 (if necessary) are also scheduled for Iowa.
ELSEWHERE
The regular-season champion Charlotte Checkers will try playoff life without top goaltender Alex Nedeljkovic when they start their series with the Hershey Bears at home on Friday night.
Nedeljkovic remains on recall to the parent Carolina Hurricanes, who are engaged in their own second-round battle with the New York Islanders. In earning
AHL First-Team All-Star honors and winning the Aldege "Baz" Bastien Memorial Award (AHL's most outstanding goaltender), Nedeljkovic went 34-14 1 | 2.26 | .916 in 51 regular-season games for the Checkers. Charlotte took their first-round series with the Providence Bruins in four games, and he went 3-1 | 2.00 | .923.
However, the Checkers do have veteran Dustin Tokarski, a late-season addition from the Hartford Wolf Pack. He was 7-0-0 | 1.14 | .956 in seven games for the Checkers after going to Charlotte and has had big-game success at multiple levels. Along with Stanley Cup Playoff appearances for the Montreal Canadiens, he won a Calder Cup with the Norfolk Admirals in 2012 and a Memorial Cup for the Spokane Chiefs in 2008. He also competed for Canada at the IIHF World Junior Championship, winning gold in 2009.
Charlotte is also without defenseman Jake Bean after Carolina recalled him again on Thursday. The Checkers will also be without defenseman Trevor Carrick, who will finish his three-game suspension. He came return for Game 2 at Charlotte on Saturday night.
The Toronto Marlies have a 1-0 series lead going into Game 2 at home against the Cleveland Monsters. Toronto pulled away in the second period of Game 1 with three goals in a 3:43 span and took a 5-2 decision. Cleveland defenseman Doyle Somerby will miss Game 2 after receiving a one-game suspension.
In the other Western Conference match-up, the San Diego Gulls head north to face the Bakersfield Condors, starting Friday night. Each team has had time to rest after efficient first-round performances. San Diego knocked out the San Jose Barracuda in four games while the Condors took down the Colorado Eagles in a four-game victory.
Bakersfield will welcome another top prospect to the postseason after the parent Edmonton Oilers assigned forward Ryan McLeod there. The 19-year-old McLeod, a second-round pick taken 40th by the Oilers in the 2018 NHL Draft, is fresh off a three-round OHL playoff run with the Saginaw Spirit. There, he was 5-7-12 in 17 playoff games following a 19-43-62 regular season split between the Spirit and Mississauga Steelheads.
The Condors earlier brought in defenseman Evan Bouchard from the OHL's London Knights. He has fit in quickly and had a 1-2-3 debut for the Condors in Game 3 against Colorado, his AHL debut. McLeod's arrival means that seven of the top-40 players drafted last year will have participated in this season's Calder Cup Playoffs.
RANGERS' REBUILDING EFFORT CONTINUES
After a season that put the Hartford Wolf Pack last in the Atlantic Division and 28th overall, more changes are in store around the New York Rangers organization.
The Rangers announced the signing of a pair of top KHL prospects, adding goaltender Igor Shesterkin (SKA St. Petersburg) and forward Vitali Kravtsov (Traktor Chelyabinsk) on entry-level contracts. They also hold the second overall pick in this June's NHL Draft in Vancouver, which should put an NHL-caliber player immediately into their line-up next season. Harvard defenseman Adam Fox is also a likely bet to stick in New York after the Rangers acquired his rights in a trade with Carolina.
Kravtsov, 19, had 8-13-21 in 50 regular-season games in Chelyabinsk this season before a 6-5-11 performance in 16 playoff games. He went ninth overall to the Rangers in the 2018 NHL Draft.
Shesterkin is 23 years old and coming off a dominant season in St. Petersburg. He went 24-3-1 | 1.11 | .953 and had 10 shutouts in 28 games. His 1.11 mark ranked as the second-best season in KHL history while his .953 save percentage tied as second-best ever. He went on to take SKA to the Western Conference Final against CSKA Moscow and was 4-5 | 1.95 | .904 in 10 playoff games. New York selected him in the fourth round of the 2014 NHL Draft, and he has parts of six seasons of KHL experience. Internationally, he played three times for Russia at the IIHF World Championship, won a silver medal at the 2015 IIHF World Junior Championship, and took home a gold medal at the 2018 Winter Olympics.
Kravtsov is a strong possibility to start in New York, though Rangers management does have a track record of starting first-round picks in Hartford recently. Immediately after the Rangers selected forward Filip Chytil 21st overall in the 2017 NHL Draft, he played in Hartford as an 18-year-old in 2017-18, going 11-20-31 in 46 games. This season forward Lias Andersson, the seventh pick in the 2017 Draft, had two separate stints in Hartford and finished 6-14-20 in 36 games. He had also played 25 games with the Wolf Pack in 2017-18 after his SHL season finished.
Shesterkin could go the route of Washington Capitals top prospect Ilya Samsonov, who spent this season in Hershey after three seasons in the KHL. Washington chose Samsonov 22nd overall in the 2015 NHL Draft, and he struggled in the first half of the season with the Bears until a dramatic turnaround that has helped lead Hershey to the second round.
Alternatively, Shesterkin could stay in New York as an understudy to Henrik Lundqvist. In that case, it would likely push 23-year-old Alexandar Georgiev back to the Wolf Pack, where he has spent parts of two seasons. After playing 37 games for the Wolf Pack in 2017-18 (14-13-2 | 2.98 | .909), he became part of a three-goaltender rotation with Tokarski and Marek Mazanec to pair with Lundqvist in New York. Georgiev ended up appearing in 33 games this season for the Rangers (14-13-4 | 2.91 | .914) along with 11 games in Hartford (2-9-0 | 3.66 | .883).
Hartford's 26-36-7-4 record included a dramatic second-half collapse amid the trade of several top AHL veterans, injuries, and recalls to New York. Rangers management elected not to retain Hartford head coach Keith McCambridge and assistant coach Joey Mormina.
Third-year goaltender Brandon Halverson's entry-level deal is expiring. A 2014 second-round pick, he has spent much of his career in the ECHL. After the Rangers cleared out much of Hartford's roster, including veteran goaltenders in Tokarski and Mazanec, Halverson received another chance with the Wolf Pack to finish the season. However, the 23-year-old still struggled, going 8-8-3 | 3.18 | .893. In his final appearance of the season, a start against Hershey on April 12th, he surrendered five goals in 36 minutes. Adam Huska, another late-season addition out of the NCAA, went 1-7-1 | 3.45 | .889.
AROUND THE A
Hammond has played seven games in the past 11 days in net for Iowa, including three starts in four nights this week.
Iowa also needs production from forward Ryan Donato. He started quickly in Iowa's first-round series against Milwaukee with four assists in his first two playoff games. Since then, he has gone without a point in five consecutive games and only has eight shots in that span. He came to Iowa from the Minnesota Wild in the final week of the AHL regular season and had a five-point night (2-3-5) in his Iowa debut on April 10th. Donato, 23, came to Minnesota from the Boston Bruins in an NHL Trade Deadline move for Charlie Coyle. In 21 AHL regular-season games between Providence and Iowa, he finished 9-8-17.
Iowa forward Luke Kunin, part of the haul from Minnesota that also included Donato and forward Jordan Greenway, has been excellent in both rounds. He struck twice in Game 2 and is up to 5-2-7 in seven games. Wild forward Gerry Mayhew, who reached a career-high 27 goals in the regular season, has three goals against the Wolves and five tallies in his past four games. In all, he is 7-1-8 in seven games.
European departures have started as well. Mazanec, who finished this season with the Utica Comets, has signed with HK Mountfield in the Czech Extraliga. The 27-year-old was 10-13-4 | 3.01 | .895 in 30 games between the Wolf Pack and Comets. Texas Stars blueliner Niklas Hansson is heading back to Rögle BK of the SHL after playing parts of three seasons there between 2012 and 2015. Hansson, 24, played 141 regular-season games for Texas in parts of three seasons (8-26-34) along with four playoff games. This season he played 65 games (7-15-22) but Texas missed the postseason.
San Antonio Rampage defenseman Jakub Jerabek, 27, will return to his former KHL club, Vityaz Podolsk, after two seasons in North America divided among four NHL organizations. He arrived in the St. Louis Blues organization from the Edmonton Oilers in a preseason trade after signing with Edmonton last summer. He landed with San Antonio, playing 52 games (6-9-15). In two AHL seasons with San Antonio and the Laval Rocket, he was 7-19-26 in 69 regular-season contests.
IN THE LEAD
POINTS – 9
ANDREW POTURALSKI – CHARLOTTE
GOALS – 7
GERRY MAYHEW – IOWA
ASSISTS – 6
SEVERAL
SHOTS 24
TOMAS HYKA – CHICAGO
PENALTY MINUTES – 28
FILIP HRONEK – GRAND RAPIDS
GAMES (GOALTENDERS) – 7
ANDREW HAMMOND – IOWA
MINUTES – 446
ANDREW HAMMOND – IOWA
WINS – 34
OSKAR DANSK – CHICAGO
KASIMIR KASKISUO – TORONTO
GAA – 1.49
KASIMIR KASKISUO – TORONTO
VITEK VANECEK – HERSHEY
SAVE PERCENTAGE – .962
VITEK VANECEK – HERSHEY
SHUTOUTS – 1
SEVERAL
You may also be interested in: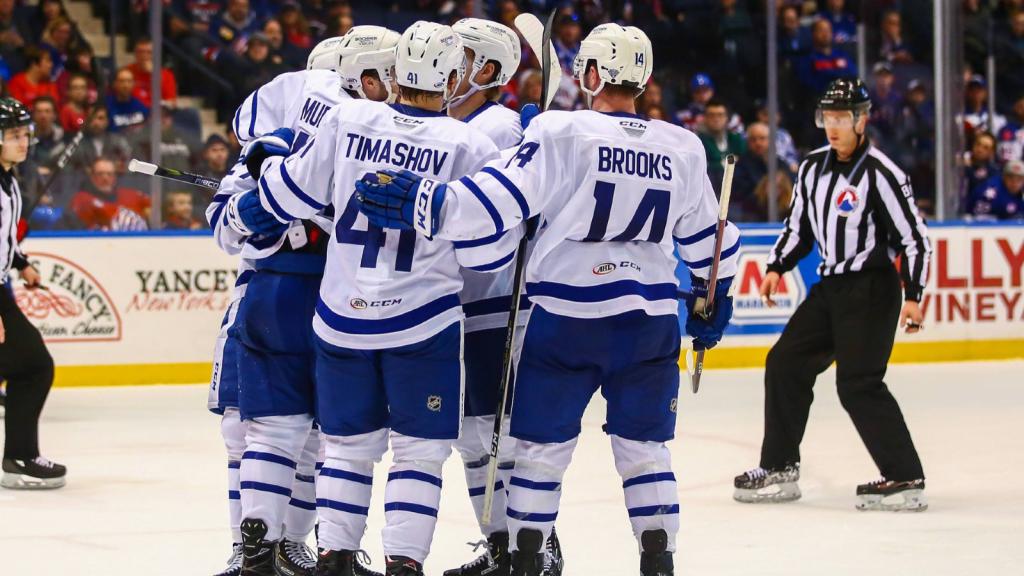 AHL SECOND-ROUND PREVIEW: Playoff field down to eight
This article is about: