NHL Rookies
COHEN: Teams bringing over their Russian prospects in droves
Last week was big for drafted Russian prospects to head to North America in the hopes of playing in the NHL someday soon. Here's a list of the talented players.
The Columbus Blue Jackets just signed Daniil Tarasov. He was selected 86th overall in the 2017 NHL Draft. The 6-5, almost 200-pound Russian netminder has been making a name for himself internationally. In the 2015-16 U18s, he had a stellar .921 save percentage. That year he was voted a Top Three Player on his team.
Later on, he was a part of the 2018-19, World Junior Championship squad and saw three games of action. He had a .898 save percentage but his team was very talented, so he wasn't "the man". He did get a bronze medal for his trouble. That same year he was voted "Goaltender of the Year" in the VHL while playing for Toros Neftekamsk. In 25 games he had 1.71 goals against average as well as a .928 save percentage. Oh, and he had a .930 save percentage in 17 playoff games.
This prospect will fill out. He will start out playing for the Cleveland Monsters and then we'll see how he progresses. He's a big body who is very competitive and has excellent post-to-post speed.
The Rangers signed goaltender, Igor Shestyorkin. He was drafted 118th overall in 2014. He's never played in North America for an extended period of time before so it's hard to say where he might end up. Arguably the best goalie in the KHL, he could start the season in Hartford unless the Rangers make some room on the NHL roster. Anything is possible.
This backstop has lightning fast reflexes. His leg saves are something to watch and he catches the puck at a lot of different angles. He's now 23, so he's almost ready to enter his prime at the position. He has one of the better glove hands you'll see in pro hockey. His stickwork is like having an extra defenseman out there. Many believe he is the heir apparent to Henrik Lundqvist's throne.
Vitali Kravtsov was drafted 9th overall in the 2018 NHL Draft. Blueshirt fans have been waiting for this guy. He's starred on the International stage, getting six points in seven games in the 2018-19 U20 World Junior Championship. That was his second.
This season in the KHL he had eight goals and 21 points in 50 games for Traktor. He added two points in four playoff games but the team wasn't fantastic so you can't judge this prospect by his numbers alone.
This potential star right winger has deceptive speed. He can make the tough cross-ice pass with ease and it will have a lot of force behind it. He's strong and he'll only get stronger as time goes by and he starts to train with the Rangers. His stick and puck control are above average and he's excellent at burying pucks from a lot of different places, but he will do it around the net. Doubtful that will change in the NHL.
He will start on the Top Nine for the Rangers next season. It's just a matter of who his linemates will be. That will be the interesting part for sure.
Kirill Ustimenko is a talented Russian netminder, yes, another one, who was drafted by the Philadelphia Flyers with the 80th overall pick in the 2017 NHL Draft. After two full seasons in the MHL playing for MHL Dynamo St. Petersburg, he put up save percentages of .929 in 2017-18 and .927 in 2018-19. Both seasons he played in the playoff and he played a total of 145 games including playoffs in three seasons. He saw a lot of rubber.
Internationally he started a few games at the U18s in 2016-17. He had a crazy .984 save percentage and he walked away with a bronze medal. That series probably sealed the deal for him getting drafted and the Flyers being the team that would take a chance on him.
Right now, he's in a crowded system so he may start out at the ECHL level but there's a lot of time between now and next season to see what else may happen with the Flyers and their goaltenders.
Egor Korshkov is a 6-4, 195-pound right winger who was drafted 31st overall by the Toronto Maple Leafs in the 2016 NHL Draft. There was always that talk that he was worth the pick but a lot of Leafs fans didn't like who they saw go after him like Jordan Kyrou (35th, Blues), Alex DeBrincat (39th overall, Blackhawks), Sam Girard (47th overall, Predators), Carter Hart (48th overall, Flyers) to name a few.
After coming over the Leafs thrust him into action with the Marlies in the midst of an AHL playoff run, a Calder Cup defending run. He scored a nice goal by getting behind the defense, getting a perfect pass and putting a heavy-handed wrist shot in the back of the net. Leafs fans are now watching him intently.
Will all of these players play in the NHL next season? Of course not, but in the next 2-3 years, I'm betting the majority of them will.
You may also be interested in: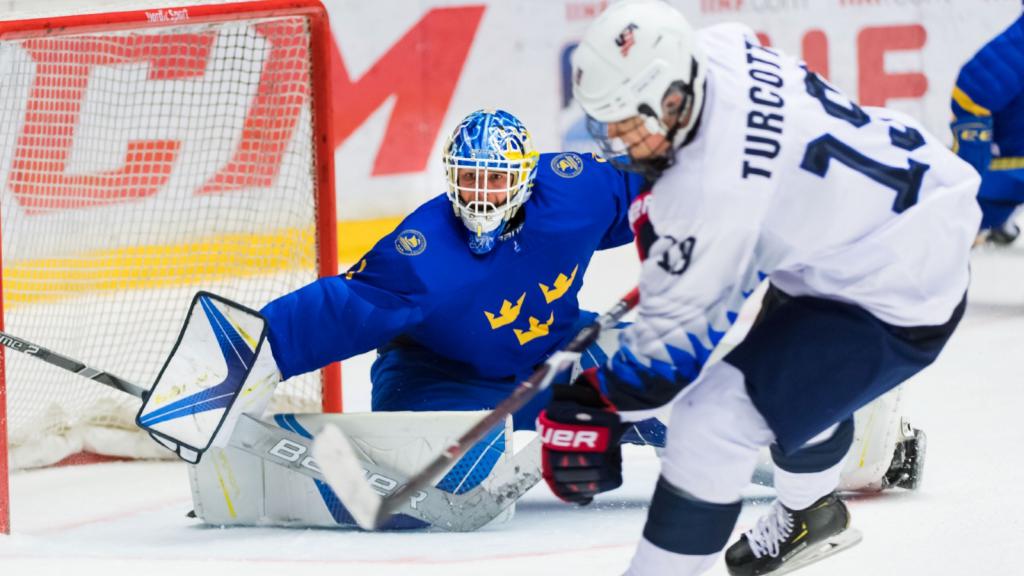 COHEN: A second generation of NHLers coming up through Junior
This article is about: