NHL Rookies
IIHF WC: Balcers' hot start no fluke: "He's a magician with the puck"
It's been a year since Rudolfs Balcers has hit the international stage.
He won't admit its felt that long, though.
Balcers, whose career is now dramatically different from that of his first experience representing Latvia at the IIHF World Championship in 2018, feels like the time has flown by between the two tournaments.
"Honestly it feels like I was just here," Balcers said. "The season kind of flew by quick. We didn't make the playoffs in either of the NHL or AHL. It's nice to come and play some more games and get the season going a little bit more."
Last year, Balcers' appearance on the big stage came as a member of the San Jose Sharks organization.
This year, it comes by way of the Ottawa Senators.
Balcers, originally selected in the fifth round (No. 142) of the 2015 NHL Draft by the Sharks, was part of last summer's biggest blockbuster trade — sending two-time James Norris Trophy-winning defenseman Erik Karlsson to the West Coast.
Ottawa sent Karlsson, alongside forward prospect Francis Perron to San Jose in exchange for a package featuring Balcers, prospect Josh Norris, NHLers Chris Tierney and Dylan DeMelo and a collection of conditional draft picks.
Balcers, 21 at the time, was blindsided by the swap.
"That came as a shock, yeah," he said. "I had no clue.
"It's not a fun thing but it's part of the business I guess."
The move, though, brought plenty of opportunity to the budding prospect.
He had 31 points (17 goals, 14 assists) in 43 games with Belleville of the American Hockey League, and his NHL debut was among his 36 skates in a second-half season audition with the rebuilding Senators squad.
He turned in his first 14 points (five goals, nine assists) in the NHL along the way.
"Things happen," said Balcers, who in 2017-18 had 48 points (23 goals, 25 assists) in 67 games as a first-year pro with San Jose's minor league affiliate. "It's something that happened. There's opportunity.
"You have to be ready and take what they give you."
What it gave Balcers was experience.
A new perspective, too.
"Just come up there and everyone wants to play there but you don't know how it is until you get there," he said. "To get there and feel the game and see how I played, there's still a lot of stuff to work on.
"You can work on stuff your whole career."
He's already taken that step.
Balcers, who had six points (four goals, two assists) in eight games for Latvia at the 2018 IIHF World Championship in Denmark last year, has stepped up again on the international stage in his second experience with the men's national program.
It comes with both Senators — AHL and NHL — having missed out on the postseason festivities.
He's still returning to represent his country as a better player.
"I think for sure (I've improved) the play without the puck," he said. "Coming up to the NHL, you have to play well without the puck or you're not going to be good enough. That was something I really focused on when I played there and I think I made a step in the right direction."
He may have improved without the puck.
But, as Latvia head coach Bob Hartley suggested, he's better with it, too.
"He's a magician with the puck," Hartley, who was also behind the bench for Balcers' experience at last year's tournament. "The puck finds him and he finds the puck, and he has an unbelievable shot.
"He's very, very strong on the puck."
The stats can attest.
Balcers is already at five points (one goal, four assists) in the tournament.
It's only three days old, and Latvia has logged just two games.
There's more, expectedly, to come from the winger.
And more experience for the prospect to build his layers upon, too.
"Last year was my first year and I just kind of went out there and played and didn't think about it," he said.
"Now I know what to expect. We expect ourselves to have a good tournament and go as far as we can. I want to help the team as much as I can and show my best game."
You may also be interested in: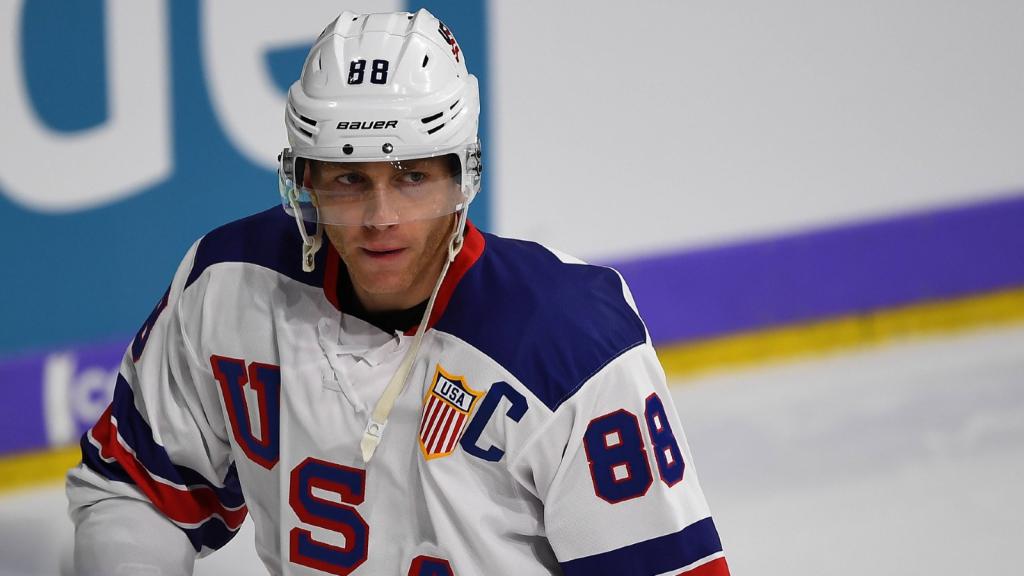 IIHF WC: Captain Kane looking to finally lead Team USA to gold
This article is about: