Uncategorized
DRAFTIN EU: Top 10 drafted prospects from Europe
Prospects eligible for the NHL Entry Draft are Draftin Europe's primary focus, but with the big number of European players leaving for North America early in their career, there is increased room for them to find a spot on their club's senior team, even in competitive leagues. As a result, scouting for the upcoming draft means watching a lot of senior leagues' games in addition to junior hockey. This allows us to keep an eye on the affiliated prospects who are still playing in Europe, forming an opinion on where they stand against each other.
After the end of the European leagues' regular season we worked on a Top 30 ranking that was released last month inside the latest Blue Dispatch issue.
To follow is a write-up about the top ten players of that list, underlining the main reasons behind their high ranking (since the release a couple of players have signed NHL contracts or even moved to North America. Even if here we add a note about it, the ranking remained untouched).
There is no Elias Pettersson or Miro Heiskanen on this year's list. The two standouts that sit at the top of this ranking last year (and on top of our 2017 draft lists in the past) have already been showing in the NHL why we had been so high on them for so long and we don't see prospects of that magnitude here.
However, while Kirill Kaprizov takes the reign because of the departures at the top of last year's list, that doesn't mean he isn't a terrific prospect in his own.
Our feeling is that the question marks around Kaprizov are mainly related to his future commitment to the NHL. Obviously, when a prospect moves into a new league and a new country there are also the unknowns related to the cultural change and to his relation with new team, but in terms of his ability to be effective at the NHL level we have very little doubt. Actually, the small rinks could make Kaprizov even more dangerous. In fact, Kirill excels in tight spaces, likes to buzz around the net through traffic and is able to react and adjust in little time to evolving plays and hectic situations.
The fact he is quick and not afraid to go to the tough areas of the ice leads Kaprizov to scores often from short range, and he also comes with a fast release on an accurate shot. He is however more than just a goal-scorer. The Russian has the technical abilities to play a skill game and is an outstanding stickhandler with tremendous puck control, something that helps him to buy time and display his playmaking ability. A shifty player with an extremely quick stick, Kaprizov can complete plays in a hurry and he's very quick at setting up plays from behind the opponents' net. He seems to be exactly what the current Minnesota team needs and Wild fans have a nice opportunity to watch him play on a very talented Russian team at the World Championships.
Rangers' prospect Vitaly Kravtsov(#2) has done nothing but confirm our pre-draft feelings. The talent was never in question, and the fact he showed over a full season that he can already be a regular contributor in KHL by playing his skill game only made us more confident about his chances to succeed in the NHL. Kravtsov signed his Entry Level contract with New York earlier this month. We would expect him to be on the right side of Rangers' first powerplay unit at some point in the not-so-distant future, and with Zibanejad on the opposite side that could make for a tough combo to defend against.
Yet another Russian winger sits at #3, Grigori Denisenko. He's not less talented than the previous two countrymen, but we feel Denisenko comes with more question marks. He will need to adjust his game a bit when coming over, learning to be effective while not having the puck on his stick as much as he was used to in juniors. That's something he has started to improve on this season in KHL action. He has silky hands and shows outstanding puck control while he carries it around the ice, but there isn't as much ice available in the NHL. There is also need for improvement in terms of his discipline, which has occasionally been an issue in the past.
At this stage it's still hard feeling comfortable when ranking Denisenko, but he has an ability to determine the play with the puck on his stick that is not matched by any of the prospects that follow. He projects as a creative top-six winger that can run a powerplay unit from the left half boards.
This season Russian goaltender Igor Shestyorkin (#4) managed to significantly improve his already remarkable KHL numbers, bringing them to unreal levels, with a 1.11 GAA and a 95,3 SV% in 28 regular season games. Of course that is only possible in the KHL game while playing behind a strong team, but we find noteworthy how consistently Igor comes up with the big saves to win games. We always liked his competitive attitude and how effective he is at covering the lower part of the net in tough situations, so we are curious to see him compete in the North American game. Shestyorkinjust signed his Entry Level contract with the Rangers and it's safe to say he will find some tough competition in New York with his idol Henrik Lundqvist still there and the rise of countryman Alexandar Georgiev, who is his same age.
Frenchman Alexandre Texier (#5) has looked terrific in our few viewings along the second half of the season, leaving us with the clear feeling he's about to become at least as good as we hoped for during his draft season. On top of his quick adaptation and development while facing better competition since the draft, the interesting thing is Texier's skillset fits the NHL game just fine. He can play quick, owns an accurate shot, doesn't shy away from traffic and already competes pretty well in puck battles. Texier already moved to North America, but the recent end of the post season for both the Blue Jackets and the Cleveland Monsters (AHL) means he will be able to join team France in Slovakia.
Big Finnish winger Kristian Vesalainen (#6) reportedly had a promising start to the season in North America, but decided to come back to Europe to play a season in KHL with Jokerit. After his odd decision not to join Finland WJC team (that eventually won gold), the rest of his season was probably less successful than he hoped for, but we think this year has confirmed he isn't far from starting to contribute in the NHL. Despite improving his shot the question is still whether he possesses real top-six abilities or not, something we have questioned in the past, but in our book he has increased his stock since the draft.
Filip Hallander (#7) confirmed himself as a favorite of ours along the 2018/19 season. This Swedish forward may not be the prettiest skater, but gets around the ice just fine (better than during the second half of his draft season, when he was bothered by a knee injury) and we keep liking his decision making and compete level. Out of the 2018 Euro-based draft class, we consider him one of the prospects more likely to have a successful NHL career (barring injuries, of course).
It's been another great KHL season for Ilya Sorokin (#8). The 23 years old Russian goalie excelled as the starter behind a rock solid CSKA Moscow team, earning a spot on the Russian squad that is about to compete at the IIHF World Championships in Slovakia.On our Top 30 there are six players that are going to attend the event and he is the third highest ranked of that group.
Ilya plays a controlled, sound game, rarely makes a mistake and we struggle to remember a game where he let his team down. Like his teammate Kaprizov, Sorokin still has one year left on his contract with CSKA Moscow.
Isac Lundestrom(#9) has already played 15 NHL games and is currently playing in the Calder Cup playoffs for San Diego, but he still belongs here. In fact, after making Anaheim's NHL roster right off the bat he came back to play some more SHL hockey, covering a significant role for Lulea, which we think was good for his development.
The question marks about how much offense is there however remain (goal-scoring ability in particular), as Lundestrom has struggled even more than in the past to find the back of the net this season. He will need to get quicker at taking advantage of shooting opportunities, but he played well in our viewings and it seems already safe to say that he will be able to contribute in the NHL, bringing to the Ducks his good puck-possession game.
For Niklas Nordgren (#10) the drawback is of a completely different nature. The Finnish winger had a frustrating season and not because of scoring issues, injuries are the concern in his case. Still, we don't want to downgrade him only because of speculations about his difficulties in staying healthy. We prefer to remain positive and assume sooner or later he will have the chance to confirm our feeling that he is an underrated prospect. A skilled winger that combines terrific goal-scoring and passing ability, one day Nordgren could be a treat to watch for Blackhawks' fans on a powerplay featuring Patrick Kane on the opposite side.
To recap our April Top 10 for affiliated prospects in Europe:
1. Kirill Kaprizov – Minnesota Wild
2. Vitaly Kravtsov – New York Rangers
3. Grigori Denisenko – Florida Panthers
4. Igor Shestyorkin – New York Rangers
5. Alexander Texier – Columbus Blue Jackets
6. Kristian Vesalainen – Winnipeg Jets
7. Filip Hallander – Pittsburgh Penguins
8. Ilya Sorokin – New York Islanders
9. Isac Lundestrom – Anaheim Ducks
10. Niklas Nordgren – Chicago Blackhawks
For more on the best NHL prospects coming up from Europe, the rest of the Top 30 ranking, NHL team depth charts grades, ratings of over 150 affiliated prospects etc., you can go here:
You may also be interested in: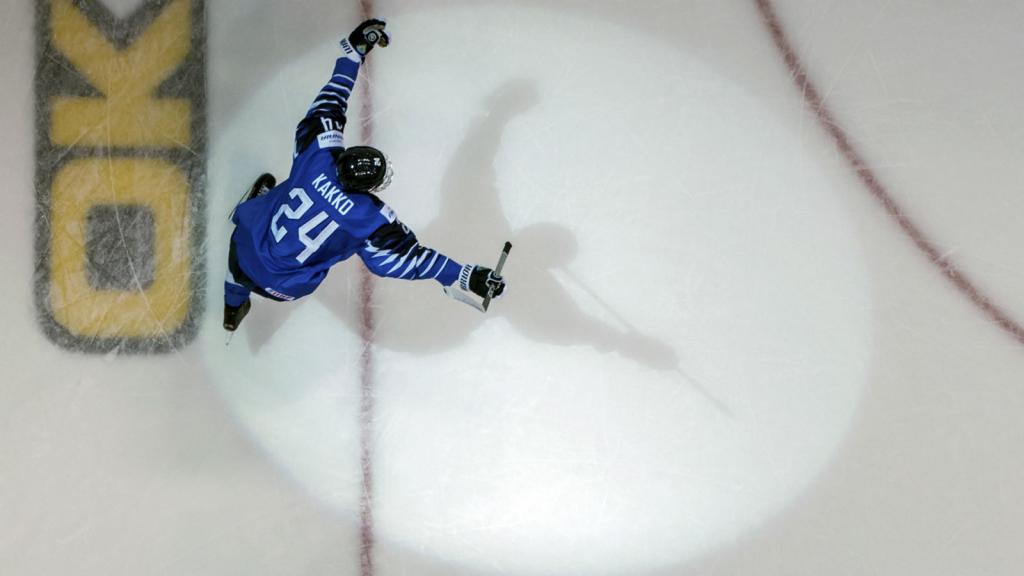 2019 DRAFT: Draftin Europe's Top 15 European Prospects
This article is about: