NHL Prospects
AHL PLAYOFF RUN: Wolves – Gulls Set the Stage for a Western Showdown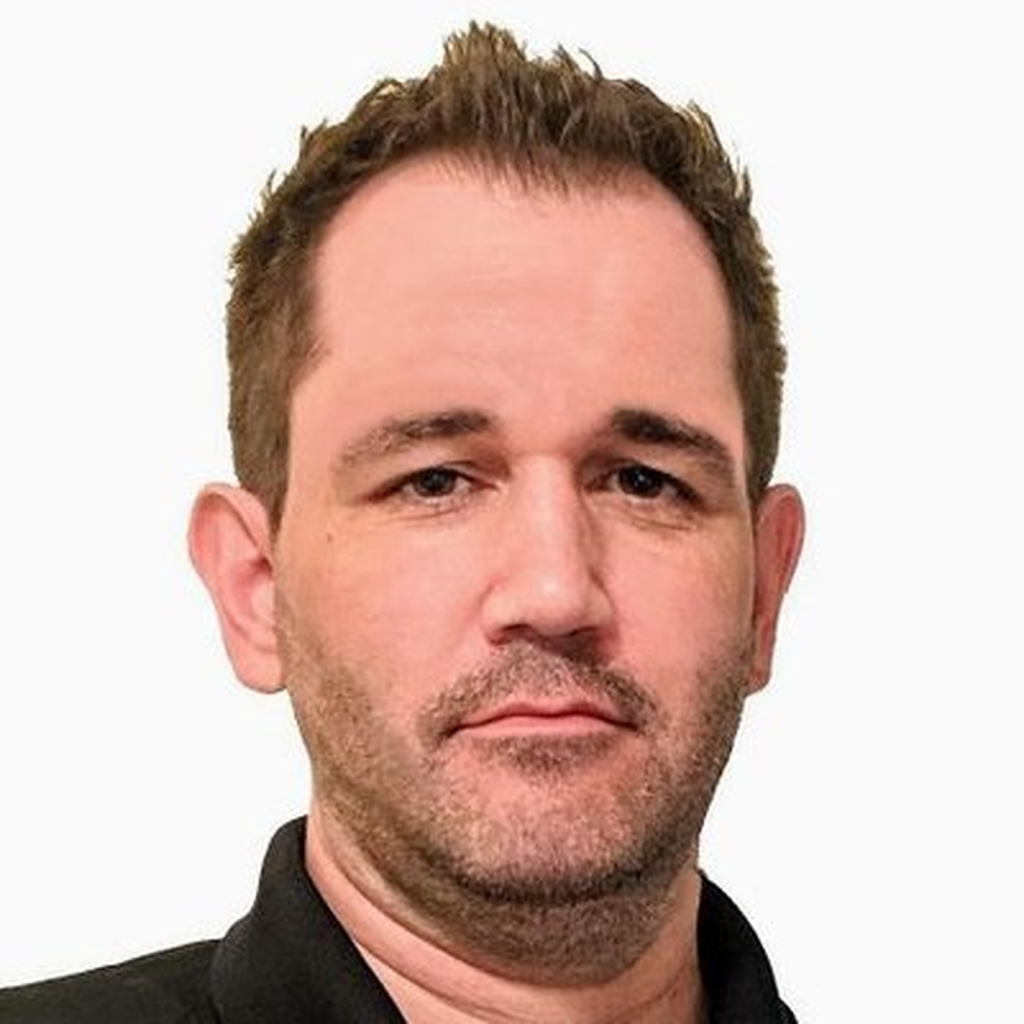 Patrick Williams
The Calder Cup Playoffs are down to four teams.
The regular-season champion Charlotte Checkers battling the defending Calder Cup champion Toronto Marlies should make for an excellent Eastern Conference Final.
But the Chicago Wolves and San Diego Gulls will provide plenty of intrigue out in the Western Conference. Starting Friday night in Chicago, the Western Conference Final will pit the Wolves (Vegas Golden Knights) and Gulls (Anaheim Ducks) in a battle of NHL Pacific Division affiliates.
While the Checkers and Marlies have churned through their playoff competition so far, the Wolves and Gulls have endured longer paths.
After posting a Western Conference-best 98 points in the regular season, the Wolves had to fend off elimination twice in the first round before going six games with the Iowa Wild a round later. San Diego did not clinch a playoff spot until the final weekend of the regular season before taking out the San Jose Barracuda and then eliminating the Bakersfield Condors (Edmonton Oilers), the regular-season Pacific Division champion, in a six-game second-round series.
After a preview of Charlotte-Toronto in the Eastern Conference Final earlier, here is a look at Chicago-San Diego in the Western Conference Final.
CHICAGO WOLVES (1) VS SAN DIEGO GULLS (3)
POST-SEASON HISTORY
These are a pair of NHL organizations in largely uncharted waters at the AHL level, both of them searching for their first Calder Cup.
Last year the Wolves fell in a first-round sweep in their first season partnered with the expansion Golden Knights. This spring's trip to the third round is the first for an Anaheim AHL affiliate since 2008.
But NHL expansion clubs have had mixed playoff results with their top affiliates. Dating back to the first wave of 1990s-era expansion, the Kansas City Blades won the IHL's Turner Cup in 1992 as a San Jose Sharks affiliate; that was the Sharks' inaugural season. The Tampa Bay Lightning-Atlanta Knights affiliation produced a Turner Cup in 1994, the Lightning's second campaign.
Paired with the former Atlanta Thrashers, the Orlando Solar Bears won the Turner Cup Final in 2001, their second season together with the NHL club. The following season, the Thrashers moved their affiliation to the AHL after the IHL folded; that year, the Chicago Wolves won the Calder Cup as a Thrashers' affiliate in Atlanta's third season of play. The Minnesota Wild-affiliated Houston Aeros won the Calder Cup in 2003, that NHL team's third season. The Nashville Predators needed six seasons before they had a top affiliate win a championship (Milwaukee Admirals – 2004).
Other waits have been longer, particularly in the salary-cap era where player development comes first, and NHL clubs can be less inclined to load up on veteran minor-league names. In the Ottawa Senators organization's 20th season, their Binghamton affiliate won the Calder Cup in 2011. In 2016, the Lake Erie Monsters took home the Calder Cup in their first year with the Columbus Blue Jackets (and the Blue Jackets organization's 17th season).
The Ducks have never had an affiliate reach a final in either the IHL or AHL.
CHICAGO WOLVES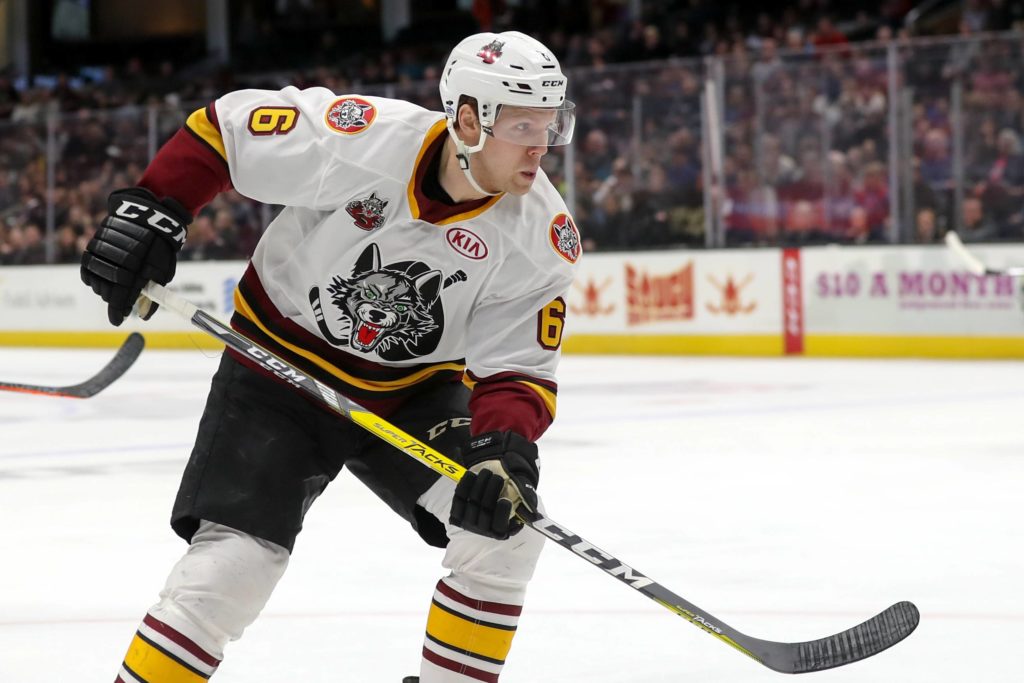 Necessity became the mother of invention for the Wolves as the season progressed.
For the first two months of the season, they relied on elite offensive work from several veterans to overpower opponents. At the 27-game mark, they owned a 13.3 shooting percentage that helped to put them first in the AHL at 3.89 goals per game. Before finishing his regular season with 12 goals in 31 games for the Golden Knights, Brandon Pirri went on a similar tear in the AHL. Averaging 4.04 shots per game and a 15.7 shooting percentage, Pirri amassed 18 goals in 29 AHL games. Newcomer Brooks Macek rode a 31.3 shooting percentage on his way to piling up 15 goals in his first 27 contests. A talented blue line featuring rookies Erik Brännström, Nic Hague, Dylan Coghlan, and Zach Whitecloud handled the adjustment to the AHL.
But eventually the Golden Knights came calling for Pirri, added him on December 18th, and he eventually stuck there. Macek's shooting percentage returned to a relatively more modest 22.8, and Brännström departed in the trade with the Ottawa Senators that landed Mark Stone for the Golden Knights. AHL MVP Daniel Carr, who had been on 103-point pace, missed the final six weeks of the regular season after an injury on March 5th. Macek missed a lengthy stretch as well.
So head coach Rocky Thompson adjusted, and his players followed. With sufficient offensive skill still on hand, they still could pounce on opponents – they scored first in a league-high 48 games in the regular season. That allowed them to avoid chasing opponents and dictate play. They took their penalty kill from 25th through the opening third of the season to 11th by the time the postseason had arrived. The commitment paid off on the scoreboard, where the Wolves shaved their goals-against average from a 20th-place 3.26 mark at that 27-game mark to a third-place finish at 2.62.
At an even three goals per game in the post-season, they are no longer the run-and-gun club of this past fall. But that attack-early mindset has continued in the postseason. The Wolves have a plus-21 first-period shot differential, best of any of the remaining four clubs. They have carried that control of play into the second period of playoff games. While they have eight first-period goals, 16 of their 33 total playoff goals have come in the second period.
After the Wolves barely survived the first round and had to twice fend off elimination, Carr and Macek returned for Game 1 of their second-round series against Iowa. The pair teamed up to help the Wolves to a 2-0 series lead on home ice. They won one of three games at Iowa, but that was enough to send them back to Allstate Arena to finish off the series in six games. It also provided them with a bit of extra rest before facing San Diego; after going the distance in the first round, Game Seven of the second round would have been Wednesday night and allowed for only one day between series.
After Carr's 30-41-71 performance in an injury-abbreviated 52-game regular season, he continued that production against Iowa with 2-5-7 in the six games. Forward Curtis McKenzie helped carry the Texas Stars to Game Seven of the Calder Cup Final last season with 11 goals in 22 games. His rambunctious work on the forecheck has carried through the first two rounds, but he had gone eight games without a goal before ripping off five tallies in the final three games of the Iowa series. His Game 5 hat trick was the Wolves' sixth of the season. Tomas Hyka has been a reliable source of offence all season and through to mid-May. Tye McGinn, a key contributor for the Syracuse Crunch's Calder Cup Final run in 2017, has a hand in a three-way tie for the team scoring lead at 3-5-8.
Top rookie prospect Cody Glass arrived at the start of April after his injury-shortened WHL season ended and quickly supplied needed offence, especially with Carr and Macek out at the time. The sixth pick in the 2017 NHL Draft, Glass is running a healthy 4-3-7 clip through 11 playoff games.
While the blue line could use Coghlan, who been injured through the first two rounds, Hague and Whitecloud each possess a stat line of 2-4-6.
Meanwhile in net, Oskar Dansk has taken the number-one job after Thompson had alternated them to start the first round. But after Max Lagacé struggled early, Dansk has responded to the challenge. That has continued a pattern of steady improvement for Dansk, who had gone 8-4-2 | 3.18 | .886 in his opening 14 games of the regular season. A strong second-half effort elevated his finishing line to 27-9-4 | 2.46 | .913. And through nine postseason appearances, he is 6-3 | 2.28 | .912.
Dansk will need to be at his best against a San Diego attack that can grind down opponents and put the puck into low- to mid-slot dangerous areas frequently. However, Chicago has held playoff opponents to 26.7 shots per game, fourth-best in the AHL.
The Wolves will have home-ice advantage and have excelled at Allstate Arena in the postseason. After a playoff-opening loss, they have won five consecutive home dates. On the road, their 23 road wins tied for second in the regular season, though they are 2-3 away from home in the playoffs.
SAN DIEGO GULLS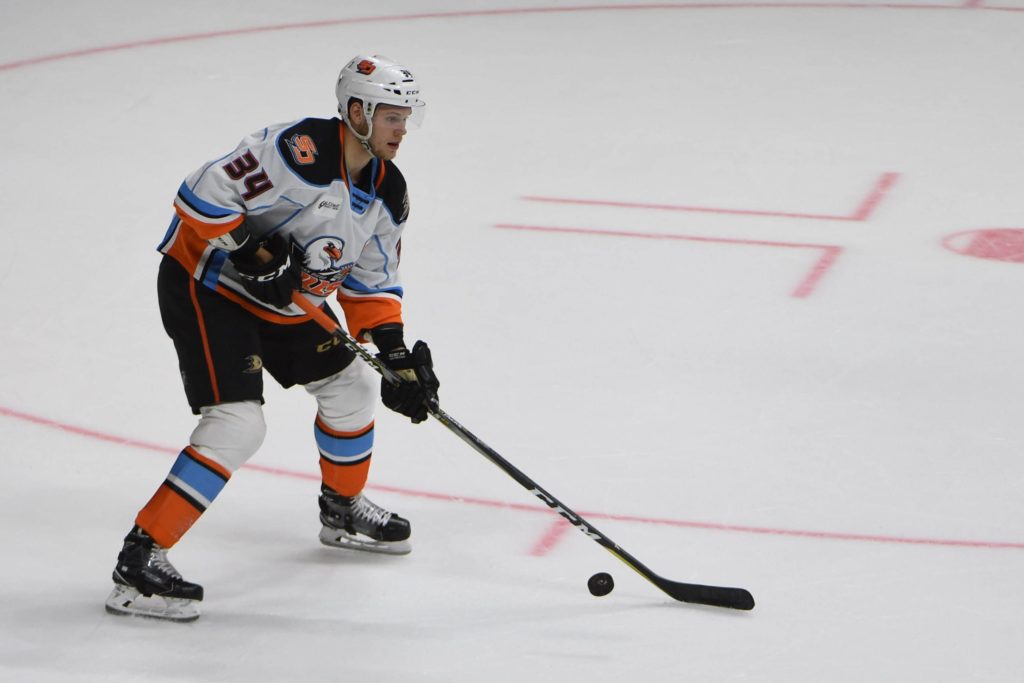 Anaheim bulked up the San Diego roster at the end of the NHL regular season, and it is paying off for their prospects.
The Ducks returned first-round picks Sam Steel and Max Jones to San Diego along with defensemen Jacob Larsson, Jaycob Megna, and Andy Welinski. Before their second-round series against Bakersfield, Anaheim brought in top forward prospects Maxime Comtois from Drummondville of the QMJHL and Isac Lundeström of SHL side Luleå.
Comtois delivered the Game One goal that ended a four-overtime win against the Condors in the fifth-longest game in AHL history. Lundeström followed that with a one goal and two assists effort in Game Two that allowed San Diego to put Bakersfield into a 2-0 series hole. Steel, the 30th pick in the 2016 NHL Draft, has run at a 4-6-10 clip through ten games.
It has not all been smooth for San Diego. The Condors managed to threaten with Game Three and Game Five victories, and Jones, who had four assists in seven playoff games, has not played since Game Three. He was the 24th selection in that same 2016 draft class. But San Diego's deep forward corps can overwhelm opponents at times and chased Bakersfield starters in three consecutive games. Kalle Kossila supplied a pair of first period goals in Game 6 that helped San Diego to finish off Bakersfield.
For all of San Diego's youth, they do have an experienced face of their own as well.
Adam Cracknell is one point off the AHL playoff lead at 6-6-12 in nine games. He quickly found chemistry with Comtois and Lundeström early in the Bakersfield series. After a career season, Sam Carrick also is at 12 points (5-7-12) in ten games. Forwards Ben Street and Chase De Leo can wear down opponents with relentless energy, and Justin Kloos has been a strong midseason addition from Iowa. Corey Tropp and Kiefer Sherwood can irritate opponents into taking penalties and put San Diego's skill on the power play.
From the blue line, Welinski (2-5-7) and Larsson (1-4-5) have made important contributions.
In net, 33-year-old Jeff Glass took over for Kevin Boyle in Game One of the first round and has kept the Gulls settled in net. He is 6-3 | 2.25 | .920 in nine appearances. His 51 saves and six-plus periods in Game One against Bakersfield helped to set up the Comtois game-winner that night (or morning, rather).
"[Glass] was excellent," Gulls head coach Dallas Eakins told the team website after eliminating Bakersfield. "He's been just great since coming in early on in the San Jose series. [Glass] has come in and not only has he done a lot of work on the ice, but he's done a lot of work off the ice with the mental part of it. Just so excited for him and for him to be able to get us through this series like this. He's in a great place, and it's a great testament to his teammates to support him."
Although they have a league-best 4.20 goals per game in the playoffs, the Gulls are prone to quickly coming undone themselves. San Jose ripped open a 3-0 lead six minutes into Game One of the postseason. Then again, the Gulls blitzed the Barracuda with a three-goal response of their own in a 3:08 span just four minutes after San Jose had built that lead. San Diego also had a 6-4 lead in Game 3 against Bakersfield turn into a 7-6 overtime loss.
But once they had Bakersfield in trouble, they knew how to put the Condors away for good. They took a 5-2 lead and held one of the top offences to 22 shots in an elimination game, including just six third-period shots. Good thing for the Gulls that they did that as well. That ensured they could spend this week recovering from a series that featured the four-overtime contest as well as a double-overtime performance this past Saturday.
The Gulls have also been able to stay out of trouble on the ice. Of the clubs that reached at least the second round, only Chicago (2.64 times shorthanded per game) has bested the Gulls' 3.0 per-game average.
After opening twice with the Wolves on the road, the Gulls will bring the series back to Pechanga Arena in San Diego. There the Wolves will encounter one of the loudest and rowdiest buildings in the AHL.
"We have 10 to 12 thousand fans here for playoffs, it's unbelievable," Welinski said to the team website. "It makes all the difference in the world."
Eakins echoed that to the team site as well.
"You want to reward them. We would have loved to have done it earlier, but getting it done at home, being able to walk off that ice and look up to those people that come and pay their good, hard-earned money to support us and be entertained, I don't think there can be a better feeling in sports than walking off the ice after winning a series and seeing your home fans so excited."
You may also be interested in: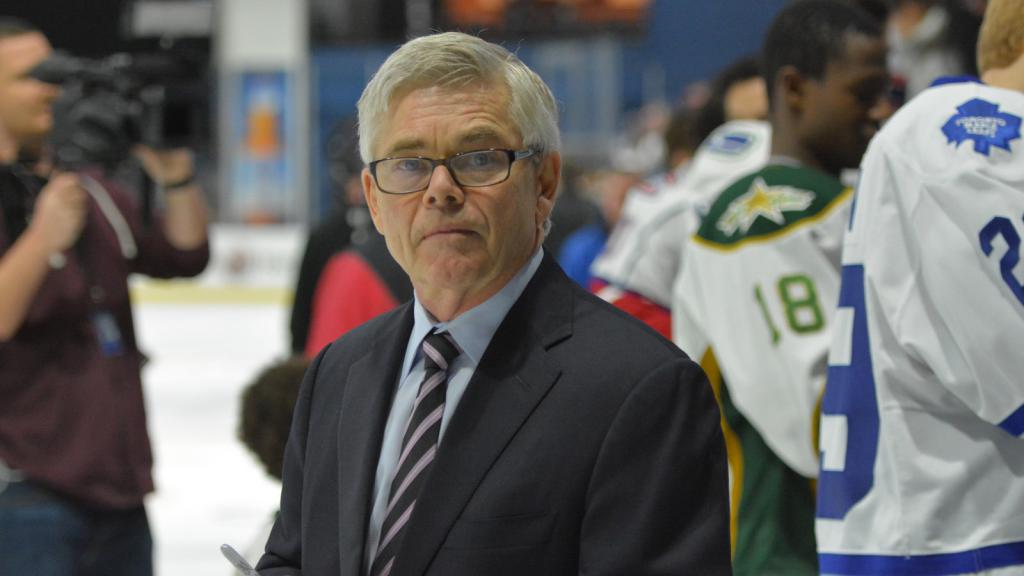 AHL PLAYOFF RUN: AHL taking care of business off the ice
This article is about: