Scouting Reports
VICKERS: Filip Hronek Showing Growth at the World Championships
Detroit Red Wings prospect Filip Hronek isn't sure if he's done with the American Hockey League. His play more than suggests he is.
Hronek, skating in a starring role with the Czech Republic at the 2019 IIHF World Championship in Slovakia, has continued his evolution as an impact defenseman on the global stage.
"You're playing against the best players here," Hronek said. "You have to take the best from this. These games can move me forward."
They have. He has, too. And the growth is quantifiable year-over-year.
At the 2018 tournament, and in his first spin with the Czech National program, Hronek notched three points (one goal, two assists) in the eight-game escapade. This year, the budding blueliner has four points (two goals, two assists) through two bouts.
He's impressed, no doubt.
"I really enjoy watching him," said Philadelphia Flyers defenseman Radko Gudas, doubling as Hronek's teammate with the Czechs in the tournament. "He's our best defenseman for a reason. He's making all the right plays. He's there. He's killing. He's shooting the puck. He sees plays. I'm happy he's on our team and able to make those big plays."
The two tournaments come sandwiched between a critical developmental year for Hronek. His first foray into the NHL, too.
With an injury-riddled blue line in Detroit, Hronek started the season with six skates in Red Wings silks.
Hronek returned again in December, lacing up for an additional 17 games.
The Hradec Kralove product closed out the year with 23 straight games in the Motor City — from Feb. 17 onward — before returning to Grand Rapids to aid in a Calder Cup Playoffs push that fizzled out in the first round.
His time in the AHL has helped shaped him. "It helped me a lot," admitted Hronek, who closed the 2018-19 campaign with 23 points (five goals, 18 assists) in 46 games with Detroit. "I got confidence there. I've learned some things there and then I moved up to the Wings and learned more things there."
His time in the AHL, though, is likely over. At least, Gudas would suggest as much.
"One-hundred percent," Gudas said. "I think he showed it this year as well. Detroit didn't make the playoffs so they sent him down to the AHL. Since they called him up, he didn't give them a chance to send him down.
"[Hronek's] going to be a big part of their future success."
Though a disappointing, but not unexpected, end to the year in Detroit, Hronek was a big piece of the Red Wings' effort in the second half of the season.
Primarily paired with mainstays Niklas Kronwall and Danny DeKeyser, Hronek eclipsed the 20-minute mark in 15 of the final 20 games of the regular season. Hronek surpassed the 23-minute mark nine times in that stretch.
Justifiably so, suggested Flyers standout Jakub Voracek.
The kid has the talent.
"He's one of the best young defensemen that I've seen in the way he thinks the game and the way he's always ahead one play," Voracek said.
"I was saying, when I play with him on the power play or 5-on-5, sometimes I'm thinking it would be nice for him to give it to me but he probably doesn't see it, then in the span of half a second I have it on my tape. You've got to appreciate players like that.
"I'm sure he's going to make a huge impact in the NHL as well."
Flattering words.
Ones that aren't heard without cracking a smile.
"I mean, that's great," Hronek said. "He's a huge player and he's got so much experience. He helps you."
It'll be on Hronek, though, to help Detroit. The Red Wings have missed the Stanley Cup Playoffs in each of the past three seasons.
It's a result, in part, of the long-standing success they've enjoyed over the course of the past three decades. It's also in part due to a shallow prospect pool that comes as a result.
Hronek, in part, can help overcome that. As soon as next season.
The 21-year-old looks poised to take the next step.
"We'll see," he said.
You may also be interested in: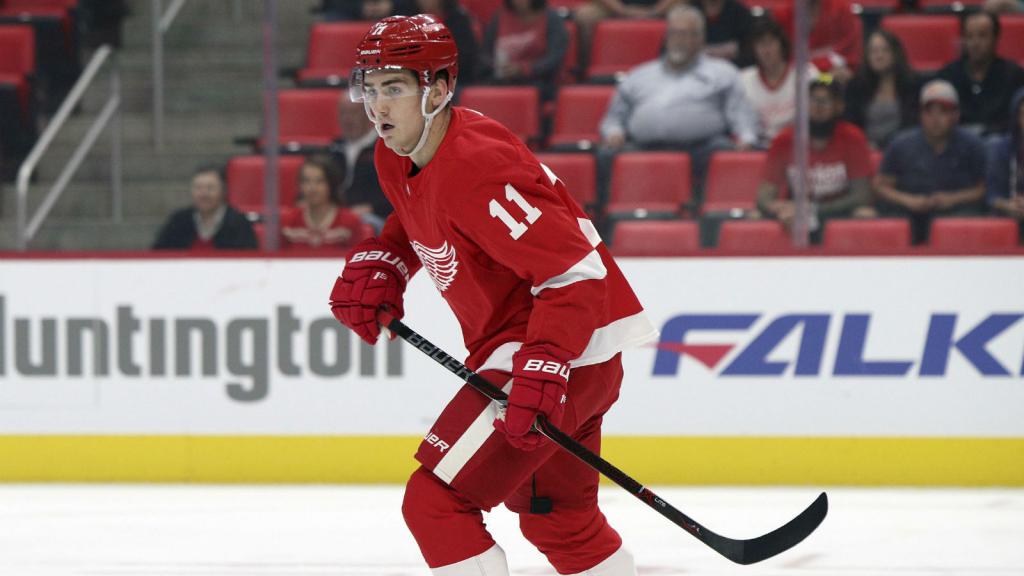 AHL ON THE ROAD: Grand Rapids Griffins re-loaded and ready
This article is about: