NHL Rookies
VICKERS: Next Season Going to be 'True Test' for MacKenzie Blackwood
KOSICE, Slovakia — New Jersey Devils goaltender Mackenzie Blackwood doesn't want to be a one-hit wonder.
After a memorable 23-game stint as a rookie with the New Jersey Devils, the stopper is hoping to have a long and prosperous stint in the National Hockey League.
Next season is an opportunity to prove he's for real.
"It's definitely going to be the true test for me," said Blackwood, serving in an apprenticeship role as Canada's third goaltender at the 2019 IIHF World Championship. "You want to repeat it. I don't want to just be a flash in the pan. I have to get back to work in the summertime and go back to Jersey and hopefully play well for them."
There's still plenty for Blackwood to build on, but the start of his NHL career is certainly memorable in its own right.
The 22-year-old, summoned to the Devils in December, went 10-10-0 with a 2.61 goals-against average and .918 save percentage. The numbers trumped his 20-game stint in the American Hockey League, where he posted a 2.95 goals-against average and .902 save percentage.
Both marked improvements, significantly, over the 2017-18 campaign.
"The season was amazing for me," Blackwood said. "Going from the AHL, having some success there, and obviously stepping into the NHL and playing pretty well there is pretty cool. It was kind of a whirlwind of a year. The development I had this year kind of makes up for the last one that wasn't too good for me."
"It was good for me to struggle. Then you kind of have to go back to the drawing board and fix yourself and reflect on what you're doing, good or bad. The year I struggled really helped me for this year. I knew exactly what I needed to do this year, so I just tried to do that and it turned out pretty good for me."
His performance also trumped veterans Keith Kinkaid, who was optioned to the Columbus Blue Jackets at the trade deadline in exchange for a fifth-round pick, and Cory Schneider, who has worked his way from hip surgery last May.
Blackwood's efforts didn't go unnoticed. Nor his presence between the pipes.
"He's obviously a big guy," said Devils defenseman Damon Severson, who is patrolling Canada's blue line at the World Championship. "He's a specimen in the way he's built. He's gifted that way, but he works incredibly hard and he's super intense. He wants to be the best at what he does."
"He's got those long legs. He covers the bottom of the net so well. If you can get it upstairs and make him work, obviously, with any goalie with traffic or shooting the puck above his hands and find the top corners, that's the only way you can beat a goalie like that because he's so good down low and so quick and so athletic. He's a confident guy."
"It's been fun watching him grow. He's a great goalie and I'm looking forward to having him for a long while."
"He's nice to have as our goalie."
The net isn't Blackwood's though. Not fully. He and Schneider split duties down the stretch in New Jersey, and there are no guarantees heading into September.
There's plenty of work, too, to go into things before arriving back in camp, Blackwood admitted.
"The summertime when you go back home is more the time when you go back to the drawing board and tune up some things that you kind of let slip or you want to change," Blackwood said.
"Just basically some stuff me and (Devils goalie coach Roland Melanson) were talking about… playing good on my feet, having good edges, skating well, and obviously tracking the puck good. Going to the NHL from the AHL, the shooters are a little bit better. Just being able to pick up the shots a bit better and making sure I play my position well.
"I have a lot of size. It's all about getting in the right spot and making saves."
It's about making the saves, no doubt. It's also about being prepared to make the saves. It has Blackwood building towards consistency at the top level. Focusing on improving. Building a career. And being ready for next fall.
"I'm not really in there going that I'm trying to take over someone's job at all," Blackwood said. "I want to go in there and be the best version of myself for the team and play as best I can.
"And see where the cards fall."
You may also be interested in: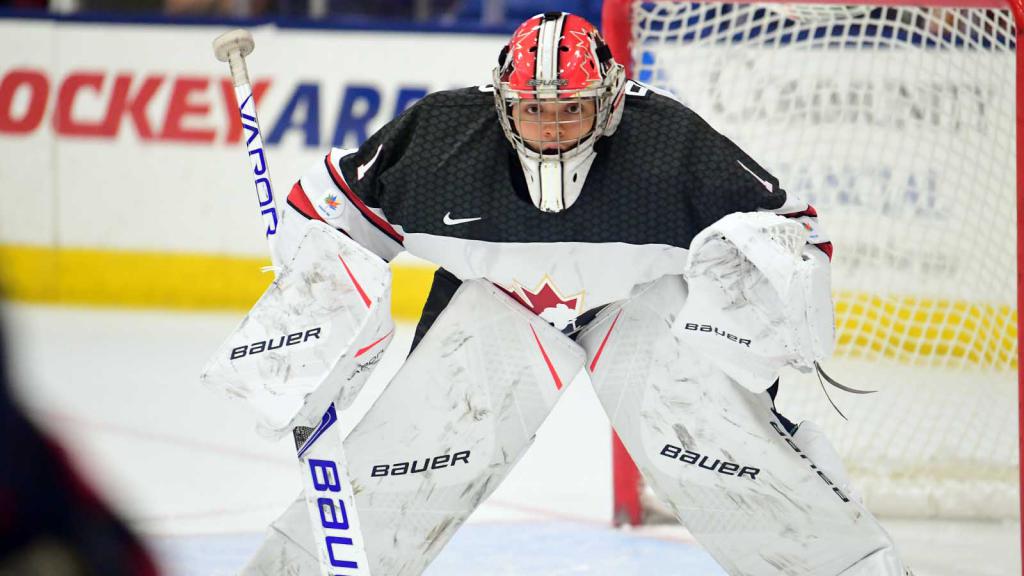 VICKERS: DiPietro carries Canada's hopes on shoulders
This article is about: