Scouting Reports
Post-Draft Prospect Profiles: Mattias Norlinder No. 64 to the Montreal Canadiens
The 2019 NHL Entry Draft didn't represent Mattias Norlinder's first kick at the can. Just a year prior, the entire NHL wielded their right of refusal on Norlinder for his first year of draft eligibility.
So, Norlinder went back to work, started the season with MODO's SuperElit squad, earned a call-up to MODO's Allsvenskan club, and worked his tail off to make himself one of this year's biggest draft risers in the second half of the season. The Montreal Canadiens rewarded Norlinder by drafting the Swedish puck-moving defenceman No. 64 overall in the third round.
In HockeyAllsvenskan, Norlinder paired up with former Jets-defenseman Tobias Enström, and together they formed one of the league's best pairings. As MODO's season ended early in the Allsvenskan, Norlinder went back down and finished the season with their SuperElit team — back in the SuperElit, he did not disappoint. MODO won the JSM-Gold and not only did Norlinder score the gold-winning goal in the final — he was also named Playoff MVP.
Norlinder has flown quite a bit under the radar and hasn't had much exposure. He was supposed to make his debut with the U20 National team this season — which would've likely done wonders for his Draft stock — but he was injured just before the tournament started.
So, let's lift the veil and see why Norlinder was worth the price of admission for the Habs at No. 64 overall.
Scouting Report
There's plenty to like about Norlinder, but his terrific skating is the stand-out ability to spot; he takes long, smooth, elegant strides as he covers the ice. Even though Norlinder has good acceleration and surprisingly high top speed for a defenceman, he doesn't need to take many strides to gather speed as a result of his superb technique. His skating enables him to use bursts of speed at short distances while also being able to reach and maintain a very high top speed over a greater distance.
Norlinder's edge work is among the absolute best in this year's draft class. It makes him nimble, even while skating at high speed. His agility, speed and quick feet make him incredibly hard to forecheck, as they allow him to be an incredibly elusive puck-carrier. He has good strength in his lower body and can keep balance, even under duress as he carries the puck up the ice.
En till uppåkning av Mattias Norlinder. #Modose #GoHabsGo pic.twitter.com/6mmZUFDlqR

— Anton Johansson (@antonj85) July 5, 2019
Norlinder has all the tools needed to become an effective offensive player. He uses his speed and mobility well to carry the puck up the ice to key the transition for his team, and in the offensive zone, he can cause havoc as he moves around with the puck glued to his stick. It isn't uncommon for Norlinder to carry the puck coast-to-coast before he either tries to score himself or set up a teammate. His zone entries are excellent. Norlinder utilizes his skating well when he is off the puck, too. When the play turns from the defensive zone, he might not always be the first to join the rush but he will often join as part of the second wave, which gives him a lot of ice to cover for the reward of a prime scoring chance.
Uppåkning av Mattias Norlinder. #Modose #GoHabsGo pic.twitter.com/Twajiv1Jst

— Anton Johansson (@antonj85) July 5, 2019
Norlinder's great lateral movement allows him to walk the blue line with ease and he uses this ability to efficiently open up options to either shoot or make a pass. Norlinder's movements in the offensive zone are not limited to his puck possession as he is quite mobile without the puck as well, and he can be seen creating odd-man advantages when he moves down from the blue line to the high slot or towards the circles.
6-0 Modo, målskytt Mattias Norlinder #J18gifs #MHKJ18 #SKEJ18 #J18AllsvenskanNorra pic.twitter.com/32gkgyQ67Q

— Anton Johansson (@antonj85) March 1, 2017
Norlinder's wrist shot has good velocity but has a bit of a wind up as he likes to place and handle the puck with a minor touch before he shoots. Those small adjustments before shooting help increase the accuracy of each shot to the point that he can beat a goaltender from far out, even without traffic or a screen. He also has a heavy slapshot and can shoot a one-timer from the point that is accurate enough to find its way through traffic. That said, the wrist shot is Norlinder's preferred firearm.
Mattias Norlinder mål för Modo mot Västervik. #Modose #Hockeyallsvenskan #2019NHLDraft pic.twitter.com/EaiB0M9wjw

— Anton Johansson (@antonj85) March 18, 2019
Even though Norlinder has a good shot, it's his playmaking abilities that are the real bread-winning tool in his offensive toolbox. He is a quick thinker, has excellent vision and is able to find passing lanes from just about anywhere on the ice. He can start the play with a strong precise breakout pass from the defensive zone; spot a good play in the neutral zone to enable a teammate to enter the offensive zone with the puck while maintaining his speed; and he can open up the opponents' defensive structure with a creative play in the offensive zone.
Norlinder continually makes good decisions with the puck and rarely makes a pass that will put his teammates in trouble. He combines his passing abilities superb puck skills. He handles the puck with soft hands and keeps full control of the puck when it is on his stick; he can make a nifty move as he handles the puck to lure a pressuring forward to open up a passing lane and he has the hands to pull out a deke to surprise a defender as he enters the offensive blue line. Although Norlinder is able to make creative plays with his stickhandling he doesn't show it off that often, as he prefers to make mature, simple, yet effective plays with the puck.
Härlig prestation av Mattias Norlinder innan han spelar fram till Wille Åström som ger Modo ledningen med 1-0 över AIK. #J20gifs #J20SETop10 pic.twitter.com/3fMYaNsGKu

— Anton Johansson (@antonj85) January 5, 2019
While Norlinder's offensive game is great and surprisingly polished for his age, it's a solid two-way game that his reputation is built on. He's active while defending, utilizes his skating abilities to stay close to the puck-carrier, and has very good gap control as the opposition challenges for the blue line. He is not overly physical, and he could stand to polish the way he uses his body defensively as his timing isn't always on point when he uses his frame, but he compensates by having smart and active stickwork.
Paired up with his skating, Norlinder's stickwork enables him to quickly steal the puck back from opponents without having to engage them physically. Norlinder is a deft pick-pocket of the puck. During more structured defensive play Norlinder generally has good awareness, he makes good reads, anticipates passes and opponents movements well. He rarely gets caught off guard and makes good decisions off the puck once he has won it back for his team in the defensive zone. On the negative side of the equation, he has a propensity to watch the puck in the defensive zone and lose coverage as a result.
There are plenty of good things to say about Norlinder, as he has shown great progression this season and there aren't any major alarming weaknesses in his game. That said, it's important to remember that he is an overager and has had an advantage relative to his first time draft-eligible peers. Consistency is an area where Norlinder can improve offensively. He could also add a more physical touch to his game.
Mattias Norlinder stod för ett hattrick ??? i matchen mellan Modo – Leksand, Modo vann med 5-4 efter förlängning.#J20gifs #J20SENorra pic.twitter.com/LL9zfEjU7y

— Anton Johansson (@antonj85) November 17, 2018
Outlook
Norlinder has signed a one-year extension with MODO — his first ever senior contract — and he will play in the Allsvenskan for the 2019-20 season. The goal for Norlinder should be to make another jump to the SHL by the 2020-21 season, either with MODO or via a new contract elsewhere at season's end.
With Norlinder's talent and natural skills, it would not be a surprise if he was ready to make the jump to the NHL after that. Norlinder was selected to play for Sweden's U20 team in the World Junior Hockey Championships Summer Showcase at the end of July, but he injured a bone in his hand and will be out of play for up to eight weeks and miss the tournament.
You may also be interested in: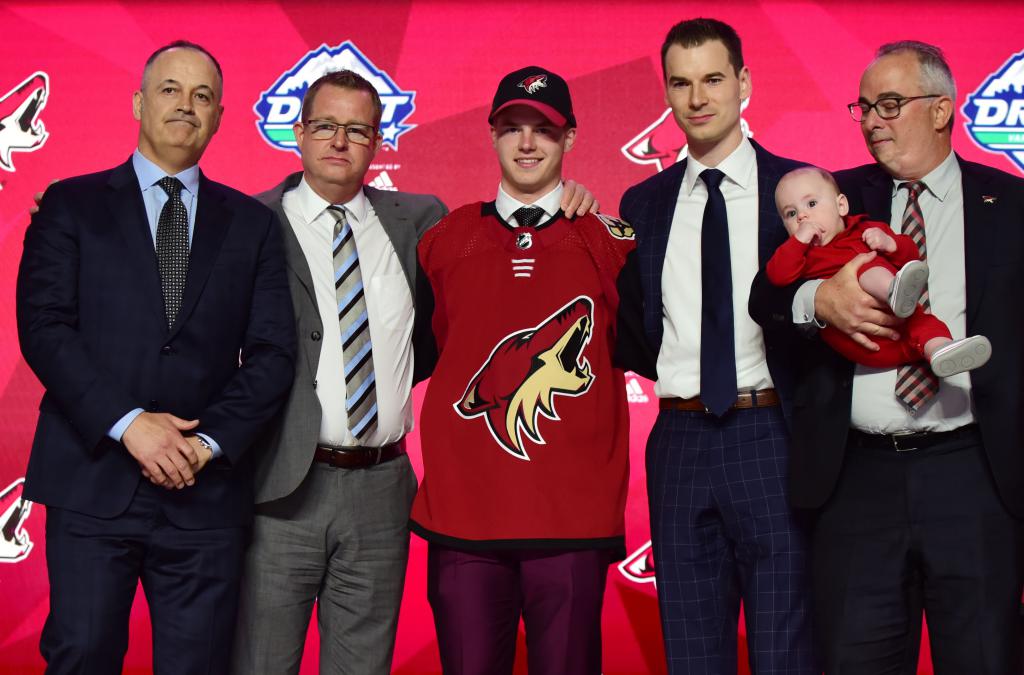 Post-Draft Prospect Profiles: Victor Söderström No. 11 to the Arizona Coyotes
This article is about: