Scouting Reports
Trade Analysis: What are the Vegas Golden Knights Getting in Nicolas Roy?
There was no shortage of trade action in the leadup to free agency, as cap-strapped teams moved out expendable parts of their present for capital in the form of futures.
One of the first such occurrences came mere days after the NHL Entry Draft finished, as the Vegas Golden Knights shipped Eric Haula to the Carolina Hurricanes in exchange for Nicolas Roy and a late-round pick.
While there is no doubt countless qualities to Haula's Swiss army knife-like utility as a middle-six forward worth celebrating, he's not going to be the subject of today's article. For that, we're going to shift gears and look instead at Roy, the centrepiece of the return heading back to Vegas — this being a website for prospect analysis, and so on.
At 22-years-old, Roy is hardly an unknown, or for that matter, an unpolished prospect.
If the World Juniors are your favourite part of the holidays — as they are mine — you'll be familiar with the name, as Roy played in a high-leverage role for Team Canada three tournaments ago en route to a silver medal.
Since then, Roy, a former fourth-round pick, has played for the Hurricanes' AHL affiliates, the Charlotte Checkers, where he was able to win the Calder Cup as the AHL's top franchise about a month ago. Interestingly enough, Roy won that trophy against the Golden Knights' AHL affiliates, the Chicago Wolves.
The four points and plus-four rating to Roy's credit through that five-game series must've left a strong impression.
It was the type of two-way performance that has become the hallmark of Roy's game since making the transition from junior to professional hockey — a necessary evolution for most players taking that step.
Most players don't make it look this easy, though, and that's why Roy has distinguished himself as having legitimate NHL aspirations as early as next season. Surely, for the Vegas Golden Knights, that last part of the equation added to Roy's value given their status as Stanley Cup contenders — their future is now.
Because as good as Roy's 36 points in 69 games last season undoubtedly was, it's not that part of his game that projects to the NHL level as a bread-winning quality.
It's that Roy's defensive instincts and competitiveness allow him to take on the opposition's best night-in, night-out and come out all the better for it on the score sheet more often than not. That much is reflected in Roy's positive Goals for ratio, both as a raw and relative mark, for the Checkers in gruelling deployments.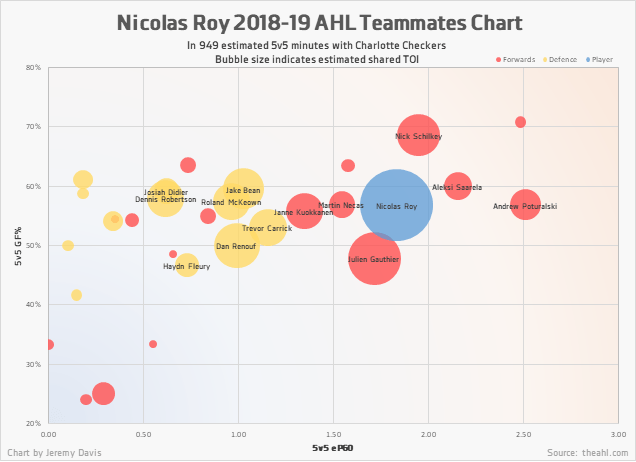 It's for those same reasons that Roy is a tireless, disruptive force on the penalty kill. In the Checkers' Calder Cup run alone, Roy had two shorthanded goals — one more than he had in the entire regular season.
Whether Roy will be able to carry that penalty killing prowess into the NHL is up for debate. In the NHL, more so than in other leagues, the ability to cover large swaths of ground plays a big role in keeping your opponents in check on the kill. As this clip below shows, foot speed isn't exactly one of the strengths in Roy's game.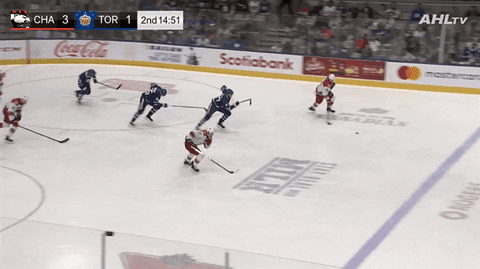 Roy makes up for that by keeping his head on a swivel, using his stick to close passing lanes, and jumping on loose-pucks without a moment's hesitation — that last type of play is precisely the type that led to one of his shorthanded goals in the AHL playoffs last season. And it works for him just fine in the AHL. The NHL is an entirely different beast, though.
Which, of course, helps explain why I'm not selling Roy's plaudits based on his ability to put up gaudy numbers. Just like everything else, that's going to be even more difficult at the NHL level for a player like Roy, who hasn't exactly lit the world on fire in the AHL, with either his point totals (a respectable 0.52 points per game rate last season) or his ability to put defencemen on their heels.
If Roy is to produce at an even comparable rate in the NHL to the half a point per game pace of his last season in the AHL; he's going to do it by outworking the opposition and stripping them of the puck low in the offensive zone. From there, using his teammates to create offence.
That's where Roy does his best work — from below the goal line. Good luck pushing him off of the puck, much less keeping that 6-foot-4 frame of his at bay when it's set on stealing possession off of one's stick.
With a long reach, Roy is able to pick-pocket defencemen effortlessly, and when the puck is on his stick, it opens up a wide range of passing options that might not otherwise be available to one with a shorter reach.
It's much more difficult for Roy to create offensively in transition. The lack of a separation gear allows defenders to play a tight gap when Roy is attempting to enter the zone, which doesn't leave a tonne of room to create offensively. To his credit, Roy does a good job of attacking east-west on entries, often widening his stance to lower the tempo and hitting teammates as they get open or catch up to the play.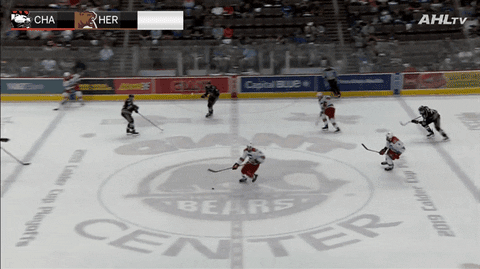 Roy's tape reveals a player that likely has the capacity to play in a bottom-six role at the NHL level. And the data tells a similar story, too. The pGPS (Prospect Graduation Probabilities System) looks at a player's statistical and stature-based profile, compares it to players that meet a similarity threshold, and attempts to divine their likelihood of success based on players with which they share a cohort.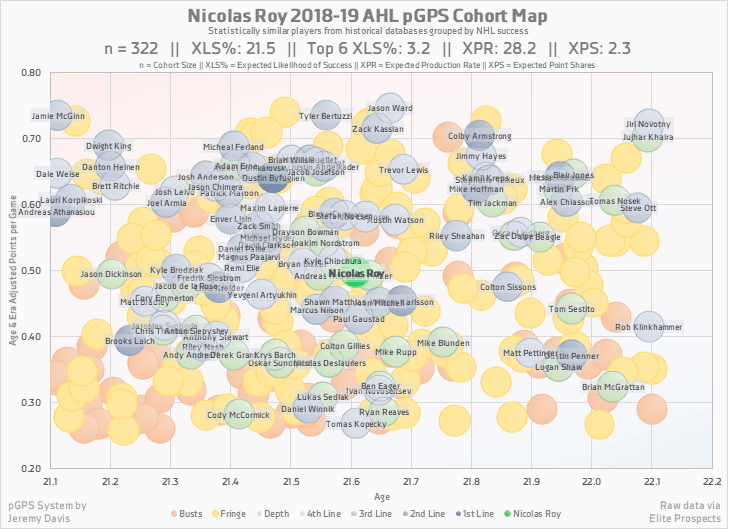 According to the pGPS system, developed by NextGen Hockey co-founder Jeremy Davis, Roy has about a 21.5 percent chance of developing into a full-time NHL'er. The pGPS career assignment for Roy has his most likely outcome as that of a bottom-six centre — if he makes it period.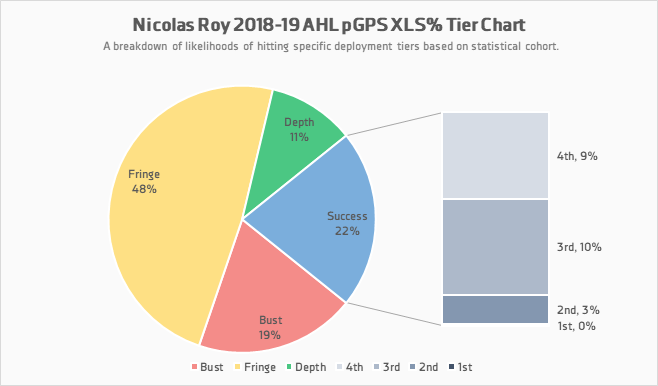 Those seem like reasonable outputs for Roy, too. It's one of those beautiful instances where the film and data tell one harmonious story, rather than standing at opposite ends of the spectrum, at odds with each other.
For the Golden Knights, that's solid value given where they are in their competitive arc. It's hard to imagine the Hurricanes parting with a first-round pick for Haula, and anything beyond that point is going to take another three-to-four seasons before they're ready to contribute at the NHL level if they ever get to that point at all.
They've accelerated that process with the acquisition of Roy, who just might develop into a player capable of checking off some of the same boxes as Haula. Only time will tell.
You may also be interested in: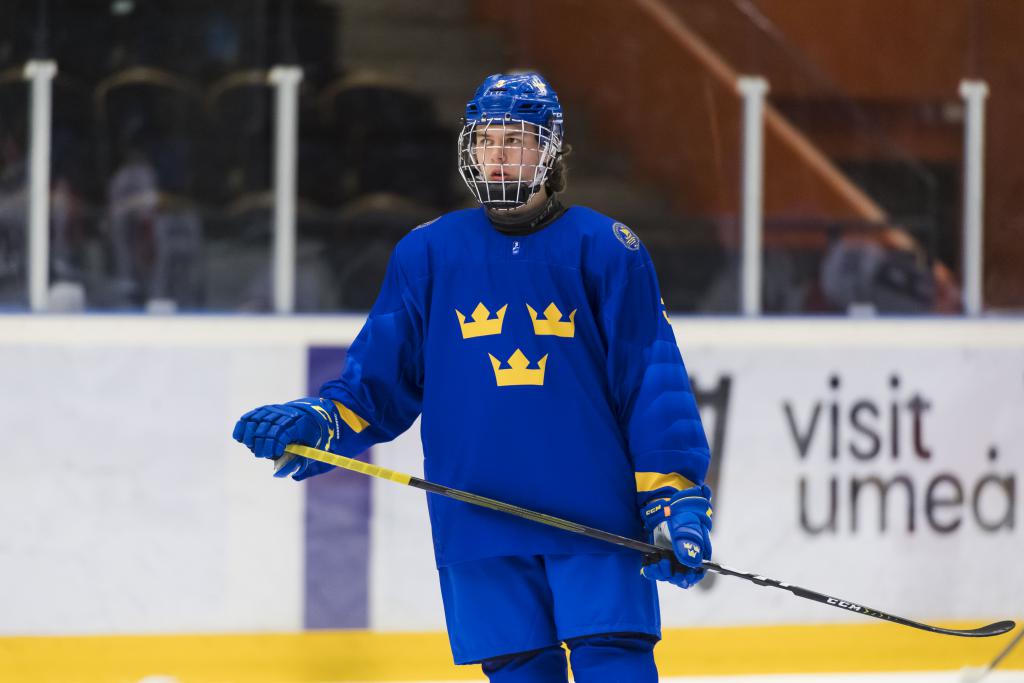 Post-Draft Prospect Profiles: Albert Johansson No. 60 to the Detroit Red Wings
This article is about: