Scouting Reports
Trade Analysis: What are the Pittsburgh Penguins Getting in Pierre-Olivier Joseph
There was such a fuss surrounding Phil Kessel's departure from Pittsburgh that barely a moment was spared to account for the players that the Arizona Coyotes sent the Penguins way for the veteran winger.
In Alex Galchenyuk and Pierre-Olivier Joseph, Pittsburgh added a little something for now and a little something for further down the road.
The first of those two players, Galchenyuk, is an NHL veteran of seven seasons. With that sort of experience, at the age of 25 no less — the book is, more or less, out on the player.
Meanwhile, we're still watching Joseph author his NHL story and barely past the introduction at that. Joseph, 20-years-old, is a puck-moving defenceman who only two short years ago crossed the stage in Chicago as a first-round pick for the Arizona Coyotes.
Since then, Joseph's played two full seasons in the QMJHL, mostly with the Charlottetown Islanders, and for a brief stretch with the Drummondville Voltigeurs to finish last season. Next year will represent Joseph's first in professional hockey, as he's likely to join the Wilkes-Barre Scranton Penguins.
It's a transition that proves difficult for most skaters coming out of the CHL. The talent pool compresses. The pace picks up. The systems are just that much more refined.
And there are few players making that jump from major junior hockey to the professional ranks better equipped for the challenge than Pierre-Olivier Joseph.
He's been processing the game at a professional level for years. Now the environment will reflect that.
It would've been easy enough for Joseph, with his 6-foot-4 frame, to defend with all of the imprecision of a club playing in junior. It's not the sort of thing that projects especially well at the next level, though.
Instead, Joseph outwitted his opponent's at nearly every turn and didn't suffer needless physical wear in the process.
Take this clip, for example. The Chicoutimi Sagueneens forward is attacking through the neutral zone with speed. Joseph uses his lengthy wingspan, aided with a stick to match, to take away the inside, with his hips square to the shooter. As the skater pivots for the outside lane — it's the only option at that point — Joseph pounces, and the Sagueneens forward loses the puck in a panic.
The best defence is a good offence, but the next best thing for an NHL defensive prospect is denying their opponent's controlled zone entries. Work done at the NHL level shows that a team that gains the offensive zone with full control of the puck will put twice as many shots on net as one that attempts a dump-and-chase play, on average.
As we can well see in this set of clips below (and the one above), that's an indisputable strength to Joseph's game.
One has to be able to defend capably if the attacking forward does gain the zone, though. It's another area where Joseph's smooth skating and long reach make life difficult for the opposition.
The consistent theme with Joseph's game that connects the offensive and defensive components is his remarkably high panic threshold. There's blood in those veins. Joseph isn't one to rush a play under pressure. He's calm, collected, and makes every pass, every moment with a distinct purpose.
There are times, however, where the situation calls for a little more urgency and Joseph struggles to flip the switch, as it were. This play is a good example of Joseph getting a little too comfortable and surrendering a good opportunity for the trouble.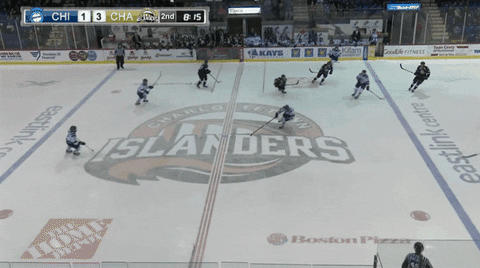 The most consistent critique of Joseph's game, though, is the lack of dynamism going the other way. Players that skate and read the game at Joseph's level should be able to produce more offensively, but that just hasn't been the case at the QMJHL level.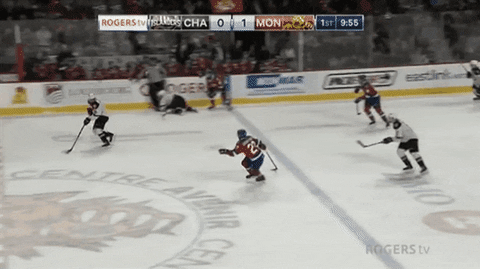 While Joseph's 47 points in 52 games last season might seem high at first glance, they're not especially strong in the context of players with NHL aspirations. The pGPS (Prospect Graduation Probabilities System) system, developed by NextGen Hockey's Jeremy Davis, looks at a player's statistical and stature-based profile and compares it to players who've fit in that same cohort historically to determine a likelihood of NHL success.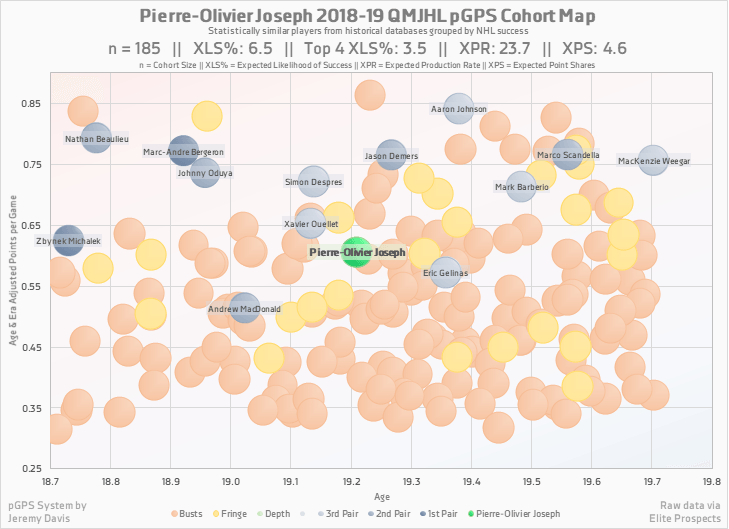 According to the pGPS system, Joseph's last season checks out as having about a seven percent chance at NHL success. That number is likely a bit low and undersells Joseph's strengths, but it's a red flag worth accounting for nonetheless. All the more so because Joseph's never rated highly by this mark for much of his junior career — it's not a crystal clear signal, by any means, but it's hardly noise at this stage either.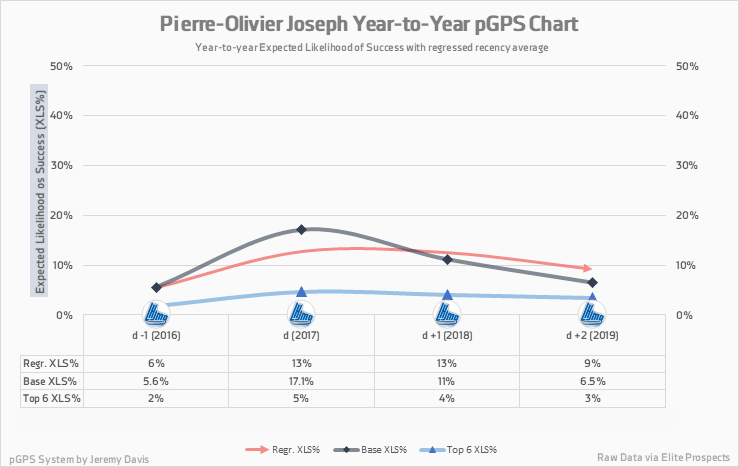 While I wouldn't count on Joseph as a contingency plan for Kris Letang, there's a good chance he'll develop into a defensively sound, puck-moving two-way defenceman in the bottom half of the defensive rotation. Finding cost-controlled players that can fill that role is no small feat either.
For a Penguins team that had zip, zilch, nada for defensive prospects, it's especially true. Joseph isn't an elite, blue-chip defensive prospect, but he has a good shot of contributing at the NHL level. That counts for something.
You may also be interested in: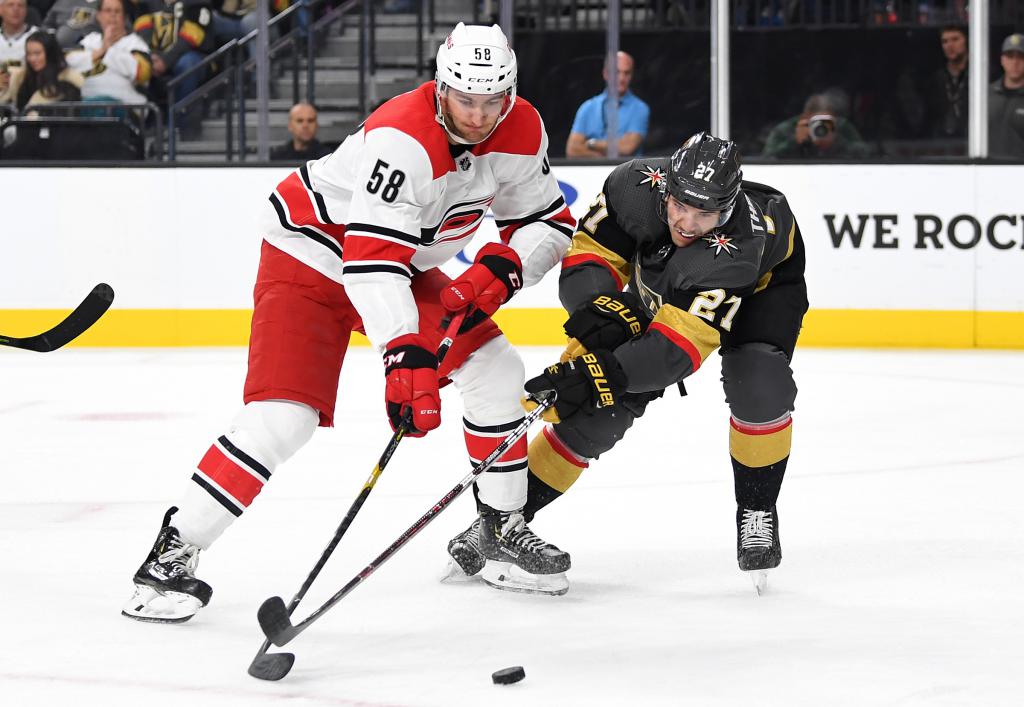 Trade Analysis: What are the Vegas Golden Knights Getting in Nicolas Roy?
This article is about: