NHL Entry Draft 2019
Post-Draft Prospect Profiles: Viktor Lodin No. 94 to the Ottawa Senators
Viktor Lodin isn't a well-known name for anyone lacking an intimate knowledge of Swedish junior hockey. Without any prior experience on the National Team and no outstanding statistics to jump off the screen, the '99-born winger struck some as a surprise pick in the fourth round of the 2019 NHL Entry Draft.
For a little background information, Lodin was one of the best players in the JSM-playoffs at the end of the 2017-18 season. He played a key role when Örebro went all the way to win the bronze after they went into the playoff as the last seeded team in the J20 SuperElit.
This past season, Lodin played both in SuperElit and with Örebro's SHL-team. While he was a top-line player in SuperElit he spent most of the time on the third or fourth line while playing in the SHL. Örebro failed to make the SM-playoffs and Lodin ended the season back in the SuperElit, just in time for the JSM-playoffs to start. He once again upped his game when it mattered the most and finished with eight points (four goals and four assists) in four games.
Örebro didn't replicate the success of a season prior, as MODO Hockey eliminated them in the quarterfinals en route to a championship. With that, Lodin's season came to an end.
Scouting Report
While Lodin's skating isn't elite, it's still good. He has above-average acceleration and top speed by the SuperElit's standards, and he combines that well with other skillsets to become an offensive weapon that can move the puck up and around the ice. Lodin's first steps are a notch better. He has good initial quickness from a standstill, both forward, to the sides and when changing direction. The little extra first push he has makes him hard for opponents to catch him when he twists and turns with the puck or when he tries to move the puck past a forechecking opponent. Lodin's agility and ability to turn and pivot — which he likes to do — is supported by his strong edge work and he is not an easy player to catch when he keeps his feet moving.
Lodin could use a little bit more push out of each stride he takes over longer distances. This is mainly apparent when he plays in the SHL as he has a tendency to not be able to use his skating as an offensive weapon in the same way as he can in the SuperElit.
Viktor Lodin gör 4-2 till Örebro. #J20gifs #JuniorSM2018 #ÖrebroJ20 #BIFJ20 pic.twitter.com/nXzJISFZMr

— Anton Johansson (@antonj85) March 21, 2018
In the offensive zone, Lodin could be more consistent with how he uses his skating. He almost always drags the pace of the game down when he has the puck in the offensive zone. He has the ability to quickly go from low to high pace, but he does not use it enough and he could make better use of his initial speed in the offensive zone instead of slowing down.
Lodin's most outstanding offensive attributes are his hands, creativity and stickhandling. He likes to stickhandle his way through traffic and can open up the opponent's defensive structure on his own by dangling past a defender. He also has decent control of the puck, the way he handles it is quite fluid and he rarely makes simple mistakes due to handling the puck in a sloppy way. His ability to keep control of the puck while making unexpected dangles is not limited to a slower speed; Lodin can make a defender look silly even while skating close to his own top speed. He also has good control of the puck close to his feet, which enables him to maintain possession of the puck while moving towards high danger areas that usually have very limited space for puck handling.
One issue for Lodin is that while he can make fancy plays with the puck, he has not been able to take advantage of that in order to become a consistently productive player for his age in the SuperElit. The other issue is that he, so far, has not been able to transition his creative game from junior to senior hockey as he does not consistently utilize his own strengths often enough in the offensive zone while playing in the SHL.
Viktor Lodins 2-2 mål för Örebro mot Rögle i andra åttondelen. #J20gifs #J20SM pic.twitter.com/77YlLK1D60

— Anton Johansson (@antonj85) March 25, 2019
Against junior players, Lodin seems confident in his own puck skills, and rarely gets stressed in pressured situations. Instead, he keeps calm and handles the puck before deciding if he wants to make a deke or a play to get out of the current situation. It's uncommon for him to make a poor decision due to lack of time or because an opponent is closing. He can, however, make mistakes due to him being a bit too nifty with the puck in situations where he should keep it simple — mainly in the defensive zone.
Örebros Viktor Lodin med en fin dragning. #J20gifs #JuniorSM2018 #VäxjöJ20 #ÖrebroJ20 pic.twitter.com/elUdeMGHBF

— Anton Johansson (@antonj85) April 1, 2018
What Lodin mainly needs to improve in his puck possession game is to make better use of his skills. He can look clearly superior to his opponents in single sequences or have a great shift here and there in SuperElit, but he lacks an offensive motor that keeps on generating prime scoring chances for himself or his team. One of the reasons for this — besides the slow pacing with the puck in the offensive zone — is that he is much too content playing on the perimeter, not looking to gain the inside or challenge the net.
Even in situations where there is no reason to take the puck towards the boards or down to the corners, Lodin brings the puck there. He is not a soft player that shies away from physical contact, but he does not look to use his body to crash the net or to open up the play when he has the puck either. If he does not have the space to dangle himself towards the net, he too often ends up along the boards.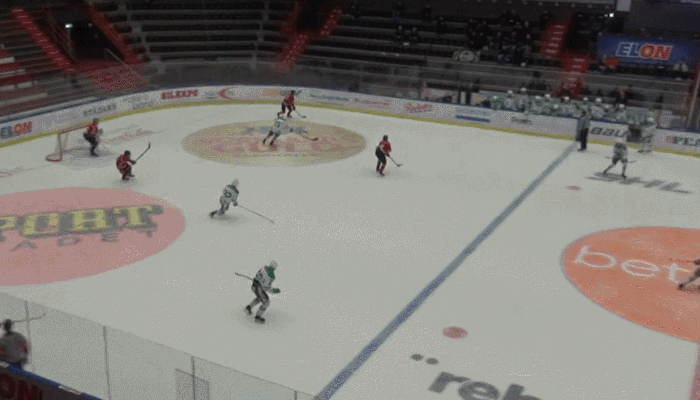 When play is along the boards, Lodin is effective and can protect the puck well. But the fact that he steers the play there lowers his offensive efficiency and makes him easy to defend at times. While playing against junior players, Lodin can use his other skills to then get towards the net from the boards but in the SHL he too often gets stuck in low danger areas when he has the puck.
Lodin is a decent passer in the offensive zone. He sees the ice well and is able to quickly take advantage of passing lanes that he has spotted; he is a quick thinker and sometimes he has already spotted the passing lane before he receives the puck, which enables him to make a one-time pass to create a scoring chance for a teammate. While he isn't an elite playmaker the overall quality of Lodin's short-range passes is above average in the SuperElit. His passes are usually hard and tape-to-tape, so the receiver rarely has to handle the puck before shooting or making a play. Lodin's creativity shines through in the way he distributes the puck as well; he can make unexpected plays that catches his opponents off guard from all around the offensive zone.
Lodin is not only a playmaker. He can also finish plays, too. His shot isn't great — even by the SuperElit's standards it is average — and there is room for improvement when it comes to precision, power and release. Lodin does, however, have other skills that allow him to chip in a few goals per season. With his quick hands, he can make a dangle or creative play to trick the goaltender, and he is good at finding open ice to position himself in from where he can beat the goaltender with a less than perfect shot. Due to his average shooting abilities, you typically do not see Lodin score with a precise snipe from outside the circles.
Viktor Lodin gjorde 1-0 för Örebro mot Frölunda. #J20gifs #J20SESödra pic.twitter.com/kFXyq757UH

— Anton Johansson (@antonj85) November 4, 2018
Lodin's two-way game is not bad, but not great either. He does have a few interesting defensive ticks to his game. Mainly, he is a great forechecker. He has a high work-rate while chasing down the puck holder, with his ability to quickly turn he can put a lot of pressure towards the puck and he does not hesitate to throw in a hit or play the body to separate his opponent from the puck. He reads the game well off the puck and can anticipate what the opponents will do, and he actively uses his stick to steer the play or to steal the puck if he gets close to the puck-mover. He also is a competent back-checker and rarely floats when the play turns.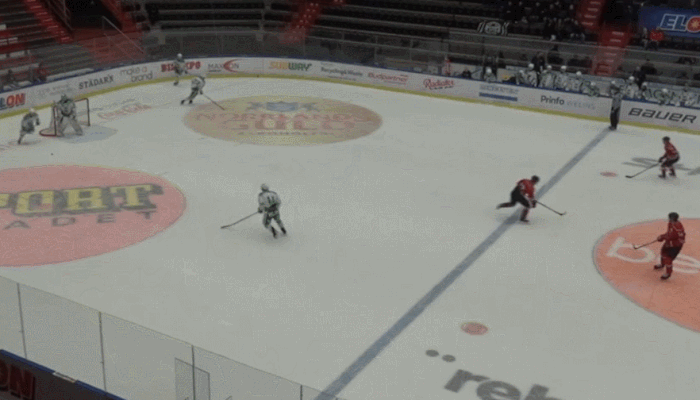 In the defensive zone, Lodin has decent awareness. He keeps his head on a swivel and is consistent in positional play — although he can struggle with the quicker pace in the SHL. He works hard along the boards and is a very effective player in board battles in SuperElit but needs to add more strength to be able to compete at the same level against men in the SHL. He could also up his work-rate when the puck isn't along the boards.
Two other parts of Lodin's game that could use improvement are his involvement in play and the way he uses his stick. He can become passive and hesitant, so even if he is in the correct position, he does not take away the area that he is supposed to cover. He also too often plays with his stick up while defending in his own zone, unless the puck is close to him, which leads to that he does not cut off passing lanes that quite easily could be closed if he just put his stick down on the ice.
Outlook
Lodin has a contract with Örebro HK that goes through the upcoming season, but he should be seen more as a project than a player that will soon challenge for a spot on the Ottawa Senators roster. He will, most likely, need a few more years to work on his offensive consistency and to transition his game from junior to senior hockey and to become an established SHL or AHL player.
You may also be interested in: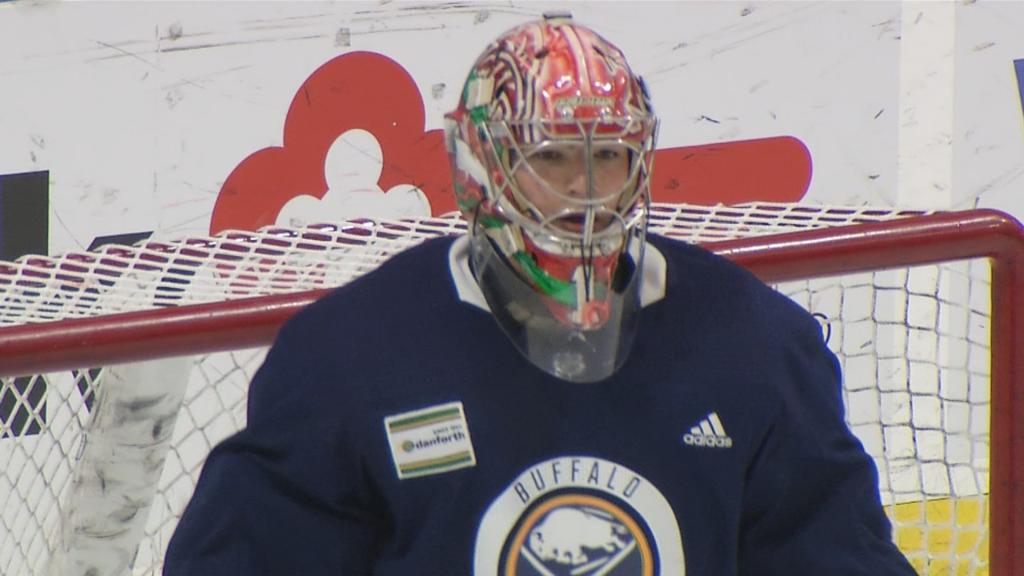 Post-Draft Prospect Profiles: Erik Portillo No. 67 to the Buffalo Sabres
This article is about: