NHL Entry Draft 2019
Post-Draft Prospect Profiles: Eric Hjorth No. 104 to the Columbus Blue Jackets
Eric Hjorth might have been one of the least known players crossing the stage at the 2019 NHL Entry Draft. Not because Hjorth is a poor player or prospect, but because he only played four regular-season games during the 2018-19 season plus an additional six in the playoffs. Hjorth missed much of the season due to a knee-injury but still had several good performances in the few games he played and helped Linköping to the medal rounds of the J18-SM playoffs.
Another reason Hjorth has flown under the radar is that he's only consistently played at the U18-level in Sweden and he has never dressed up for Team Sweden at the international level.
Scouting Report
The first thing that stands out about Hjorth is how mobile he is for a player of his size (6-foot-3 and 192 pounds). He has fluid movements at short range, that enable him to stay in motion, both when he has the puck and when he's trying to find space to receive the puck.
His first step is good in all directions and plays a big role in Hjorth's game. That little extra initial speed opens up possibilities for him both as he moves the puck and while he is looking to create odd-man advantages in the offensive zone.
Another thing to like about Hjorth's skating is his edge work. He controls his edges well and has surprisingly good agility, which helps him shake off defenders or avoid hits as he moves the puck.
Where there is the most room for improvement in Hjorth's skating is his top speed and acceleration over longer distances — he is quite fast for his size but he will not be able to match speedy forwards for loose pucks or dump-ins. Hjorth could also improve his lateral movement on the blue line, as it isn't as smooth as much of his other skating abilities.
Hjorth clearly has the instincts to utilize his skating to create offence for his team. He doesn't hesitate to move the puck up the ice himself, but he also skates off the puck in order to find open ice to become available for a pass on attempted entries.
His offensive skating is not limited to trying to transition the puck from offence-to-defence himself. Hjorth will also look to create odd-man advantages when the play turns and he does not hesitate to join the rush if he sees a good chance to do so. He does, however, not look to jump on the rush no matter situations and seems to have the awareness to stay off when it is too big of a risk.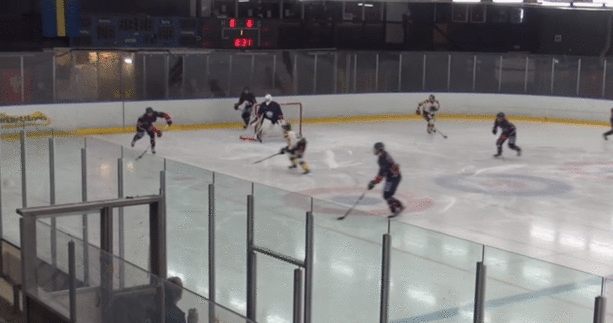 Hjorth is not limited to carrying the puck himself to help his team in transition. He has good vision and sees the ice well from his own zone and can make hard tape-to-tape passes to send play up-ice. There is room for improvement when it comes to the consistency regarding the quality of his passes. In general, Hjorth keeps his first passes to medium range, and then the quality of his passes is much more consistent and thus more effective.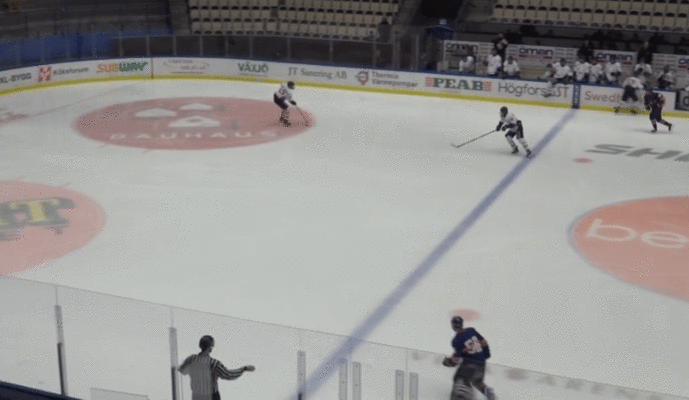 Puck skills are a strength of Hjorth's game. He has surprisingly good control of the puck for a defenseman and handles it very well, whether at high speed, making a deke or pivoting — Hjorth has the puck glued to his stick.
He seems aware of his puck skills and plays with a ton of confidence with the puck. If Hjorth gets forechecked, he often finds a good calm solution and does not mind trying to skate himself out of trouble. At times he gets overconfident, but often Hjorth is able to solve the situation.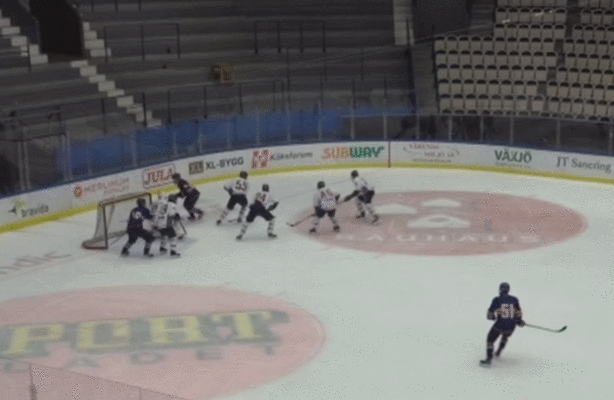 While playing in the offensive zone, Hjorth shows good awareness off the puck. He reads the game well and stays in motion so he quickly can leave the blue line for open ice to help his team create scoring chances. He is excellent at making himself available for passes on the blue line and when he gets the puck, he works the give-and-go's while moving towards the high slot to create an odd-man advantage or a scoring chance for himself.
Hjorth has quick hands and he is a good stickhandler, combined with his edge work and initial quickness he can punish the closest forward if he gets too close while checking.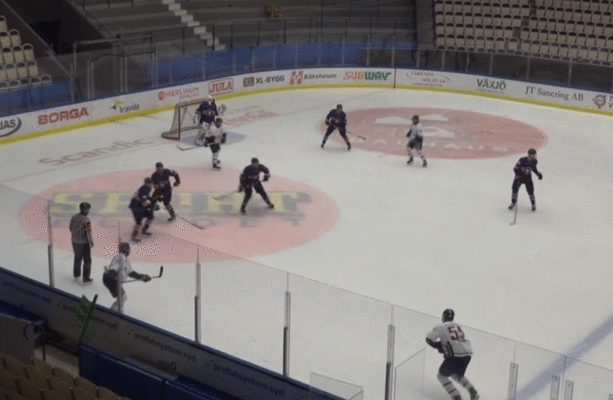 The ability to find or create open ice in the offensive zone helps Hjorth capitalize on his finishing abilities. He has a heavy slap shot and can unleash a thunderous one-timer from the point if he is given too much space — mostly he threatens with his wrist shot. Hjorth's wrister requires a slight bit of wind up but he can still beat goaltenders from quite far out with it due to the power and accuracy of his shot. When he has the puck on the blue line, Hjorth likes to challenge the closest forward, to break just before him before pulling the puck back in order to use the forward as a screen while shooting.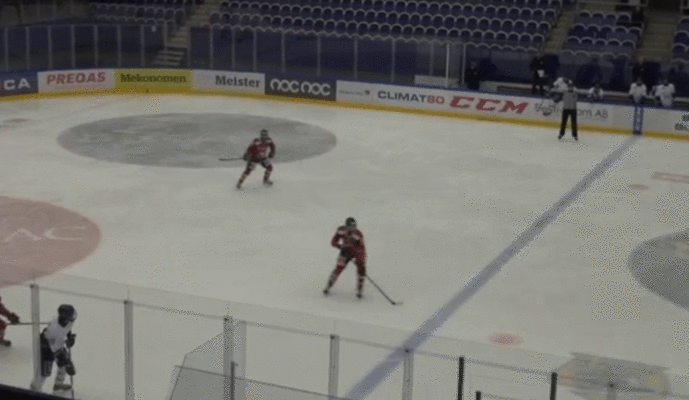 His vision is above average, and he can spot passing lanes before he has the puck, which makes him able to make a one-time pass to quickly put a teammate in a scoring position as soon as he receives the puck. At times, Hjorth can show some creativity in his puck distribution in the offensive zone, but he is more creative in the way he handles the puck than his passing game.
At the under-18 level, Hjorth is a great offensive player that is very entertaining to watch. What is important to keep in mind is that the U18 league in Sweden is, at least, one step below the U20 league, and many players can play well at the U18 level while struggling at the U20 level.
Defensively Hjorth is a solid piece at the U18 level, but there are still some areas that are lacking. While defending the blue line, he reads the game well and usually makes the right call with regards to when aggression or patience is called for.
He also plays well when the opponents are trying to pass their way through the neutral zone, and he is often ready to step up and prevent a zone entry by intercepting the pass. Sometimes he makes the read well before the puck is there and intercept the pass.
In one-on-one situations, Hjorth is strong at staying in control, he judges how to manage gap control well and uses his stick effectively to steer the puck holder to get a stoppage in the attack. In general, Hjorth has a very active stick while defending and he uses it in a smart way to put pressure, to cut angles and to close passing lanes.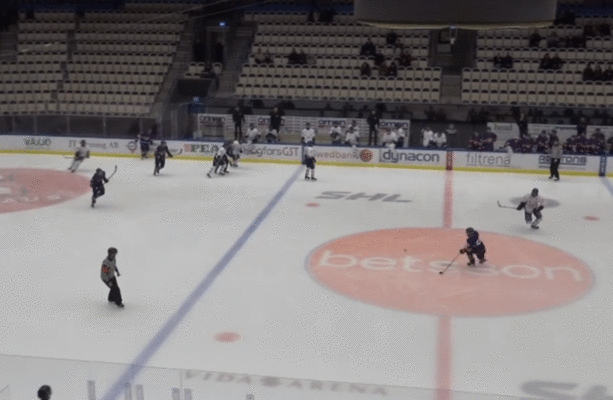 Further into his own zone, Hjorth's most impressive components are those that revolve around his frame and strength. He is a strong piece around his own net and along the boards. He could, however, use his body more while defending as he often has an obvious size advantage against U18 competition. If he would use his body more, he could become quite dominant in the more physical areas of the defensive zone.
Much of Hjorth's issues in the defensive zone revolve around a tendency to puck-watch. He can be off in his positioning when he gets caught watching the puck, which invalidates his strength advantage around the net. He also makes dangerous challenges towards the puck when one isn't necessary. Another aspect is that when he focuses too much on the puck Hjorth can get taken by surprise by quick and creative plays, which can catch him completely off guard at times since he has his mind on the puck.
While Hjorth is mobile in the offensive game he can get stationary when defending, as he does not move his feet enough. When he gets too passive, he becomes vulnerable against quick or speedy forwards that can go around him to challenge the net or make a play through the slot. The combination of focusing on the puck while also standing still is something that he needs to work on, as it became an apparent weakness against some of the better player that stepped down from the U20-teams to play U18-hockey during the playoffs.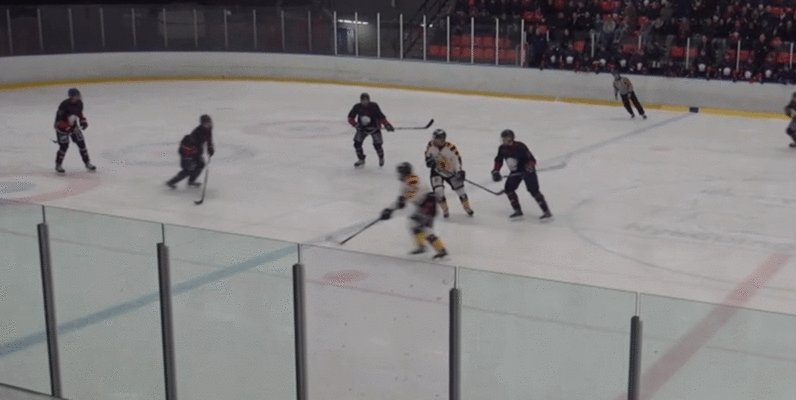 Outlook
Moving forward, Hjorth will be playing in the OHL as the Sarnia Sting drafted him 17th overall in the CHL Import Draft this summer. There is no denying that he has several tools that could turn him into an impact player in the future, and he has the frame to help him succeed.
That said, there is a lot of polishing that remains. The fact that Hjorth missed much of his draft season, and only has played at the U18-level so far in his career implies that it is a pick that will take its time, but that patience might pay off for the Blue Jackets in the long run.
You may also be interested in: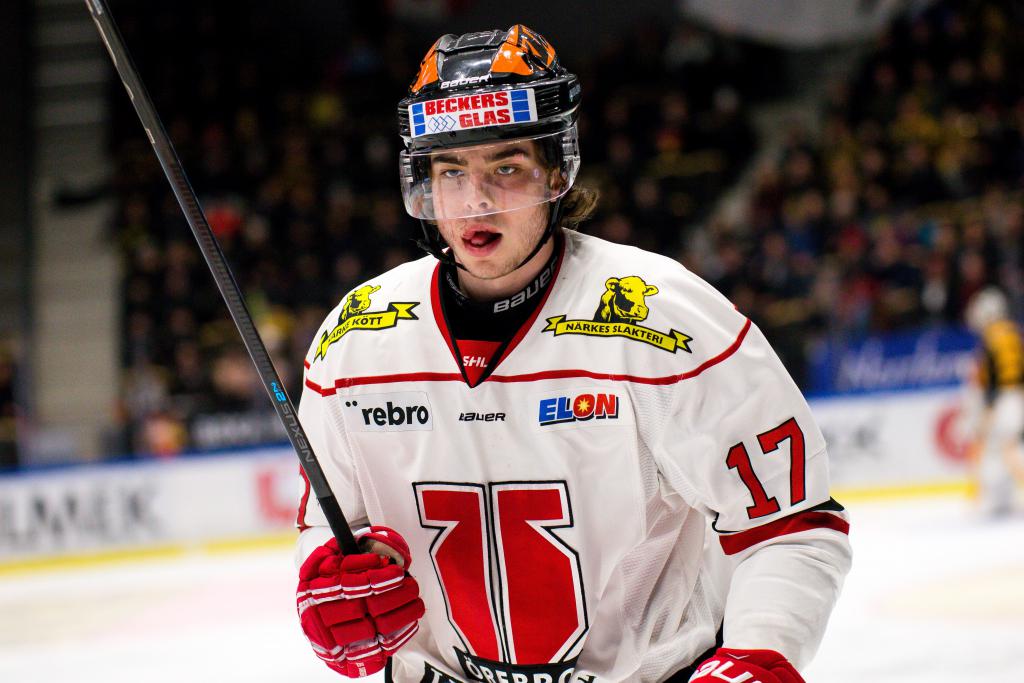 Post-Draft Prospect Profiles: Viktor Lodin No. 94 to the Ottawa Senators
This article is about: