Scouting Reports
COHEN: Canucks Prospect Defender Toni Utunen is Starting to Strut his Offensive Stuff
The Vancouver Canucks selected Toni Utunen 130th overall, in the fifth round of the 2018 NHL Entry Draft. Fans, reporters, and casual observers alike scrambled for information on the 5-foot-11 defenceman in response.
A cursory glance at Utunen's counting stats revealed a doughnut in the points column through 11 games with Tappara in the Finnish Liiga. That snapshot wasn't overly revealing, and it's a great marker for where the rubber meets the road and the scout's diligence sets the course.
The2018 5 Nations tournament, held in Plymouth, Michigan granted a look at the defenceman. Utunen played top pair minutes as Finland's No. 1 defenceman and held that spot to the tournament's conclusion. While Utunen failed to register a point in that tournament, he did send ten pucks on net, and there were other things to glean.
Hockey I.Q., good or bad, is one of the items that usually jumps off the page midway through a hockey game. And after two or three you have a baseline idea.
Utunen made safe clears. He could make a nice touch pass and otherwise, his passing was accurate. His speed was good. His one-timer was on display and it was already above average. They had a sharpness to them; they were accurate and hard. It was a weapon as a point on the power play.
Early on it was being reported that he could be a defensive defenseman because he played that role in Liga. That's now proving to be wrong, but what it did was set the expectations bar pretty low for this player in a market that sometimes expects too much from their prospects. They did the Finn a favour. He was able to avoid a lot of that and instead raise the bar with his play rather than what people think he can do.
There wasn't a ton of talk surrounding this prospect until the 2019 World Junior Hockey Championships in Vancouver. In a moment against Team Canada, Utunen went down the ice, in a tie game and managed to bury a wrist shot in the Quarterfinals to eliminate the opposition and send his country into the semi-finals en route to a gold medal. That goal was talked about quite a bit, for obvious reasons, and that may have been the start of him opening some eyes with his play. In seven games he had two goals and two assists. He took home another gold medal; he won his first in the U18s.
Another big moment for Utunen was in the 2019 World Junior Summer Showcase. There is little doubt that he will make the Finnish  World Junior roster again but now he showed himself to be much more of an offensive threat. His wrist shot went from having a fast release to a lightning-fast release. It's not always hard but he gets it away quickly and it's usually on-net. He's now 176 pounds so maybe it's strength. In this tournament, he was the No. 3 defender. Different coaches slot defenseman in different spots and Utunen is very versatile, so seeing him move around isn't a shock.
Defensively, he closes the gap quickly, he takes away time and space and he has an active stick. He's very disciplined and doesn't take dumb penalties. He doesn't force anything offensively or defensively and he's very calm out there. These are some really good traits that coaches love.
He didn't get top power play time and yet he still had three points in five games. He had a three-point game against Canada. In an 8-3 win, he had two goals. He was a +2 and once again people were pleasantly surprised to see this from a draft pick for which they didn't hold many expectations.
At 19, Utunen is going to return to Tappara for probably the last time. If all goes well and he has a good season there along with a solid 2020 World Junior Championship, then he will likely come over to North America and the Canucks might have a tough decision to make at that time. Whether or not to place him in the AHL with Utica to start or to see if he's ready to make the team out of camp. The good thing for Utunen is there will be an opportunity at the position if he is ready.
Next up in the Rinkside Prospect Pool Rankings are the Vancouver Canucks.@Hockey_Robinson brings a detailed scouting report on the 15 best players in the system.

It's a ? tape. Check it out.

With video, and data from @iceberg_sports.https://t.co/x7h4EkVisW pic.twitter.com/KFKTYDoDCs

— EP Rinkside (@EPRinkside) August 15, 2019
I project him to be either a second or third-pairing defenseman with an excellent chance of not only playing in the NHL but staying there for a good length of time. He's playing with some great players on the national team and he looks every bit as good as them. He can cover top competition and so far he hasn't missed a beat. He's 176 pounds currently so he'll have to put on some more muscle and add a bit more speed. All of these things are possible and someday soon he should be able to reach his full potential and if that happens — it's a steal of a pick.
You may also be interested in: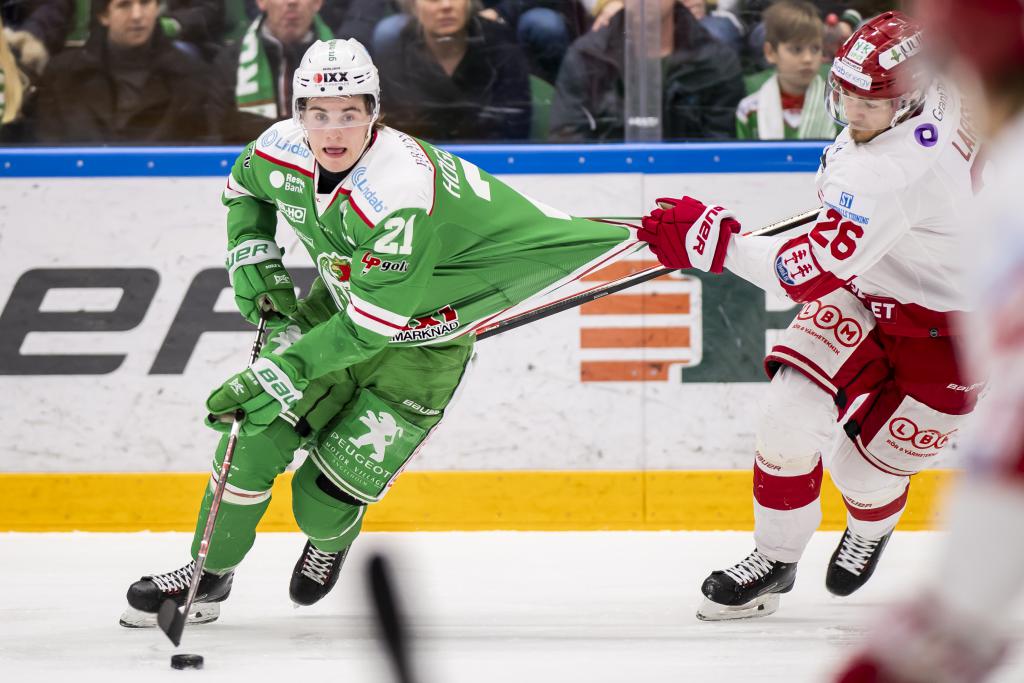 Post-Draft Prospect Profiles: Nils Höglander No. 40 to the Vancouver Canucks
This article is about: