NHL Entry Draft 2019
Post-Draft Prospect Profiles: Elmer Söderblom No. 159 to the Detroit Red Wings
Elmer Söderblom, of the 6-foot-7, 220-pound frame, was among the largest players to hear their name called at the 2019 NHL Entry Draft when the Detroit Red Wings drafted him 159th overall, in the sixth-round.
What Söderblom wasn't is one of the draft's most talked-about players, in spite of lurking in the Swedish junior circuits for the last handful of seasons. At the beginning of this year, that meant a plunge from the U18 to U20 SuperElit league in Frölunda's system.
The Frölunda J20 SuperElit team didn't offer Söderblom an offensive role, but the towering winger still contributed 17 points (nine goals and eight assists) in 44 regular-season games. In the playoffs, Söderblom kicked it up a notch, scoring four times in six contests.
Söderblom was one of several players on the J20-team that also played for Frölunda's J18 team during the playoffs — that group had a substantial impact and helped Frölunda's J18 team capture gold. After the club season, Söderblom joined the Swedish national team for the U18 World Championship, as they won the country's first gold medal in tournament history, on home turf.
Scouting Report
Söderblom is a surprisingly good and well-rounded skater for someone his size. He's hardly offering virtuoso performances with each stride but is effective all the same.
There is room for improvement in Söderblom's skating technique, particularly in his acceleration. Söderblom produces a strong first few steps, using a decent push to send him flying out of the gates, but that initial burst fades over longer distances it declines to just about average.
As Söderblom adds muscle to his lengthy frame — the lower-body especially — one might imagine that he'll be able to move that hulking frame at higher speeds.
At present, Söderblom is quite mobile and agile; he works his edges well when he moves around on small surfaces and when he widens the gap between his legs he does not only become hard to knock off his feet, he also becomes quick in his side-to-side movement.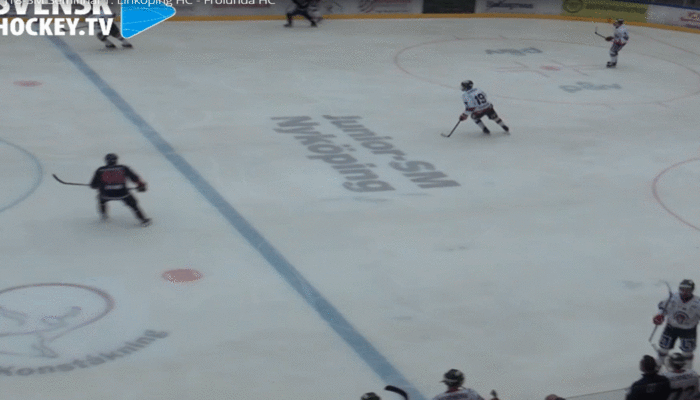 In keeping with Söderblom's refusal to suffer assumptions about his playing style based on his size, he's no power forward. Söderblom plays a game based on skill, not physicality.
Söderblom has the natural tools to be a monster in front of the net or along the boards but lacks the conviction to get there. At present, he plays with close to no edge, showing a preference for stickhandling his way through traffic. Occasionally, Söderblom will take the puck to the net — often when there's only one defender in his way — and when he does, it often results in a scoring chance. It doesn't happen nearly often enough, though.
Elmer Söderblom kvitterar för Frölunda 1-1. #J18gifs #J18ElitSödra #TrojaLjungbyJ18 #FHCJ18 pic.twitter.com/UZW3Kba49t

— Anton Johansson (@antonj85) October 22, 2017
Söderblom can protect the puck well, often fending off multiple opponents at a time. In that way, he uses his size. But mostly, Söderblom is yet to crack the power forward's code. That will take increased confidence and determination.
Andreas Laschitza 2-0 mål för Frölunda mot Färjestad, framspelad av Elmer Söderblom. #J18gifs #jsm19nyk #2019NHLDraft pic.twitter.com/fHCKdt9dRW

— Anton Johansson (@antonj85) April 6, 2019
Another area for Söderblom to improve upon is the pace with which he plays. Söderblom plays at a slow pace and tends to lessen the tempo when the puck lands on his stick.
Now, for the positives. Söderblom doesn't suffer the 'dump-and-chase' mindset that is so common in players that profile similarly. Instead, Söderblom prefers to carry the puck into the offensive for controlled entries.
His stickhandling is, generally, a good weapon for manoeuvring through opponents, creating scoring chances and passing lanes alike. Söderblom's puck skills can prove somewhat limiting at times, but the attempts at ten-bell maneuvres are always there. If Söderblom could combine those skills with a little more power, that could make him more effective at creating space.
Söderblom has room for growth as a finisher. His vision is average, and even when there is space available it's often for nought as Soderblom fails to use it. As long as he keeps things simple, Söderblom is a decent short-range passer, with the occasional flash of creative puck distribution.
He has a decent release on his wrist shot, and it's quite powerful at that, but it comes at the expense of his accuracy. Once he gets the precision right; he can score from both up close and from further out. When Söderblom scores, it is often as a result of other skills than the shot itself.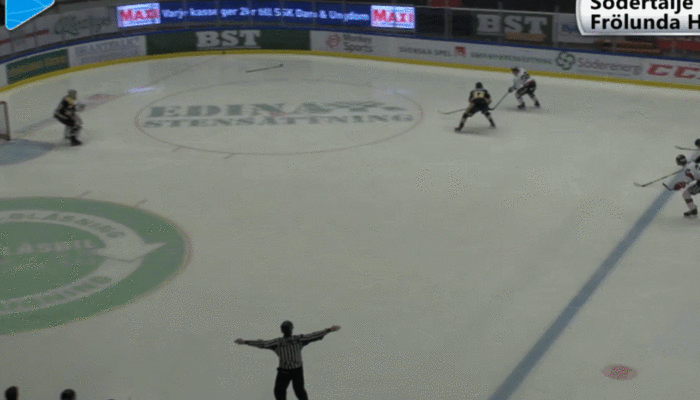 Defensively, Söderblom takes advantage of his size much more than he does in the offensive zone. He works hard and is strong along the boards, both when it comes to winning the puck and protecting it once it is won. He rarely makes risky plays with the puck in his own end, and often keeps it simple in order for his team to get a good chance to clear it.
Söderblom keeps his head on a swivel when play is in his zone, allowing him to stay appraised of his surroundings and maintain a good position at all times. There are moments when he is guilty of puck-watching, but overall, there is strong defensive awareness in his game. That awareness offers Söderblom a chance at effectiveness at box-play, as he's good on making switches defensively.
Another aspect that Söderblom is very good at — mostly while playing shorthanded — is getting pucks deep and keeping it there to kill time. He then utilizes his big frame well to protect the puck and can keep it along the boards against several opponents at once for shorter periods of time
Outlook
Söderblom will continue to play with Frölunda's J20 team in the SuperElit this upcoming season. As some of Frölunda's most notable prospects will see ice-time with their SHL-team, Söderblom should get several chances to take on a more productive role with the junior team. Red Wing's fans should not expect to see Söderblom competing for a spot on their team for several seasons. He's a long-term project.
You may also be interested in: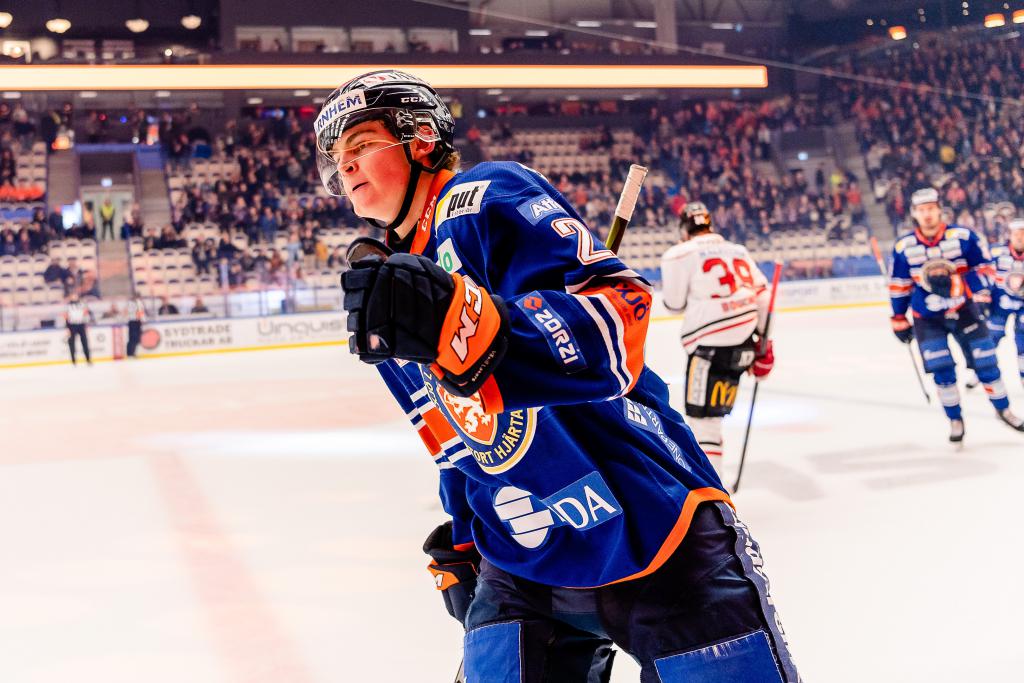 Post-Draft Prospect Profiles: Filip Cederqvist No. 143 to the Buffalo Sabres
This article is about: