The Pipeline Show
THE PIPELINE SHOW: WHL Season Previews for Kelowna, Kamloops, Moose Jaw, Lethbridge, & Regina
Continuing the team-by-team previews for all 22 Western Hockey League clubs, this week I'm joined by five more General Managers who have now seen their team progress through training camp and into the pre-season.
2019-20 Kamloops Blazers Season Preview
Blazers general manager Matt Bardsley returns to Kamloops for his second season and feels like he's learned a lot after his rookie campaign with the Blazers. With new veteran head coach Shawn Clouston behind the bench, the club appears poised to take a significant step forward.
Gone from the playoff roster are goaltender Dylan Ferguson as well as forwards Jeff Faith and Jermaine Loewen. Veteran Travis Walton is also not back as he's headed to the BCHL for his final year of junior eligibility.
The good news for Kamloops is that there are a ton of returning players and that doesn't always happen in junior hockey. Plus, the incoming freshmen are a talented lot that will make the team better.
Dylan Garand and Rayce Ramsay will compete for the starting job but Garand, a 2020 eligible player of note, is coming off a Hlinka Gretzky Cup performance with Canada so probably has the leg up.
The Blazers defensive group might lack household names outside of WHL circles but that didn't hurt Prince Albert last year. Montana Oneybuchi could be in for a big season as the 6-foot-3 rearguard moves into more of a veteran role. New import Inaki Baragano comes with some international experience having played in the Hlinka Gretzky Cup for Switzerland.
Another 2020 eligible player that scouts will be keying in on from the Blazers roster is forward Connor Zary. He had 24 goals last year and now entering his third campaign, it's fair to expect the Saskatoon product to chase the 40-goal mark.
The most buzz in Kamloops centres around incoming rookie and local product Logan Stankoven. Short in stature but with tons of skills and smarts, Stankoven is already a crowd favourite.
20-year-old candidate Zane Franklin is a pain-in-the-ass player that every team in the league would love to have and a guy GM Bardsley says plays a key role on his club.
Bardsley has his eyes on a 40-win season and if the Blazers can accomplish that, a run at the division title wouldn't be out of the question.
2019-20 Moose Jaw Warriors Season Preview
There is no getting around it — this will be a building year for the Moose Jaw Warriors. Warriors general manager Alan Millar called it "a retooling year" and after the club was all in during the 2018 playoff chase, the chickens have come home to roost. Moose Jaw didn't have a 2019 draft pick until the fourth round and now it's safe to expect the team will try and restock the shelves and plan for the future.
Tristan Langan, Dalton Hamaliuk, Josh Brook, Jett Woo and Brody Salmond are all gone from last year's squad. There is an interesting question mark beside Justin Almeida's name though as he continues to rehab after offseason surgery. It's not out of the question that the Penguins prospect could be sent back to the WHL once he's ready to play. The question then changes to whether Moose Jaw would keep him or move him to try and replenish their prospect/draft pick shortage.
Bonjour, Montréal. The Canadiens and their No. 6 ranked prospect pool check-in
in our NHL rankings.@Hockey_Robinson has the scouting report on their 15 best prospects, with video, and data from @ICEBERG_Sports.

It's a ? mixtape.https://t.co/CapsPSwdN7 pic.twitter.com/POHpKpkCt5

— EP Rinkside (@EPRinkside) August 13, 2019
To make matters worse, starting netminder Adam Evanoff is not expecting to be ready to play until mid-November at the earliest after a hip surgery. Millar wasn't shy about announcing that he's in the market for a goalie to help the team get through the first couple months of the year, at least.
2020 eligible Daemon Hunt becomes the big name on the blueline but he will need help from a supporting cast consisting of players no one outside the WHL has heard of.
Brayden Tracey becomes the main man upfront but the Anaheim prospect still has to prove he can do it without Langan and Almeida. The hope is that 2002-born Ryder Korczak can help shoulder the load and that the early pre-season success of Eric Alarie means something when the real season begins.
Millar wants to see his team competing for a playoff spot but I don't think anyone should be expecting the Warriors to clinch one. It's a bonus if they do.
2019-20 Kelowna Rockets Season Preview
As hosts of the 2020 Memorial Cup, it's fair to expect that the Kelowna Rockets will evolve considerably by the January 10th trade deadline from the squad we saw miss the playoffs last season. Rockets general Bruce Hamilton is on the show this week to preview the coming campaign for one of the CHL's most consistent franchises.
Really, the changes have already begun. The off-season swap between the Rockets and the Seattle Thunderbirds signalled that. Incoming Dillon Hamaliuk and Jake Lee provide quality depth and goalie Cole Swebius creates serious competition between the pipes.
Big things are expected from Nolan Foote who Hamilton compared to former Rocket Jamie Benn. Then there is incoming rookie Trevor Wong who somehow managed 64 goals and 141 points in just 30 games during his Bantam draft year. Also joining the team this year is former Denver Pioneers defenceman Sean Comrie who, along with Kaedan Korczak, rounds out a formidable defensive corps.
Next up, it's the Vegas Golden Knights with the No. 12 ranked prospect pool in the NHL.@HockeywthHannah brings a scouting report on their 15 best prospects.

With data from @ICEBERG_Sports.https://t.co/R6NpHVMTBH pic.twitter.com/USohumkq0P

— EP Rinkside (@EPRinkside) August 6, 2019
The Rockets have a trio of goalies vying for two positions; the aforementioned Cole Schwebius as well as incumbents James Porter and Roman Basran. It's easy to imagine one of the three being dealt either alone or in a package that brings more immediate help to Kelowna's club this year.
I also asked Hamilton, one of the more senior executives around the WHL, why he thinks the league champion has struggled lately during the Memorial Cup. Plus, are there any new things at the rink this year for fans to take note of on the way to the national tournament next May?
It should be a fun season in Kelowna for fans of the Rockets.
2019-20 Lethbridge Hurricanes Season Preview
A person might be able to make the case that the Lethbridge Hurricanes lose the most from the previous season's roster. Top scorers Jordy Bellerive, Nick Henry and Jake Leschyshyn are moving on to the pro ranks as is Igor Merezhko from the blueline and a couple of 1999-born forwards in Zach Cox and Scott Mahovlich.
The silver lining for 'Canes fans is that the holes will be filled by talented, albeit younger, players that will limit the inevitable step back to maybe just one or two spots.
Oliver Okuliar comes in as a 19-year-old import with CHL experience having played last season in the QMJHL with Sherbrooke. D-Jay Jerome and Dino Kambeitz were acquired from Victoria in the offseason. Talented rookie Zack Stringer will play full time for his hometown WHL team. 2017 first-round pick Noah Boyko is positioned for a much bigger role and has the skills to keep him among the leaders of the team.
Next up in the Prospect Pool Rankings series is the Pittsburgh Penguins prospect pool, which ranks 30th in the NHL.

We've got a breakdown of the Penguins top 15 prospects. By @JDylanBurke, with data from @ICEBERG_Sports, and lots of video work, too.https://t.co/7Fa36NObKf pic.twitter.com/vdnJYQFV9L

— EP Rinkside (@EPRinkside) July 16, 2019
The defence will be led by Pittsburgh prospect Calen Addison who should finish among the top blueline scorers in the entire WHL once again. Veterans Ty Prefontaine and Koletraine Wilson round out the group.
Between the pipes, Lethbridge has both of the goalies that they ended last year with who have 42 games of experience. Combined. It's fair to suggest there is a question mark at the position but Carl Tetachuk will be pushed by 2017 second-round pick Bryan Thomson and that's a good thing.
Hurricanes general manager Peter Anholt suggests that his team will still be competitive although he views two other central division clubs as clearly ahead of his squad at this point. However, the playoffs are a very reachable goal the Hurricanes can achieve.
2019-20 Regina Pats Season Preview
Regina Pats general manager John Paddock isn't one for small talk. At least, he wasn't with me during our interview, but there is no denying the man's knowledge of the game and where his team is at.
The Pats hosted the 2018 Memorial Cup and were 1000% all in to be as competitive as possible. That emptied the cupboards for the foreseeable future so to remedy that, to some degree, Paddock traded almost everything of value from his roster last year. It helped the team recoup some picks but the outlook for this season is predictably one of the "rebuild".
Austin Pratt is back for an overage season. The Pats acquired Dawson Holt from Vancouver to take another one of those three 20-year-old spots and the third has gone to Robbie Holmes, a former Pats forward who was dealt (loaned?) last year to the Everett Silvertips.
The rest of the forward lines will be made up of younger players being counted on to add offence by committee. There are no former first or second-round picks among them and several are players who were not drafted by the Pats or anyone else at all. That in itself doesn't always mean much if anything, but in this case, it accents the situation the Pats are in — rebuilding not from within but via whatever pieces they have been able to scrape together from other teams or other leagues.
It's the same story on the blueline with import Nikita Sedov being the most marquee type name on the roster page. Jake Johnson is an interesting player though; a tenth-round pick in 2018 that Paddock went out of his way to praise during our conversation, declaring that the 16-year-old had already made the team.
Paddock's nephew, Max Paddock, returns as the starting goaltender with 19-year-old Dean McNabb and rookie Matthew Pesenti competing for the No. 2 job.
Paddock would like his team to compete for a playoff spot but I don't think many prognosticators will pencil them into one before the season begins.
You may also be interested in: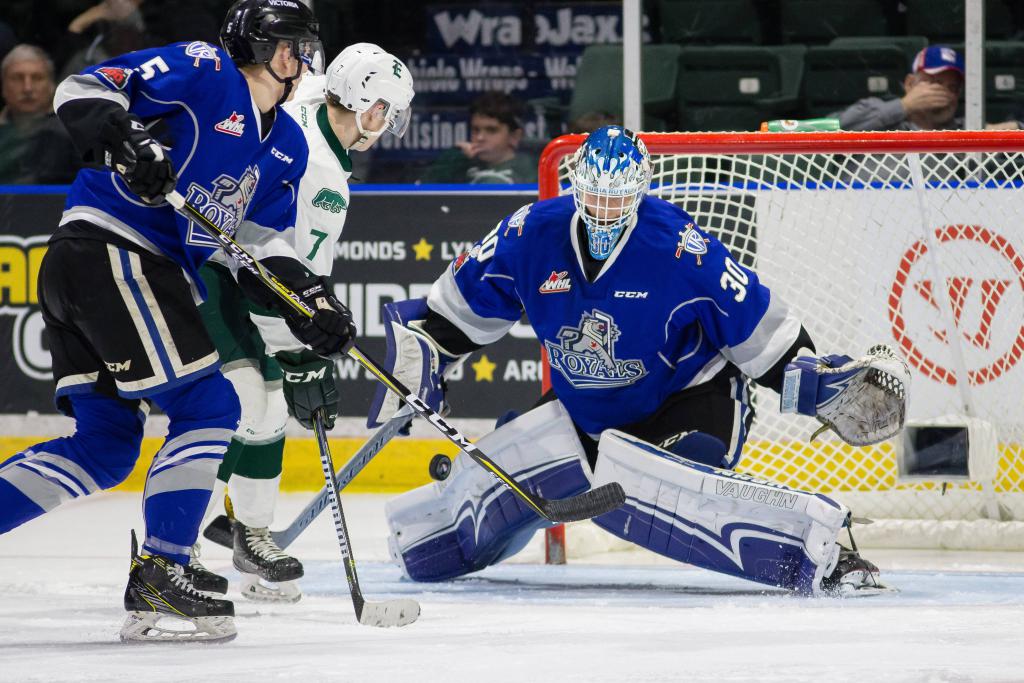 THE PIPELINE SHOW: WHL Season Previews for Red Deer, Victoria, Spokane, Prince George, and Swift Current
This article is about: