NHL Entry Draft 2018
"Up to me to be as good as I can…hopefully, that'll take me to North America," Adam Ginning on his Pending Journey From Linköping to the NHL
This article was written by Sixten Funquist, as a guest contribution to EliteProspects Rinkside. Sixten Funquist covers the NHL for NHL.com/sv and the SHL for Hockeysverige.se and Corren in Linkoping, Sweden. He also does colour commentary for the SHL World Feed.
Swedish defenceman Adam Ginning went into the 2018 NHL Entry Draft as a projected first-round pick. Instead, he fell. And continued to fall. Until the Philadelphia Flyers caught the tail spinning Ginning with the 50th overall pick, in the second round — the need for a righthanded defender, be damned.
And while he's a lefty, Ginning might be a diamond in the rough for the team from the City of Brotherly Love.
"We like his size. We like his upside," then-general manager Ron Hextall said to NBC Sports of Ginning on the day he was selected. "He's a big guy and he moves pretty well for a big guy. He's got solid puck skills and he has the range we need for a solid defensive defenseman."
The EP Rinkside Prospect Pool Rankings. No. 5 Ranked Philadelphia Flyers.

By Russ Cohen (@Sportsology) with a scouting report of their 15 best prospects.https://t.co/e4ukzcKPhr pic.twitter.com/qUK2Iq8lMc

— EP Rinkside (@EPRinkside) August 16, 2019
Ginning is by no means the only d-man coming out of Linköping over the past few years. Veteran Magnus Johansson, then an unsigned NHL free agent aged 34, had a brief 45 game stint with the Chicago Blackhawks and the Florida Panthers in 2007-08. Jonas Junland tried his luck with the Blues between 2008-10.
But as of late, there's been a solid d-man production coming out of the fifth largest town in Sweden; Carl Dahlström (Chicago Blackhawks), Gustav Forsling (Carolina Hurricanes), Gabriel Carlsson (Columbus Blue Jackets) are already in North America. Still in Linköping are 19-year-old William Worge Kreü, a Buffalo Sabres pick in 2018, and Ginning – whose last name, by the way, is pronounced yin-ning.
"I think, for the most part, the hockey profile at high school does the trick. There, you can hone on the details and of course it helps to have someone as "Hävan" there, Ginning says when we sit down in a quiet area of the arena complex right outside Linköping town centre.
"Hävan" is the Swedish nickname for former NHL defenseman Niclas Hävelid. Hävelid spent nine seasons with the (then-called) Mighty Ducks of Anaheim, Atlanta Thrashers and New Jersey Devils, accumulating 628 regular season NHL games before signing with Linköping where he played his last for years of his career.
"With him, at high school, we had extra practices in the mornings and he knows his way around the game and what's needed of a modern defenseman. It's a good, thorough education before or right when you reach the Under 18 and Under 20 teams"
Ginning began his hockey playing, aged seven, a bit higher up on the ice, starting off as a centre. It wasn't until he became a teenager and started doubling his playing between his own team — consisting of players born in 2000 — and with those born in 1999, he started his transition to D.
"I'd played [as a defenseman] on occasion before but it was at that point, when I began seventh grade and switched to the ice hockey profile at school, things started to fall into place," he says, continuing…
"It was at that position I felt I excelled and somewhere in the back of my mind I knew that's where I'd end up playing," he says, explaining that he by no means was a defensive centreman. "In the beginning, my experience from the centre position helped me in offensive situations as a D."
Since then, he's become more and more of a defensive defenseman, utilizing his 6-foot-4, 205-pound body to win the puck in front of the net as well as in the corners. Being a tall guy is, however, not always a perk.
"I've had to work a lot with my body to be able to play the way I do. Since I'm still young, my body hasn't always kept up on what I'd been wanting to do [with it]. I'm working a lot to improve my body control to be able to play even more physical going forward. To be able to do that I need to always be in the right position on the ice."
Coming into this season, Linköping made a coaching change and brought in former NHL and AHL defenseman Bert Robertsson — most recently with the (former?) SHL powerhouse Skellefteå AIK — as their new head coach. Together with Robertsson, assistant coach Johan Åkerman — also a former defenseman — and skating coach Martin Dendis, normally assistant coach with the Under-18 team, they've begun a new leg of Gunning's journey.
"We've been working a lot with my skating. For me, it's a matter of coming down, bending my knees a bit more, finding a lower centre of gravity.", Ginning explains.
And the skating has been something the Flyers — who since his selection has made a change at the general manager position — also has put down for him to improve. Ginning has been to two rookie camps now and this past one included meeting "a few more" coaches. But most of his contact with the Flyers has been with Swedish development coach Kjell Samuelsson.
"He calls me every now and then to check-in. Last year, [Samuelsson] was here two or three times as well. He'll be back this season, and I believe he's coming quite soon. We have a good report." Ginning explains, sounding as relaxed as he looks, sitting laid back in the armchair across the table.
There's no stress to his voice, and why should there be? Still a teenager, time is on Ginning´s side.
"Right now I'm a Linköping player. It's up to me to be as good as I can be and, hopefully, that'll take me to North America one day. For me, there's no stress at all. Much of it is up to the Flyers and where they want me to be as well as my own gut feeling. But you never know, things can happen fast" he says, referring to former teammate Johan Södergran.
Winger Södergran had a solid first half of the SHL season as well as a nice outing at World Juniors last season. Good enough for the Los Angeles Kings to move him to California for this season.
Our conversation pauses at the World Juniors with Ginning expressing his love for the tournament that every Swede with the least bit of interest in sports seem to have taken to their hearts. We move on and I ask if the smaller rink is an advantage to his playing style
"Whenever I've been over there playing, I've been performing well. It's a different style of play with the smaller ice. It gets more physical and you tend to run into other players more often", he laughs.
"I presume that's not a problem for you," I asked.
Another laugh, louder this time.
"Not really, no! I love it. The game is more intense. You're closer to everything, in front of the net, in the corners. But on the other hand, there's less time to think when you actually have the puck. That would probably be the biggest change I'd have to do with my game."
The ever-defensive d-man is still a much-needed role in the NHL, but the prototypical defenseman of today does join the rush and put up some points. In 88 SHL regular season games, Ginning has two goals and seven assists to his credit. Sure, other d-men can do the scoring but his numbers do spawn a — perhaps unfair — question:
Is he too defensive?
"I don't know. Too defensive…? Maybe. Of course, I need to work at my offensive play. It's not like I'm going to win the puck back in the defensive zone, deliver it and then go for a change. But I think I'll first and foremost be a defensive D-man."
None offence seemingly taken from the talented D-man once again smiling wide across the table our conversation draws nearer to a close. By some, Ginning has been compared to Jacob Trouba of the New York Rangers.
According to himself, role models are sparse but when pressed he comes up with one:
"Adam Larsson." he says, quickly adding a disclaimer: "It's not like I watch his every move or stuff like that. But from what I've seen, I like his play. He keeps it simple, plays tough and competes hard. "
Does Ginning watch a lot of hockey when he isn't playing?
"I watch some, but I try to cut away from it, doing other stuff."
Maybe that's for the best, not to get caught up in it too much.
"Yeah, I think so."
"But it's your job. What's that like?" I asked, with genuine curiosity.
"I can barely believe it!" he replies smiling from ear to ear.
"Maybe, I've begun to think more about it lately but I can't really view this as my job, as a job. I do the thing I love most in the whole world. It's very fun to play hockey," Ginning laughs, using a more explicit word than "very."
Things can move quickly in hockey. Ginning may be a Linköping player this season. Not looking too much in the crystal ball, that's the way it is now. But there's no secret that Ginning aims higher and farther than that. Towards North America and towards the Flyers organization.
"Just being there, competing for a spot. The NHL or the AHL wouldn't really matter, just knowing that I'd be within a shot of having the chance. That would be amazing."
Time will tell when, rather than if, the D-man factory in Linköping churns out another product for the NHL. Adam Ginning is making his case.
You may also be interested in: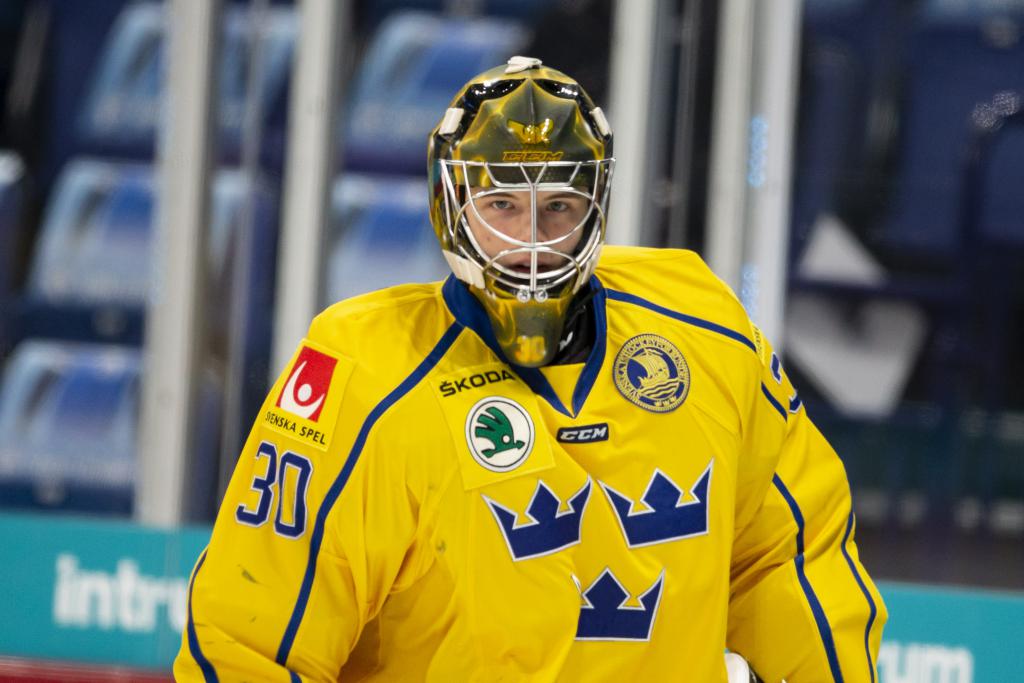 COHEN: Samuel Ersson & Cates Brothers Steal the Show at Philadelphia Flyers Dev. Camp
This article is about: