The Pipeline Show
THE PIPELINE SHOW: WHL Season Previews for Brandon, Vancouver, Medicine Hat, Prince Albert, & Winnipeg
This week we wrap up the Western Hockey League team-by-team previews with the help of four more WHL General Managers plus there is a makeshift preview for the one team that chose not to participate.

2019-20 Brandon Wheat Kings Season Preview
New general manager Darren Ritchie was my guest to set the stage for his club this season. The Wheaties return a number of players from last year but will lose a pair of 98-born talents in Linden McCorrister and Braydyn Chyzen. The team also expects that former 1st overall pick Stelio Mattheos will play on Carolina's farm team once he returns to action following testicular surgery.
Both of Brandon's import players are prospects of the Vegas Golden Knights, not really a shocker considering the Knights GM is also the President of the Wheat Kings. Jiri Petera takes up a 20-year-old spot as well with incoming Finnish rookie Marcus Kallionkieli joining the team after a season in the USHL.
Brandon's blueline is young but experienced as most played in the WHL last season. The marquee name is Braden Schneider who is draft-eligible this year after missing the 2019 event y a mere 5 days.
Luka Burzan is the team's top returning scorer looking to increase from his 40-goal campaign. The Colorado Avalanche prospect will have offensive support from veteran Connor Gutenberg, Cole Reinhardt, Ben McCartney and 2020 eligible Ridly Grieg.
Most teams target the post-season as a mark of success but it's fair to believe that Brandon could potentially find themselves hosting in the first round.
2019-20 Vancouver Giants Season Preview
Many people are picking the Vancouver Giants to be the top team in the WHL's western conference once again, albeit with an asterisk; if they get stud defenceman Bowen Byram back. After speaking with General Manager Barclay Parneta, I think it's worth reminding people that there is a very deep and incredibly experienced roster in Vancouver even without their marquee star.
The Giants lose Jared Dmytriw, Davis Koch and Dallas Hines from a roster that fell one game short of a WHL title. Dawson Holt is also gone. But just about everyone else of importance is back, or at least eligible to return. The biggest problem for Parneta right now is that there are six 99-born players still with the team and by October 10th, they can only have three. Two of them, goalie David Tendeck and forward Milos Roman, are drafted and currently at NHL camps trying to earn pro contracts. If that happens, they'd both more than likely be headed to the AHL. If not, then Parneta has WHL calibre pieces to trade.
In net, Tendeck and Trent Miner are as good a duo as you'll find in the entire CHL. Miner is currently off to Colorado (with Byram) for Avalanche camp but he'll be back. Drew Sim is a touted youngster who is ready for a WHL spot and Brady Euerby has also had a solid camp to further complicate things.
Of course, Byram would make a world of difference to Vancouver's blueline group. Parneta gushed about the accomplished play of the Cranbrook product and says the team has to move forward as if Byram is not returning although he struggles to imagine the Avalanche with three full-time defencemen under 21 years of age.
Dylan Plouffe provides the veteran leadership on the backend but most of the defenders on the team are returnees from last season's conference championship squad.
There will be changes upfront as the glut of overage players is found there plus the losses of Dmytriw and Koch will be felt. However, 2020 eligible Justin Sourdif, Krz (pronounced Cruise) Plummer and Lukas Svejkovsky are ready for promotion to bigger roles. Incoming freshman Zack Ostapchuk has the advantage of already being 6-foot-2 so the first-round pick won't get pushed around.
Yes, the Giants will look different this year and Yes, if they lose Byram to the NHL it will be a huge blow. But don't sleep on the Giants. They are still going to be mighty tough to stop.
2019-20 Medicine Hat Tigers Season Preview
A model of consistency, the Medicine Hat Tigers have missed the playoffs just once since 2002 and that was in 2014 when they lost the tie-breaker, a single game playoff in its own right, against Edmonton. One of the men responsible for that level of yearly success is Willie Desjardins who returns to the team after a decade in the NHL.
Gone from the 2019 Tigers are Ryan Jevne, Jordan Hollett, Linus Nassen and Dylan MacPherson — significant losses but Medicine Hat will replace them, largely from within.
There are currently four candidates for three 20-year-old roster spots and the competition between Tyler Preziuso, Hayden Ostir, James Hamblin and Logan Christensen is tough. Mads Sogaard holds one of the team's import spots with the other going to newcomer Jonathan Brinkman Andersen, both from Denmark.
Along with Sogaard, the Tigers added Evan Fradette to be an experienced backup goalie. But there is also 2017 first-round pick Garin Bjorklund that shouldn't be overlooked as he comes in with pedigree.
Medicine Hat has a quartet of experienced defencemen returning who will be leaned on by Desjardins and almost all of the blueliners come with size. Only potential rookies Dru Krebs and Ryan Watson are listed as under 6-foot-1.
Desjardins described his forward group as having three No. 1 lines. The depth of the Tigers is significant but expect that it will be an offence by committee mentality as well. Nine of the forwards are 19-years-old or older so it's a team built to win now.
Rookie Cole Sillinger joins the team and there are already lofty expectations for how he will produce. I asked Desjardins about the need to temper expectations.
I also discussed what it is like for Desjardins to return to the WHL after a 10-year absence — is it like pulling on comfortable shoes or is there a feeling of "been there, done that"?
And finally, I had to ask what the secret is to sustaining relevancy year after year in junior hockey.
2019-20 Prince Albert Raiders Season Preview
Last but certainly not least, the defending champions round out the WHL team previews and that means that GM Curtis Hunt is back on the show. Gone are a number of players from last year's championship squad with a few more still to be decided as PA still have four 99-born players in the mix.
Arguably the biggest hole to fill is between the pipes as Ian Scott begins his pro career leaving Boston Bilous as the top candidate to replace him. To make things interesting, Brett Balas is currently with the team as is Carter Serhyenko.
It's expected that most of the Raiders' blueline from last year will be back and that's huge for the team and bad news for the rest of the league. Zack Hayes, Brayden Pachal, Jeremy Masella and Max Martin are all eligible but only three can stay. Behind them is 2020 eligible Kaiden Guhle and rookie Nolan Allan.
There are holes to fill up front but also a lot of talent coming back to the team and others taking on more responsibility than they had before. Aliaksei Protas moves to the middle with newcomers Ivan Kechkin and Ilya Usau. Montreal prospect Cole Fonstad will be back and a pair of NHL draft-eligible forwards in Ozzy Wiesblatt and Jakob Brook help bolster the offence as well.
It's incredibly hard to win back to back titles, it hasn't happened since Kamloops in the mid-'90s, but that is the objective for GM Hunt and his team. Despite big losses, there is a talented group that should get this team back to the post-season where they will have a chance to defend their crown.
2019-20 Winnipeg Ice Season Preview
Unfortunately, for the third consecutive year, the Ice franchise chose not to participate in the season preview series. It was especially disappointing this year considering an interview with someone from the organization was scheduled for a few weeks only to be pulled near the last minute. In lieu of someone from the Ice to help preview the team to its new fanbase, I decided to do it myself.
The Ice will lose their share of 98-born players from last year but replace them with far better, albeit younger, skaters with their incoming imports and rookies. German Nino Kinder joins the ice along with Czech forward and Chicago prospect Michal Teply. Both should be able to provide offence as they are 18-years-old and have plenty of junior experience.
Add rookie Matthew Savoie for 30-50 games, a very unique situation for a 15-year-old, plus the 2020 eligible Connor McClennon and the eventual return of marquee forward Peyton Krebs and suddenly the Ice have a very capable attack.
The defensive corps is a mix of WHL journeymen and plenty of youngsters looking to crack the lineup. Most notable is former second-overall Bantam Draft selection Carson Lambos, a Winnipeg product who should become a fan favourite.
The largest questions marks are currently in net. The Ice have five goalies right now because at least three of them are sidelined by injuries. The fifth is 5-foot-9 Daniel Hauser who can't be counted on this year because he is just 15-years-old.
It really would have been nice to hear from the organization what they would declare to be a successful season this year but I think it's fair to say that anything less than at least a playoff spot should be considered a massive failure. There is enough talent here to challenge for home-ice advantage in the first round.
You may also be interested in: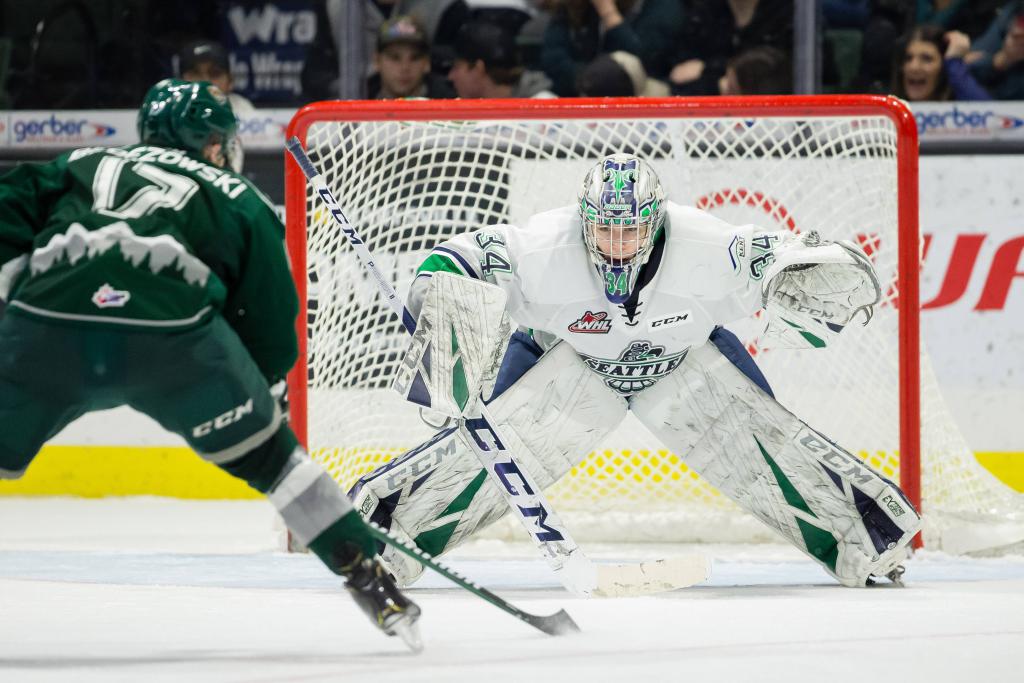 THE PIPELINE SHOW: WHL Season Previews for Tri-City, Seattle, Saskatoon, and Portland
This article is about: