NHL Entry Draft 2019
Post-Draft Prospect Profiles: Gustav Berglund No. 177 to the Detroit Red Wings
While the NHL and its fans didn't collectively roll out a red carpet for Gustav Berglund at last June's draft, the 6-foot-2, 194-pound defender already has a few hits under his belt.
Berglund played in the prestigious national TV-Pucken Tournament as an underage skater in the 2015-16 season and followed that up with a strong tournament in the following season scoring four points in six games. Then in 2017, Berglund made the jump from his HV71 youth team to Frölunda HC, where he's spent the last two seasons playing for the Gothenburg team.
In this, his draft season, Berglund began with Frölunda's J20 SuperElit team. A rocky start paved the way for Berglund's descent to the J18 roster, where he played for the remainder of the year.
With time, Berglund emerged as one of the J18 league's most productive players and finished second in scoring among defencemen with 18 points (six goals and 12 assists) despite only playing in 15 of 22 games. Frölunda qualified for J18 Allsvenskan South and there Berglund was once again productive, scoring 11 points (seven goals and four assists) in 13 games. Berglund got to crown the season with a gold medal, as Frölunda won the U18 JSM, after they defeated Färjestad (5-3) in the finals.
Like I said — Berglund's not short on accomplishments.
Scouting Report
At first glance, it's easy to spot Berglund's skating as one of his stand-out abilities. He is a smooth-skating defenceman that takes long, confident strides, and even though there's a lot of body to carry, those initial steps are good.
Berglund's not the fastest skater over longer distances, but with his technique — he should be able to improve once he has time to add more strength to his legs in order to get a bit more push out of his every step. Berglund also has good balance and is strong on his skates. He can take a hit or absorb physical contact undeterred. His balance combined with his size makes him stable and hard to knock off the puck as he moves it up the ice.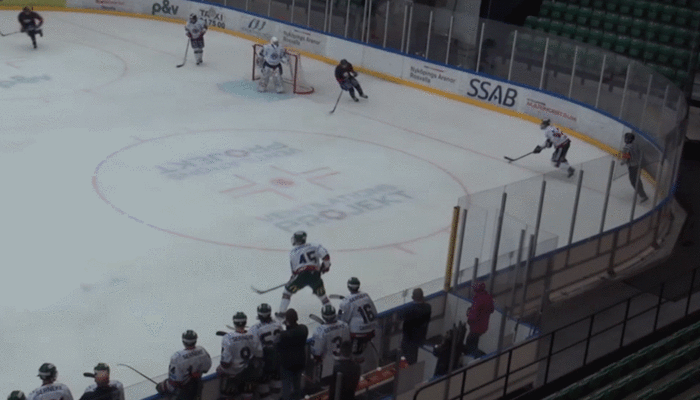 Two things that jump off the page about Berglund's skating are how well he uses his edges when he skates backwards and while moving laterally. Berglund can reach speed quickly and looks fluid in the way that he moves his feet. He also opens up and moves his hips in a way that enables him to stay mobile while maintaining speed as he moves laterally. Overall, Berglund's edgework is a strength and enables him to be very mobile and quite agile despite having quite a large frame.
[Read more: Post-Draft Prospect Profiles: Albert Johansson No. 60 to the Detroit Red Wings]
With his skating, Berglund is a good puck mover that can start attacks from behind by carrying the puck up-ice. He often looks calm and confident with the puck in his possession. If there is a chance to take the puck all the way up-ice or around the offensive zone — Berglund takes it. Even at times where he skates into trouble, Berglund remains confident with the puck, rather than panicking and surrendering possession. Although, sometimes he could look for easier, less offensive, options when he has the puck on the defensive half of the rink. Berglund's offensive instincts shine through when he is off the puck as well, as he does not hesitate to join the rush when the play turns and can fill in as the second wave when his team attacks.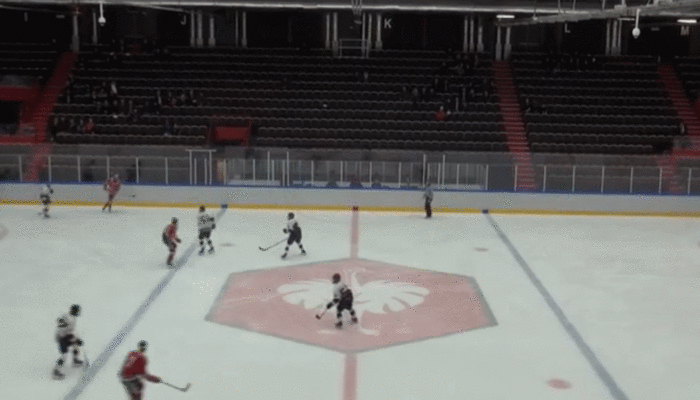 One of the driving factors behind Berglund's success as a puck-moving defender is his puckhandling. He typically doesn't make mistakes while handling the puck and maintains control at high-speed or when fending off opponents. He's not a magician with the puck by any means — don't expect 'wow' inducing dekes — but manages to wield his puck skills to perform simple, effective plays with the puck. He can, however, display good hands and pull off an occasional move to surprise an opponent.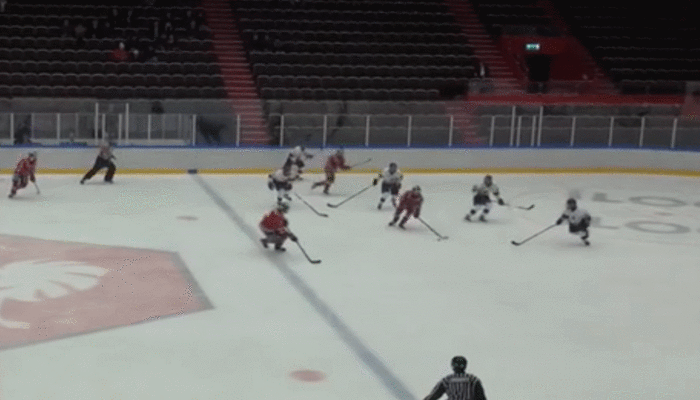 Berglund can also transition the puck up-ice with a well-placed stretch pass, albeit with less efficiency than as a puck-carrier — there's a lack of efficiency on those breakout attempts.
In the offensive zone, Berglund is a major threat while playing against J18-competition. He is mobile on the offensive blue line, usually keeping his feet moving, and he can find open ice to become an option for a pass. He sees the ice well off the puck and is able to spot open lanes with which to generate offence for his team.
One of Berglund's assets from the point is a strong shot. He prefers to use his wrist shot but has a quite good one-timer to boot. The wrist shot suits his mobile style well, and it enables him to quickly shoot after taking a few steps deeper into the zone. For a defenseman, Berglund's wrist shot has a strong release; it is quick with little wind-up time, but he still often manages to place the puck well. With his mobility and quick shot, he often finds a way to get the puck through traffic, so even if the shot does not go directly in it can result in a dangerous rebound for a teammate around the net.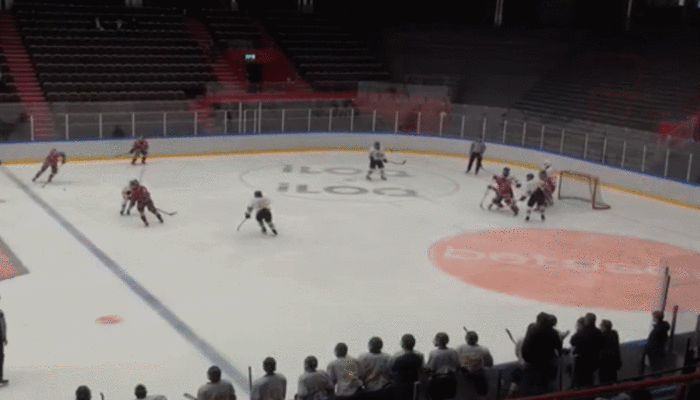 If there's one legitimate concern relating to Berglund's offensive capabilities, it's that he's failed to show it with any consistency at the J20 SuperElit level or even in the J18 playoffs, when many teams receive reinforcements from J20 squads. As the pace, physicality, and structure all increased, Berglund struggled.
[Read more: Post-Draft Prospect Profiles: Albin Grewe No. 60 to the Detroit Red Wings]
Defensively, Berglund is no slouch. There remains work for Berglund to do moving forward, but he's no slouch. One area where Berglund stands to improve is in mitigating his time spent puck-watching — common among players at this age. When a defenceman is puck-watching, holes open up in defensive coverage, and that's never a good thing.
Berglund's physical game is a bit up-and-down in his own zone as well. He's strong around his net in 1-on-1 situations, and rarely gets beat by sheer strength and when he uses his strength and mass along the boards he often comes out on top with the puck. Sometimes, he looks a bit hesitant — mainly when he goes out towards the boards — and that, too, is problematic.
In general, while defending, Berglund needs to play with a bit more determination, particularly when the pace picks up.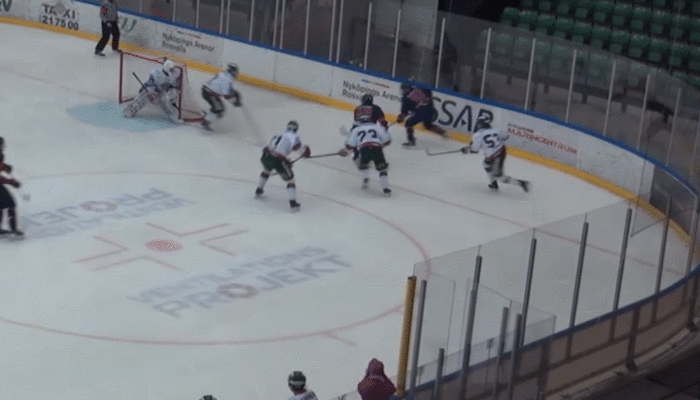 Berglund can struggle with his pacing in the defensive zone, which shouldn't be an issue for someone that skates as well as he does. The problem is, he doesn't move his feet enough and gets too passive off the puck. The mobility that can be seen when he is attacking is usually not there at the other end of the ice. This is not limited to when the opposing team has the puck. There are times where Berglund easily could move into position to support his teammates, but he's stationery instead.
Berglund's stickwork while defending is not bad, but not exceptional either. He could be more aggressive in the way he uses it to control his opponent or when he is in a 1-on-1 situation but when the play is more structured he uses his stick well to cut off angles and to close passing lanes.
Overall, Berglund has the tools to become a good defensive player in the future and much of his current limitations seem to be mental. So, as he matures and gains more experience, he should have good chances of improving his defensive game.
Outlook
Berglund has moved back up to Frölunda´s J20 team to this season and has started the year with one goal in four games of SuperElit action. There, he plays on Frölunda's second pairing, together with 2020 NHL Draft eligible Theo Nordlund.
EP Rinkside Prospect Pool Rankings: No. 11 Ranked Detroit Red Wings.

With scouting reports from @JDylanBurke on the 15 best prospects in their system.

Data from @ICEBERG_Sports. Check it out!https://t.co/nnrPxT5vo1 pic.twitter.com/koHn2I7yek

— EP Rinkside (@EPRinkside) August 8, 2019
Moving forward, Berglund will need his time to develop and will most likely need another two or three seasons in Sweden before heading overseas. Patience will be key for the Red Wings, but they have found a player with a lot of potential if everything pans out.
You may also be interested in: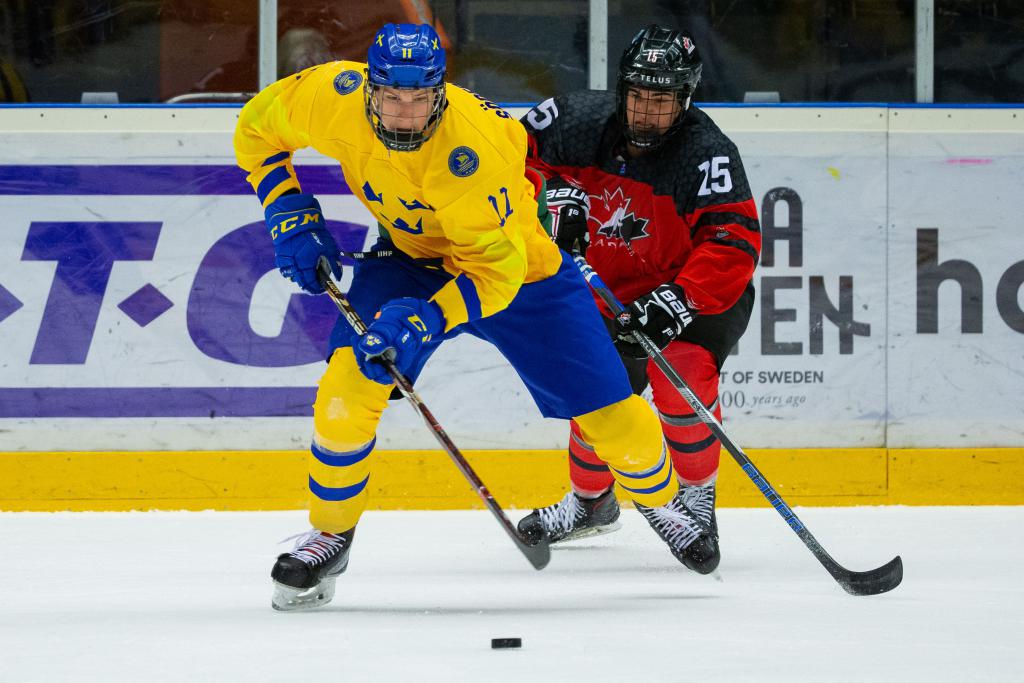 Post-Draft Prospect Profiles: Elmer Söderblom No. 159 to the Detroit Red Wings
This article is about: