Scouting Reports
SCOUTING REPORT: Holmström, Holtz, Björnfot dominant in Swedish Juniors
Hello again, today I am back with another update!
Last weekend I went on a trip to Stockholm to catch three games in two days in J20 SuperElit.
On Saturday, I caught my first game of the weekend – Hv71 at Djurgårdens IF, two of the best J20 SuperElit teams. Both are loaded with talent and interesting prospects.
Before the game, while looking through the line-ups, it was hard to not get excited for the first line that Hv71 had put together. 2019 Draft-eligible Simon Holmström and 2020 draft-eligible Zion Nybeck, two players that very well could be picked in the first round of each of their drafts, were put on the wing of Lukas Isaksson – which is about as much speed and offensive firepower a top-line in J20 SuperElit will have. But that line was not more than decent throughout this game, they spent almost all their shifts in the offensive zone, but Djurgården defended well and often kept them on the outside. It looked more like three good players playing together, rather than one strong line, but if they are given some more time and they find some chemistry between them that line could be a force to be reckoned with in the future.
Hv71's second line, with Anton Heikkinen, Karl Smedberg and Joakim Stjern Svensson, was the line that caused Djurgården the most trouble. For the first two periods they kept putting Djurgården's defense under heavy pressure, but to no avail – they couldn't get the puck past Oscar Walldén in Djurgården's net. Djurgården, on the other hand, were much more effective when they had their chances, they got their first goal after two impressive performances from Alexander Holtz and William Eklund, that resulted in an easy tap in goal for Hugo Esselin.
Hugo Esselin 1-1 kvittering för Djurgården mot HV71, assist till William Eklund och Alexander Holtz. #J20gifs #J20SETop10 pic.twitter.com/VJZYerLCfx

— Anton Johansson (@antonj85) January 20, 2019
Djurgården scored another goal in the second period, to increase their lead to 2-1 and it looked like Hv71 were about to head into the third period trailing by one even though they had spent most of the time in their offensive zone. That's when 2019 draft-eligible Tobias Björnfot stepped up for the home team, he got the puck on the offensive blue line, took a few steps to gather speed to around his forward, faked a wrist shot and made a deke to trick and go around 2019 draft-eligible Hugo Alnefelt in Hv71's net before putting the puck into the open goal.
Tobias Björnfot 3-1 mål för Djurgården mot HV71, assisterad av Adam Falk och Alexander Holtz. #J20gifs #J20SETop10 pic.twitter.com/mbiTd1TB1z

— Anton Johansson (@antonj85) January 20, 2019
In the third period Hv71 took their game to yet another level, and Djurgården could not keep up with the speed and quick passing from the visitors. Hv71's second line got paid off for all the time they spent in the offensive zone, they scored 3-2 early on and got the equalizer shortly after. Anton Heikkinen scored the game winning goal just 25 seconds into the fourth period.
Anton Heikkinen avgjorde för HV71 mot Djurgården, 4-3 till bortalaget efter förlängning. #J20gifs #J20SETop10 pic.twitter.com/Ds4npar7Hx

— Anton Johansson (@antonj85) January 20, 2019
If we look for stand-out players from this game I have two players in mind, one from Djurgården and one from Hv71. Anton Heikkinen and William Eklund.
Heikkinen has taken incredible steps in his development from last year, when he looked like a goal scorer that had a good shot but was quite limited in most other areas and did not contribute in many ways other than scoring goals. He was also passed upon in the 2018 draft. This year he is a lot more involved in the offensive zone, his passes are a lot better both when it comes to power and accuracy and he makes better and smarter plays with the puck. All these improvements were also shown in the match against Djurgården, he often drove the play and lead his line. With smart passes and good stickhandling, he created time and space for both himself and his team mates. Heikkinen also showed that he has improved as a goal scorer as well, last season he scored his goals often because of a good shot but now he makes good, smart decisions when he doesn't have the puck and searches for open area to become an option for a pass or to position himself in good situations around the net. In my eyes he has gone from a limited goal scorer to a quite complete offensive threat, and is currently one of the best offensive players in all of J20 SuperElit, and it clearly showed in the game against Djurgården.
Anton Heikkinens 3-2 reducering för HV71, assisterad av Joakim Stjern Svensson. #J20gifs #J20SETop10 pic.twitter.com/fgLG8gaoH5

— Anton Johansson (@antonj85) January 24, 2019
William Eklund, the son of former Djurgården-icon Christian "Fimpen" Eklund (a hard working fourth line forechecker/defensive specialist with limited puck skills), is nothing like his father on the ice. William is a nifty playmaker and offensive catalyst that tries to make things happen in the offensive zone, he is a good stickhandler and can deke his way past an opponent and hold and protect the puck well as he circles around the offensive zone. In the game against Hv71 Eklund stood out as the player in Djurgården that made the most happen in the offensive zone, often all by himself. With his quickness and high work rate he chased the puck in the offensive zone, often successfully, and once he got possession of the puck, he made something good come out of it. It wasn't too often that Djurgården had long shifts in the offensive zone against Hv71, but when they had it, it was usually because of Eklund and how well he protected the puck and kept calm and did not rush any decisions before distributing the puck. He worked very well with Alexander Holtz in this game, they are both good forecheckers and worked well together to put pressure on Hv71's defenders to make mistakes when they were trying to set up the play. With the puck in his possession Eklund drew a lot of attention, he very good at challenging defenders and taunting them to try to take it from just before he makes a swift turn or quickly pulls the puck into another direction, it was something that left space for Holtz to search for open ice from where he could fire off his fantastic shot. Eklund can have these astounding performances from time to time, what he must work on is his consistency-level on a game to game basis, because there can be three or four games in between performances like this one. But there's a lot of time for him to improve, he will not be eligible for the draft until 2021. With the upside he already is showing it is hard to not look forward to seeing what he can do in the coming seasons.
On Sunday, there were two games for me to attend, Hv71 at AIK and Linköping at Djurgården.
Both Hv71 and AIK played very well in the southern (Hv71) and northern (AIK) division of J20 SuperElit, and they both came into the game from strong performances from the day before. Hv71 had their win against Djurgården, and AIK had pressured Linköping in their 4-5-loss, so it seemed reasonable to have decent expectations for this game as well.
AIK came out strong in the first shifts, they played like they usually do – rough, with high work rate and a "crash the net"-attitude. They were also not far away from getting an early lead, but Victor Östman that had replaced Hugo Alnfelt in Hv71's net played very well. Momentum swung after Hv71 killed two boxplays in a row about halfway into the period. Once again Hv71's speed and high passing tempo turned out to be overwhelming for their opponents and when AIK made a sloppy line change they were instantly punished, Simon Wassberg found 2019 draft-eligible Jacob Grönhagen all alone inside the offensive blue line, Grönhagen did not hesitate and beat Markus Johansson with a quick wrist shot up high on the blocker side.
Jacob Grönhagen 1-0 mål för HV71 mot AIK, assisterad av Simon Wassberg. #J20gifs #J20SETop10 pic.twitter.com/XZ24b5hnrx

— Anton Johansson (@antonj85) January 24, 2019
Hv71 weren't done there, seven seconds later Hv71 scored their second goal of the game. Max Kardevall found Simon Holmström with a long range-pass and Holmström made no mistake when he got the chance to put the puck into the net. A huge relief for Holmström, who had been pointless in the four games he had played prior to this one in J20 SuperElit Top10 after returning from a thumb injury that had kept him out of play since November.
Simon Holmström 2-0 mål för HV71 mot AIK. #J20gifs #J20SETop10 pic.twitter.com/nLcFhCZk9M

— Anton Johansson (@antonj85) January 20, 2019
Hv71 were merciless against AIK's quite slow and immobile defense, they scored 3-0 shortly after on the powerplay, and the second period hadn't more than started before they scored their fourth goal of the game. Before we hit the half way mark of the game Simon Holmström had scored his second of the day and Hv71 were up 5-0, and AIK looked like a defeated team. The second half of the game was quite tense, as it often gets in junior hockey when one team gets outplayed badly, two fights broke loose, and both teams seemed to focus more on each other rather than to play hockey. In the end Hv71 won with 6-0.
The main stand out player to me in this game was Simon Holmström. He capitalized on his speed and quickness against AIK's slow defenders and could often do what he wanted with the puck because of the time and space he could create for himself with his fantastic skating. He was a constant threat in the offensive zone or while forechecking, and even though he had three points (two goals and one assist) it felt like he could have double his production with a bit of luck on his side. His ability to handle the puck and make plays while skating at top speed and accelerating was very impressive, it seems like his hip injury hasn't made him lose his explosive first step or mobility. He was a joy to watch in this game, he constantly made things happen for his team in the offensive zone, whether if was by outskating, dangling or making brilliant passes – it was always something and he never gave his opponent a chance to breath and would consistently help his team generate scoring chances.  Holmström has played very well since returing from his latest injury, a thumb injury, but he hasn't scored any points before this game, so these points could be a valuable confidence boost for a player that still has done everything right but hasn't had anything to show for it. Holmström should be one of the most interesting players to follow in J20 SuperElit moving forward, and hopefully he can stay injury-free for the rest of the season.
Below is Holmström's second goal of the game, sadly the cameraman was asleep for the goal itself but you can see how fast it goes from the second he wins the puck on the blue line until he has score the goal, he did not hesitate one bit before heading straight towards the net.
Det skulle ju inte göra någonting om personen som styrde kameran följde pucken lika mycket med kameran som med ögonen. ? pic.twitter.com/n1gwPCJa2k

— Anton Johansson (@antonj85) January 20, 2019
Another player that I think performed very well in this game was Hv71's Jacob Grönhagen. He hasn't been much of a point producer so far in J20 SuperElit, but against AIK's slow defenders he wasn't at a disadvantage due to his quite average skating. It gave him a possibility to show off his other skills in a way that he sometimes struggles with in other games. Grönhagen scored two goals in this game, they were both "goal scorer's goals" – hard, distinct shots that were extremely well-placed and close to impossible to stop for the goaltender.  He also displayed good passing abilities, he saw openings and made hard tape to tape passes, and even showed some surprising creativity when he made a nice behind-the-back pass from below the goal line to a team mate in the slot. With his two goals against AIK he is at 50% of all the goals he scored in the southern division (27 games), so just like this game could be a much-needed confidence boost for Holmström it could be the same for Grönhagen, and maybe help him evolve his offensive game. It will be very interesting to see if this game was a fluke or if he can continue to be a difference-maker for Hv71, he has shown that the potential is there before but for me this was the best complete game I've seen from him so far. One thing I think would greatly improve his offensive game is that he should use his big frame more to his advantage in the offensive zone and be more aggressive both along the boards and in front of the net.
Jacob Grönhagen 3-0 mål för HV71 mot AIK, assisterad av Simon Holmström och Max Wennlund. #J20gifs #J20SETop10 pic.twitter.com/Y3ZL2hQ6tH

— Anton Johansson (@antonj85) January 24, 2019
There wasn't much time until next game at the classic Hovet arena. It's located next to the Ericsson Globe just south of central Stockholm and is the home of Djurgården's SHL team.
Beforehand, this was the big game of the weekend, Linköping was visiting – so the winners of J20 SuperElit's northern division would play the winners of J20 SuperElit's southern division, with plenty of good prospects on the ice to top it all off.
But the game didn't take off from the start, both teams played structured defense and minimized the mistakes in this own zone.
Linköping had received strong reinforcements to this game, both Flyers prospect Olle Lycksell (picked #168 in 2017) and Kings prospect Johan Södergran (picked #165 in 2018) had joined from Linköping's SHL-team. They were also behind the first goal of the game. 2019 draft-eligible Arvid Costmar, who centered the first line with Södergran and Lycksell, poked the puck off a defender while forechecking behind Djurgården's net. Södergran received the loose puck and quickly sent it to Lycksell in the slot, Lycksell handled the puck and released a quick backhand-shot that snuck between Rangers prospect Olof Lindbom's (picked #39 in 2018) blocker and pad.
Olle Lycksell ger Linköping ledningen mot Djurgården 1-0. #J20gifs #J20SETop10 pic.twitter.com/hs53CyA5CC

— Anton Johansson (@antonj85) January 20, 2019
Djurgården quickly responded, Felix Carenfelt won the puck behind Linköping's net and Adam Falk found Alexander Holtz all alone in the slot with a quick pass.
Alexander Holtz kvitterar för Djurgården mot Linköping 1-1, framspelad av Adam Falk. #J20gifs #J20SETop10 pic.twitter.com/h7C7cFFTZu

— Anton Johansson (@antonj85) January 20, 2019
At 3-3 when we were heading into the last period, final third wasn't as intense and high paced as the second period. About half-way through the third period 2019 draft-eligible Tobias Björnfot created an excellent chance for himself to score the game winning goal, but the puck hit Myrenbergs right post, bounced along the goal-line and hit the left post before bouncing out.
Tobias Björnfot skjuter och tror det är mål men domaren gör washout. #J20gifs #J20SETop10 pic.twitter.com/7u99SJaTSS

— Anton Johansson (@antonj85) January 24, 2019
But that wasn't the last we would see of Björnfot in this game, just a few minutes later, he once again stepped up when Djurgården needed it the most. He got the puck just inside the offensive blue line, handled it to set himself up to shoot before releasing a wrist shot that beat Myrenberg.
Tobias Björnfot ger Djurgården ledningen med 4-3. #J20gifs #J20SETop10 pic.twitter.com/jLlxRp1grP

— Anton Johansson (@antonj85) January 20, 2019
After the goal Djurgården played very well defensively and closed the match out, Alexander Holtz scored an empty net goal, his third point of the game despite not being very notable, to secure the win with 12 seconds to go.
If we look for players that had good performances in this game it is hard to ignore Olle Lycksell and Johan Södergran in Linköping, they showed why they belong in the SHL, and at times played on another level compared to the other players on the ice – especially in the second period. If we go by undrafted players, I would like to mention two players from Djurgården: Felix Carenfelt and Tobias Björnfot.
Carenfelt, born in February 2000, was a first time-eligible in last year's draft but barely played in J20 SuperElit at that time. He has taken very impressive steps in his development this year and he often stands out when I am watching Djurgården play, just like he did in this game. He isn't a particularly big player (5'10, 185lbs) but he has a very aggressive and intense style, he likes to throw hits and go hard into board battles, and he does it well. Carenfelt is very energic, and an excellent forechecker that really plays with an edge to his game and makes a lot of room for his team mates to shine with his play without the puck, and he plays the same way day in and day out – you always know what you will get from him. He didn't score any goals in this game, but he has a good wrist shot with a quick release and is a decent playmaker as well, even though I would say that his shot and goal scoring instincts are his best offensive weapons. He always heads towards the net and isn't afraid to take a hit to score a goal or to bring the puck into the slot. He has been a difference maker for Djurgården all season long and in the game against Linköping it was no different, even though he only put up one secondary assist. But that is also one of the things I like about him, even when he doesn't put up a lot of points, he still is a player that does a lot of things that helps the team win the game.
Björnfot was, as always, I should say, a top performer for Djurgården. He is the backbone of their team and when he is good, Djurgården is good. When Djurgården were pressured by Linköping's high forecheck they could always rely on Björnfot to keep calm and send a good first pass to start the transition game, in that way Björnfot played a huge role in how Djurgården "solved" Linköping in the third period. It was often him that made it possible for Djurgården to quickly move the puck from the defensive zone all the way up to the offensive zone. Björnfot looked rock solid in the first two periods, he didn't make any errors while defending and he then stepped up his offensive game with an amazing performance in the third period when Djurgården needed it the most. A perfect performance against what could be J20 SuperElit's best team, reinforced by a couple of SHL-players. It was no surprise that he was the one that scored the game winning goal, even though you could call it a fluke goal. For me Björnfot was the clear man of the match, just like he almost always is when I am watching Djurgården play. Overall Björnfot is a good defender, but I've been quite critical of his positioning and awareness defensively earlier in the season, but you can see clear progression in that area – just like you can do in pretty much all areas of Björnfot's game, no matter if they are areas in which he was already good at or areas in which he wasn't as good at. Either way it is exciting to see a good prospect that continues to take noticeable steps in his development during the season, which has been the case with Tobias Björnfot.
Tobias Björnfot ger Djurgården ledningen med 4-3. #J20gifs #J20SETop10 pic.twitter.com/jLlxRp1grP

— Anton Johansson (@antonj85) January 20, 2019
Those were the three games that I caught this weekend, and the players that I found to be the most impressive.
Goodbye for now!
You may also be interested in: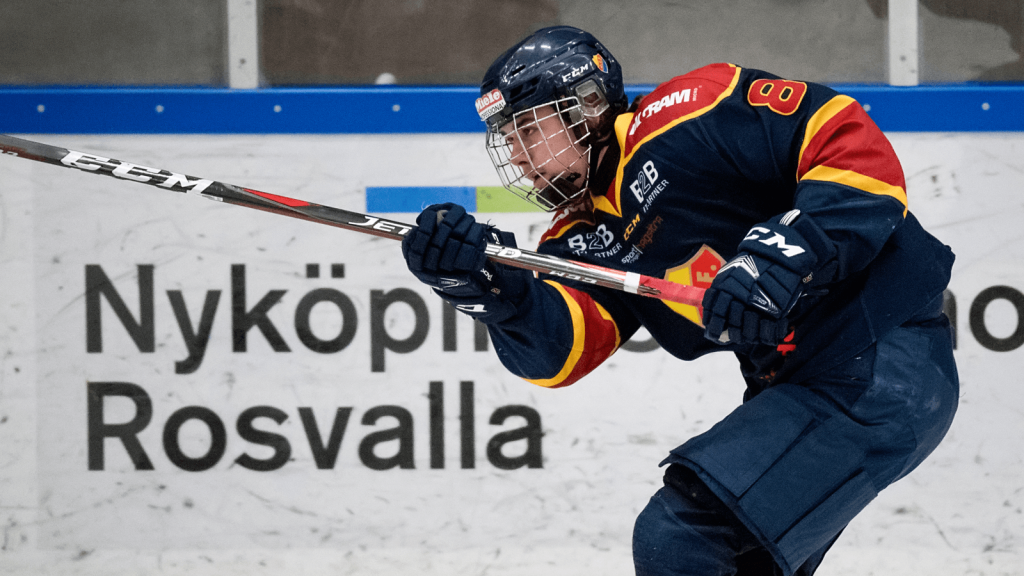 BLOG: A deep-dive into the Swedish Under-20 development leagues
This article is about: