World Juniors 2019
Rasmus Sandin – The Swedish Chameleon: "He always adapts"
VICTORIA, B.C.
Only 18 years old, Toronto Maple Leafs prospect Rasmus Sandin has seen his fair share of different teams. Before leaving Sweden to play in the OHL with Sault Ste. Marie Greyhounds last season, Sandin had represented four different teams in four seasons. To most, that would probably not sound like the ideal way to create a good development for yourself. But in the case of Sandin, who's playing in the AHL with the Toronto Marlies this season, it hasn't obstructed his way to success. On the contrary, it might actually have been a recipe for success.
"I don't think it has affected my development at all", the defenseman told EP Rinkside recently. "I made these choices (to change teams) because I thought it would help me move forward in my career. I don't think it has been bad for me at all."
The fact that it has worked in his favor says something about Sandin. That's why his father Patric calls him "the chameleon".
"His biggest asset is that he adapts very easily, both as a player and as an individual", Patric Sandin says. "He's very adaptable."
This is an ability that his dad believes comes from his upbringing. Growing up, he was always surrounded by older kids and always had to make a statement to be seen and heard.
"I don't think he ever saw himself as the youngest kid in the group", Patric Sandin says. "He was always with his older brother (Linus Sandin, a professional player in Sweden), who is four years older than him. They hung out with his friends who were even older. I don't think Rasmus ever looked at himself as 'the little brother' in that group. He acted as if he was one of them and never accepted that there were things that they could do that he couldn't do. I think that made a difference."
"WE NEVER WIMPED OUT"
Having an older brother to compete with obviously forced Rasmus Sandin to push the pace. But Patric Sandin also thinks that his upbringing played a part in how he has evolved.
"As parents, both me and my wife Helena, are pretty competitive", he says. "We never wimped out on the boys. We always challenged them without pushing them. It has been everything from padel and tennis to board games. We never let them win just to be nice to them. When it comes to games and sports, we have always been competitive in our family.  But we've been careful outside of that."
Rasmus Sandin agrees with the notion that he's an adaptable individual. But in his mind, it comes as much from the people he has met along the way as it comes from himself.
"I've had really good teammates, good guys that have always made it easy for me to fit in. That has been important to me", he says. "I think that the thing that has helped me the most is that I've always been able to meet new people. Socially, I'm pretty easy-going and that obviously makes it easier to blend in."
That ability came in handy in October 2017. Rasmus Sandin was supposed to play with Rögle in the SHL but decided to use an out-clause in his contract to be loaned to Soo Greyhounds.
"He has always dreamed of playing in North America. So when the chance presented itself, it felt like it was the right thing to do", Patric Sandin says. "Because what's best for his development? Be in a third-pairing or maybe not play at all in Rögle, or go to North America and get lots of ice-time on a really good team in a really good league? Looking back at it now, it was the right choice."
"THE WEATHER WAS BRUTAL"
Greyhounds had a strong season and made it to the OHL finals before losing to Hamilton Bulldogs in a seven-game series. Rasmus Sandin had 45 points in 51 games but admits that it was a bit of a challenge to come to Canada.
"It was tough", he says. "Especially during the winter when it felt like we had ten feet of snow and minus 35 outside. The weather was brutal. But the hockey was great, we had a great team and played a European brand of hockey with a lot of puck control and creativity."
Ahead of this season, it was unclear where Rasmus Sandin was going to end up. He was under contract with Rögle in Sweden, but once he signed his rookie deal with the Leafs, they were in charge of his fate. A thumb injury during the preseason put the decision on hold, but once he was back, they assigned him to the Toronto Marlies to see what he would look like in the AHL.
"We actually didn't think he was going to get a shot with the Marlies", Patric Sandin says. "I thought he was going back to Rögle, but then he had a really strong camp and after that everything was in the hands of the Leafs. Rasmus told (Leafs' GM) Kyle Dubas right away that 'I'll play where you put me'. He was very clear about that. He could easily have played another year with the Soo Greyhounds, easily played with Rögle. But this is what they decided."
Before leaving Toronto for the World Juniors, Sandin put up ten points (5 goals, 5 assists) in 18 games with the Marlies.
"I really didn't know where I would end up and I don't really know for sure where I'm going to play once the World Juniors are over", he says. "I still live out of a hotel in Toronto, even though it's more like an apartment in a hotel. We'll see what happens after the World Juniors, if I go back there or if they have other plans for me."
I would seem unlikely that the Leafs wouldn't want him back with the Marlies considering how well he has played.
"I guess not. Everything has been going really well. They seem happy with me and I'm happy myself."
Once again, "The Swedish Chameleon" seems to have adapted a new environment.
You may also be interested in: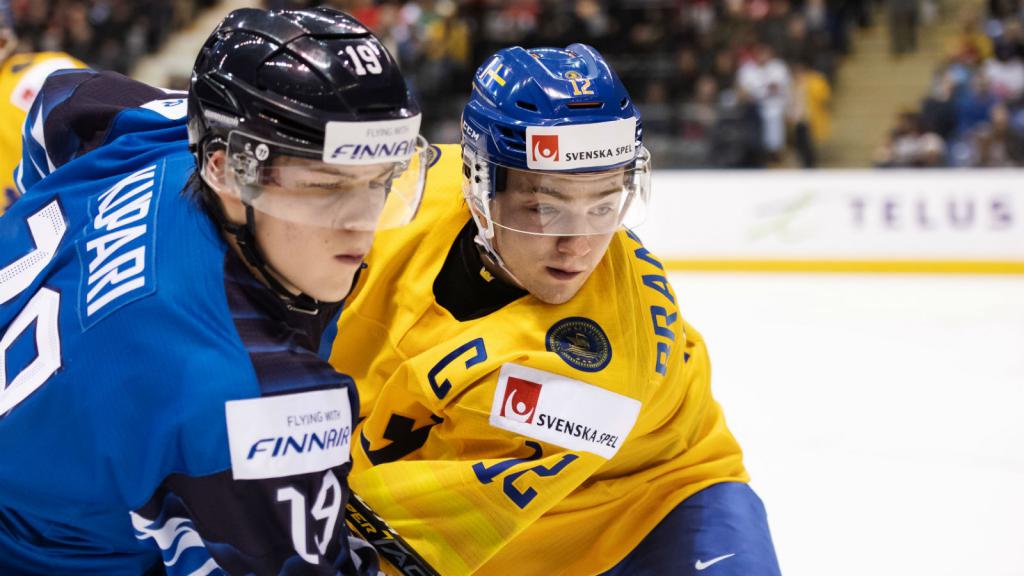 The captain has spoken – Brännström leading the way for Sweden
This article is about: