NHL Prospects
Ryan Suzuki following in older brother Nick's footsteps: "He shows me the ropes"
Ryan Suzuki has always followed Nick, his big brother, around.
Literally and figuratively.
"Yeah," starts Nick.
"Whenever I had my friends over he'd want to play mini-sticks or road hockey…anything with us. I think he grew up a bit faster because he was hanging out with older guys, kids my age.
"He would be around us a lot, but everyone liked his company."
Because, of course, like big brother, like little brother.
And, unsurprisingly, Ryan is trying to follow Nick once more.
Nick Suzuki, currently starring with the Guelph Storm in the Ontario Hockey League, was the No. 13 pick in the Vegas Golden Knights in the 2017 NHL Draft, and is now the property of the Montreal Canadiens.
Ryan, currently starring with the Barrie Colts in the OHL, is a projected first-round pick in the 2019 NHL Draft.
Naturally, Nick has the inside track on Ryan.
So…is little brother loud?
Quiet?
Outgoing?
Shy?
Annoying?
"He's, honestly, all of that," suggests Nick, who had 96 points (45 goals, 51 assists) in 65 games in his draft year with the Owen Sound Attack.

Big brother Nick Suzuki was drafted by the Vegas Golden Knights, but later traded to the Montreal Canadiens. Photo: David Kirouac/CSM/REX
"Growing up we would always be competitive with each other. He'd be on me to come play with him. He'd be that annoying little brother that a lot of guys have, but it was fun to be around him. As he's gotten older he's gotten more outgoing. When he was younger he was shy. When he gets comfortable he's one of the loudest guys in the room.
"He's a really good time. I think all his teammates love him."
It wouldn't be hard.
After recording 44 points (14 goals, 30 assists) as a rookie last season, Ryan has emerged as one of Barrie's primary offensive threats with 46 points (15 goals, 31 assists) in 43 games.
He's also developed into, arguably, the best draft option from the OHL.
One of the most prepared NHL Draft eligibles, too, thanks in part to big brother.
"There's a lot of guys that don't really know what to expect," Ryan admits. "Me having Nick, he went through it first and I got to experience it after him. He shows me the ropes a little bit. I just have to fall in behind. But I like to create my own journey.
"Having someone like that, if I have any questions or anything like that, he'll help me out.
"He's a great role model for me. To have him around is pretty special."
It's an advantage, too.
Interviews with NHL clubs? Nick's been there.
A trip to the CHL/NHL Top Prospects Game? Nick's done that.
Plowing through the NHL Draft Combine? Nick's got that experience.
Sweat it out in the seats on draft day? Nick has.
"I think I've shown him what it takes to be a top hockey player in the OHL and how to go into the NHL Draft," Nick says. "I didn't have an older brother to look up to for things like that so I'm trying to help him out.
"For him, he can always come to me and we can talk about anything."
There will be plenty of questions.
Plenty of emotions to manage throughout the process, too.
"I mean, you kind of think about it a little bit but at the same time you have to focus on playing hockey," Ryan says. "It's the same sport you've been playing for the last 15 years. You can't change your game too much. You've got to stick with what you're doing.
"It's gotten me this far. You just stick to what you're doing.
"The hardest thing is going out and not trying to stress yourself out. There is a lot of stress going around with all the media and scouts and all that. You just have to block it out and go play your game. There's a lot of distractions and you just can't let that get to you.
"That's the biggest thing."
That's also where Nick comes in.
There are a lot of steps and stumbles along the way.
With equal amounts of stress.
"(The hardest part was) probably just the noise," Nick admits. "I didn't know where I was going to go at the start of the year and scouts and people were starting to write about me. You try not to look into it too much, but basically every kid is going to read about themselves. They say they won't but they definitely are. Just seeing negatives and things like that is always tough.
"I'm trying to tell him to stay away from it, but for me, I was reading about it too much."
Easier said than done, both realize.
"I'm pretty lucky," Ryan says. "I haven't worried about it too much and I've just been focusing on my game.
"If you're going through tough times, send a text.
"I feel pretty good."
He should.
And Ryan, likely, will become the next Suzuki selected in the first round.
Another experience Nick can share with his little brother.
"It was a bit more stressful for myself," he recounts.
"Depending on how long we sit there, I might start getting stressed (again)."
You may also be interested in: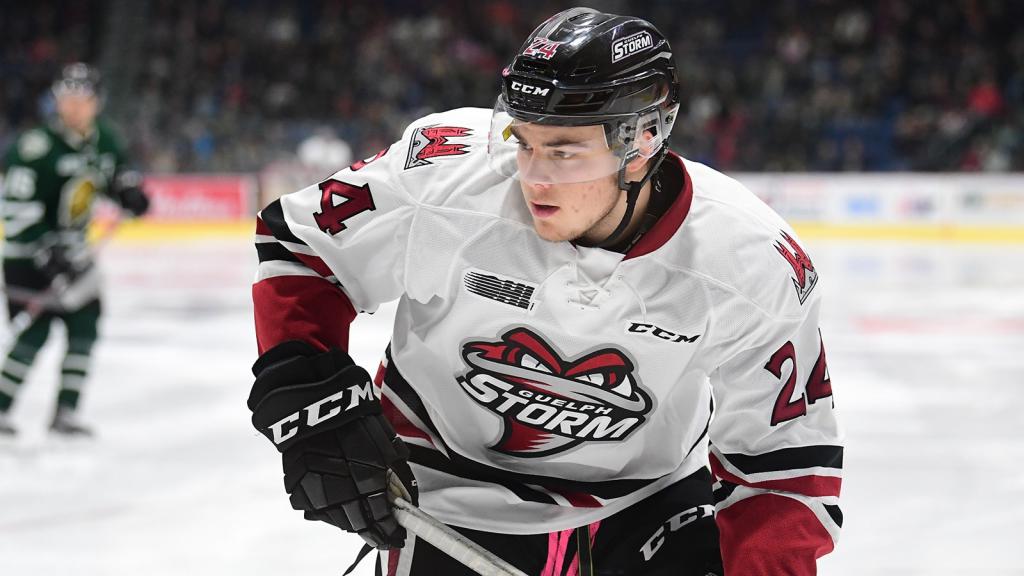 TOP 10 – OHL: Suzuki and Bertuzzi frontrunners among hopefuls
This article is about: