NHL Rookies
COHEN: Cody Glass is Proving the Vegas Golden Knights Right
Vegas Golden Knights forward and former sixth-overall pick Cody Glass has one hell of a hockey dad. You'll often hear about hockey moms — and rightly so — but Jeff Glass should be putting hockey dads on the map all by himself.
Bringing up Cody and his brother Matthew had to be challenging for Jeff. Now that Cody is finding immediate success in the Golden Knights lineup, he's not exactly shy about soaking it all in. It's made him must-follow material on social media feeds.
So proud of this guy ❤️ https://t.co/XM44RoHd5c

— Jeff Glass (@jeffglass87) October 2, 2019
"I think he posts most of my life experiences on Twitter or Facebook or something like that. Sometimes he's gotta stay off there but he's a proud dad," Cody told EP Rinkside. "I respect him a lot for what he does for me. I know he's a loving parent and he just wants to show off his kids a lot."
Cody thought he could make the Vegas Golden Knights team out of training camp last year. When prospects do everything that's asked of them in the gym over the summer it's hard for them to think they may not make the team.
"I've been itching for this ever since I was a little kid and I've always wanted to make it to the NHL," Glass said without hesitation. "For the days you are in the gym you have to make the most of it. I'm trying to get more strength and be more explosive as a hockey player. I think I did well when I was in the gym."
When he didn't make the team, Glass' age and the AHL-CHL transfer agreement meant that he was bound for the WHL. He returned as the captain of the Portland Winterhawks. He had something to prove. He was a big cog in the 2019 World Junior Championship roster for Team Canada. That always inflates a prospect's sails and his six points in five games proved that. All the hard work was paying off.
[Read more: Re-Ranking the Class of the 2017 NHL Entry Draft]
Then in late January, Glass endured a knee injury. That's always hard for a player to go through and the ripples could be felt through the craps tables in Las Vegas. Nobody feared for the prospect's career, but he was the first pick in the history of the Knights — back in 2017 when he was selected sixth overall — so fans were concerned.
Glass did return to the Winterhawks and he had a doozy of a season. In 38 games he had 15 goals and 69 points. He only got in one playoff game but improved enough to get in some playoff regular-season games with the Chicago Wolves. This was a shared AHL affiliation with the St. Louis Blues so there was no guarantee of playing time. In six games in Chicago, he had three goals and five points. The team advanced in the playoffs and as you might expect, Glass was a big part of that roster, that has nothing to do with his 6-2 inches, it's his complete game and willingness to make tough plays in high traffic areas.
[Read more: CALDER CUP: Vegas Golden Knights Prospect Cody Glass Isn't Ready for a Break]
In 22 postseason games, he had seven goals and 15 points. The talented pivot turned 20 during that run. His knee was back up to speed and he ended the season on a high note, even though he was a part of a triple-OT game that they were on the losing side of the ledger. A lot of times, that could light a spark. Leaving the player, a bit dissatisfied and sometimes they learn from it and come back even stronger.
Going into this season it was still going to be hard for him to make the NHL roster out of camp. After a rash of injuries occurred, he got his chance and was playing a top-six role between Max Pacioretty and Mark Stone.
He scored his first NHL goal in his NHL debut!
Cody Glass scores in his NHL debut, Max Pacioretty with the assist #VegasBorn pic.twitter.com/aAGrJPMVaC

— Shayna (@hayyyshayyy) October 3, 2019
When Glass gets open down low, he's deadly. He has a knack for sneaking behind the defense. He makes hard, sharp passes and his compete level is fantastic. Linemates love the way he plays the game. A recent no-look pass to set up a goal got his teammates talking.
"It wasn't a no-look pass because he has eyes in the back of his head. I'm just so happy every time he makes a play. It adds an element to our game 5-on-5 but even more so on the power play. It makes it fun for us to just go out there and play. He's a great player and an even better kid," Pacioretty stated on the Knights twitter account.
In his first 13 games, he managed two goals and six points. Now that some of the injured players are coming back, he's going to move to the wing. Like most young players he's willing to do anything he can to stay with the big club. Unlike most young players, he's contributing right from the get-go.
You may also be interested in: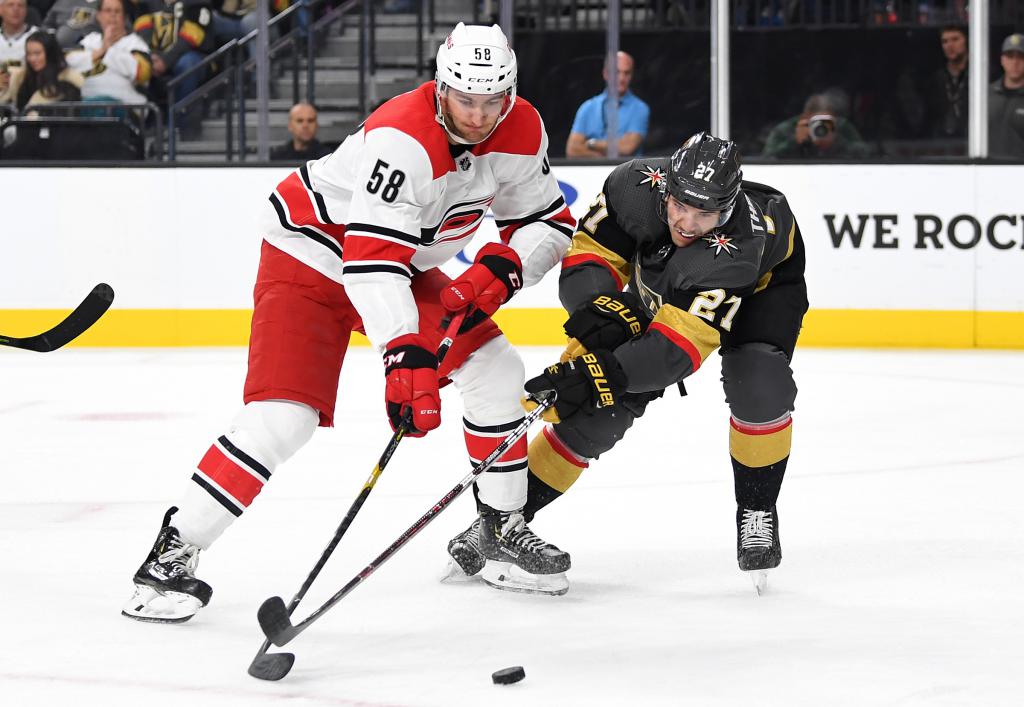 Trade Analysis: What are the Vegas Golden Knights Getting in Nicolas Roy?
This article is about: