The Pipeline Show
THE PIPELINE SHOW: The CHL-Russia Series, London Knights, NCAA Hockey, & Carleton University
This week on The Pipeline Show we get an update on the CHL's Canada-Russia Series, and then we'll dive into the reasons why the OHL's London Knights have been able to turn their season around. We also talk college hockey with one of the best analysts out there and we catch up with a former Tri-City American experiencing life as a rookie again, now at the next level.
CHL Insider: Mike Stubbs
After a slow start out of the gate, the London Knights have suddenly turned the corner and have started climbing the OHL's Western Conference standings. I spoke with broadcaster Mike Stubbs to find out what's changed for the Knights.
We started with the most recent news; the signing of overage netminder Dylan Myskiw, who started his first OHL contest on Sunday in a 5-1 road win over the top team in the league. Myskiw made 28 saves against the Oshawa Generals and after going in as relief on Friday night, actually has a 2-0 record despite playing less than 5 periods.
Connor McMichael has nearly twice the points any of his teammates' have but that's not to say London is only as good as he is. There are half a dozen point-per-game players so this is more of a case of McMichael wracking up huge numbers.
[Read more: EP Rinkside Prospect Pool Rankings: No. 31 Ranked Washington Capitals]
We went through other members of the team before looking at the rest of the league which is seeing some bizarre statistical anomalies including the highest-scoring team being in last place in their conference.
CHL Insider: Sam Cosentino
One of my audience's favourite guests to hear from when it comes to the CHL and the NHL Draft is Sam Cosentino of Sportsnet. Sam has been a good friend of the show for well over a decade now and it's always great to chat with him when we can. This week I caught him on the road to Kitchener getting set to broadcast game 3 of the CHL's Canada-Russia Series.
With two games of the series in the books, I asked Sam about QMJHL standouts including Raphael Lavoie who the analyst described 'a real polarizing player'. Other QMJHL players came up before we turned our attention to the Russians who were led by skaters playing in the Q this year.
[Read more: Lavoie using Halifax experience to prepare for the big leagues: "They treat us like professionals"]
I also asked Sam about the lack of production from Vancouver Canucks prospect Vasili Podkolzin and he gave a very insightful reply.
Then Sam shared what he was watching for now that the series shifts to the OHL. Game 3 was played after our conversation but it was great to get Cosentino's pre-game watch list.
Lastly, I had to ask Sam about his 2020 Draft Ranking that was released this week by Sportsnet. I had time to zero in on the top WHL player on his list, Braden Schneider, and also how far outside the first round fans might see the name of Jake Neighbours.
NCAA Campus Report: Dave Starman
If you want to talk hockey at any level, you'd be hard-pressed to find a better analyst. If you want to talk College hockey, he might be the best guest on the planet to do so. I'm always excited when Dave Starman (CBS Sports Network, NHL Network, ESPN) is able to come on the show like he did this week.
We began with the two-time defending champions and whether Dave agrees with me that the experience the Bulldogs have gained the last two years is enough to make Minnesota Duluth contenders once again, if they make the national tournament.
The No. 1 ranked, and unbeaten Denver Pioneers were up next starting with star blueliner and leading scorer, Ian Mitchell.
[Read more: EP Rinkside Prospect Pool Rankings: No. 14 Ranked Chicago Blackhawks]
Then we shifted gears to the Big Ten to talk about both Penn State and Wisconsin, two high powered offensive teams, and what he has seen from them both so far this year.
Lastly, the Massachusetts Minutemen continue to roll despite graduating a pair of impact defencemen straight to the NHL (Cale Makar and Mario Ferraro). My big question is: how?
U Sports Update: Parker AuCoin
After four years spent as a Tri-City American, forward Parker AuCoin is adjusting to life once again as a rookie. The former Western Hockey Leaguer is now in his first season with the Carleton University Ravens and loving every minute of it.
And why wouldn't he? He's surrounded by other former CHL players, including several familiar faces from the WHL, and the Ravens are currently leading the OUA East Conference standings with a 9-1 record.
I spoke at length with AuCoin about his experience so far in U Sports, what led him to move to Ontario and specifically why joining the Ravens program was the right fit for him. Of course we talked about delaying the option to play professionally in the ECHL and why using his WHL scholarship package now was the smart decision.
AuCoin also reflected on his tenure with the Tri-City Americans going back to the day he was chosen 15th overall in the 2013 Bantam Draft by Bob Tory right through to his final year playing for head coach Kelly Buchberger.
You may also be interested in: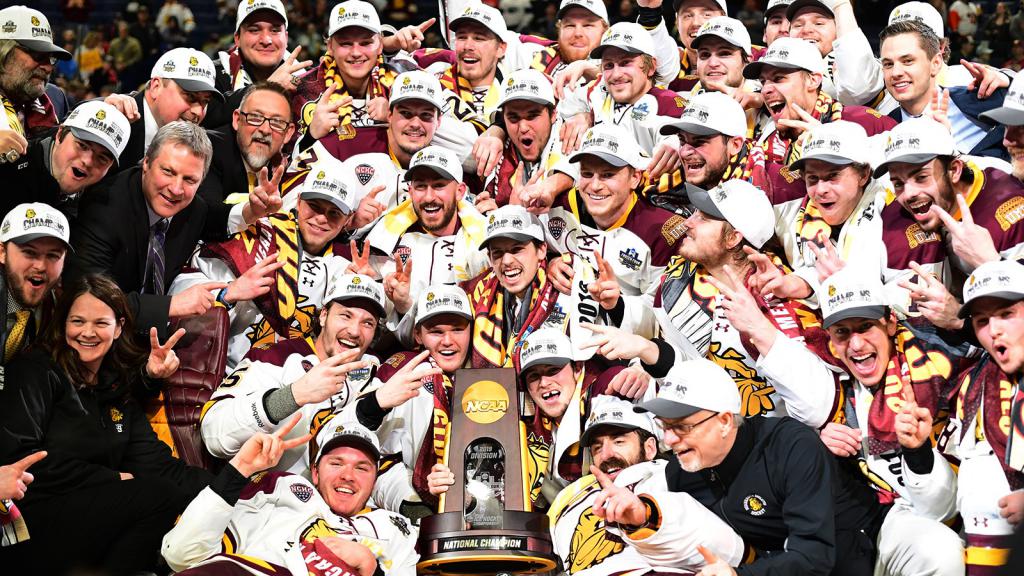 COHEN: NCAA players who could turn pro
This article is about: