World Juniors 2020
THE PIPELINE SHOW: The World Junior Hockey Championships Preview Show
This week on The Pipeline Show it's the full preview of the 2020 World Junior Championship with in-depth analysis of the five main contenders with some fearless predictions thrown in for good measure.
Sweden: Christoffer Hedlund
Arguably, the Swedes might have the top group of blueliners assembled for this year's tournament with Victor Söderström, Adam Ginning, Tobias Björnfot, Nils Lundqvist, Rasmus Sandin and Philip Broberg. Whoever is considered Sweden's third pairing, they might be as good as the top duo for most teams this year.
Sweden also has a skilled group of forwards although speaking with Christoffer Hedlund of Elite Prospects and EP Rinkside, it might be fair to have some concern with depth down the middle and an overall lack of size. Are 2020 eligible Lucas Raymond and Alexander Holtz playing at 100%?
[Read more: The EliteProspects Rinkside 2020 NHL Entry Draft Swedish Watch List]
Lastly, who is the starter in net for Sweden? Is it the 18-year-old Hugo Alnefelt who has looked good in limited SHL action? Or is it 6-foot-6 Erik Portillo who is a year older?
[Read more: Sweden is Forced to Play Waiting Game Ahead of World Juniors]
United States: Adam Kimelman
There is no question that the Americans will be gold medal contenders once again as the squad is loaded with offensive weapons and the team has Spencer Knight between the pipes, the goalie most would consider the best in the tournament. Even in the unlikely scenario that Knight falters, Dustin Wolf from the WHL's Everett Silvertips has proven himself an elite junior hockey goaltender and could rise to the occasion.
[Read more: Meet the Team: Team USA's World Junior Hockey Championship Roster]
Team USA might also have the most dangerous group of forwards as several of the touted USNTDP squad that dominated the NHL's first round will be on the team; Alex Turcotte, Trevor Zegras, John Beecher and Cole Caufield among them. Oliver Wahlstrom has been playing in the AHL this season but rejoins the WJC squad armed with more experience and confidence. The Ontario Hockey League's top scorer, Arthur Kaliyev, is also on the roster looking to prove doubters wrong.
[Read more: Why Trevor Zegras is the NHL Draft's Most Creative Player]
If there is a weakness in the American line up it would be on the blueline but it's still a formidable group. K'Andre Miller, Mattias Samuelsson, Cam York and Alec Regula headline the defensive unit that might be lacking in star power but not in ability. Adam Kimelman from NHL.com is my guest to preview Team USA.
[Read more: Trade Analysis: Chicago Blackhawks Send Brendan Perlini to the Detroit Red Wings for Alec Regula]
Russia: Slava Malamud
According to Russian journalist Slava Malamud, Russia's strength this year might be on the blueline where they have a mature, well balanced and cohesive group. Alexander Romanov, Danila Galenyuk and Yegor Zamula are expected to be major players for Russia.
The goaltender scenario is intriguing, to say the least. Everyone in North America wants to see phenom Yaroslav Askarov play but he's two years younger than both Amir Miftakhov and Daniil Isayev. Malamud offered the suggestion that coach Valeri Bragin might use the round-robin as an extended training camp to decide which goalie he'll go with in the medal round.
[Read more: The EliteProspects Rinkside 2020 NHL Entry Draft Goaltenders Watch List]
Of course, up front, all eyes will be on Vancouver Canucks forward Vasili Podkolzin who has been extremely unproductive this season in the KHL, VHL, MHL and even the Super Series against the Canadian Hockey League. Is this the event that gets his game back on track?
Thankfully for Russia, some of their forwards playing in the CHL this year are having terrific campaigns and could lead the offensive attack. Watch for Alexander Khovanov and Yegor Sokolov to bring their QMJHL success with them to the Czech Republic.
Finland: Jouni Nieminen
There seem to be a lot of question marks surrounding Finland this year. The defending champs are not the team they were a year ago, at least not on paper. However, according to my guest, that might play into the hands of the feisty Finns. Playing in the far weaker 'A' Pool will certainly help but Finland is going to need stellar performances from their roster to reach the podium.
Like Sweden, the Finns have a pretty solid defensive group led by Ville Heinola who began the year in the NHL. Mikko Kokkonen, Anttoni Honka and Lassi Thomson are also noteworthy defenders for Finland.
[Read more: Scouting Report: Checking in on Finnish Defence Prospects in Liiga Action]
Unlike Sweden, Finland doesn't appear to have the same level of offensive attack up front. Rasmus Kupari, Sampo Ranta, Mattias Maccelli will be relied on heavily as might 2021 draft-eligible Aatu Räty.
My guest, Jouni Nieminen, suggests that Justus Annunen is likely the starting netminder for Finland but that the Colorado Avalanche prospect may not be completely healthy to begin the tournament.
Canada: Guy Flaming
After having Sam Cosentino on the show last week to talk about Canada's team, I simply followed up on his insight with some thoughts of my own. In my opinion, Canada may not rank No. 1 in goaltending, defence or forward strength but they might be top-three in all of those categories and that makes them a dangerous team and a gold medal contender.
[Read more: Meet the Team: Canada's World Junior Hockey Championship Roster]
Bowen Byram might be the top defenceman in the tournament and with Ty Smith, Calen Addison, Jared McIsaac and Jacob Bernard-Docker on hand, it's a strong group. Watch for 2020 draft-eligible Jamie Drysdale to establish himself as the top blueliner available in June.
[Read more: The EliteProspects Rinkside 2020 NHL Entry Draft OHL Watch List]
Canada has a very well rounded forward group that not only has speed, skill and smarts but also size which is not something other teams can say. With AHL forwards Joe Veleno and Barrett Hayton returning to the mix to go with Connor McMichael, Dylan Cozens, Nolan Foote, Akil Thomas, and Raphaël Lavoie, Canada has a strong 19-year-old corps. Then you include Quinton Byfield, Alexis Lafrenière, and Dawson Mercer, all draft-eligible, and you get a sense of the depth available to head coach Dale Hunter.
[Read more: Film Room: An Extensive Breakdown of Quinton Byfield's Game]
This week's episode ends with some bold predictions for the final finish of all 10 teams.
You may also be interested in: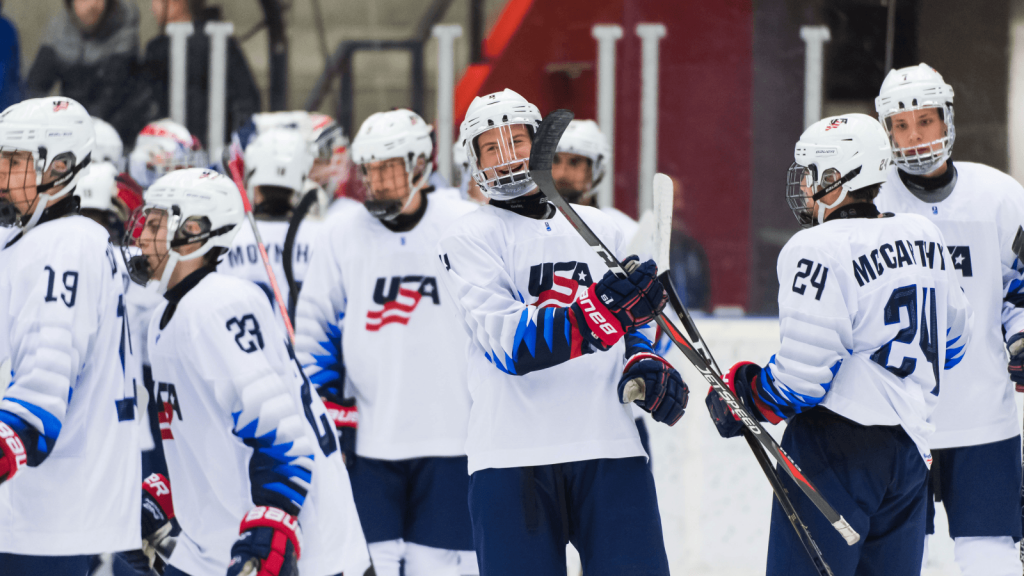 Meet the Team: Team USA's World Junior Hockey Championship Roster
This article is about: