NHL Entry Draft 2019
Draft year no stress for excited Nussbaumer
The decision was easy.
Valentin Nussbaumer knew he'd be heading to North America.
And Nussbaumer, the No. 4 pick from the 2018 Canadian Hockey League Import Draft last June, has started to hit his stride with the Shawinigan Cataractes of the Quebec Major Junior Hockey League.
"We were talking about my development for the NHL Draft," said Nussbaumer, who grew up in the Juniors Elites A program. "They told me it's probably the best thing that I come here and play on the smaller ice for my adaptation and development. It was my choice. I always wanted to come here and prove myself in Canada. It's the best junior league.
"I didn't hesitate to come over.
"I didn't expect to be fourth overall. I think it was two days before the draft that my agent called me and let me know I could be fourth. It was an amazing feeling. I'm really proud to be here. It's really nice to play here in Shawinigan. Its near Montreal and Quebec (City). Everything is really good."
The high selection has come with some big expectations.
He's starting to fulfill them.
"It's been amazing," Nussbaumer said. "I think my first half of the season was a little bit hard with the adaptation of the smaller ice and the new culture.
"My decision was really easy to make. I really enjoy being here."
Nussbaumer is third on the Cataractes with 34 points (16 goals, 18 assists) in 47 games this season.
Nearly half of those totals have come over the course of the last month.
The Delémont, SUI native has logged 16 points (seven goals, nine assists) in 17 games since returning from representing Switzerland at the 2019 IIHF World Junior Championship.
"I think his draft year was stressful for him early in the year," Cataractes coach Daniel Renaud said. "You could see he was second-guessing himself at times when he was struggling, not getting as many points as he wanted. But I think now he's focusing more on playing the right way, doing the right details on the ice. When you focus on good stuff good results are going to happen, for sure."
The World Juniors, the 18-year-old admitted, served as a bit of a turning point.
"It was a tough first half of the season for me," admitted Nussbaumer, who totaled three points (two goals, one assist) in seven games to help his country to a fourth-place finish at the tournament. "When I joined the Switzerland team it was really good for me. I changed my mind (set). The World Juniors was good for the team and for me."
The turnaround has been noticeable.
"There's a lot of confidence," Renaud said. "I think the main thing is he's accepting the physical play. Even offensively, he hangs onto the puck a little more, which allows him to bring one or two players on him and then free up some teammates so he can find some passing lanes and create some scoring chances.
"Early in the season I think he was a bit scared of the contact. He was making quicker plays with the puck, getting rid of the puck more. Now he can create plays by hanging onto it a little more.
"It's my seventh year in the league and it's always the same case. Up to Christmas, for the import players, it's always tough getting used to the smaller ice surface and everything. But his skill has never been in doubt. From Day 1 you could see his skills, hockey sense and vision. Now he's transforming that from practices into games."
Nussbaumer didn't disagree.
"I would say my physical play (has improved most)," he said. "My coaches always wanted me to do everything 100 percent. In Europe, it's like more of a nice play…when you have nothing you come back to your D. Here it's more forechecking. It was tough to totally change. It was tough to change my game. Now it's everything good. I've done a lot of video with my coaches and a lot of meetings.
"It's taken a long time."
The off-ice adjustment, however, hasn't.
Nussbaumer quickly integrated himself on that front.
"Nothing big changes," he said. "It's really good. The people here are really nice.
"It's French here so it's easy for me. I take some English at school.
"I'm trying to be better."
The seamless transition extended to the dressing room.
"That's a big thing for us," Renaud said. "Even for him, from Day 1 he was comfortable with the group. He's a great person. He always has a big smile on his face with tons of positive energy. Everybody loves him. He's in the core, on the ice and off the ice.
"He's the glue in that team chemistry."
He's cemented himself in the team's successes, certainly.
Nussbaumer, No. 60 among North American skaters in NHL Central Scouting's midterm ranking, is third in scoring with Shawinigan, and 11th in rookie scoring in the QMJHL.
He's trending in the right direction as the 2019 draft nears.
Just as Nussbaumer hoped he would when deciding to come to North America.
"It's more exciting," he said. "I just don't stress. I'm enjoying every moment.
"It's exciting. I try not to think a lot about the NHL Draft. It's a dream. I'm really excited. I want to finish my season really good. I want to make the playoffs with my team. I want to progress every day and give my best."
You may also be interested in: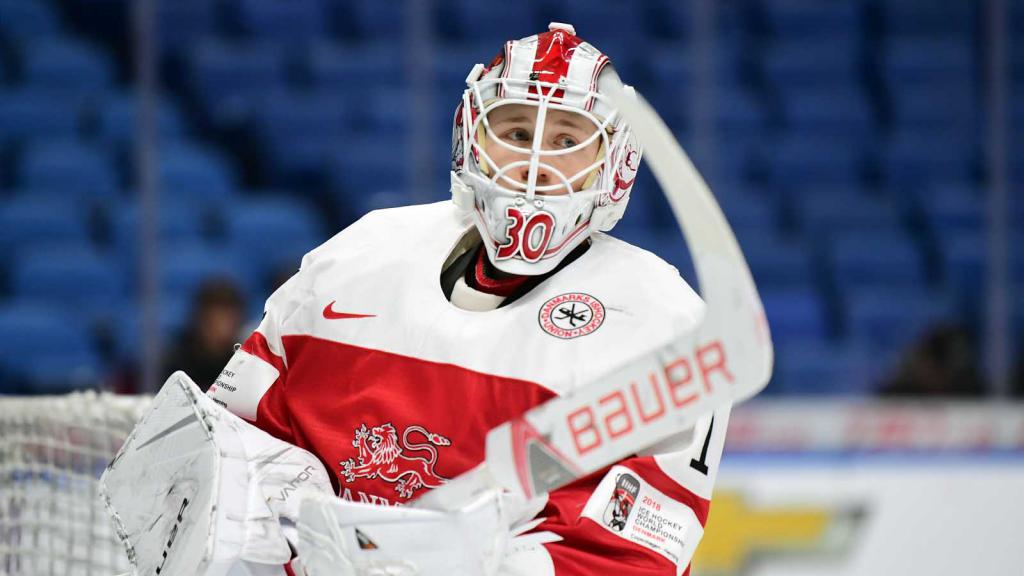 DRAFT ELIGIBLES TO WATCH: 2019 prospects from Group A
This article is about: