Scouting Reports
BLOG: Grewe among standouts in Swedish U-20 Championships (JSM)
Welcome back to the blog,
The JSM-weekend was held in Nyköping this past weekend, this update will be similar to my last text, which was about the J18-teams that participated, but this time with full focus on the J20-teams. During the JSM-weekend the semifinal, bronze medal game and final are all played during the weekend. The format is very simple, all games played are a best out of one, so if a team loses, they are out. With that in mind, let's take a look at the games.
Semifinal 1: Frölunda HC – MODO Hockey
The way the JSM-weekend is structured heavily affected this semifinal. Seven players in Frölunda, among them their whole first line, had played two games in the last 24 hours in the J18-SM Playoff, one which had ended just two hours prior to the J20-Semifinal. Modo took advantage of the tired Frölunda players and came out very aggressive and played a high paced hockey with constant forecheck and elements of very physical hockey. Frölunda did not have enough gas in the tank to fight back and Modo could quite easily win the game (4-1).
Nicolas Müllers 1-0 mål för Modo mot Frölunda. #J20gifs #jsm19nyk pic.twitter.com/Qvq82eJKtz

— Anton Johansson (@antonj85) April 7, 2019
Semifinal 2: Djurgårdens IF – Linköping HC
The second semifinal was a lot closer than the first one, it was a high paced game that was very much "back and forth", with good scoring chances for either team but goaltenders Jesper Myrenberg and Oscar Walldén kept the scores low. Flyers prospect Adam Ginning gave Linköping the lead in the second period when he unleashed a heavy slap shot after a face-off in Djurgården's zone, but before the period was over Albin Grewe had tied the game after a strong individual effort. Neither team managed to score in the third period but in overtime Linköping's team captain, Filip Fornåå Svensson, scored the game winning goal when he found a loose rebound, after a shot from Ginning and a great performance by Kings prospect Johan Södergran to get the puck into the offensive zone.
Adam Ginnings 1-0 mål för Linköping mot Djurgården. #J20gifs #jsm19nyk #LetsGoFlyers pic.twitter.com/86b6j2qeQS

— Anton Johansson (@antonj85) April 7, 2019
The Bronze Medal Game: Frölunda HC – Djurgårdens IF
The fact that Frölunda and Djurgården would meet in Nyköping was no surprise to anyone that has followed J20 SuperElit this season, but most would probably have expected this to be in the final, and not a game for the bronze. Just like in the semifinal Frölunda's first line was a no show, instead it was Erik Portillo in their net that helped Frölunda stay in the game. Alexander Holtz were one of the more notable players on the ice, he missed a penalty shot in the second period but redeemed himself in the third when he tied the game at two. Frölunda received a great chance at grabbing the lead late in the third when they got a powerplay, but right off the face-off Rasmus Kahilainen stole the puck and found Adam Falk on a breakaway, Falk made no mistake and scored the game winning goal with about two minutes to go of the game and sent the bronze to Djurgården.
Alexander Holtz 2-2 kvittering för Djurgården mot Frölunda. #J20gifs #jsm19nyk #2020NHLDraft pic.twitter.com/DtasA5IeOy

— Anton Johansson (@antonj85) April 7, 2019
The Final: Linköping HC – MODO Hockey
Unlike how they normally play, both teams looked cautious in the first period and it was obvious how much was on the stake in this game. The teams focused on making simple plays with minimal risk at making a mistake. Linköping had the best scoring chance in the first period, when Johan Södergran had a breakaway and scored the first goal of the game. In the second Modo scored two early goals before Södergran scored his second of the game, and that's when the flow of the game changed. Both teams tried to go for the lead and played a high tempo, offensive game that resulted in a lot of scoring chances both ways. But it wasn't until Linköping received a powerplay that the fifth goal of the game was scored, Modo's Linus Pettersson carried the puck into Linköping's zone and made a pass behind his back to Mattias Norlinder that got a lot of time and could find the net behind Jesper Myrenberg. Lukas Wernblom scored Modo's fourth goal, with another great assist from Linus Pettersson, of the game during the third periods first shift and Linköping never recovered, instead Modo could close the game out to become this year's JSM-Champions.
Lukas Wernblom fastställde slutresultatet 4-2 till Modo när man tog SM-guld i J20. #J20gifs #jsm19nyk pic.twitter.com/YQWfs5IjFl

— Anton Johansson (@antonj85) April 7, 2019
Just like in the J18-SM there were several awards handed out to the best J20-players of the 2018/2019-season:
Best Goaltender: Jesper Myrenberg (Linköping HC)
Best Defenseman: Tobias Björnfot (Djurgårdens IF)
Best Forward: Lucas Raymond (Frölunda HC)
Playoff MVP: Mattias Norlinder (MODO Hockey)
Just like with the J18-awards I thought the picks for the J20-awards were good. The only award that I think there were some real contention for was "Best Goaltender", there have been many goaltenders with excellent performances this year; August Hedlund (AIK), Erik Portillo (Frölunda HC), Jakob Hellsten (Leksands IF) and Oscar Walldén (Djurgården IF) would have all been good choices besides Myrenberg. In my mind Myrenberg should have received the award last year, the fact that he didn't might have played a part in this year's voting. Either way it was a well-deserved award, just like the other three were.
I wanted to end this update the same way as I ended the one about J18, to mention some of the players that I think had impressive showings during the JSM-weekend.
Mattias Norlinder, MODO Hockey J20, D, 5'11, 179lbs, DOB 04.12.00
Norlider was the most outstanding player at this year's JSM-weekend and were rightfully awarded with the "Playoff MVP"-award. The first thing that jumps off the page with Norlinder is his skating, he takes smooth strides and when he accelerates to top speed it can look close to effortless. He is very mobile and is excellent at transporting the puck, but he could use his skating a bit more in the offensive zone to find open ice. Norlinder has decent hands and controls the puck very well but doesn't have an overly flashy playstyle, even though he can puck handle his way past an opponent if he has gathered some speed, instead he often focuses on making the right play and to solve the situation he is in in the best possible way. He has a good shot, both his wrist shot and slap shot are powerful and he is good at finding the net through traffic, but Norlinder's passing abilities is a notch ahead of his shot. He sees the ice very well and doesn't hesitate to handle the puck and wait for passing lanes to open up before making a play from the blue line or the boards. He has a strong first pass that is highly accurate and can create a breakaway for a team mate all the from his own zone. Norlinder's defensive game during the JSM-weekend was close to flawless, he continuously made the correct reads, knew when to use his body to challenge an opponent and when to steer them towards the boards with his stick. Norlinder's overall smarts includes superb defensive awareness and positional play, and with his strong skating and awareness he can quickly transition quickly from defense to offense if there is a turnover. Norlinder was not drafted in last year's draft but with the season and progression he has had this year he can surly expect to hear his name called during this year's draft.
Mattias Norlinders matchvinnande 3-2 mål för Modo i SM-finalen mot Linköping, assisterad av Linus Pettersson. #J20gifs #jsm19nyk #2019NHLDraft pic.twitter.com/77E2R7dYVd

— Anton Johansson (@antonj85) April 7, 2019
Albert Lyckåsen, Linköping HC J20, D, 5'11, 187lbs, DOB 07.29.01
Lyckåsen started as seventh defender in the semifinal but was among the best players on the ice, to the final he was moved up to Linköping's first pairing and once again had a strong performance. Lyckåsen isn't always the most notable player on the ice, but that is also one of his main strengths. He is calm and composed, rarely makes any mistakes with the puck, he keeps it simple when the situation calls for it and does all the small details so well. A lot of his game revolves around his smarts, he turns his head to look for opponents in his own zone and with the puck in his possession he will often make simple yet effective plays that puts his team mates in good situations. Lyckåsen is also a very strong skater, he has long smooth strides and good acceleration and can move the puck zone-to-zone if he gets some space to accelerate from behind his own net. Offensively Lyckåsen has the tools to become an effective player, his wrist shot technique can be forward-esque and he can make quick solid plays from the blue line, the part that mainly needs improving is his consistency and confidence. During JSM he showed up offensively, he helped to transport the puck to start Linköping's offense and participated in the offensive zone but there can be several games between when he does that, at times he hesitates too much and plays too safe when he has the puck instead of utilizing the strong aspects of his game. Lyckåsen is another player that will have eyes on him this summer, but before that he has the chance to rise his stocks in the upcoming U18 WJC later in April.
Albin Grewe, Djurgårdens IF J20, RW, 6'0, 176lbs, DOB 03.22.01
Grewe was Djurgården's most notable player during the JSM-weekend, he drove their offense with his intense play style and high work rate and scored Djurgården's only goal in the semifinal all by himself. Grewe is mostly known as a powerforward but he has shown that his game is so much more than that, he is a capable skater that is strong on the puck with great balance and upper body strength and he is excellent at carrying the puck from his own zone, up to and around the offensive zone before making a play or shooting the puck. Grewe is a major threat when he can challenge a defender with speed, he can stickhandle his way through the inside or blast past on the outside and he likes to go behind the net and either throw the puck in at the first post or to circle around and try to find a play from the other side of the net. Grewe's shot shouldn't be underestimated either, he can fire a quick wrist shot between the goaltender's legs from up close or, if he gets some time to aim, find a top corner with a well-placed shot. With his high work-rate and willingness to play physical and aggressive hockey Grewe is very effective around the opposing net and he doesn't hesitate to get his nose dirty when he searches for a loose puck or rebound. Another aspect to like about Grewe is that he is so diverse; he can play a power game but also take on a offensive role, he can throw a big hit to give his team energy, he can make a great pass to set up a goal and he can create and finish of a goal scoring chance all by himself. He is a player that is loved by his own team and disliked by his opponent and you always know what you will get from him due to his work rate and competitiveness. Grewe is one of the most interesting Swedish forwards in this draft class and could be a potential first round pick, but first he will play for team Sweden in the U18 WJC.
Albin Grewes 1-1 kvittering, framspelad av Adam Falk. #J20gifs #jsm19nyk #2019NHLDraft pic.twitter.com/YUCcSdzGYo

— Anton Johansson (@antonj85) April 7, 2019
This will be my last update from J20 SuperElit/JSM for this time, a big congratulations to MODO Hockey and their J20-team for winning this year's JSM-Gold.
Congratuations to MODO Hockey, the winner of this year's J20 SM-Gold. They beat Linköping 4-2 in the final. pic.twitter.com/tZ2lfw6eVS

— Christoffer Hedlund (@ChrHedlund) April 7, 2019
You may also be interested in: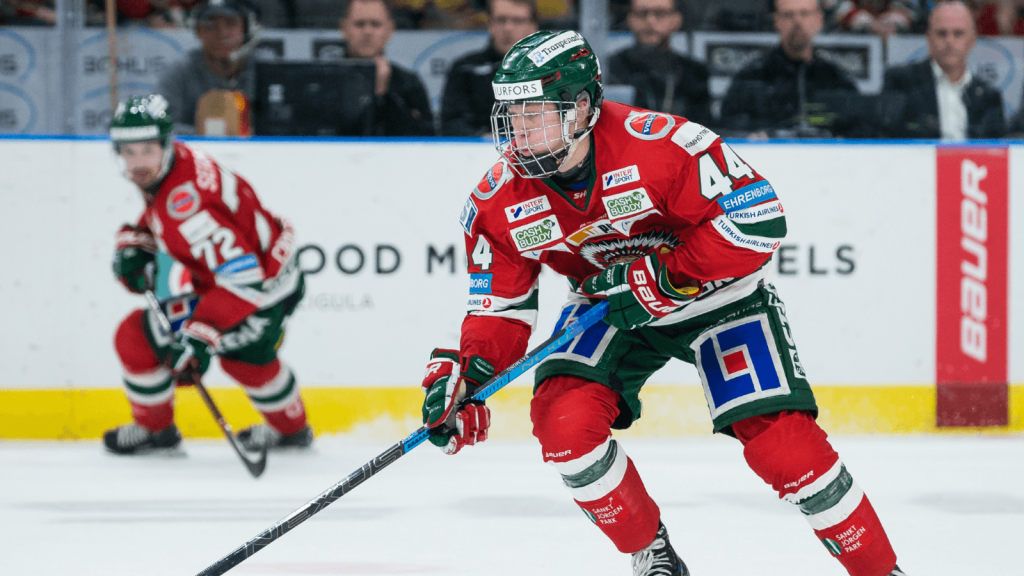 BLOG: A true MVP – musings from the Swedish U-18 Championships (JSM)
This article is about: