Scouting Reports
BLOG: A true MVP – musings from the Swedish U-18 Championships (JSM)
Hi there,
This weekend the blog was in Nyköping, to follow the JSM-playoffs. First at the J18-level, then at the J20-level. JSM is where the best junior teams in Sweden battle for the gold medals and the chance to be crowned this season's champions. The semifinals are played on the first day, followed by the bronze medal game and final on the second day, all games are single elimination – one loss and you are out. The J18-teams played Friday/Saturday and the J20-teams played Saturday/Sunday. This update will solely be about the ending of the J18-season, and my next update will focus on the J20-teams.
Let's start!
Semifinal 1: Frölunda – Linköping
The first semifinal was played between the favorites, Frölunda, and Linköping. Frölunda was the team that drove the play for large parts of the first two periods and they were also up 1-0 going into the third period. When Elmer Söderblom scored Frölunda's second goal of the game early in the third it seemed like they had a firm grip of the spot to the final. But Linköping stepped up their game, took charge of the play and with two quick goals in the middle of the third period the game ended 2-2 after full time. Neither team scored during the overtime and in the shootout, Lucas Raymond scored the game winning goal to send Frölunda to the final.
Semifinal 2: Skellefteå – Färjestad
This game was an offensive team, Skellefteå, against a defensive team, Färjestad. Even though Skellefteå was in possession of the puck for large parts of the game they had trouble converting it into clear scoring chances. Färjestad, on the other hand, had several good scoring chances when they quickly counterattacked, which forced Oscar Darnell in Skellefteå's net to make a few great saves to help his team stay in the game. Färjestad got a powerplay late in the third period where the two best players on the ice this game worked together to give them the lead; Albert Johansson sent a perfect pass to Leo Lööf, who found the top corner behind Darnell. Färjestad closed out the remaining minutes of the game and advanced to the final.
Skellefteå came back strong from the defeat in the semifinals and won the bronze medal by a score of 4-2, after a hattrick from Simon Robertsson, the son of former NHL'er Bert Robertsson and one of Sweden's most promising forwards for the 2021 NHL Entry Draft.
It is a player that you surely will hear a lot about in the future.
The Final
Frölunda came out strong in the final with lots of energy, an aggressive forecheck and a very high tempo in the first period – a period which Frölunda won, 2-0. The second period was similar to the first, but Färjestad was very effective and scored two goals (one with two men in the penalty box) to tie the game. In the third period it was time for Lucas Raymond to step up. First, he scored 3-2 on the powerplay – but Färjestad quickly rallied and Noah Andersson, son of legendary Frölunda player Niklas Andersson and little brother of Rangers prospect Lias Andersson, tied the game at three with eight minutes to go of the third period. But the game didn't go to overtime. Lucas Raymond wasn't done for the day. He found a loose rebound in the slot, made no mistake and gave Frölunda the lead once again. Frölunda later scored an empty net goal to secure their win and became this year's winner of the J18 SM-playoff.
After the final was completed, these individual awards for the J18-season were handed out:
Best Goaltender: Hugo Ollas (Linköping HC)
Best Defenseman: Leo Lööf (Färjestad BK)
Best forward: Zion Nybeck (HV71)
Playoff MVP: Lucas Raymond (Frölunda HC)
I think three out of four choices were excellent. To me, it was a bit strange that Zion Nybeck won "Best Forward" when he was a regular in J20 SuperElit, and only played 11 out of 22 games in J18 Elit and 3 out of 18 games in J18 Allsvenskan.
Before I'm done with this update, I want to go through some of the players playing in the J18 SM-playoffs that caught my eye during the JSM-weekend in Nyköping.
Oscar Darnell, G, Skellefteå AIK J18, 5'10, 163 lbs, DOB 12.09.02
Even though Skellefteå for long periods were in possession of the puck and played in their offensive zone Darnell was the player that kept the score 0-0 in the semifinal. Darnell's composure, focus and confidence stood out in a very positive way, which isn't always that common for goaltenders of his age. He never got caught being impatient and instead forced the skater to make the first move. Darnell's skating looked solid which helped his positioning a lot, he isn't a goaltender that overwork situations and he often stays in the crease, but he worked a lot inside of it and would often go out to the edges of the crease to cover angles. Darnell doesn't have the biggest frame, which can be seen as an issue, he does have very good reflexes to make up for it but the area above his shoulders is a weakness when he is down in butterfly. Skellefteå rarely had much pressure against them in the defensive zone but when they did Darnell showed good puck tracking skills and worked actively to keep his eyes on the puck. His strong positioning and puck tracking helped him with how he could handle the puck while making a save, often he could keep it to himself and wasn't prone to give up soft rebounds. Another notable part about Darnell's game was how fit he was; he could quickly get side-to-side and keep his torso up to cover the net while doing so, and he was fast to recover after making a save. He made several key saves because of his quickness and upper body strength when the puck was moved cross-ice. With his late birthday Darnell isn't eligible for the NHL Entry Draft until 2021, he will surely be a player to keep an eye on until then.
En fin räddning av Skellefteås målvakt Oscar Darnell på skottet från Richard Jägermyr. #J18gifs #jsm2019nyk pic.twitter.com/KJzWnyxlZU

— Anton Johansson (@antonj85) April 5, 2019
Albert Johansson, D, Färjestad BK J18, 6'0, 168lbs, DOB 01.04.01
Johansson was dominant at both ends of the ice during the final two games of the J18-season and play a big part in that Färjestad almost made it all the way to the gold. Defensively his game revolves a lot around his smartness, he turned his head to look for opponents and used the information he gathered to position himself accordingly. He had a very active stick, which he used cut off angles with and to steer his opponents down towards the boards with. Johansson isn't overly physical, but he is a presence on the ice and was hard for forwards to get by since he didn't hesitate to use his body to block the opponent to get them away from danger areas. With the puck in his possession there were a couple of things jumped off the page about Johansson. He is very smart when he has the puck on his stick, and made excellent decisions throughout both the games, even when he was heavily pressured he always found a good solution to the situation and he could take a hit if it meant that he could make a better play with the puck. Johansson's puck skills was another aspect that clearly stood out, he handled the puck very smoothly, it looked like the puck is tied to his stick at times, and he could pull out a quick dangle to trick a forward that was trying to block a shot from the blueline. Johansson's passing abilities is another aspect of his game that is hard to go unnoticed, he could find tape-to-tape breakout passes from his own zone to help Färjestad start the transition game, but he would also quickly notice passing lanes in the offensive zone and make one-touch short-range passes to punish opponents that were out of position. One area of his offensive game that needs improving is the accuracy of his shot, he is excellent at setting himself up for scoring chances but too often misses the net or shoots directly at the goalkeeper. Johansson is a very capable skater; he takes long fluid strides and can accelerate to top speed with a few powerful strides and he isn't slowed down when he transports the puck either. But it wasn't only the speed that was impressive about Johansson's skating, he is also very mobile, has great balance and can make quick turns with the puck and his overall edge work is excellent for his age. Johansson's development during the second half of this season has been phenomenal, he has the potential to be a late riser in this year's draft and is a player I highly would recommend keeping an eye on in the upcoming U18 WJCs in Sweden.
Färjestadsspelaren Leo Lööf med matchens enda mål när han sköt Färjestad till SM-final, assisterad av Albert Johansson. #J18gifs #jsm2019nyk pic.twitter.com/jY9cWDZ8tv

— Anton Johansson (@antonj85) April 5, 2019
Lucas Raymond, RW, Frölunda HC J18, 5'10, 165lbs, DOB 03.28.02
It's hard to do Lucas Raymond justice when it comes to pointing out how crucial he was to Frölunda, on their way to this year's J18-Gold. Raymond had an assist on one out of Frölunda's two goals in the semifinal and he scored the deciding goal in the shootouts. In the gold medal game Raymond first gave Frölunda a 3-2-lead in the third period, and later he scored the championship-clinching goal with about three minutes to go. But nothing about his performance was a surprise to anyone that has followed Raymond. He was J20 SuperElit's best player this season so when he stepped down to play with the J18-team it was obvious that he would make an impact and be even more of a difference-maker than he already is against higher-level competition.
There are many aspects of Raymond's game to like; his explosiveness and speed are among the best in J20 SuperElit, so when he played against slower paced opponents in J18 he became close to impossible to handle. He could blast past defenders on the outside and go around them to challenge the net. With his exceptional first steps he was often looking to carry the puck through the space between the defender and forward when he tried to make his way from the boards into the high slot in the offensive zone. Raymond showed that he has a very diverse arsenal of tools when he has the puck in his possession; he could make creative and unexpected plays, which always were accurate and high quality, and when defenders focused too much on cutting of angles for a pass he did not hesitate to take advantage of the extra space to unleash a wrist- or slapshot. He also has quick and soft hands, so when a defender got too close to Raymond, he could make a fast move and to get past, to create more space for himself or to directly generate a scoring chance. But Raymond isn't all skill and flair, he is a hard-working player and his compete-level is as high as it gets. He hates to lose and loves to win, and it clearly showed. When he was on the ice Raymond was the one that worked the hardest, fought the most for pucks and he never took a lazy stride while backchecking. Raymond once again showed that he likes to play under pressure and that he can step up and be a true difference-maker in the playoffs, and not only be a dominant force during the regular season. When Raymond played against J18-competition it was hard to think that he is a U17-player and is eligible to play another full year with the J18-team. For him, this was another step in solidifying himself as one of the absolute top prospects for the 2020 NHL Entry Draft.
Lucas Raymonds matchvinnande 4-3 mål för Frölunda mot Färjestad och Frölunda tog hem guld i J18-SM. #J18gifs #jsm19nyk #2020NHLDraft pic.twitter.com/HCDQmgdHKe

— Anton Johansson (@antonj85) April 7, 2019
That's it for me for this update. Thanks a lot for reading, and I'd like to give a big congratulations to Frölunda J18 for winning the J18 SM-Gold.
Frölunda wins the J18 SM-Gold, 4-3 against Färjestad in the final. #2020NHLDraft top prospect Lucas Raymond scored the GWG late in the third period, his second goal of the game. Raymond was also named playoff-MVP. pic.twitter.com/Id3PiBSACE

— Christoffer Hedlund (@ChrHedlund) April 6, 2019
You may also be interested in: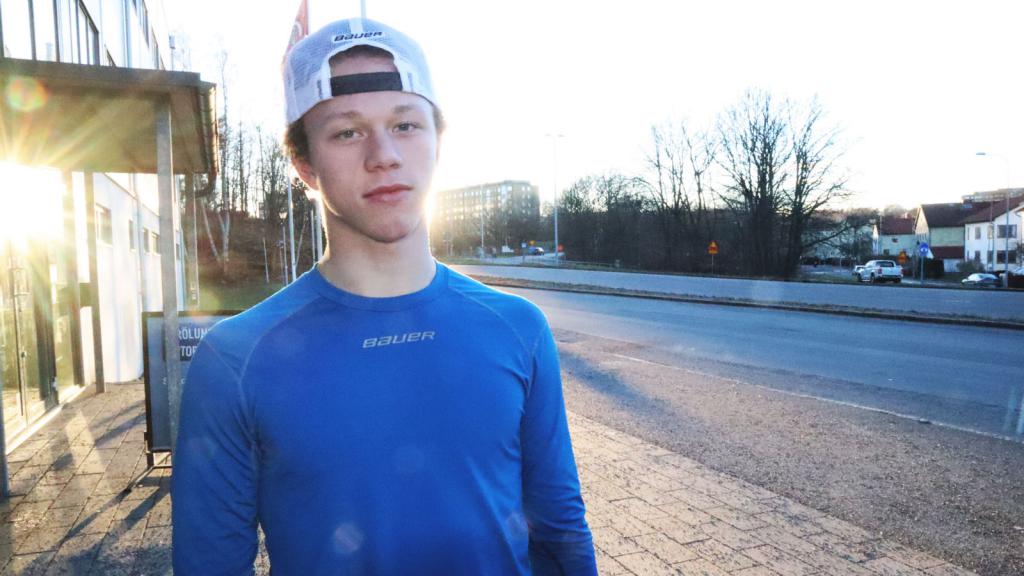 Another Raymond everybody will love?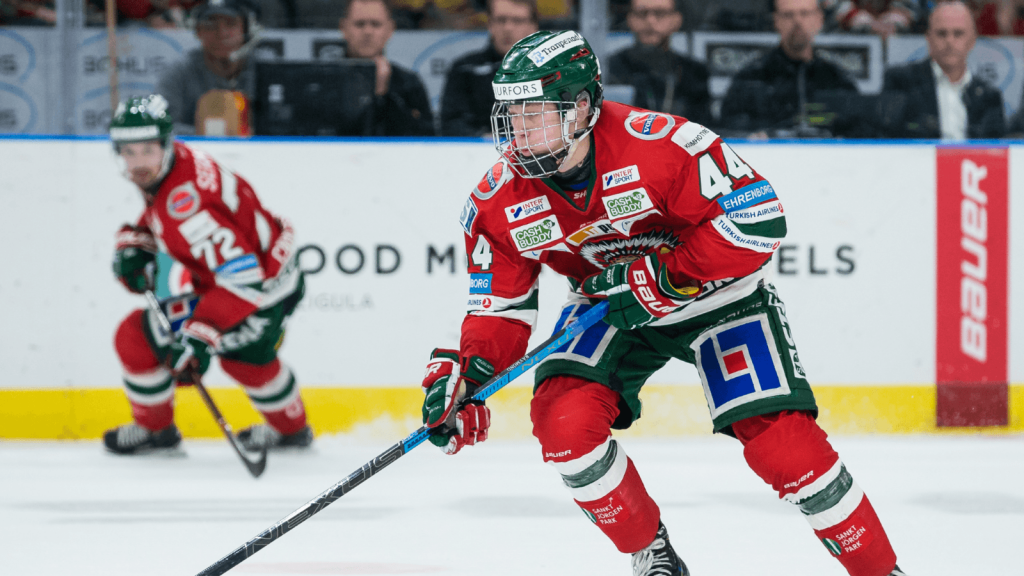 BLOG: Raymond vs. Holtz – Scouting the first U20 matchup and the road so far
This article is about: