NCAA
IIHF WC: Minnesota State Captain Michaelis on the world stage with Team Germany
In three seasons at Minnesota State, Marc Michaelis has solidified himself as a point-per-game player on one of the best collegiate teams in the country and put himself in position to be one of the most sought after NCAA free agents next spring. But before that he will represent his native country – Germany – at the 2019 IIHF World Championship in Slovakia this month.
"Being on the German national team has been the biggest opportunity of my career so far," the 23-year-old from Mannheim said. "I was on the team last year too and I learned so much just from being around these players and seeing how they prepare themselves and then having the opportunity to play against men for the first time was good for me too. They're obviously a lot stronger than college players and really helped me see where I needed to improve my game."
Last summer, Michaelis, 5-foot-10, 175 pounds, focused on getting bigger and stronger while also not sacrificing his trademark speed. Part of it was because of what he learned at the world championship, but the other part was because he wanted to make the move from wing to center.
"We were going to be a little lean down the center and when I brought him in to see if he'd be ok with moving to the middle and talk about the adjustments he'd have to make, he actually said he wanted to talk to me about seeing if he could play more at center," Minnesota State head coach Mike Hastings explained. "I asked him why and I was impressed that he had some substance to his answers. He said he saw how important it was to be versatile. I said he'd have to be able to sustain a bigger workload and needed to show that he was physically capable and he did that with his training last summer. He seemed to get better at everything – even taking face-offs. All of a sudden he had more eggs in his basket.
"He's really starting to be more of a well-rounded player," he continued. "The first two years, he only worked on our power play, but now he's turned into a really elite penalty killer too. Marc is starting to see the value in being multi-dimensional. He doesn't want to just be a winger and he doesn't want to just be a power play guy. He wants to be able to fill any role at any time during a game. He just wants to have an opportunity – whether that be here with us or with the national team or wherever he plays next – so the more things he can do, increases his value to a club and that really motivates him."
Last summer, Michaelis gained about eight pounds of muscle with the hope that it would help him protect the puck better and win more one-on-one battles, but it also provided him with better conditioning so he could be more consistent shift-to-shift and game-to-game, especially on back-to-backs. Hastings also noted the improved strength has given Michaelis a different kind of confidence, which is helping him become a more dynamic player.
With 14 goals and 22 assists for 36 points in 39 games his freshman season to lead the Mavericks, it's no surprise he caught the eye of NHL scouts and was invited to NHL development camps that summer. He attended Minnesota's camp and while he enjoyed it and learned a lot, he decided, almost immediately, that he wouldn't do any more. He also decided that he wouldn't talk to NHL teams until he was ready to actually make a decision.
"When I decided to play college hockey, it was a long term plan," Michaelis explained. "When I was 18 and most of my teammates in Mannheim turned pro, my body wasn't ready and my mind wasn't ready. I needed more time. So I went to North America to play in the NAHL in Minnesota and hoped I'd get an offer to play in college where I would stay for four years, develop as a player and as a person and get my degree.
When I got to Mankato and started playing really well and putting up points, it was exciting that teams were interested in me, but there was just too much noise coming to me and it was distracting me from focusing on getting better," he continued. "So, I said, no more. If they want to know something, they can call my coach or my advisor, but I won't be talking to anyone until I know I'm ready to take the next step."
Hastings explained that the decision was a sign of his maturity and not out of arrogance.
"Marc is going to do what Marc thinks is best for Marc, but I don't want you to take that the wrong way," he said. "He wants to prepare as much as possible to take the next step in his career and he's removing as many distractions as he can until he feels he's improved enough to actually consider taking that step. He's just very practical and is a good self-evaluator and holds himself accountable. We always try to get these guys to drive their own bus because once they leave here, the success of their career is entirely up to them. No one's going to drive the bus for them and Marc not only drives his own bus, but he does all the maintenance on it too."
As he prepares for Germany's first game of the world championship (Saturday vs Great Britain), he hopes to showcase his strengths – his speed and playmaking – and the newly discovered tools in his toolbox – strong puck protection, stamina and his defensive zone coverage. Hastings knows that no matter what happens in Slovakia, Michaelis will come back to Mankato a better player than when he left.
"When you are exposed to that experience and see how players prepare themselves before and after games and how they make sure they're doing everything they can to be at their best, it changes you," he explained. "Your eyes have been opened a little more and it just helps you be better. You think you're pretty good and then you play with and against that kind of talent and it forces you to raise your game and play a little faster and a little stronger and with a little more skill and once you do that, there's no going back. He's going to be a better player because of this experience, whether he has a tremendous amount of personal success or not."
As his collegiate career rounds the final bend, Michaelis, who has 117 career points in 117 collegiate games, is using this summer to finish laying the groundwork for what happens next and position himself to be a successful pro. According to Hastings, that means getting a little bit stronger and a little bit sharper but feels that his pro potential is limitless based on his skating, Hockey IQ and new found versatility.
"If he could gain a few more pounds this summer and continue to build that foundation, I think he'll be able to take another step and likely a big one," he stated. "He can skate extremely well. He thinks the game at an elite level and if he could find that edge and make those skills valuable in the hard areas and during the key points in games, he'll be able to answer the questions of whether he can do what he does best at the next level.
"Marc is our captain for a reason," Hastings continued. "He sets a great example for our players with his work ethic and I'm excited to see how he'll be able to contribute to our team this coming season. And, I'll be excited to see him start his pro career because he's certainly put in the work to deserve every opportunity. His being on the national team only validates that."
You may also be interested in: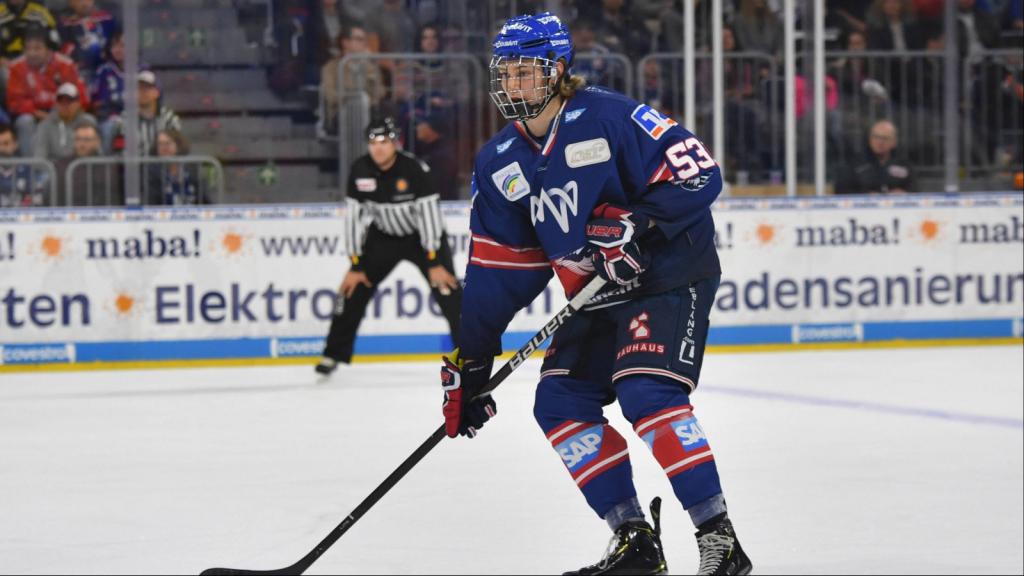 Moritz Seider – Germany's next first-rounder?
This article is about: