NHL Prospects
BURKE: Vancouver Canucks Confidence, Patience Paying off in Harvard Defender Jack Rathbone
BOSTON, Mass. — Jack Rathbone met with no fewer than 15 teams in the days and weeks leading up to the 2017 NHL Entry Draft, each one trying to better understand the mental makeup of the then-high school defender.
The foremost question on everyone's mind's concerned Rathbone's unorthodox development path, one which saw him forego time in the USHL to play his draft and draft-plus-one seasons at Dexter High School. Each could abide by the first year, but that second was another story entirely.
Some asked if he would reconsider. Others wrote him off entirely. The Canucks? They supported Rathbone's decision with the utmost confidence.
"Teddy's a huge piece of my life. I'd be lying if I said he wasn't," Rathbone told EP Rinkside in an exclusive interview. So he was a huge factor in my decision to stay for my junior and senior year at Dexter, along with Coach Donato, and then my family — we made that decision."
Teddy, Jack's brother, has autism, and the thought of not being there for him in high school was a complete non-starter for Jack. That's why he stayed an additional year at Dexter.
It's a decision that cost Rathbone dearly in the draft. There are teams out there that would've bet a second or third-round pick on Rathbone's talent, but not if it meant waiting that much longer for him to play against high-end competition, never mind making the show.
"The whole thing with the draft, of where I could have gone; that's something that you definitely think about. But I think once you hear your name called, you go to work. That's just the first step. Once you hear your name called, once you do get to work, you're in an organization [where] you try and be a sponge and then learn from everything that you can throughout that process to eventually make that jump when you can."
The Canucks, led by their Dir. of Amateur Scouting Judd Brackett, didn't see the problem. Rathbone was a defenceman that they described internally as an 'elite skater' with offensive upside to match.
In other words, not the type of player that's usually available in the fourth-round, where Vancouver happily drafted Rathbone with the 95th overall pick.
"I really respect them for looking past that," Rathbone admitted. "There were definitely teams that, when I sat in those meetings, weren't too excited about the decision that I was making. So I think from a personal standpoint, those guys have helped me immensely in terms of growing as a player and in my development. I think going through that process and being able to hear a voice that wasn't too concerned with where you were playing next year was something where there was a comfort level there that I was like 'you know, what they believe in me, they believe that no matter where I'm playing, that you're going to be able to develop,' and those that's huge in terms of being able to grow as a player and not almost second guess myself as to whether like, what if I did this? What if I did that.
"They were all good with the decision that I was making. They were backing me in terms of whatever I thought me and my family had to do that year. And it was definitely the right choice."
Their patience is paying off. In his freshman year, Rathbone put up 22 points in 33 games, playing top-four minutes at 5-on-5 and featuring regularly on the first unit power play.
Perhaps most important of all is how many of those minutes came alongside Adam Fox, then a Harvard junior, and now a capable top-four defender with the New York Rangers in his rookie season.
"Playing with Fox was a great opportunity for me," Rathbone said. "I was able to watch him on a day to day basis. Come game time, it was just another step and being able to watch and kind of be a sponge out there. He did some things at this level that were insanely impressive to watch firsthand. It was definitely exciting, being around a guy like that"
That experience has helped inform Rathbone's as he tries to fill those shoes on Harvard's top pair and first unit power play this season.
Harvard head coach Ted Donato, a veteran of nearly 800 NHL games, is a big believer that the best way to learn at high levels of hockey is to see others perform at a high level and follow in their footsteps.
That's a big reason for Donato pairing Rathbone with Fox, where other coaches might shy away from using a freshman in the high leverage minutes that someone like Fox is accustomed to playing.
"Well, I think the thing for him is that the best teacher a lot of times is other older players — I could say that from my own playing career," Donato told EP Rinkside. "I think him being paired with Adam Fox last year, he watched the false information that Adam would give, the ability to kind of hold on to the puck and look people off and wait for guys to become open in dangerous areas in the middle of the ice."
The proof of Rathbone's attentiveness alongside Fox is in the pudding, as they say. He's upped his production on a per-game basis, up to 18 points in 18 games, a rate that's second only to Boston University's David Farrance.
With production like that, Rathbone's projections using the pGPS (prospect Graduation Probabilities System) look better than ever. The pGPS system, if you're not familiar with it, is a metric that compares a player's season to that of skaters who share a statistical and stature-based profile past a certain point of a similarity threshold.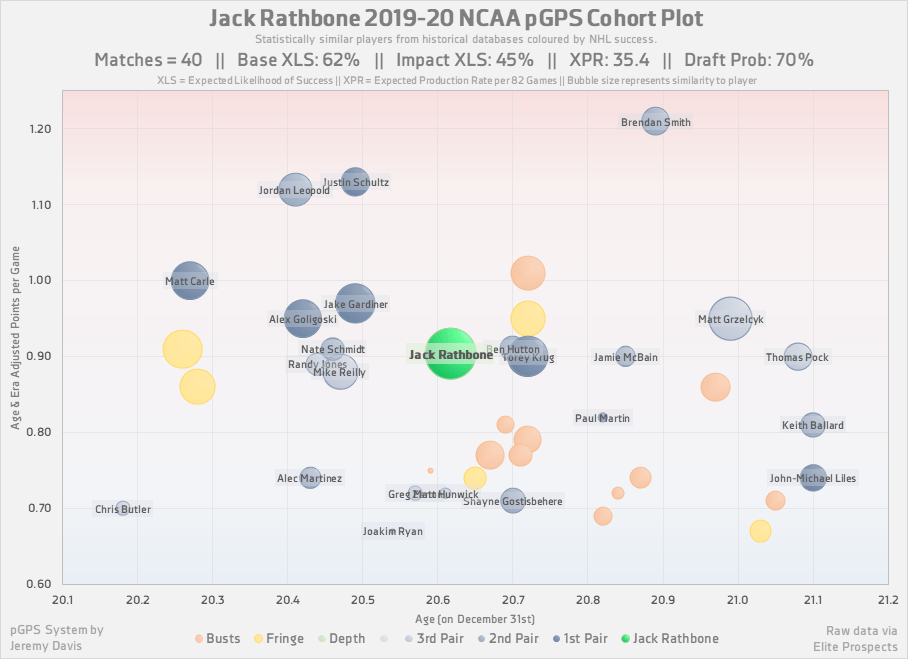 With numbers like those, it's no surprise that Canucks fans are starting to take notice, and with that increased attention come questions about when the Harvard sophomore will sign his entry-level contract. Hell, there are questions about whether he'll sign one with the Canucks period.
"Oh, there's noise," Rathbone said through a smile. "It's hard to miss, especially with a market like that. Even with how far away it is, in terms of being all the way across the country, it's a hockey market that has reach."
"They've been really good in terms of, I've been in contact with a pretty good dialogue with Chris Higgins and Ryan Johnson. Just in terms of what I can do to get better. Right now, I think I'm just trying to not exactly keep blinders on, but you're really trying to win here and trying to do as best as you can because right now we've got a huge second half where we can try and take home some points and hopefully win an ECAC championship and then move on to the NCAA Tournament."
He's always focused on the task at hand, and one has to appreciate that about Rathbone. It's a maturity and perspective uncommon among 20-year-olds. Hell, uncommon among most people period.
Getting a good hockey player is one thing. Getting a good person on top of that? Even better.
You may also be interested in: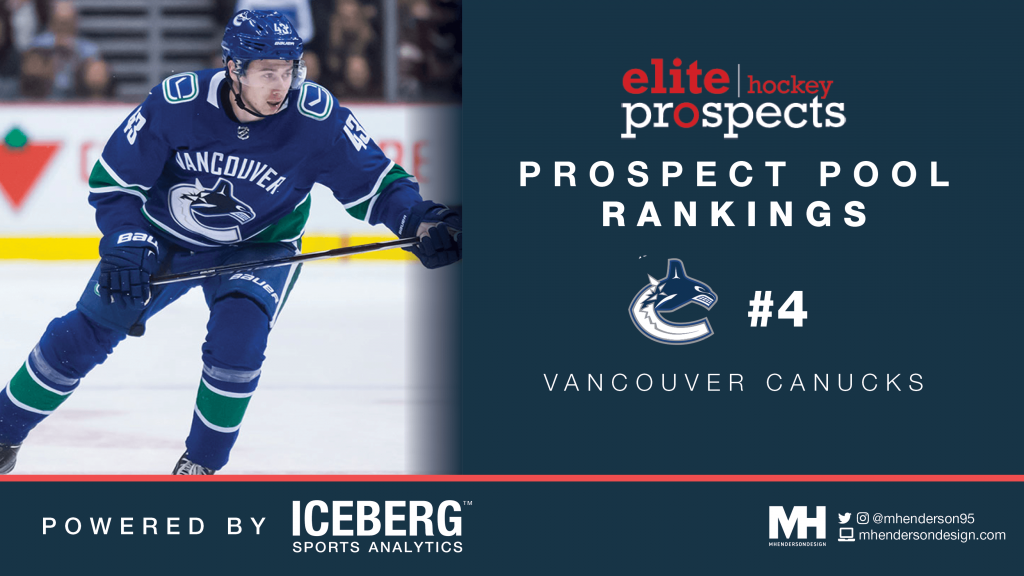 EP Rinkside Prospect Pool Rankings: No. 4 Ranked Vancouver Canucks
This article is about: