AHL
Around the AHL: A Shake-Up in Laval
Bring on the youth movement for the Laval Rocket – and by extension the parent Montreal Canadiens — as the NHL Trade Deadline approaches.
While the Habs continue their own struggles, Laval's own downward turn persists as well.
With as much ice time as possible needed in Laval for first-round picks Jesperi Kotkaniemi and Ryan Poehling, the Canadiens are shaking up their AHL roster. Especially with Kotkaniemi and Poehling there alongside fellow forward prospects Jake Evans and Lukas Vejdemo. Especially with the Rocket fading quickly with all of three wins in the past 16 games (3-9-2-2).
A disastrous five-game road trip concluded this past Sunday afternoon when the Providence Bruins shut down the Rocket, 3-0. Head coach Joel Bouchard made veteran scorers Riley Barber and Phil Varone healthy scratches for the matinee. That loss capped a 0-4-1-0 journey. Barber and Varone returned to the line-up on Wednesday, but the Rocket surrendered a 4-3 lead to the visiting Manitoba Moose with 1:18 to go in regulation and dropped a 5-4 shootout decision. That defeat leaves Laval stranded three points out of a playoff spot in the North Division going into weekend play.
Creating a winning environment at the AHL level has been a persistent struggle for the Canadiens. The organization has missed the Calder Cup Playoffs in seven of the past eight seasons and has not won an AHL playoff round since 2011. Laval finished last in the AHL in 2017-18 and faded again badly last season.
So, Montreal management had made a concerted effort via free-agency to establish a strong veteran base for Laval this past offseason. They brought in Varone, who had played 47 games last season for the Philadelphia Flyers and won the Les Cunningham Award as the AHL's most valuable player in 2017-18. Barber came over from the Washington Capitals organization, where he had spent four seasons with the Hershey Bears and had a 31-goal season in 2018-19.
Those signings did not work.
Barber produced 13-18-31 in 39 contests with Laval and dressed for nine games with the Canadiens. But Varone went 4-10-14 in 27 games for the Rocket and had only one assist in his past six contests. Barber, 26, and the 29-year-old Varone also further aged the Laval line-up that has also featured Karl Alzner, Dale Weise, and Christian Folin among others at different points this season. None of them figure in the Canadiens' long-range plans.
Rather remarkably, the 23-23-5-3 Rocket still only have that three-point gap between them and the fourth-place Toronto Marlies in the North Division playoff race. But much of that work was built on a 9-5-1-0 start to the season. Seventh-place Laval yields games in hand to three teams also trying to lock down that fourth-place spot, including the Marlies.
So the Habs took a first step toward breaking up the Laval roster on Thursday, shipping out both Barber and Varone to the Pittsburgh Penguins for forwards Joseph Blandisi and Jake Lucchini.
Blandisi, 25, has gone 6-8-14 in 26 games for the Wilkes-Barre/Scranton Penguins. He can also serve as an NHL fill-in and had 2-3-5 playing 21 games for Pittsburgh. Lucchini, 24, showed early promise late last season, going 6-1-7 in 15 AHL appearances after turning pro out of Michigan Tech. But he slowed to 7-8-15 in 53 games for Wilkes-Barre/Scranton this season.
The moves clear out two veterans from the Laval dressing room and turn further responsibility over to Canadiens prospects.
Since returning to Laval on February 8th, Poehling does not have a point in five games. Montreal took him 25th overall in the 2017 NHL Draft, and he needs ice time after averaging only 10:20 in 27 games (1-1-2) for Montreal. The 21-year-old is 5-7-12 in 31 games with the Rocket. Kotkaniemi, taken third overall in 2018, has nine assists in his eight games with Laval as a 19-year-old after Montreal sent him down to Laval a week before Poehling. He had 6-2-8 in his 36 games for the Habs.
Vejdemo is a 24-year-old 2015 third-rounder who has 9-9-18 in 41 AHL games this season. However, he has been locked in an ongoing slump with 1-2-3 in his past 14 games. Evans, 23, returned to the Rocket earlier this week from Montreal and has been a rare find for the Habs as a 2014 seventh-rounder; he is 13-23-36 in 49 games for Laval.
For Barber and Varone, the deal sends them to a Wilkes-Barre/Scranton club in need of its own boost. The AHL Pens have lost four of five games, falling four points out of a playoff spot. They face a challenging 3-in-3 weekend that begins at home against Hershey followed by road stops with the Hartford Wolf Pack and Providence. At 2.64 goals per game, Wilkes-Barre/Scranton is 26th in AHL scoring. Wilkes-Barre/Scranton is also without leading scorer Andrew Agozzino and Anthony Angello, who remain on recall with Pittsburgh.
GETTING AN EARLY START
The NHL Trade Deadline is set for this coming Monday at 3 p.m. Eastern. The AHL has a separate roster deadline a week later, giving AHL clubs time to arrange additional moves.
Hartford is attempting to chase down Hershey for first place in the Atlantic Division, and the NHL Trade Deadline already has rocked head coach Kris Knoblauch's roster. First the parent New York Rangers sent rookie defenceman Joey Keane to the Carolina Hurricanes for power forward Julien Gauthier.
Gauthier, whose 26 goals with Charlotte rank third in the AHL, is sticking with the Rangers, but he is a possibility for duty in Hartford down the stretch and into the Calder Cup Playoffs. He was taken by Carolina as the 21st pick in the 2016 NHL Draft and was 26-11-37 in 44 games for the Charlotte Checkers. The 22-year-old is a third-year pro and was part of Charlotte's Calder Cup championship team last season.
Keane, 20, had gone to the AHL All-Star Classic last month as part of a Hartford contingent with Knoblauch and forward Vinni Lettieri. He had 8-22-30 in 49 games for the Wolf Pack, putting him fourth in points by AHL rookie defencemen. However, he found him stuck behind a glut of blueline prospects in the Rangers organization after being taken as a 2018 third-round pick.
Carolina assigned Keane to the Checkers, who hold a four-point edge on the Springfield Thunderbirds for fourth place in the Atlantic Division. They start a six-game road trip with a pair of games at the Binghamton Devils this weekend.
With Igor Shesterkin continuing to excel in New York, the Rangers next brought in goaltending help for Hartford. New York acquired veteran netminder Jean-François Bérubé from Philadelphia for future considerations. To make room for Bérubé with the Wolf Pack, Hartford sent back-up Thomas McCollum and spare forward Lewis Zerter-Gossage to Philadelphia's AHL affiliate, the Lehigh Valley Phantoms.
Bérubé, 28, helped the Phantoms to an 8-5 road win against the Bridgeport Sound Tigers on Wednesday night, just hours before the trade. An offseason signing from the Columbus Blue Jackets organization, he divided time in Lehigh Valley with Alex Lyon and posted a 12-11-14 | 2.56 | .906 line in 29 games. He won a Calder Cup in the Los Angeles Kings organization in 2015. Lehigh Valley sent McCollum and Zerter-Gossage to their ECHL affiliate, the Reading Royals.
Hartford sits two points behind Hershey for the Atlantic Division lead and holds a pair of games in hand on the Bears. The Wolf Pack have missed the postseason four consecutive seasons.
ON THE MOVE
Heading to the Phantoms on a conditioning assignment is Flyers defenceman Shayne Gostisbehere, who is recovering from knee surgery last month. He has 5-7-12 in 41 games for the Flyers and will return to the AHL for the first time since the 2015-16 season. The Phantoms start their weekend on the road against the Rochester Americans on Friday night.
The Bérubé trade opens an AHL spot for Flyers goaltending prospect Kirill Ustimenko, who will join the Phantoms from Reading. The 21-year-old Belarusian is a 2017 third-round pick by Philadelphia who has spent most of the season in the ECHL after three campaigns in the MHL. In 31 games for Reading, he is 19-4-5 | 2.40 | .919. He also logged one game with the Phantoms, a 38-save win at Wilkes-Barre/Scranton on February 8th.
The Syracuse Crunch added significant speed Thursday. Tampa Bay Lightning general manager Julien BriseBois swung a deal with the cross-state rival Florida Panthers, bringing in AHL forward Anthony Greco for forward Danick Martel. Greco's season has been interrupted by injury, but he had 10-19-29 in 37 games for Springfield. Last season he put up a 30-goal season as well. Greco, 26, can fly. Last season at the AHL All-Star Skills Competition, he set an AHL fastest-skater record with a 13.251 performance. As a comparison, Mathew Barzal won this season's NHL fastest-skater competition with 13.175; Connor McDavid was 13.215. Syracuse has fallen well short of expectations this season but is only one point out of playoff spot. The 25-year-old Martel landed back in the AHL after a season in Tampa Bay and had 16-14-30 in 52 outings with the Crunch.
In the North Division, the Marlies and Eastern Conference-leading Belleville Senators could be first-round opponents. That did not stop them from swapping forwards in a pair of deals Wednesday, however. In an NHL trade, the Ottawa Senators sent forward Max Veronneau to the Toronto Maple Leafs for forward Aaron Luchuk. The 24-year-old Veronneau put up 5-5-10 in 33 games with Belleville to go with four games for Ottawa. The deal brings Luchuk, 22, back to Belleville, where he played last season. He 19-31-50 in 45 games for the Leafs' ECHL affiliate, the Newfoundland Growlers. Then in an AHL deal, Belleville brought back bruising veteran forward Darren Archibald from the Marlies for defenceman Trent Bourque. Archibald, 30, did not pan out with the Marlies after signing with the organization in the offseason. He had 5-7-12 in 34 games. Last season between Belleville and the Utica Comets, he hit 19-14-33 in 51 regular-season appearances. Bourque spent most of this season with the Brampton Beast, Ottawa's ECHL affiliate.
The Leafs-Florida Panthers trade involving Denis Malgin also brought in more help for the Thunderbirds, who gained Marlies forward Mason Marchment in the exchange. The 24-year-old Marchment had 13-5-18 in 24 outings with the Marlies.
A NEW BOSS
The AHL will have a new boss next season when long-time NHL executive Scott Howson takes over for president and CEO Dave Andrews.
Howson is set to become the AHL's 10th president on July 1st when Andrews leaves the post after 26 seasons. Andrews will remain as the chairman of the AHL's board of governors.
Howson has previous AHL experience from his tenure with the Edmonton Oilers organization. He also was general manager of Columbus for six seasons and is back with Edmonton as director of player development.
WITH HONOURS
Springfield forward Dryden Hunt won the CCM/AHL Player of the Week award for a strong weekend.
Hunt was 3-2-5 in a pair of helping the Thunderbirds to sweep a two-game set at Charlotte. He is 13-16-29 in 35 games with the T-birds and was recalled by Florida on Thursday.
AROUND THE A
Belleville has built an eight-point lead on Rochester for the North Division lead. The B-Sens are also only four points behind the AHL-leading Milwaukee Admirals.
Iowa Wild forward Gerry Mayhew continues to chase a 50-goal season. A hat trick last week moved him to 39 goals, and he is 39-20-59 in 46 games. Teammate Sam Anas is one point ahead for the AHL scoring lead. Hershey's Alex Giroux was the last AHL player to notch at least 50 goals, doing so back in 2009-10.
Iowa has inched to within five points of Milwaukee after taking a 3-2 road decision from the Admirals on Wednesday night. The Wild have back-to-back road games against the Texas Stars this weekend; Milwaukee will host the Chicago Wolves and Rockford IceHogs.
This weekend the San Antonio Rampage will knock off three more games from their 10-game road trip. The Rampage have gone 3-2-1-0 so far and are up to sixth in the Central Division, five points out of a playoff spot. This is the final season for the St. Louis Blues in San Antonio as the franchise will relocate to Las Vegas next season and act as the Vegas Golden Knights' AHL affiliate.
The Pacific Division race continues to tighten. One point behind the division-leading Tucson Roadrunners are the Stockton Heat. The San Diego Gulls are within two points of the fourth-place Ontario Reign even though the Los Angeles Kings affiliate is on a 9-1-0-0 run. Fading quickly are the Bakersfield Condors, who have lost defenceman Evan Bouchard to the Oilers and are now 11 points out of a playoff spot.
Next season the AHL will go back outside again for the first time since January 2018. Utica will host Syracuse on the site of what was once the Griffiss Air Force Base in Rome, N.Y. on February 13, 2021. Seating for 16,000 fans is planned for the event, the 11th outdoor game in AHL history. Hershey hosted the most recent event in January 2018.
You may also be interested in: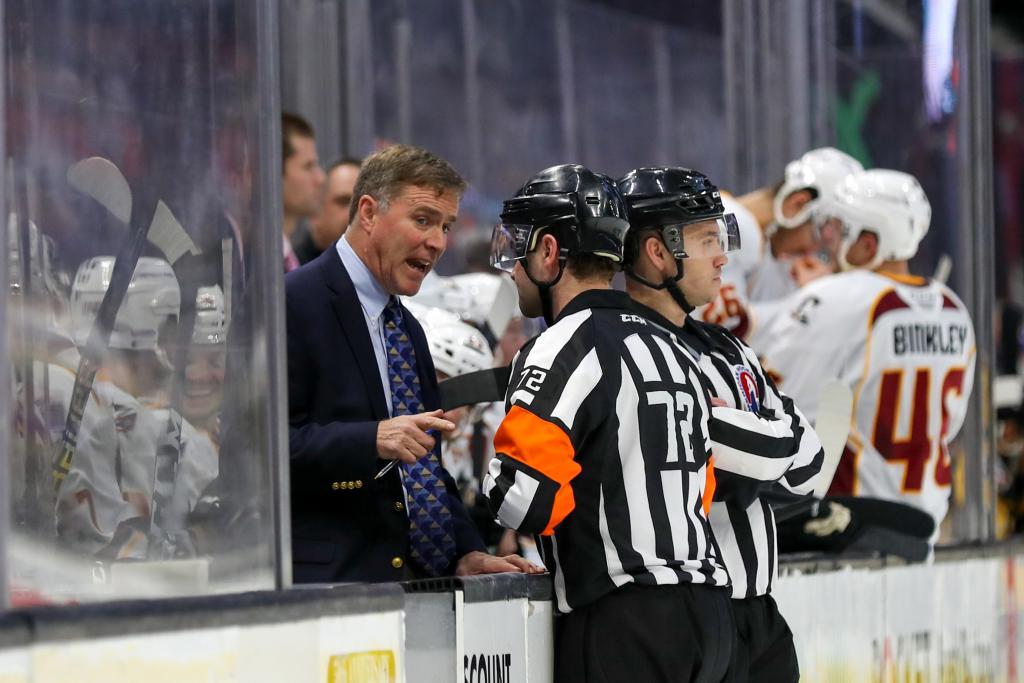 Around the AHL: Eaves Back After A 26-Year Absence
This article is about: