NHL
Rookie Watch: Thursday, January 14, 2021
After a solid showing from the first group of rookies on Opening Night, Thursday gives hockey another epic night of NHL debuts.
As we mentioned on Wednesday, Rookie Watch is a new regular feature on EliteProspects Rinkside where we features our staff's scouting expertise. Here is what to expect from tonight's talented rookies.
---
Yegor Sharangovich fills in on Devils' top line
It didn't come as a surprise to Rachel Doerrie, who has NHL front office experience, that New Jersey is giving Yegor Sharangovich his debut on the top line tonight. Especially because the Devils are missing some key forwards.

"When he was drafted as an over-ager in 2018, he didn't stand out much at development camp.

"His size was always very noticeable and he was strong on pucks. The attractive qualities were that he read the play well and was someone that was dependable at both ends of the ice. In other words, he wouldn't provide offence, but he was good defensively - which we saw in AHL last year.

"Once COVID hit his team in KHL this year, his role was greatly expanded and he was thrust into a much more offensive role. His skating has come a LOOOOONG way, and his shot has noticeably improved. Once he started to trust himself and gain some confidence in the KHL, the offence really started to click.

"The other thing was his work with Mikhail Grabovski - another Belarusian. You could tell that he was more engaged, winning puck battles, and didn't disappear. When you combine his skating, shot development, with a more consistent motor, and the physical gifts or size and hockey brain, his development curve was steep.

"He's on the top line because he can read off Hughes and win puck battles, and New Jersey needs some offence in the absence of Nico Hischier and Jesper Bratt. Once those guys come back, he may find himself battling for a spot.

"In the long run, I think he's a guy who can be a contributing third line player, who can be trusted with tough matchups."

Ty Smith also making Devils debut
Ty Smith wasn't a lock for his draft spot in 2018. The first-round, 17th overall pick by New Jersey had the front office overjoyed when he was still available.

He's seen as the future cornerstone of the defence in New Jersey and the Devils believe he is their future power play quarterback, breakout extraordinaire and leader on the backend.

He fits well with what the Devils are trying to build and while his role this year will be sheltered, expect him to move up to a top-four role in the next year. It is likely that if he is who the Devils believe he is, that one or both of Will Butcher and Damon Severson could be traded (likely Butcher).

"It's obviously something I've been working towards for a while now. Hopefully I can keep working and keep getting better to try my best to stay here."

Ty Smith on making his NHL debut tomorrow night. pic.twitter.com/ForVq86gur

— New Jersey Devils (@NJDevils) January 13, 2021
No. 1 overall draft pick Lafrenière ready to shine
The only way someone hasn't heard the name Alexis Lafrenière is if they don't pay attention to anything hockey related. He was the projected first pick of the 2020 NHL Draft and the Rangers took him without hesitation.

This is what EliteProspects said about him in the draft preview.

"As a puck-carrier, Lafrenière is a master at bending the defensive front and driving the puck through openings. He always maintains the same grip on his stick, forcing the opposition to guess if he's thinking shot or pass. Similarly, Lafrenière doesn't need to choose between pace or patience when determining his plans of attack; he can serve both masters at once."
Take it in. pic.twitter.com/yC6h7l7rS4

— New York Rangers (@NYRangers) January 14, 2021
Rangers also debuting rookie K'Andre Miller
After two years at the University of Wisconsin and several years in the United State National Team program, K'Andre Miller will be wearing a different shade of red, white and blue on Thursday.

This is how J.D. Burke, our Editor-in-Chief described Miller.

"Everything looks so effortless for Miller when the puck is on his stick. He comfortably settles into each deep stride, with ample three-point flexion through his ankles, knees, and hips. There's a heady component to the ease with which Miller navigates through the defensive and neutral zones too. Miller does a great job of pulling the first fore-checker low into the defensive third with manipulative posturing, only to explode right past them unscathed for a controlled breakout with speed."

Dylan Cozens projected to debut on third line in Buffalo
Dylan Cozens took the hockey world by storm during the recent World Junior Championships. He stood out so much that it is hard to find someone who doesn't know his name even if they only watched a second of the tournament.

Mitch Brown, EP's Director of North American Scouting, had this to say about Cozens.

"Building off an impressive draft-plus-one season where his game diversified significantly, Dylan Cozens was Canada's top player at the World Juniors.

"Cozens' best assets remain his scoring instincts and defensive ability, but now, he's an NHL-calibre playmaker and transition threat. His speed will back off NHL defenders from Game No. 1, and now that he's starting to change pace, he's regularly connecting with teammates moving into scoring position.

"Cozens' non-stop motor, constant scanning, and attention to detail should endear him to Buffalo's coaching staff immediately. He links together offensive and defensive better than all but a few prospects in the sport, scanning as he enters puck battles and retrievals to identify an escape route of teammate positioned in the slot.

"He's probably not a top-six forward right away, but he's not too far off from that projection."

Undrafted Mathias Bomé set for Opening Night in Detroit
Detroit hasn't had much luck with undrafted Europeans free agents in years past and is hoping Mathias Bromé bucks that trend.

This is what our Director of European Scouting Christoffer Hedlund said about Bromé.

"A 26-year-old winger who has worked his way up from HockeyAllsvenskan (tier 2) to the NHL in the last five years. He has taken major steps in his development every single year and was one of the SHL's best (and most entertaining) players last year.

"He also had his big breakthrough with the Swedish National Team. He is a highly competitive player who has a good motor, always gives full effort and hates to lose.

"He is a strong puck handler who can make nifty moves and his creativity shows in both his stick handling and passing game. Has a decent wrist shot and is diverse in the way he can finish of a play (pass and shoot). He is dangerous on the rush and likes to use his skating to challenge opponents."

Cole Smith to make surprising NHL debut in Nashville
Cole Smith played five games for the Florida Everblades of the ECHL before being invited to the Predators' big league camp.

He was a four-year player at North Dakota after starting his collegiate career as a healthy scratch for five consecutive games.

As far as our expertise goes for Cole Smith, there isn't much. He is a big body that adds size to a relatively small Nashville Predators roster.

Kirill Kaprizov ready to step up for Minnesota
The Minnesota Wild cannot wait for Kirill Kaprizov to team up Kevin Fiala for high-scoring offensive duo.

According to our QMJHL scout David St-Louis, Kaprizov is a set-up artist with above-average playmaking abilities.

"Kaprizov doesn't force plays, makes accurate and skillful passes, and finds ways around closing lanes by hooking or backhanding pucks after attracting defenders on himself. But the term setup artist has a broader meaning for him. He simply excels at preparing plays both for himself and his teammates due to his ability to manage space.

"And it rarely feels as if he's locked into any one option in particular. Kaprizov takes the best play every time. If defenders cover passing lanes, then he fakes the pass and fires at the net with a rapid twist of his body. If they jump on the puck, he pulls it back and reaches open teammates in the slot."

From UMASS to San Jose, John Leonard ready for NHL debut
Many thought John Leonard was going to begin the year in the AHL but he will be on the second line for the Sharks on Opening Night.

Mitch Brown drew the assignment for last's NCAA leading goal scorer.

"He's unlikely to become a high-end finisher in the NHL because of inconsistent inside play and lack of off-puck timing around the slot, but shows off enough skill to become a third or fourth-liner in the NHL. His favourite shooting tricks are angle-changing wristers and setting up defenders to be used as screens.

"He's a defensive asset, proactively helping down low in the defensive zone, funneling plays up and away from the slot, and leveraging his skating to win retrievals.

"Despite showing passing skill through deception and slip pass use, Leonard's an inconsistent playmaker who doesn't consistently identify teammates in superior positioning than himself. He solves problems by dropping his head and firing low-percentage shots. He showed better playmaking ability in 2018-19 -- perhaps his new-found scoring touch temporarily hurt his decision-making."

Nicolas Meloche earns NHL debut with San Jose
After spending last season in the AHL with the San Jose Barracuda, the Sharks have rewarded Nicolas Meloche in a big way.
Meloche wasn't likely going to see any NHL minutes with Colorado, the team that drafted him, so he re-signed with San Jose.

This is what EP Rinkside wrote about Meloche while he was an Avalanche prospect,

"He was given very little room to succeed with the minor league program in Southeast Texas, and it made for a disappointing rookie campaign after being touted as one of the most versatile young defenders in the QMJHL."

You may also be interested in: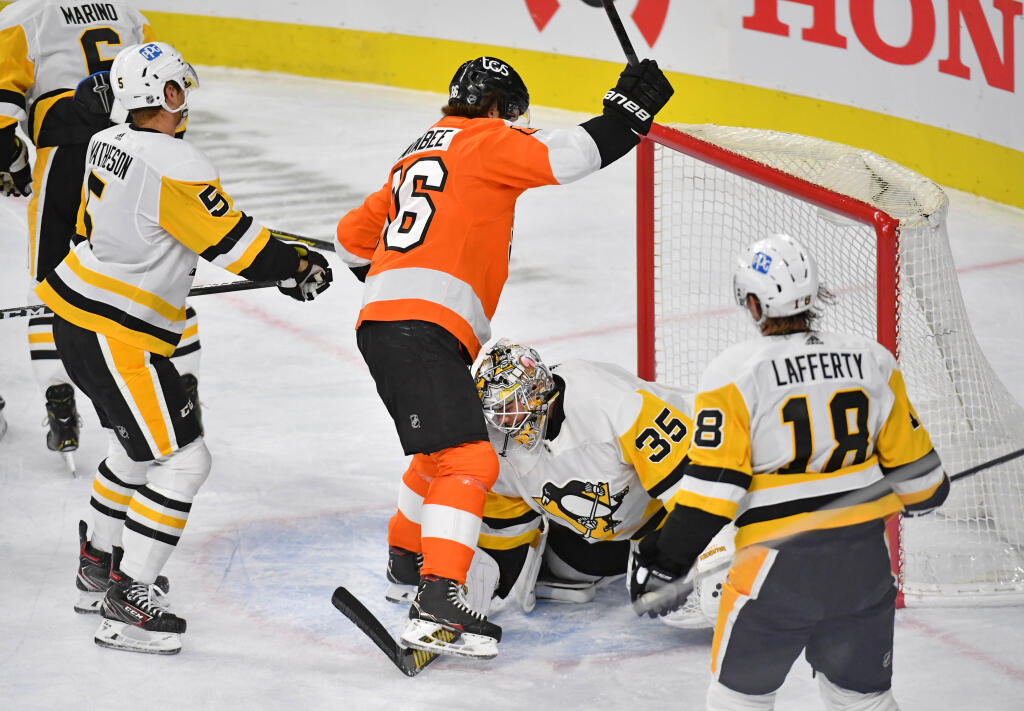 Rinkside's NHL 3 Stars: Joel Farabee's 4-point night leads the way
This article is about: