NHL
Rinkside's NHL 3 Stars: Colorado Avalanche lead the way in blowout win over St. Louis Blues
Friday night began with Gritty, the Philadelphia Flyers' mascot, dressed as a mouse and attempting to be a Broadway performer. The Flyers took off from there and the beloved orange fellow tossed a Gritty-sized hat onto the ice to celebrate Travis Konecny's hat trick.
The night ended with Jakub Voracek going off on The Philadelphia Inquirer's Mike Sielski.

truly losing it at Konecny doing his best to hold it together. pic.twitter.com/uePOzxxvJ3

— Brad Keffer (@brad_keffer) January 16, 2021
---
First star
The Colorado Avalanche
The entire Colorado Avalanche bench earned first star recognition for absolutely demolishing the St. Louis Blues in an 8-0 win.

After a scoreless first period, the Avalanche scored five power play goals and three even strength goals en route to victory.

Philipp Grubauer stopped all 21 shots he faced in his 12th career shutout and he recorded an assist.
Gabriel Landeskog scored twice and reached 200 goals for his career while Mikko Rantanen notched his 100th career goal.

Nathan MacKinnon had one goal and two assists, Cale Makar had three assists and six other Avs provided multi-point efforts.

"We were motivated to come back and make a statement today."#GoAvsGo pic.twitter.com/lEFbqmRhTD

— Colorado Avalanche (@Avalanche) January 16, 2021
Second star
Travis Konecny, C, Philadelphia Flyer
Travis Konecny scored the first hat trick of his career and helped the Flyers sweep Pittsburgh in their season-opening, two-game series.

The 23-year-old's three goals were much needed. He led the team in goals last season and was held scoreless in 16 playoff games.

Konecny scored the first two goals of the contest and added his third to give Philadelphia a 4-2 lead. He also added an assist for a four-point night.

GRIP IT AND RIP IT 🎩🎩🎩 pic.twitter.com/yh4wdlaGdr

— Gritty (@GrittyNHL) January 16, 2021
Third star
Vitek Vanecek, G, Washington Capitals
After five years in minor league hockey, Vitek Vanecek made his NHL debut in Washington's 2-1 win over Buffalo.

Vanecek spent the last four years with the Hershey Bears in the AHL and was with the ECHL's South Carolina Stingrays for most of the 2015-16 season.

The rookie stopped 30 of 31 shots and stood strong when Buffalo had three power plays in the first period.

🥧 @vitacz15 pic.twitter.com/YBaBQJjPMY

— Washington Capitals (@Capitals) January 16, 2021
---
Dishonourable mention
Collin Delia, G, Chicago Blackhawks
Collin Delia didn't have a terrible showing against the Tampa Bay Lightning but the first goal scored by Ondrej Palat didn't do him any favours.

Delia went to play the puck behind his net, there was some miscommunication, an off-balanced (but graceful fall) and the Lightning took full advantage of it.

Ondrej Palat wasn't going to miss this one. 🎁#NHLonSN | #ItsOn pic.twitter.com/7aaT8GacmI

— Sportsnet (@Sportsnet) January 16, 2021
You may also be interested in: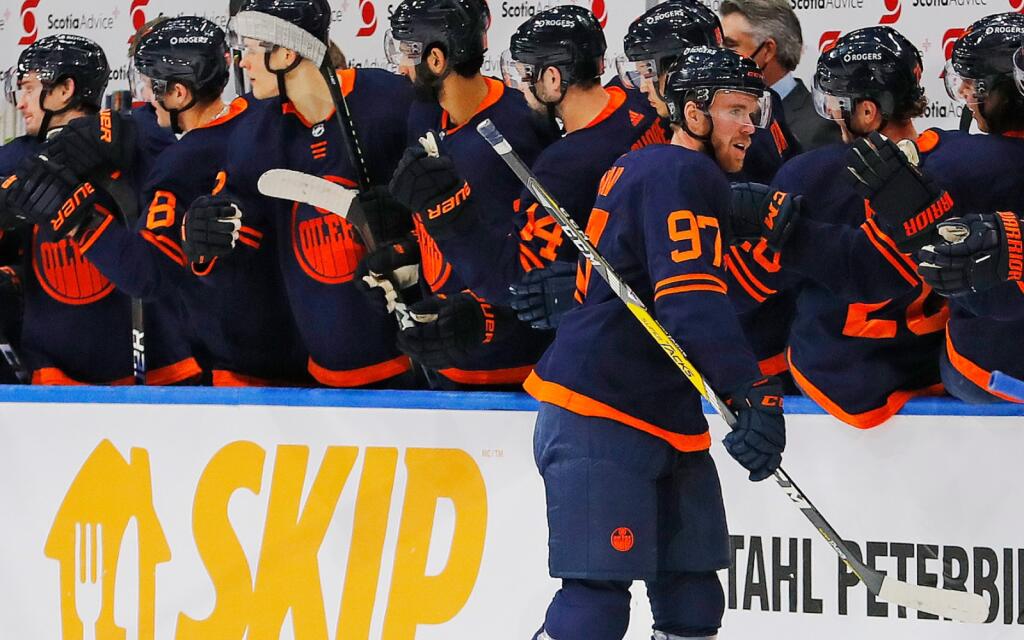 Rinkside's NHL 3 Stars: Connor McDavid's hat trick highlights the night
This article is about: