NHL Rookies
Rookie Watch: Monday, January 18, 2021
There are few things more valuable to an NHL lineup in a hard-capped environment than entry-level contributors sprinkled throughout the lineup.
The NHL Entry Draft has long proved itself as the primary mechanism for making this happen, but it's hardly the only one. NCAA free agency has a long, rich history of providing entry-level contributors to the NHL for an investment of naught but for the cost of the contract itself.
In the last decade-plus, European free agency has elevated the medium to new heights. The Chicago Blackhawks unearthed that raw, uncut product when they plucked a 23-year-old Artemi Panarin from the KHL's SKA St. Petersburg ahead of a 2015-16 season that he capped off with the Calder Trophy as the NHL's best rookie.
The range of outcomes is such that for every Panarin or Yevgeni Dadonov there are at least three or four or five or six players that cling to the fringes of the league for a handful of seasons before they've either long outlasted their utility or fallen to the wayside entirely. Nikita Zaitsev, Oscar Fantenberg, Jori Lehterä, and so on. The likes of Ilya Mikheyev and Joonas Donskoi stick out as the platonic ideals operating in that squishy middle ground.
Today, a pair of European free agents make their NHL debuts on opposite ends of the hockey world. So too does a first-round pick from the 2016 NHL Draft. This is today's Rookie Watch.
---
Mikko Lehtonen to make much-anticipated NHL debut for the Toronto Maple Leafs
One couldn't help but channel Breaking Bad's Jesse Pinkman, screaming through tears at the injustice of Walter White that, "he can't keep getting away with this." That was the mood when the Toronto Maple Leafs swooped in and snagged Lehtonen from the KHL's Jokerit with a one-year entry-level contract.
Sheldon Keefe on Mikko Lehtonen: "We wanted to give him last week to give him a chance to watch the games and be in more meetings and get a better feel for things. Here now, we don't want too much time to elapse before he gets in a game."

— Kristen Shilton (@kristen_shilton) January 18, 2021
The only surprise when it came to Lehtonen's entry-level deal was that it took so long for him to sign an NHL contract in the first place. EliteProspects' Finnish regional scout, Lassi Alanen, has long been in Lehtonen's corner, lining our database with glowing reports, each making the case more clear for his value as a plug-and-play top-four defender at the NHL level.
This is what Alanen had to say of Lehtonen's game ahead of his debut tonight against the Winnipeg Jets:
"Lehtonen was the best defenceman outside of the NHL last season, for my money. He's someone who contributed in all three zones and I don't see a reason why he couldn't do the same in the NHL, albeit to a lesser extent.
"He's got a powerful shot from the point that he also uses the create passing opportunities for himself, which makes him a good candidate for a spot on the second PP. He's got the skating skills to jump on rushes and make passes in-stride in transition, which should also translate relatively well. While he's primarily an offensive puck-mover, his defensive game has developed throughout the years and I'm confident that it's at a sufficient level right now, even though there's room for improvement. I think there's legitimate top-4 upside in Lehtonen and he's definitely at the peak of his abilities right now."
[Read more: Ranking the NHL's Best Prospects, Skaters 75-51]
Fredrik Händemark to join the San Jose Sharks in depth role
The Sharks' posture as an annual contender for the better part of a decade-plus often came at the expense of what little draft capital or prospects were at their disposal. They've had to get creative to work around that, and it doesn't get much more creative than scouring the SHL for NHL help. To wit, Händemark is joining the Sharks for his NHL debut tonight.
Projecting a season debut for Radim Simek and an NHL debut for Fredrik Handemark tonight 👏 pic.twitter.com/UFRpWrcMWJ

— San Jose Sharks (@SanJoseSharks) January 18, 2021
One has to imagine that Brinson Pasichnuk, a defenceman they signed out of Arizona State Univ. in NCAA free agency last spring, isn't far behind.
Let's stick with Händemark for now, though. He profiles as a hard-working grinder; someone built for precisely the role that the Sharks envision him playing.
Christoffer Hedlund, our Dir. of European Scouting, is based out of Sweden, and as such has a wealth of familiarity with Händemark's game. Here's what he had to say of the former Malmö Redhawks winger:
"Händemark is a big, strong two-way center, one that has steadily developed with the IF Malmö Redhawks in the SHL. He came there as a quick loan solution from IK Pantern in the HockeyAllsvenskan in the middle of the 2015-16 season, and has since become Malmö's captain and the backbone of that roster. Händemark has also been a recurring player with the Swedish national team, and he enjoyed his breakthrough at that level last season.
"He is not the typical skilled guy, but he plays with attitude, does the dirty work and creates a ton of space for his teammates. He brings leadership, ambition and competitiveness more than anything else. Solid net-front presence, good at redirecting shots and jumping onto rebounds. He has been one of the best face-off guys in the SHL as well. Has all the tools to become a solid bottom-six guy, aside from his skating, which doesn't rate especially well."

[Read more: 8 SHL free agents of NHL interest]
Logan Stanley is very tall, set to make long-awaited NHL debut for the Winnipeg Jets
This day was bound to come eventually, so why not now? Logan Stanley, the Jets first-round pick, 18th overall in the 2016 draft -- a player they traded up for, no less --, is set to finally make his NHL debut for the Winnipeg Jets.
When we last checked in on the Jets prospect pool about a month ago, Stanley wasn't even in consideration for one of the 15 spots up for grabs.
🎥 Logan Stanley speaks with the media ahead of making his NHL debut in tonight's game against the Maple Leafs in his home province. pic.twitter.com/Srf7Eb8sd5

— Winnipeg Jets (@NHLJets) January 18, 2021
Whether there's any indication that Stanley is ready to play NHL hockey or not — the AHL tape I've gleaned over the last handful of seasons doesn't really offer an answer in the affirmative... — that's precisely what's happening. You take the sunk-cost of a first-round pick spent in the 2016 draft and combine it with the 6-foot-7 frame at Stanley's disposal, and that's just a given. If one is a shorter skater, they must prove that they can play over and over again, and the inverse is true of taller players, who have to prove they can't, and sometimes, even that isn't enough.
There really just isn't anything there. Stanley can't move the puck particularly well, and he's only a decent skater relative to his size. You're not going to get much from Stanley offensively either, aside from the occasional low percentage point-shot, and his stagnant offensive outputs in the AHL stand as a testament to that. The data our partners at InStat provided us show him only winning about 56 percent of the puck battles at 5-on-5 in the AHL last season, so don't expect an overwhelming physical presence. This will hardly surprise anyone, but the Manitoba Moose were out-attempted by a margin of about five shot attempts per hour at even strength with Stanley on the ice.
Maybe there's something that isn't showing in the tape or in the data. Stanley would hardly be the first outlier case to find success at the NHL level. I'd just rate those chances about as high as I would Dustin Byfuglien returning to the organization.
---

You may also be interested in: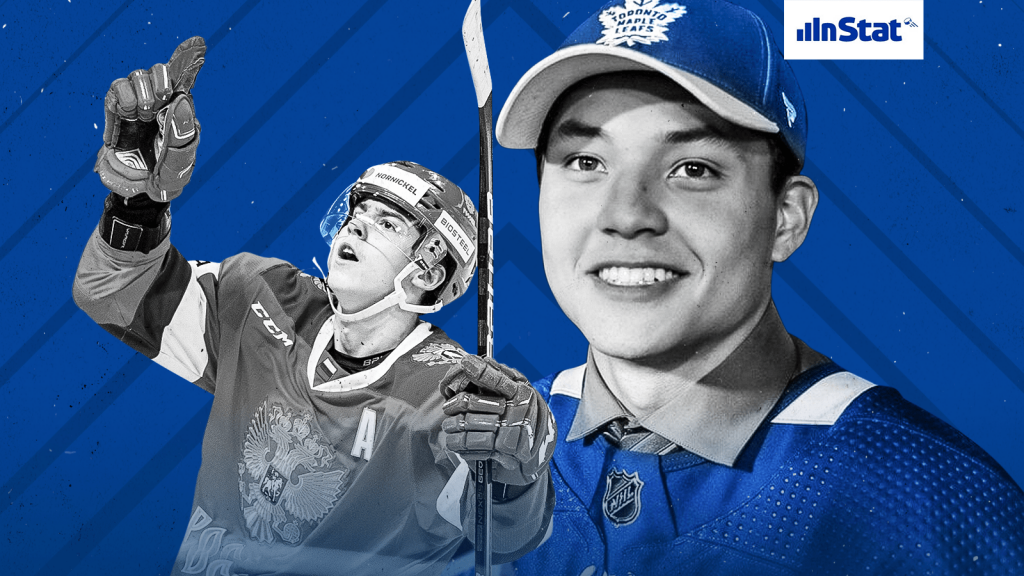 The EliteProspects Rinkside 2020-21 Off-Season Prospect Pool Rankings: the No. 10-ranked Toronto Maple Leafs
This article is about: