NHL
Seller beware if the St. Louis Blues really are shopping Vince Dunn
It appears as though Vince Dunn's time with the St. Louis Blues might be coming to a close.
According to TSN's Frank Seravalli, the St. Louis Blues have discussed potential Dunn trades with other teams. The report comes after an off-season contract standoff that ended just five days before training camp, a healthy scratch, and a public callout from his head coach, Craig Berube.
The callout and scratch weren't completely unwarranted. Dunn hasn't played like himself, letting mistakes compound while hesitating to join the rush, negating one of his signature skills.
Dunn's profile suggests there's a lot more going on there than should be hidden on the Blues' bottom-pair. He finished in the top-15 among defenders last season, according to Evolving-Hockey's GAR (Goals Above Replacement) model, a holistic measure of a player's impact through even-strength offence, defence, special teams, and penalties taken and drawn.
The film reveals Dunn's quality as a top-four defenceman with transition value, albeit a flawed one that requires some insulation.
Dunn creates the majority of his value in transition, mainly how he breaks the puck out, activates into the play, and stops rushes. His event data, tracking by Corey Sznajder, suggests he's one of the strongest players in the league in transition, landing in 79th percentile and up in Controlled Entry Percentage, Controlled Exit Percentage, and Controlled Entry Against Percentage.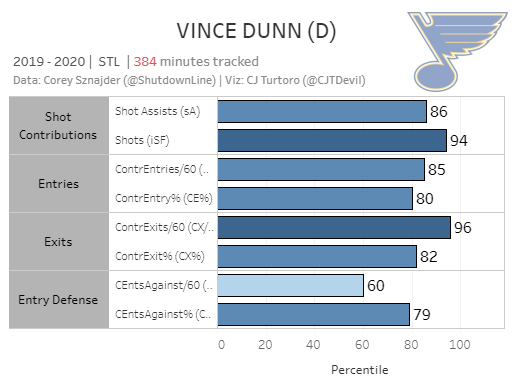 Since Dunn's transition success is based on out-smarting and manipulating the opposition, his transition game should scale up into a larger role. He's always scanning to identify options before touching the puck. Then, he moves through the pass reception and hits his target without breaking his stride or crossovers. By staying in motion, he's both increasing his success rate and positioning him to accelerate into the rush and become an option.
Even under pressure, Dunn makes these little short-range passes to kickstart the offence, sometimes on the backhand, too.
When Dunn's at his best in transition, he's beating the F1. Sure, it leads to the odd turnover, but he's so effective at freezing or manipulating their feet by skating at them and using eye deception before going the other direction. Then, he cuts off their recovery route or immediately passes. He has a gravitational pull, sucking in forecheckers to create space up the ice for his teammates.
Not to be undersold is Dunn's ability to join the rush. It's not mindless. He actively identifies the best seam – whether that's trailing as the fourth option or flying up the weak-side to become a primary one.

The always-in-motion mentality translates to the offensive zone, where Dunn accelerates before receiving the pass to beat the defender to the space he identified before touching the puck. As a result, he consistently turns low-percentage point shots into higher-quality looks at the top of the slot. Sometimes, that skill allows him to activate off the point and work a give-and-go for a high-quality look around the net-front. It's reflected in his 5-on-5 Expected Goals per 60, tied for ninth among all NHL defencemen last season with 0.29. That rate is comparable or superior to Adam Fox, Miro Heiskanen, Cale Makar, Kris Letang, John Carlson, and Brent Burns – not bad company.
It's the defensive zone where Dunn's game is at its worst, but it's hardly a weakness. Dunn has some flaws, starting with his pivoting. He's a left-shot defender who primarily plays the left side, but his leftward pivots result in a dramatic loss of speed – once he's beat, he can't recover. When he knows he has more distance to makeup, he pivots towards the right, temporarily turning his back to the play.

The tools and skills players have directly impacts their decisions; Dunn is no different. His pivoting causes him to frequently defend off-puck gaps through the neutral zone too passively (so he can get back for the retrieval). After conceding the zone, he brings "don't over-extend" to a whole new level by barely getting his stick-in-and-around the puck carrier, even when a simple poke-check would break up the play with little risk. More frequent shoulder-checking when defending around the net would help him better identify threats, as he tends to be a bit reactive at times.
However, that one-and-done nature of rush defence isn't a significant issue because of his solid rush defence with defending the puck carrier. He's so patient, slowly angling out the attack with a middle-protecting stick and backwards momentum without committing too early. Physicality allows him to erase plays along the boards, and he timed his checks with the incoming pass, attacking at the point of least resistance.
Statistically, Dunn's a far-and-away net-positive defensively, landing in the 77th percentile in Evolving-Hockey's Even-Strength Defensive Impact in the past three seasons. That mark has steadily improved, from the 38th percentile in his rookie season, to 60th in 18-19, to 84th in 19-20.
Dunn's transition skill directly translates to defensive impact, whereby his skill turning retrievals into clean transitions decreases opportunities for the opposition. His rush activation habits bleed into his in-zone defence positioning, rarely standing around defending nothing as he looks to position himself to fly up the ice as soon as possible.
---
It seems likely that Dunn easily slides into a top-four role and maintains his high level of play. As mentioned, the manipulative transition passing, rush activation, and rush defence should scale up against better competition. Statistically, there's enough evidence to suggest that it already has. The Dunn-Alex Pietrangelo pairing controlled 62 percent of shots and 61 percent of expected goals, marking significant upticks for both players via NaturalStatTrick.
Barring a significant and unexpected surge, trading Dunn probably won't be a franchise-defining trade. But trading a defenceman who posts above-average results in a top-four role in the best-case scenario, and crushes bottom-pairing minutes at the worst case, doesn't seem particularly smart – especially he's still RFA at end of his current one-year, $1.875-million deal.
Of course, there are two important factors that St. Louis must consider: the upcoming expansion draft and the cap. Even if St. Louis opts to protect seven forwards and three defencemen option, is it worth protecting Justin Faulk or Marco Scandella over him?
Perhaps the far more difficult will come with contracts, with around 22 million in cap space after Jaden Schwartz, Jordan Binnington, Tyler Bozak, Mike Hoffman, Carl Gunnarsson, Robert Thomas, Jordan Kyrou, and Dunn come off the books. It'll be tight, but, again, it seems entirely doable.
The price for Dunn's reportedly a first-round pick. If I'm a playoff-bound team, this seems like a lay-up. He's cheap, clearly demolishes lesser competition, and has the skill set to play higher in the line-up. For most players in the latter half of the first round in the 2021 NHL Draft, their best outcome is comparable to Dunn presently.
The choice seems obvious. For a contending team, Dunn's likely a cheap, effective pickup. For St. Louis, maybe this is a jolt he needs to return to last season's form. Either way, he's a player to watch.
You may also be interested in: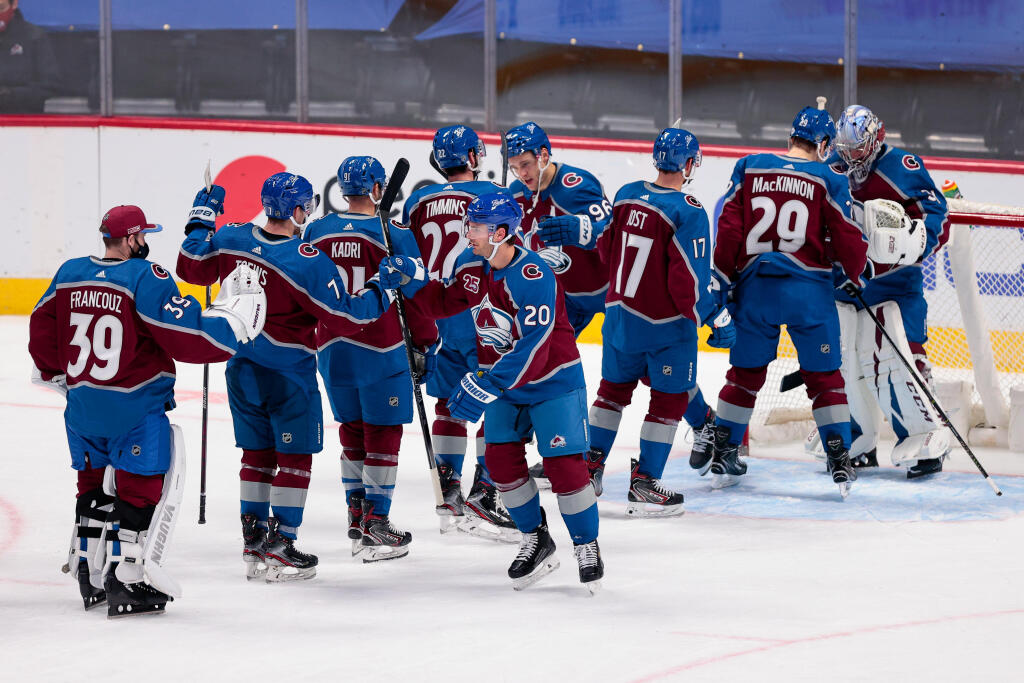 Rinkside's NHL 3 Stars: Colorado Avalanche lead the way in blowout win over St. Louis Blues
This article is about: