NHL
What we Learned: It's the Connor McDavid-Leon Draisaitl Show yet again in Edmonton
Despite beating the Maple Leafs on Saturday night, and then getting a bigger than expected challenge from Ottawa the following night, it's hard to ignore a nagging feeling of McDeja Vu.
This is a take you could have had two years ago, and it's a take you could have had last season: Even after a summer in which Ken Holland really tried to beef up his team's depth, we are back to one unfortunate truth. If Connor McDavid and Leon Draisaitl aren't putting the puck in the net or helping one of several thoroughly average wingers do so, the Edmonton Oilers just aren't scoring.
Through 11 games, McDavid has been on the ice for 25 Edmonton goals, Draisaitl for 28. When neither has been on the ice, the Oilers have scored just four times.
This despite a summer in which the Oilers made some attempts to shore up their forward depth — widely seen as their Achilles' heel the last two seasons, among other issues — with signings like Dominik Kahun, Tyler Ennis, and Kyle Turris, as well as bringing back Jesse Puljujärvi from overseas. Good ideas in theory, right across the board.
Those are four NHL-quality forwards, but the results to date are a cartoonishly exaggerated version of how things went last year. The 2019-20 Oilers outscored opponents 169-114 in all situations with either or both of their galactic talents on the ice, and got outscored 56-104 without. So far this season the splits break down as outscoring opponents 34-17 on, and getting outscored 24-4 off. The goal margins aren't much better at 5-on-5: plus-7 with, minus-12 without.
(And sure, maybe goals for and against are a bit reductive, especially in short samples, but rest assured, basically every underlying number runs in the same direction.)
Because this is hockey, there are always mitigating circumstances; their best defenceman, Oscar Klefbom, is out for the season, and his nominal replacement on the first unit power play, Tyson Barrie, is a reclamation project that's going well enough, insofar as he plays most of his minutes at 5-on-5 with either McDavid or Draisaitl on the ice. The fact that he's only been on the ice for one goal at full strength, well, draw your own conclusions about how much time he's spending in his own zone, and what happens when he does that.
The other mitigating factor is obviously that the Oilers' goaltending resembles a MASH unit right now. As a result, Mikko Koskinen appears to be on track to get the Cam Talbot treatment: -- playing so many games by necessity that even if he were standing on his head, the cumulative result of all these back-to-backs and two-in-threes would mean he's been ground to a nub by the end of the season. As it is, he isn't playing well, thanks in no small part to the fact that the Oilers look pretty bad defensively, another not-new problem that seems as though it can't be sorted out internally. Dave Tippett is a good coach and this a problem that's been on the books for longer than he's been behind the Edmonton bench, so you'd think if there were a solution in that room, he would have figured it out by now.
A lot of the preseason analysis about this team highlighted the fact that, sure, Edmonton wasn't particularly good at 5-on-5, but they absolutely feasted on special teams: They had the best power play in the league (pushing up on 30 percent) and the second-best penalty kill (north of 84 percent). Their special teams net of plus-21 really papered over that whole minus-13 in all other situations.
But so far this year, the special teams have been a whole lot less special. The power play is right around the league average, and the PK is well below that level.
And if we're saying the big dogs needed to eat on special teams to make this team competitive, on the one hand, it's easy to say, "McDavid and Draisaitl will start filling the net on the man advantage again any day now." But the penalty kill is going to struggle with Josh Archibald ranking first in time-on-ice among forwards and Darnell Nurse leading the defence, let alone going with a perfectly respectable but not really a steal-you-a-game goaltender.
With all that being said, going punch for punch with the Leafs resulted in a nice overtime W (please ignore the fact that Draisaitl and McDavid scored or had the primary assist on every goal of the night). The team as a whole controlled large chunks of that game and sometimes, yeah, a guy like Auston Matthews or William Nylander is going to get off the leash no matter how good you are defensively.
But the Oilers' roster in spots Nos. 3-20 pointedly has not been good defensively OR offensively to date. Even if you think there's something they can figure out to bottle their total team performance from these two games, they still finished the weekend below .500 in the weakest division in the league and once again on the outside of the playoff picture looking in.
Whatever they need to figure out, they need to figure it out fast. Wouldn't want to think about what happens if another season of a certain someone's prime got wasted.

What We Learned
Anaheim Ducks: This is just what the season is going to be like for everyone, except the Ducks also don't have the depth to swap bottom-of-the-roster guys in and out as needed and still be competitive. They've looked like one of the worst teams in the league most nights.

Arizona Coyotes: On the one hand, it's nice that players like Conor Garland and Christian Dvorak are producing, but on the other hand, it would be nice if, say, anyone else would also do that.
Boston Bruins: Five-forward power plays are the future of hockey. Well, actually, positionless hockey is the future of hockey but five-forward power plays are a stepping stone to that.
Buffalo Sabres: The Sabres aren't really playing well these days, but they're 4-2-2 in the last eight games anyway, and that's like one-seventh of the season. So things could be much worse.
Calgary Flames: After a players-only meeting, you gotta come out firing on all cylinders or you're gonna look like dopes. A 2-0 road shutout of a team that hadn't lost in regulation feels like an appropriate response.
Carolina Hurricanes: After struggling with COVID protocols early in the season, the 'Canes now have to also worry about whether James Reimer can be The Guy for a while. At least they're winning.
Chicago: For a division already going through a ton of logistical headaches because of COVID-related postponements, this cannot be welcome news. Everyone in the Central is going to have to play 50 games in the last 40 days of the season.
Colorado Avalanche: Bowen Byram is officially a full-time NHLer. On most other teams, he probably would have been a year ago. That's how good the Avs are, though.
Columbus Blue Jackets: At some point, you just gotta say that, much like the Islanders, whatever the Blue Jackets do in front of their goalies makes those guys' jobs much easier than what most teams do.
Dallas Stars: Dallas has 23 goals so far this season. And 11 of them were on the power play. Gotta get things going at 5-on-5.
Detroit Red Wings: At the opposite end of the spectrum, the Red Wings' power play is brutally bad, and I'm just gonna put this out there: What if they just don't have enough skill to be competitive? A daring take, but I stand by it.
Edmonton Oilers: Any team that isn't constantly cycling their taxi squad members into and out of their fourth line (at least!) over the course of the season is probably going to be in a tough spot in the long run.
Florida Panthers: Nice to see Aleksi Heponiemi get opportunities and convert them into production. Florida needs that kind of performance from young players.
Los Angeles Kings: A combination of COVID protocols, injuries, and the team just really not having much depth might turn into a longer-term issue for this club. That was always going to be the risk this season. They're so, so thin up front.
Minnesota Wild: This Marco Rossi news is beyond ridiculous. How did he get cleared to play in World Juniors if he had COVID in November? And now he's out for the year. No opportunity to work out for weeks on end. Obviously, his health is more important than his hockey availability, but how did we get here?
Montréal Canadiens: Victor Mete, who can't get into a game for the Habs, may or may not have requested a trade. Marc Bergevin denies it, but on a weekend when Darren Ferris was dropping at least one trade request, it seems plausible.
Nashville Predators: My suggestion for fixing what's wrong with this team? Glad you asked: Try winning on the road. Just my thoughts!
New Jersey Devils: It's gotta rock to be a Devils fan. When a team in your division has its GM quit midseason, everyone immediately goes, "Oh I bet they get the Devils' GM." New Jersey won't let it happen, but man, this team feels like a waiting room the last few years.
New York Islanders: Lots of losing from the Islanders after a promising start. Hard to forget how bad they were down the stretch of the regular season, before going to the Conference Finals in the bubble. It's like they're trying to make it impossible to evaluate whether they're any good. So far this year, you gotta lean toward "no."
New York Rangers: The stories that come out after all this are going to be ridiculous.
Ottawa Senators: I'm sorry, did people actually think Ottawa would be competitive this season? Even if you expected big leaps from a few of their good young players, they entered the season with probably the worst on-paper roster in Canada. Matt Murray's save percentage isn't helping, but this kind of record seemed likely from Day 1.
Philadelphia Flyers: Travis Konecny is probably the third-best forward on the Flyers even when everyone is fully healthy, and scratching him probably isn't a good idea. But because they won (narrowly, against a struggling team), this is the 200 Hockey Men justification for doing this to talented young players forever.
Pittsburgh Penguins: The Penguins' blue line is getting really thin, really fast.
San Jose Sharks: Hey, if you're not gonna play for a little while anyway, why not just go home, right?
St. Louis Blues: Jordan Kyrou is having himself a great start to the season. The Blues needed the help up front, that's for sure.
Tampa Bay Lightning: The secret to Jon Cooper's success? "One, understanding life. Two, a loyal dog. And three, a good goaltender." Pretty simple when you put it that way.
Toronto Maple Leafs: The Leafs did not play particularly well on Saturday night but have enough talent to at least make things interesting even when they don't. Then sometimes, Connor McDavid happens. That's life.
Vancouver Canucks: Yeah it turns out that a guy with Brock Boeser's pure shooting talent will start converting on more than 10 percent of his shots on goal over a long enough timeline.
Vegas Golden Knights: "Yeah we had to trade Nate Schmidt, who's really good, for next to nothing, but have you heard of this other guy we have?" Everything keeps bouncing Vegas's way, roster-wise. It's been years now.
Washington Capitals: Is someone keeping track of players' stats after they come back from COVID protocols? In my head, they're all playing really well except J.T. Miller.
Winnipeg Jets: Nikolaj Ehlers rocks. We love him here, folks.
Play of the Weekend
You know it's the Connor-McDavid-went-coast-to-coast-through-four-Leafs goal. You know that. It might get hyped as a Goal of the Year candidate but I am not personally prepared to go that far quite yet.

Gold Star Award
That Oilers/Leafs game on Saturday was everything you want hockey to be, I think. High-scoring without turning into, say, Oilers/Sens last night, lots of individual brilliance on display, a 3-on-3, etc. More of that, please.

Minus of the Weekend
I feel like I say this 15 times a season, but only the NHL would hype up, "Wow, there are 12 games on the schedule tonight!" without mentioning that two-thirds of them start at the same time. Stagger them, like, a little bit. How about that?

Perfect HFBoards Trade Proposal of the Week
User "TFHockey" is on top of things.

To Edmonton:
Travis Konecny
Sean Couturier
Ivan Provorov
Carter Hart
To Philadelphia:
Connor McDavid
James Neal
You may also be interested in: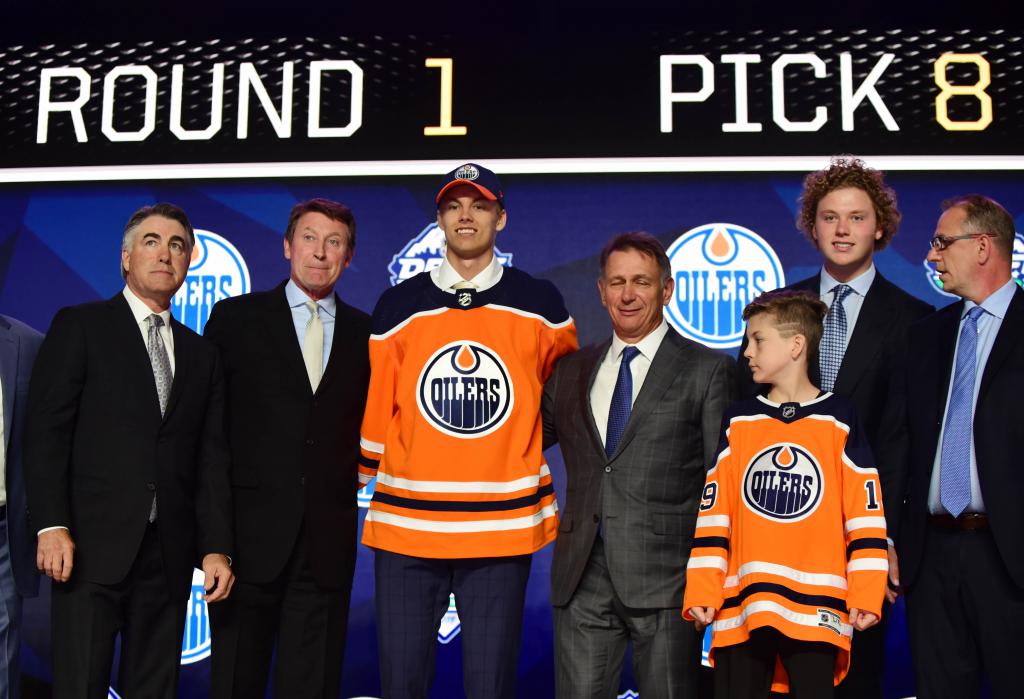 Philip Broberg Makes Solid First Impression at Oilers Camp, Eager for Encore Opportunity
This article is about: