NHL
Kirill Kaprizov is singlehandedly changing the complexion of the Minnesota Wild as we know them
One month into the season, Kirill Kaprizov is already pulling away from the pack for the Calder Trophy at the end of the race.
It may feel like cheating to call a player that's turning 24 -- one with five years of elite production in a professional league already under his belt at that -- the best rookie when it's typically something we associate with players in the twilight of their teen years. By the letter of the law, though, Kaprizov qualifies for the award, so we're going to run with it.
In his defence, the extenuating circumstances of his rookie year shouldn't be overlooked. Coming over to an entirely new continent during an unprecedented season preceded by an abbreviated training camp and no exhibition games, after having gone over 10 months between competitive games, was hardly the ideal scenario, even for a player of his calibre.
What he's managed to accomplish in his first couple of weeks in the league is impressive enough on the surface, but when put into proper context becomes quite remarkable. He's a player that's been hyped up for years, with Wild fans and general hockey enthusiasts closely monitoring his progress overseas. While it never really felt like a question of 'if' he'd actually come over, it was more of a matter of 'when' and how good he'd actually be when he did.
If the first viewings are any indication, the wait was more than worth it. He's been every bit as good as advertised. Here's a sampling of his accomplishments during his first spin around the NHL:
Scored an overtime winner in his debut, capping off a three-point performance in which his coach felt comfortable enough with his game to give him 21:52 of ice-time. That's not a small feat given the way we know NHL coaches operate historically. More on this in a bit.
Followed it up by setting up an overtime winner in his second game. He notably struggled in this contest, but completely flipped the switch when given another opportunity in overtime. It showed not only how important it is to have game-breaking talents that can take a game over, but also how electrifying he is with additional space to work with.
Nearly scored the goal of the season in which he kept a defender on his hip with an expertly timed mohawk, before flipping the puck through his legs off the rush.
Has nine points in 11 games, eight of which are primary. That figure ties him for the 21st highest total, with players like Mark Scheifele and Mikko Rantanen.
Has already drawn six penalties and taken just one, with that plus-five differential placing him behind only just Brady Tkachuk and Jeff Petry for tops in the league.
With him on the ice at 5-on-5, Minnesota's shot metrics aren't particularly impressive (they have a 49 percent shot share to be exact), but it's worth noting that they do have 56.8 percent of the high-danger attempts according to NaturalStatTrick. It will be interesting to see if that continues and if it's explained by the fact that he's the type of talent that can repeatedly create quality chances for himself and others
Has done all of this while playing regular minutes with players who simply aren't in the same stratosphere as him from a talent perspective. For example, his two linemates in the most recent game against the Avalanche were Victor Rask and Gerald Mayhew.
He's made the Minnesota Wild appointment viewing and the talk of the hockey world, a once unfathomable notion for a franchise synonymous with boring hockey, and with good reason.
That last point might honestly be the most consequential one of all here. It's perfectly fair to say that the Wild haven't had an exciting star of this magnitude since the early Marián Gáborík days, with all due respect to Kevin Fiala's run towards the end of last season. People who wouldn't have otherwise are now tuning in to Wild games to see what Kaprizov is going to do, because they want to experience it live rather than playing catch up on Twitter. The number of conversations I've personally had about the Wild over the past three weeks nearly exceeds the previous three years combined (if you don't count the unintentionally comedic component of Paul Fenton's short tenure).

As good as he's been in the early going, it seems reasonable to expect that he's going to keep improving as he gets more comfortable being in North America and playing on a smaller ice surface. Part of that evolution will come from his own adjustments and willingness to keep pushing the envelope with the puck on his stick. You can almost see him trying to figure out what will work and what won't on the fly, which is understandable given the step up in the level of competition he's facing. Just the fact he's willing to test out different moves that require high levels of skill and creativity bodes well for his future success because a big part of the battle in this league is simply possessing that fearless mindset in the first place.
While he figures it out, he's uniquely positioned to feast on a heavy volume of minutes because of how well rounded his game is beyond just the highlight-reel plays. In the times we see highly touted players come over and fail, it's often because they're asked to play a different brand than what made them successful before or are deemed too big of a liability away from the puck to get the type of ice time they need for their skill to shine through. That shouldn't be an issue for Kaprizov, who has already shown that he's more than capable of doing all of the other stuff that NHL coaches fawn over. He's only listed at 5-foot-9, 185 pounds, but he's so adept at using timing tricks and body leverage to win puck battles against larger players. It's that type of sophisticated game that'll endear him to coaches, and keep him on the ice even when the puck isn't always going into the back of the net.
The other part of the improvement will also hopefully come as the team equips him with better talent with which to play. There's already been countless occasions where a potential scoring chance he created was dead on arrival on a teammate's stick, either because they weren't able to convert on the opportunity or lacked the capacity to match his ability to read plays at an elite level. At times, he almost appears to be subtly guiding teammates to where he thinks they should be on the ice to maximize their chances of scoring rather than where they actually are when he's releasing the pass. The angles he attacks at are a double-edged sword, because they make him remarkably difficult to defend for opponents, but also understandably more difficult to keep up with for teammates.
The running mates may not be there yet, but the good news is that it appears reinforcements are on the way based on the way they've been drafting recently. While they wait for that influx of skill, it'll be interesting to see if they experiment more with having Kaprizov and Fiala share the ice at even strength. Dean Evason shied away from doing so prior to Fiala's recent suspension, presumably because they'd like to spread their skill out and have the two of them drive their own separate scoring lines. They've played just 12:49 together at 5-on-5, and it's difficult to make anything of the results because they've been sprinkled around when they've been playing from behind and in offensive situations.
That said, the two skill sets would theoretically mesh well, particularly given how well Kaprizov has acquitted himself as a distributor, and how much Fiala himself has been shooting since he turned the corner. While it would have the Wild fighting more of an uphill battle whenever they weren't on the ice, it's something that I'd explore beyond just 'break in case of emergency' scenarios to see if the fit is there and if it can unlock another gear for both players. Particularly since both Kaprizov and Fiala are up for new contracts this offseason, and the Wild will need to have a better sense of how much money and term they can justify investing in each player based on a limited sample size.
Regardless of how many points he puts up this season or how many games the Wild win, they finally have a captivating talent that garners national attention and gives them something tangible to build around moving forward. That's one hell of a thing to say about a player that's played just 11 games at this level. But it's impossible not to be excited about what we've seen so far.
You may also be interested in: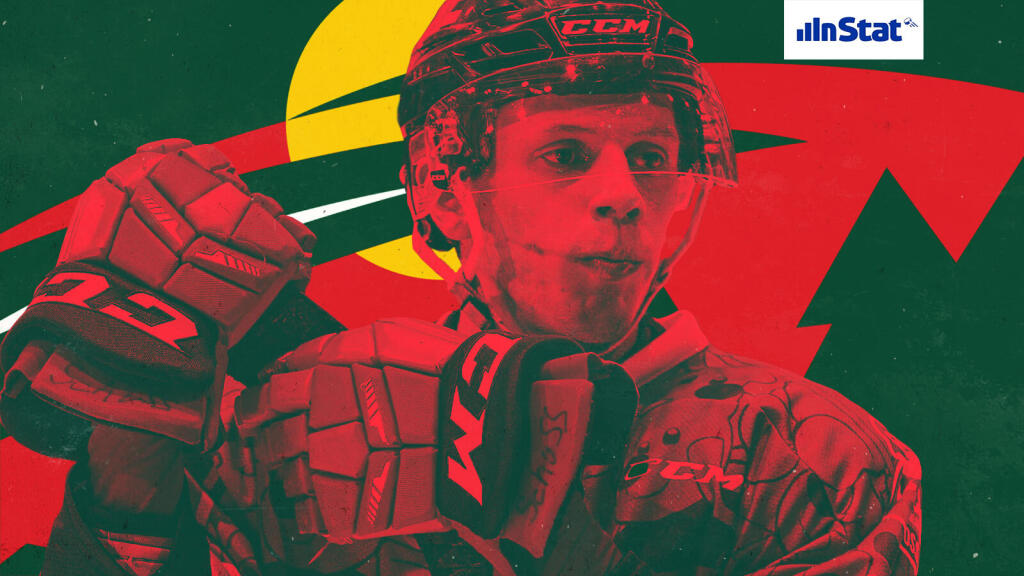 The EliteProspects Rinkside 2020-21 Off-Season Prospect Pool Rankings: the No. 5-ranked Minnesota Wild
This article is about: