AHL
AHL Season Preview: A year unlike any other awaits the NHL's top developmental league
"It's day-to-day," Providence Bruins head coach Jay Leach chuckled while trying to describe the battle of running an AHL training camp in the COVID-19 era.
Leach will guide his Boston Bruins prospects into action Friday afternoon against the Bridgeport Sound Tigers (New York Islanders), a match-up that will open the 2020-21 AHL schedule and end a 332-day hiatus for the NHL's top developmental league. The league last played on March 11, 2020, before the COVID-19 pandemic scuttled the 2019-20 season.
"[There are] hurdles, for sure," Leach acknowledged, starting his fourth season running the Providence bench. "We're gonna have to constantly adapt on all these of these sorts of things. But really the most important thing is that we're able to practise and play. We're able to get some time with our players, they're able to get on the ice and try to get better, and continue to climb the ladder."
In a typical season, AHL head coaches already have a long laundry list to prepare players barely into their twenties for eventual NHL duty. Now "staying healthy" has taken on an entirely new meaning for Leach and his fellow AHL head coaches.
"I remind them every day," he said. "I try to remind them as much as possible. It's one of those things, it's a challenge. I mean, we don't obviously have control of them after they leave the rink. And so we have to constantly remind them to stay out of the places that we've learned are contributing to the COVID-19 spread, and they've got to make sure they take care of that. And that's their responsibility."
"I do think they understand that if they don't, they don't get to play. And I can't tell you how much enthusiasm they have to play. So again, that's maybe my optimistic attitude, but I do think that they're willing to sacrifice in order to play some games, so hopefully we can keep it going."
Under Leach, players have continued to climb that Providence-to-Boston ladder. Trent Frederic, Jérémy Lauzon, Jack Studnicka, and Jakub Zboril all made the Boston roster out of training camp after spending last season in Providence. The Boston-Providence affiliation dates to 1992 and is the oldest current NHL-AHL affiliation.
Among the hurdles for Leach and his team is a temporary new home, the New England Sports Center in Marlborough, Mass., just outside of Boston. The P-Bruins' home arena, the Dunkin' Donuts Center, is being used by the Rhode Island state government for COVID-19 initiatives, and is unavailable for hockey this season. However, the team's home base will remain in Providence, where they will continue to practice.
"We've been there a couple times just to check it out and make sure things are squared away," Leach explained. "They've done a really nice job, they've kind of revamped the rink similarly to some of what these NHL teams have done to make it aesthetically pleasing. So it looks good, but it will be different."
"We obviously love the Dunk, and certainly have a home [in Providence]. And we look forward to coming back in the fall and doing it like we usually do. But in the meantime, Marlborough gives us an opportunity to play games, and they've done a nice job to make an environment that's going to provide for a nice viewing experience for our fans online and certainly a nice experience for our players to play some games."
In the meantime, Leach will continue to stress safety protocols for his young Boston prospects.
"It seems to be a challenge, really, for every team and every professional sport, one way or another, but we're going to try to do our best to play some games and get as many of them as possible."
AHL SEASON PREVIEW
Here is a need-to-know primer on the 2020-21 AHL season:
Long-time NHL executive Scott Howson is taking over for Dave Andrews as the AHL's president and chief executive officer. Andrews retired this past June after a 26-season run in that post, but he will remain as chairman of the AHL board of governors.

Twenty-eight of the AHL's 31 clubs will play this season. The Charlotte Checkers, Milwaukee Admirals, and Springfield Thunderbirds each opted out, citing financial and logistical hurdles.
Still to be determined are plans for the Belleville Senators (Ottawa Senators) and Toronto Marlies (Toronto Maple Leafs), who are awaiting provincial approval from the Ontario government. Those clubs are supposed to be part of a five-team Canadian Division along with the Laval Rocket (Montreal Canadiens), Manitoba Moose (Winnipeg Jets), and the temporarily relocated Stockton Heat (Calgary Flames). Citing logistical hurdles in moving players to and from the United States, the Flames opted to bring the Heat home to play out of Scotiabank Saddledome. A Canadian Division schedule has not been released yet.
AHL clubs' schedules will vary between 24 and 44 games. Plans for the Calder Cup Playoffs remain murky. What is known is that AHL fans should expect a drastically reduced postseason – if there is one at all.
After lengthy negotiations, the AHL and the Professional Hockey Players' Association agreed to amend their collective bargaining agreement for this season. Among the wrinkles will be a reduction in player salaries this season; the amendment applies only to this season, however.
Thanks to the trend for NHL clubs to bring their AHL affiliations closer to home, the San Antonio Rampage are out, and the Henderson Silver Knights have arrived. The Vegas Golden Knights followed that trend by purchasing the Rampage in February 2020 and moving the franchise to Henderson, Nev., just outside of Las Vegas. The Silver Knights will play out of Orleans Arena, a quick drive from T-Mobile Arena. Henderson is scheduled to move into a new $84 million facility for the 2022-23 season.
That decision set into motion yet another affiliation odyssey for the St. Louis Blues, who had been affiliated with San Antonio. Blues management signed an affiliation deal with Springfield; however, Springfield was one of three clubs to opt out of the 2020-21 AHL season. That decision again left the Blues without an AHL home for this season, but they managed to forge a deal with the Vancouver Canucks to share the Utica Comets. Since selling the Peoria Rivermen in 2013, the Blues have had affiliations with the Chicago Wolves and San Antonio, as well as scattering players around the AHL for one season.
The Canucks, incidentally, will have three players stationed with Manitoba to avoid cross-border player-movement difficulties.
With Springfield opting to partner with St. Louis, the Florida Panthers needed a new AHL affiliate. They found one after the Carolina Hurricanes-Charlotte split. But Charlotte also will sit out this season, meaning the Panthers had to hunt down another solution. Eventually, they found it via the Tampa Bay Lightning, with whom they will share the Syracuse Crunch for one season.
The Golden Knights-to-Henderson shuffle left the Wolves without a partner. But the Hurricanes quickly moved into a new relationship with the Wolves. With Milwaukee out for the season, the Nashville Predators also latched on with the Wolves.
Five NHL organizations will have new AHL head coaches. Vegas brought in Manny Viveiros to guide Henderson. A pair of highly regarded coaching prospects from the US National Team Development Program have advanced to the AHL – Seth Appert is taking over the Rochester Americans (Buffalo Sabres) while John Wroblewski will head the Ontario Reign (Los Angeles Kings. Another USNTDP alum, J.D. Forrest, was promoted from assistant coach to head coach for the Wilkes-Barre/Scranton Penguins (Pittsburgh Penguins). Rounding out the group are the Tucson Roadrunners, where assistant coach Steve Potvin will replace Jay Varady, who was elevated to the parent Arizona Coyotes' coaching staff.
Back for his 23rd AHL season will be San Jose Barracuda (San Jose Sharks) head coach Roy Sommer, who finished the 2019-20 season with the Sharks. Sommer, who will turn 64 in April, is first all-time in AHL history in regular-season games coached (1,638) and coaching wins (773). He has a 773-743-122 AHL record dating to the 1998-99 season and has sent more than 130 players on to the NHL.
A long-discussed idea – whether to allow players with remaining CHL eligibility to play in the AHL – will get a test drive this season while the OHL and WHL wait to begin play. Normally, an NHL-CHL agreement prevents most players from having that opportunity. That situation has sent an influx of first-round picks from the 2020 NHL Draft to the AHL this season. Centre Quinton Byfield, who went second overall to Los Angeles, is with Ontario. Defenceman Jamie Drysdale, taken in the sixth spot by the Anaheim Ducks, will start his pro career with the San Diego Gulls. Rounding out the top-10 will be Winnipeg Jets forward Cole Perfetti, who is with Manitoba. Another forward, 13th overall pick Seth Jarvis, was sent to the Wolves by Carolina. At number-16, defenceman Kaiden Guhle is in camp with Laval after being assigned by Montreal. A pair of Brandon Wheat Kings products, defenceman Braden Schneider and forward Ridly Greig, are still in the AHL. Schneider, taken 19th by the New York Rangers, is with the Hartford Wolf Pack, and Greig (chosen 28th by the Ottawa Senators) is skating with Belleville. The 23rd overall pick is forward Tyson Foerster, who went to the Philadelphia Flyers and has been dispatched to the Lehigh Valley Phantoms. Stockton has the 24th pick, defenceman Connor Zary. Jacob Perreault, a Sarnia Sting forward, is instead with San Diego; he went to Anaheim as the 27th selection.
AROUND THE AHL
COVID-19 protocols have claimed another AHL season opener. The Cleveland Monsters (Columbus Blue Jackets) will sit out their two-game road set at the Rockford IceHogs (Chicago Blackhawks). The series had been scheduled to start Friday night. Instead, the IceHogs will host the Wolves on Saturday. Earlier this week, the Barracuda had to cancel their season-opening game against Tucson; a Barracuda player tested positive for COVID-19 this past weekend.

Forward Jack Quinn, taken by Buffalo as the eighth overall pick in the 2020 NHL Draft this past October, will start his pro playing career in nearby Rochester as a 19-year-old. However, he will miss the Amerks' home opener Friday night due to COVID-19 quarantine protocols.
The Grand Rapids Griffins (Detroit Red Wings) chose defenceman Brian Lashoff, a member of their 2013 and 2017 Calder Cup championship clubs, as their new captain. He is going into his 12th season with the Griffins, where he began as an 18-year-old in 2009. He has played 500 AHL games while also earning 136 contests with Detroit. Rochester forward Steven Fogarty, signed by Buffalo in the offseason, was named captain of the Amerks; he captained Hartford last season. The Texas Stars (Dallas Stars) announced that another former Hartford captain, Cole Schneider, will wear the C with their team. Last week the Hershey Bears (Washington Capitals) honoured 37-year-old forward Matt Moulson, who has 650 NHL games to his name, by making him the 44th captain in the storied club's history.
AHL forward Jordan Samuels-Thomas has shifted to the other side. The 30-year-old, a 2009 seventh-round pick by the Atlanta Thrashers, has joined the AHL officiating ranks and will work as a referee this season. He wrapped up his sixth and final pro season last year in Germany; this past fall he worked games in the USHL and NAHL. Former Manitoba captain Peter Stoykewych will also trade in a stick for stripes. Also an Atlanta seventh-round choice, taken a year after Samuels-Thomas, the 28-year-old played parts of five seasons with the Moose. He will work as an AHL linesman.
ON THE MOVE
Philadelphia sent 25-year-old defenceman-turned-forward Samuel Morin back to Lehigh Valley this week. Taken 11th overall in the 2013 NHL Draft, Morin has endured a rocky pro career interrupted by two knee surgeries. Going into his sixth pro season, the Flyers chose to convert him into a forward, and he earned one NHL game this season while also serving on taxi-squad duty.

His last AHL game came on November 11, 2019, when he suffered a season-ending knee injury. In all, he has played 170 AHL games, all with the Phantoms, and has 8-34-42 across parts of five seasons.
Kitchener Rangers defenceman Michael Vukojevic earned an AHL contract with the Binghamton Devils (New Jersey Devils). The undrafted 19-year-old had 5-25-30 in 63 OHL contests last season. He also was a member of Canada's gold-medal entry at the 2018 Hlinka Memorial.
Cleveland picked up NHL veteran forward Nathan Gerbe on assignment from Columbus. He picked up an assist in his only game with the Blue Jackets this season. He divided last season between Columbus (4-6-10 in 30 games) and Cleveland (8-17-25 in 30 games).
Rockford added a pair of Blackhawks prospects on loan. Forward Michal Teplý, who had 29-34-63 in 53 WHL outings last season for the Winnipeg Ice, will debut with Rockford as a 19-year-old. Chicago took him in the fourth round of the 2019 NHL Draft. Joining him in Rockford will be University of Wisconsin captain Wyatt Kalynuk; the 23-year-old blueliner hit a career-high in his third and final Badgers season in 2019-20, going 7-21-28 in 36 appearances. Those 28 points led all Big Ten defencemen and won him All-Big Ten Conference honours.
QUOTEBOOK
Binghamton head coach Mark Dennehy on dealing with an unconventional season.

"I'm a big believer that you don't necessarily lead by example. But if you don't set a good example, you can't lead at all."
"I'm asking for flexibility and some stick-to-itiveness from this group. My staff and I have to show it as well. There are going to be some things that we don't like that happened, whether it's less time before games because of COVID protocols or bouncing around practice times. Coaches love to control things, and when things are out of their control, sometimes they get grumpy."
"So we're gonna have to roll with the punches, too, if we expect our players, especially the young guys, to do the same."
THIS WEEKEND
Friday – Grand Rapids (DET) at Chicago (CAR/NAS)

A long rebuilding process for the parent Red Wings continues in earnest in Grand Rapids. The Carolina-Nashville combination gives the Wolves one of the AHL's deepest rosters.
Saturday – Ontario (LA) at Henderson (VGK)
Hockey in Las Vegas, AHL-style, begins with a visit that should start to brew an intense Pacific Division rivalry.
Sunday – Tucson (ARI) at San Jose (SJ)
This tilt offers a twist, as the Barracuda will serve as the home club. They are not able to play at home for the time being due to COVID-19 restrictions in their home county. After two games against the Roadrunners, the Barracuda head out for a three-game road set at Texas and then return to Arizona for a three-pack rematch with Tucson. They are not scheduled to play in San Jose until February 25th.
You may also be interested in: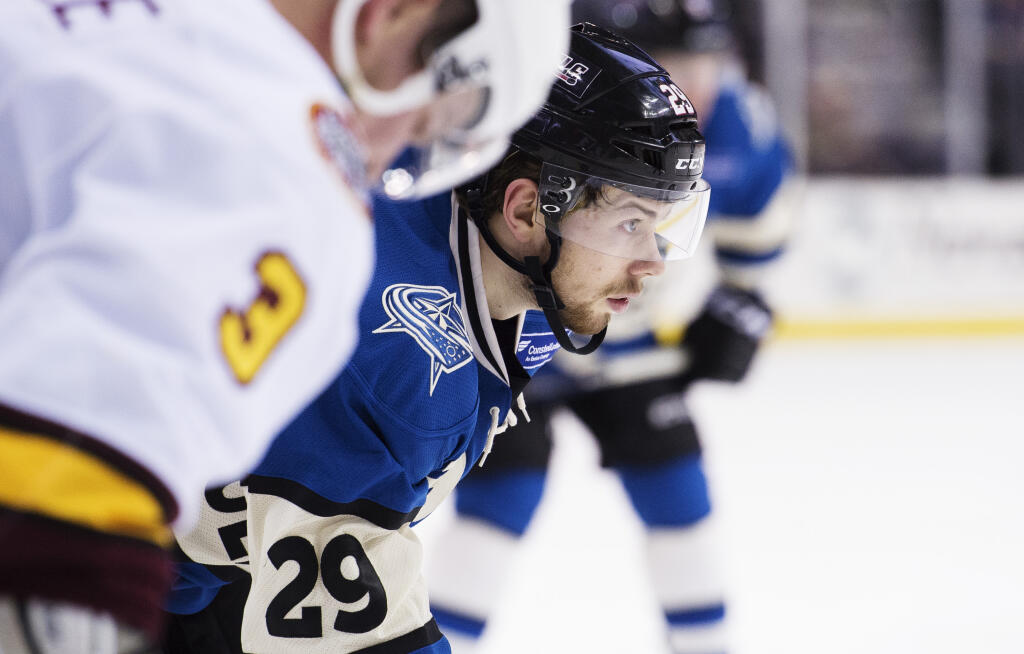 Around the AHL: The AHL continues to construct a season
This article is about: