NHL
Oskar Lindblom's story is one of perseverance, camaraderie, and it resonated with everyone
When the news broke that Oskar Lindblom had contracted Ewing's Sarcoma, the hockey world stopped. A young man, one who hadn't even put two NHL seasons in his rearview mirror, was in trouble. His career was put in limbo, and his focus had to shift drastically to his health.
Just about everyone knows somebody has battled cancer. I've had family members suffer that diagnosis and eventually overcome cancer; I was once diagnosed with a mild form of skin cancer that I've since removed. Just hearing the words damages one's psyche.
That didn't happen with Lindblom. No surprises there. He's a tireless worker and a free spirit; his teammates, fans, and the media alike all shared a fondness for him.
Not long after, shirts arrived with his number on them. I teamed up with Amy Irvin, a photographer for The Hockey Writers, to do something right from the get-go. We created bracelets as a show of support with our own money, and eventually took donations to make more... and more... and more. The demand was intense.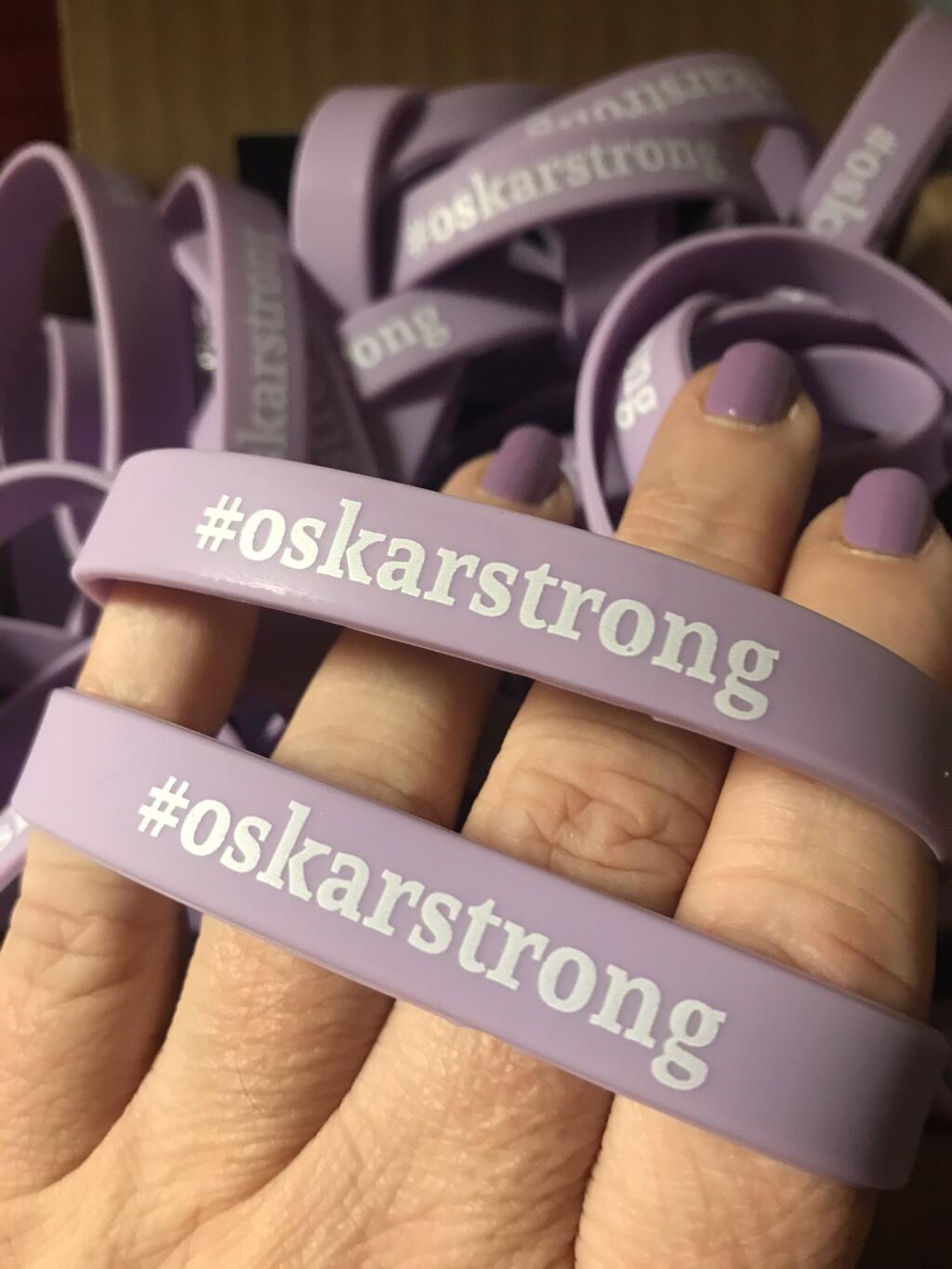 The famed Flyers anthem singer Lauren Hart wore one for the rest of the season, and then his teammate Robert Hägg asked for one. We were all united in support of Lindblom.
"At that point, we were trying to think of a t-shirt or something and the bracelet was an inexpensive daily thing people could do," Irvin remembered. "We didn't want to profit off of anything and just wanted to hand them out. It was cool watching people's faces. It was amazing to see Lauren wear it and every time she sang, she put her fist up making sure everybody saw it. Writers and photographers wanted a piece of it to show support like we are all right there with you."
At the time of Lindblom's diagnosis, nobody knew if he would ever play again. We all knew he would pull through this and have a long life no matter what though. We all believed in Oskar and his doctors.
When the pandemic hit big and the NHL stopped, our thoughts were still with him, and the team did their part to update the fans when they could. Lindblom had seen his teammates before the stoppage and hope was in the air.
On June 9, 2020, Lindblom was named the Flyers nominee for the Masterton by the Philadelphia Chapter of the Professional Hockey Writer's Association, and on June 23, he skated alongside his teammates during the NHL's Phase 2 of return to play.
On July 2, Lindblom finished his treatments at the Abramson Cancer Center at Pennsylvania Hospital and was deemed without evidence of cancer at that time, according to his medical team.
Prior to the diagnosis, Lindblom was in the midst of a breakout season, recording 11 goals, which was tied for the team lead at the time, and 18 points (11g-7a) in 30 games.
"I'm very humbled to be considered for this award that so many courageous and great players have won," said Lindblom. "Seeing the overwhelming support from fans, my teammates and the entire hockey community has been very emotional for me and without a doubt helped me get through this difficult time, and back to being with and doing the things I love."
Then the Flyers signed Lindblom to a contract extension on July 22nd and we heard from him again.
"I am very excited to be a part of the Flyers for the next three seasons," Lindblom said. "The support that the organization, the fans, and the entire NHL has given me has been quite overwhelming. I can't wait to get back skating with the boys and being the professional hockey player I know I can be. I want to thank the Flyers for giving me this opportunity and I look forward to the day I'm back and contributing to the team's success."
We eventually heard whispers that he might be back to play at some point since he was in the bubble with the team. Then we were hearing he was practicing and even then, most couldn't imagine that Lindblom was going to play in the playoffs in August.
Lindblom returned to practice while the Flyers were playing the Montreal Canadiens, in the playoffs and it was a massive story around Philadelphia but really around the hockey world. Flyers coach Alain Vigneault was very emotional about it.
"Having Oskar around our group, he was finally able to come out of his hotel room a day ago. Yesterday was a recovery day for our group. Today was his first official time that he skated with his teammates since the news. I think he was really nervous, real excited to be back with the group. The group was obviously ecstatic to have him back even though it was just a morning skate. Great young man. Beautiful smile. Happy to have him around."
Remember, Lindblom had to quarantine.
"You know what, we, coaches, were almost in tears," Vigneault emoted. "When you think about everything that Oskar's been through and everything that our team has been through, showing the support, going through the different stages to have him back. Every team at the end has a team stretch. A lot of times comments are made about certain things, but today was all about Oskar and the excitement to have him back with our group."
When Lindblom spoke about it, we were all listening.
"It was my goal to get back to the team and get back to life. Of course, I did think about it like when it is time to get back and how I'm going to feel when I get back. There haven't been any thoughts about not playing again," Lindblom stated and then talked about his teammates. "It's been everything. They've talked to me as I've been on the team, even if I'm not there. Those tough weeks when I felt so bad and trying to think about life, they've called me and text me. Helped get me more energy and it helped me through the whole process. Now I'm here and happier than ever."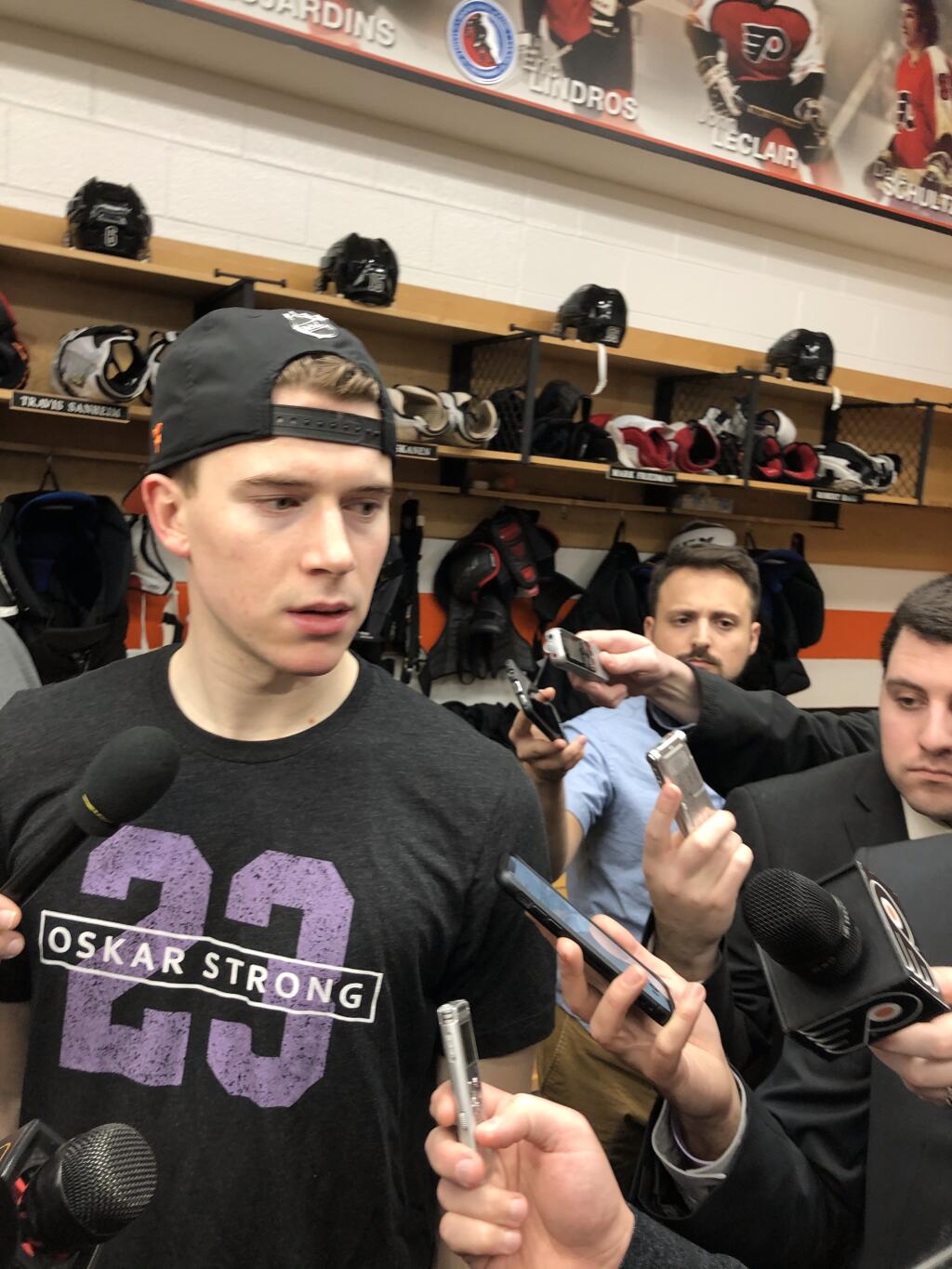 Hockey players reached out to Lindblom, to the surprise of absolutely no one.
"I talked to Mario Lemieux and a couple other guys in the league that had something similar and reached out to me. We just talked a little bit. Nothing special. Just that they are reaching out and trying to help me, that helped a lot too."
On September 3rd, he was back on the ice trying to help his team stave off elimination at the hands of the New York Islanders in the Eastern Conference Semifinals. He played over 17 minutes and was effective, but he wasn't able to play his usual heavy game. He played in a victorious 5-4 double-overtime win in Game Six but then the Flyers lost the series two days later.
Coming into the 2021 season, Lindblom looked more like his old self, he added a lot of that weight back and he was playing better along the walls. In his first 13 games, the Swede had two goals and two assists. It's truly miraculous.
"A big difference. I only had two weeks to work out with the team at that point. I didn't have any ice sessions before that. I've been home for a couple months and been able to skate and work out. It's been a big difference. I feel more powerful. I feel like I got more energy in my body too. A lot better I would say," Lindblom said in training camp.
It wouldn't be the NHL if a player didn't get rocked by a hit and Lindblom got his. Bruins defenseman, Connor Clifton laid a big hit in a February 5th game in Philadelphia. It appeared to be a clean hit to the Flyers forward.
"I think I wasn't really prepared for the hit and it caught me off guard a little bit and I lost my air, but I feel good today," said an upbeat Lindblom. "It was a hard hit, I haven't really looked at it afterwards, I can't really say anything about the hit, so that's up to you guys what you think about it, but I can't really say anything."
The Flyers are on a Covid-19 break as some players showed up on the list. Lindblom didn't and that made most of us breathe a sigh of relief. We look out for him now and just want him to get back to being the player that he was before and he's doing just that. His play away from the puck is as strong as it ever was, and his offence is starting to come around.
That's what we all hoped would happen.
You may also be interested in: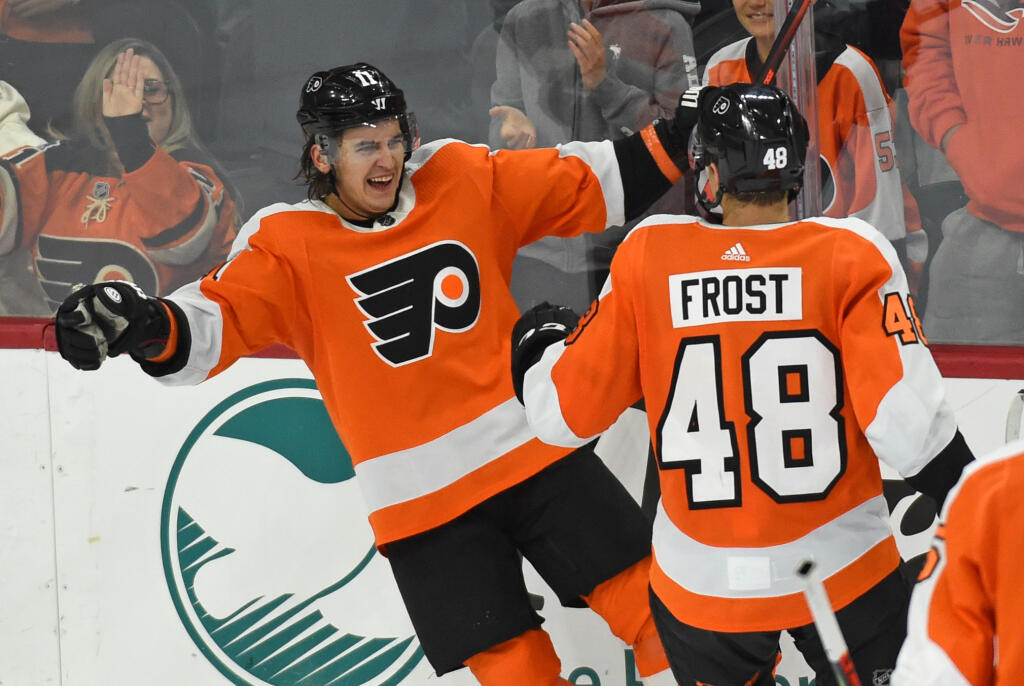 The Philadelphia Flyers have Morgan Frost on the right track
This article is about: