NHL
NHL 3 Stars: 14-Game Bonanza
With 14 games on the schedule, the day delivered no shortage of highlights and notable performances. Even though we were deprived of a highly anticipated Connor McDavid vs. Auston Matthews head-to-head matchup, there was still plenty for us to sink our teeth into.

The Tampa Bay Lightning laid the smackdown on the Dallas Stars in a Stanley Cup Final rematch, the Penguins improved to 9-1-1 in one-goal games after beating the Islanders in overtime, and the Blues and Sharks scored so many combined goals that at some point Jordan Binnington stopped being a goalie and became a fourth-line enforcer instead.
Let's take a look at the good and the bad of Saturday night.
---
First Star
The Detroit Red Wings Power Play
Sure, the Detroit Red Wings enjoyed a nice victory on the road against the Blackhawks on Saturday night, but that's not why they're getting top billing here. Here's the real reason why:
I've been morbidly fascinated by following a pair of streaks they have been on this season. On February 7th, they finally won a game without Jonathan Bernier in net, when Thomas Greiss stopped 36 of 37 shots to help them beat the Panthers. They hadn't done so since October 2019, which was genuinely really hard to believe.
But for as wild of a streak as that was, they may have just ended an even more improbable one tonight. When Christian Djoos scored in the second period of their game against Chicago, it wasn't just any other power play goal; it was their first one in the month of February, and it put to an end to the following stats that they'd accrued in the time since they last had one:
14 games

76:54 of power play time

40 power play opportunities

256 power play goals scored league-wide in that time
They're still not out of the woods yet, however. Despite finally getting a power play goal, they're still scoring goals more frequently at 5-on-5 (2.1 goals per 60 minutes) than they are at 5-on-4 (2.0 goals per 60). To add insult to injury, the Montréal Canadiens and Columbus Blue Jackets are scoring goals more frequently while playing shorthanded at 4-on-5 than they are on the power play. Not that any of us are going to bars these days, but if we were that fact would make for one heck of a bar bet.
A DJOOS-Y POWER PLAY SNIPE! pic.twitter.com/TFaiqAvw50

— Detroit Red Wings (@DetroitRedWings) February 28, 2021
Second Star
Calgary's 3M Line
The Flames needed this one. After being summarily dismantled by the Ottawa Senators last time out, losing by an embarrassing 6-1 scoreline, they got a dose of revenge on Saturday afternoon. They jumped out of the gate with three quick goals and held on to win by a comfortable 6-3 margin.
While all of Calgary's key players stepped up and contributed in this one, the most encouraging result of all was that the '3M' line of Mikael Backlund, Matthew Tkachuk, and Andrew Mangiapane was reunited and completely took off. In the 13:31 they played together at 5-on-5 according to Natural Stat Trick, the Flames were up 17-10 in shot attempts, 13-6 in shots on goal, and 2-0 on the scoreboard. Each of them scored a goal and had multiple points, with Backlund and Mangiapane also teaming up to score a shorthanded goal as well.

It's quite puzzling that they were split up in the first place because the underlying numbers looked fine, but knowing how coaches tend to overreact to small samples I'd imagine the 96.6 PDO they've had in those 50+ minutes was a big motivating factor behind that misguided decision.

Hopefully this performance will be enough to keep them together moving forward, because they're really fun to watch together. They were unequivocally Calgary's best line last season, and we were reminded of why that was the case in this game. Their skill sets are very complementary to each other, they can completely dominate for large stretches, and the Flames are at their best when they're humming.

Considering Geoff Ward finds himself on the hot seat after a bunch of questionable decisions and lacklustre performances, this seems like a pretty good place to start. If Calgary really is going to get back on track beyond just this game and rattle off some wins, they'll need the three of them to help drive the bus.

All of the highlights from today's 6-3 victory in Ottawa! pic.twitter.com/XoNtmxtjhF

— Calgary Flames (@NHLFlames) February 27, 2021
Third Star
Matt Dumba's Game Winner
The Minnesota Wild have now won six consecutive games, jumping all of the way up to second in the West Division. The degree of difficulty is about to get increased as they get set to play the one team ahead of them, the Vegas Golden Knights, four times in the next 10 days to start March.

They made this one more difficult than it had to be after blowing an early 3-0 lead, but the ultimate pay-off was well worth it. For those that were patient and avoided switching away from the game as it looked destined for a shootout, they were rewarded with an awesome buzzer beater by Matt Dumba with 0.3 seconds left on the clock.

It was about as aesthetically pleasing of a moment as you're going to get. The matchup of respective retro reverse jerseys was stunningly beautiful. The move Dumba put on Cal Petersen was excellent. And the celebration afterwards was the perfect cherry on top. I'm just going to chalk this up as another example of the effect Kirill Kaprizov has had on the Minnesota Wild organization, as they continue to give us more and more reasons to be excited about watching them play hockey.
Matt Dumba OT buzzer beater my goodness pic.twitter.com/oneclIzmCm

— Brady Trettenero (@BradyTrett) February 28, 2021
Dishonourable Mention
The Buffalo Sabres
Things are pretty bleak in Buffalo right now. They currently sit in the basement of the East division, and in 27th place in the league based on points percentage. That trend continued on Saturday afternoon, getting shut out for the third time this season (and the second time by the Flyers). To say that goals have been hard to come by for the Sabres would be quite the understatement.

They now have 21 combined 5-on-5 goals as a team in north of 900 minutes played so far this season. Not only is that easily the worst goal scoring rate in the league this year, but it's currently sitting as the worst one we've got recorded dating back to 2007. Here's the full list of the 10 most putrid 5-on-5 scoring teams in that span:
'20-'21 Sabres: 1.39

'13-'14 Sabres: 1.46

'11-'12 Wild: 1.58

'14-'15 Coyotes: 1.61

'19-'20 Red Wings: 1.61

'12-'13 Panthers: 1.62

'12-'13 Devils: 1.65

'14-'15 Sabres: 1.65

'15-'16 Devils: 1.69

'16-'17 Avalanche: 1.71
That should be disconcerting for obvious reasons. It's hard to fathom that a team could be doing worse in any category than that 2014 version of the Sabres was, largely because they were actively trying to lose games to better their draft position. Not only is Buffalo presumably still trying to win games this season, but they actually entered the year with a relative sense of optimism after landing Taylor Hall in free agency, trading for Eric Staal, and welcoming Dylan Cozens to the roster.

But pretty much everything that could've possibly gone wrong has so far. They were the victim of the league's negligence, getting exposed to COVID and having their season shut down for two weeks. Their blueline has been decimated by injuries. Jack Eichel was shooting 4 percent before getting hurt and missing the past two games.

The one silver lining is that while they've struggled horribly at 5-on-5, they've had no such troubles with the man advantage, where they hold the second-highest scoring rate in the league. That only makes this all the weirder, because it's hard to understand how a team that clearly has some skilled players can't seem to get anything going at even strength.
As a result, they're now well down the road towards a 10th consecutive season without a playoff appearance. That seems almost impossible in a league that prides itself on its parity, with a salary cap system that enforces year-over-year turnover. But if there's one thing these Buffalo Sabres have been able to do, it's to make the statistically impossible possible.
You may also be interested in: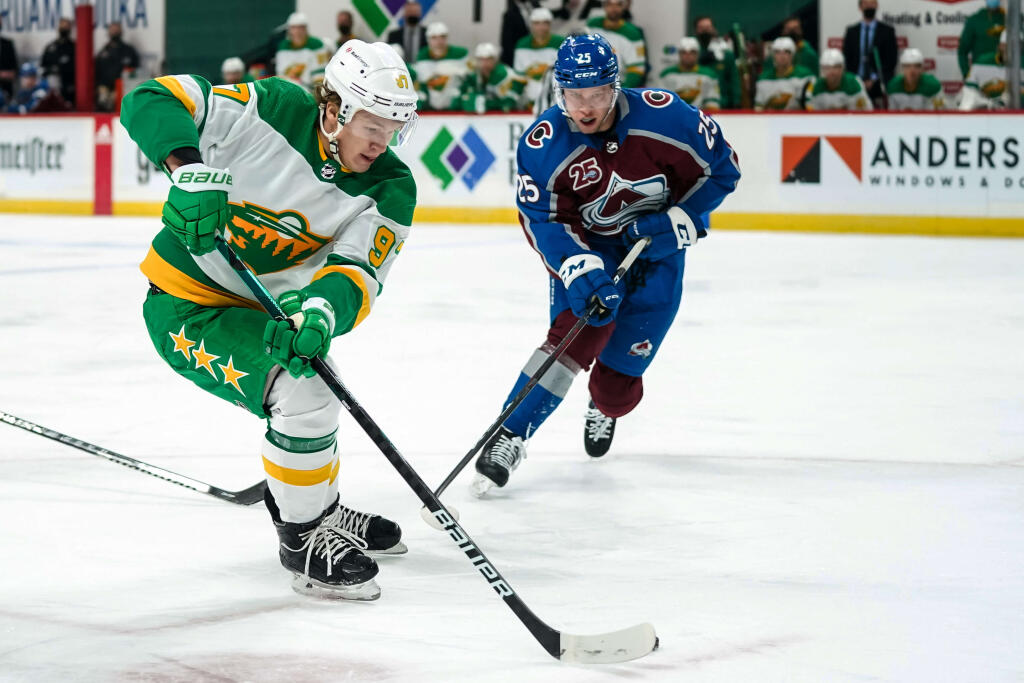 Kirill Kaprizov is singlehandedly changing the complexion of the Minnesota Wild as we know them
This article is about: