NHL
NHL 3 Stars: Everybody gets an overtime!
What a night of hockey. Of the nine games of the schedule, all but one went right down to the wire. Six of them were decided by one goal, and two others were up for grabs right up until the final minute before a late empty netter sealed it.
Five of those six one-goal games went to 3-on-3 overtime, and they were almost perfectly staggered so that we were able to watch them one after another in succession. And arguably just as importantly, there were no late games, so we can get tonight's edition of the 3 Stars out nice and early for everyone to enjoy. So let's get right to it.
---
First Star
The New York Islanders
Barry Trotz has them humming right now. They're on an 8-0-1 stretch, in which they've outscored opponents by a 33-16 margin. They kept it going on Tuesday evening, beating the Boston Bruins in a shootout to help maintain their position atop the East Division.
Not that regular season series record necessarily means anything come the playoffs, but it's the Islanders are now 4-0 against the Bruins this year, giving up just five total goals against in those meetings. Considering that they look like the two best teams in the division right now, it's at least worth noting. They have two more head-to-head matchups scheduled for the end of the month in Boston, so we'll circle back to this then.
The Islanders are once again a well oiled machine defensively. Whether it's shots, chances, expected goals, or actual goals against, they're in the top five of every defensive metric at both 5-on-5 and all situations. Their performance on this night was no different. They held the Bruins to just eight total high danger attempts in 65 minutes of play, with just one of them coming in the third period and overtime combined.
I know they don't play the most exciting brand of hockey if you're just purely interested in high scoring games and highlight plays, but you have to respect how structured they are from top to bottom. Given all of the talent in the league today it's genuinely difficult to defend consistently without blow-up performances here and there, but they've just got it done to a science right now.
Big night for goalies making stick saves 😳😳 pic.twitter.com/vCBJbH0Lk2

— NHL GIFs (@NHLGIFs) March 10, 2021
Second Star
Jason Robertson, LW, Dallas Stars
Jason Robertson is having a nice little rookie season. He entered tonight tied for third on the Stars in goals (4), and in the top 10 of rookie scoring in the entire league (9). That was before he exploded against Chicago, nearly doubling his assist total for the season with a four assist effort on Tuesday night.
Three of those four assists were of the primary variety. The only one that wasn't, came on a goal just 1:40 into the game. It got Dallas off to a good start, and they never really looked back. They comfortably won 6-1, outshooting Chicago 37-22 along the way. In Robertson's 11:24 at 5-on-5, here's how the Stars did (via Natural Stat Trick):
Shot attempts 14-7

Shots on goal 9-6

High danger attempts 5-0

Goals 4-1
Robertson's performance helped the Stars lay a thorough shellacking on the Blackhawks right from the jump in this one. It was an important game for the Stars to have, as they try to turn their season around and work their way back into the playoff picture in the Central Division.
They've still got a bunch of games in hand working for them because of all of their early postponements, but they've eventually got to start winning some of them for it to matter. This was a good start in this series, with another big rematch coming up on Thursday.
March 10, 2021
Third Star
Daniel Sprong, RW, Dallas Stars
With Tom Wilson suspended, Daniel Sprong is getting a spin in the top-six alongside Yevgeni Kuznetsov and Jakub Vrána. He's gotten 12+ minutes of ice time just three times total all season, and two of them have come in Washington's last two games.

Normally, he wouldn't make his way onto this list on the back of just one goal. But it wasn't just a normal goal, and the comedy of it gives him that extra nudge to get him on here. About halfway through the second period, he made a nifty defensive play to break up a rush by the Devils. After Kuznetsov recovered the loose puck and quickly sent it going the other way, suddenly Sprong found himself on a 2-on-1 with none other than Alexander Ovechkin.

Sprong patiently came down the left wing, looked off Alex Ovechkin with the lone defender slightly leaning towards the greatest goal scorer in the history of the sport, and ripped a shot past Scott Wedgewood. He immediately celebrated with a hilariously cheeky smile, acknowledging what he'd just done.
It was a big goal for both him and the Capitals. Not only did it come in handy in their 5-4 overtime win over the Devils, but for him personally, it pulled him to within just 691 goals of Ovechkin for 7th most all-time.
Daniel Sprong just looked off Ovechkin on a 2-on-1, shot it, scored, and this was his reaction pic.twitter.com/ZnsoJZM8Vn

— Dimitri Filipovic (@DimFilipovic) March 10, 2021
Honourable Mention
Nikolaj Ehlers' pass
There were some big goalie performances on this night.
Tristan Jarry: Stopped 33 of 35 shots against the Rangers, including 14 of 15 in a third period where they were outshot 15-1 as they hold on for dear life to a 3-1 lead

Sergei Bobrovski: Stopped 39 of 41 shots against the Blue Jackets, in a return to Columbus

Connor Hellebuyck: Stopped 36 of 39 shots against the Leafs, faced 20 high danger shots, and made 30 consecutive saves at one point between Toronto's 2nd and 3rd goal
But let's finish this thing off by giving some love to Nikolaj Ehlers' beautiful assist against the Leafs. I honestly can't decide what the most satisfying part of this clip is. The patience in skating around the sprawling defender and holding onto the puck behind the net is excellent, and the actual pass itself through the tightest of windows is fantastic, but I think it's the specific camera angle of this replay that really puts it over the top.
This pass by Nik Ehlers pic.twitter.com/ViDCHq1zMT

— Dimitri Filipovic (@DimFilipovic) March 10, 2021
You may also be interested in: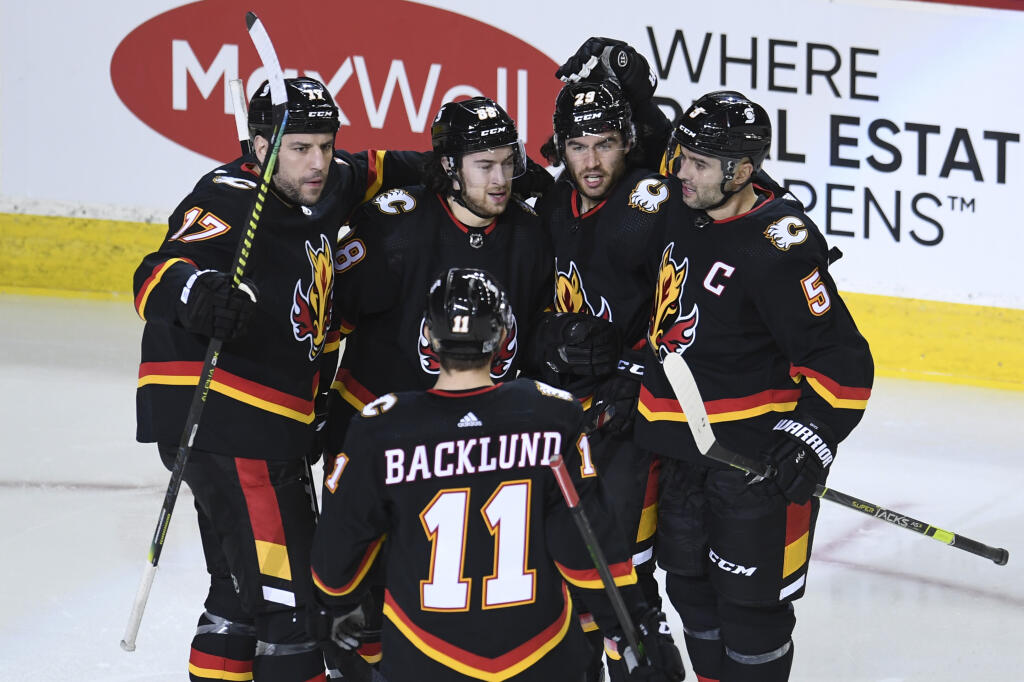 NHL 3 Stars: Hat tricks and a comeback
This article is about: